42 Reviews
Recommended by 95% of couples
Quality of service

4.9 out of 5 rating

Average response time

4.6 out of 5 rating

Professionalism

4.9 out of 5 rating

Value

4.7 out of 5 rating

Flexibility

4.7 out of 5 rating
32 User photos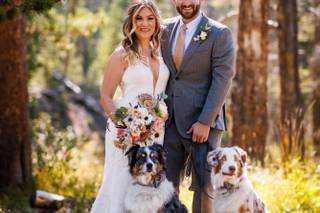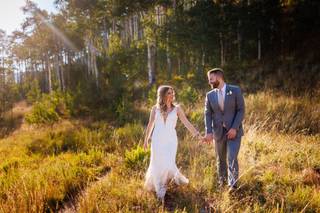 + 28

photos
April B.

Married on 08/06/2022

Piney River Ranch is MAGIC

Piney River Ranch is hands down the best wedding venue in Colorado. Pictures just don't do justice to how breathtakingly beautiful the mountains and lake are surrounding this venue. The building itself is an extremely well maintained rustic barn offering space for a covered outdoor cocktail reception with bar, as well as a separate indoor dining space with a bar. If you're looking for a venue with a barn or rustic feel, look no further. Catering is included with the venue fee and it is phenomenal. Piney holds tasting event in the months prior where you are able to taste menu items to help narrow down your choices for your wedding day - we loved everything that was offered we had a hard time choosing our ultimate menu. Piney staff were absolutely top notch as well. Shoshana was incredible both leading up to our big day as well as on our wedding day. We drove to Piney with my husband's parents to show them the venue on an impromptu trip and Shoshana was so helpful and gave us a tour without hesitation. Piney event staff the night of our wedding were professional and helped our guests quickly - I honestly couldn't ask for more.

To be transparent, this venue isn't for every wedding though. One of the things I loved the most about this venue is there is a 30-45min dirt road that leads to the venue - no paved, smooth roads. It's bumpy and it's not a perfectly maintained road, but that's the best part. If you book with Piney you also need to book with a transportation company, DO NOT have your guests drive - ESPECIALLY at night/after drinking. The other thing I LOVED about this venue is that there is NO cell service on the road or at the venue. NONE. You and your guests get to be in the moment and present for your wedding - it's amazing.

My wedding day was perfect and I can't imagine getting married anywhere else. Honestly, this place is magical.

+ 2

photos

Dallas Y.

Married on 08/05/2022

The most amazing wedding day ever!

The most amazing wedding venue ever! The staff at Piney was so easy to work with and made our day go so smoothly! Shoshana & Brittany were always quick to respond to questions & emails! We planned this wedding out of state and had absolutely no issues the day of! The views are absolutely breathtaking and all of our guests had nothing but amazing things to say about Piney River! The food & drinks were also great! Us and our wedding party stayed in the cabins the night of our wedding which I 1000% recommend! Waking up to the mountains and water was so beautiful and something we will always remember! We made some of our favorite memories here at Piney! The road to get there is completely worth it. We cannot wait to come back and stay for a couple of nights! We honestly have nothing but amazing things to say. We had the best wedding ever!!

Blair R.

Married on 07/30/2022

Best venue, best day, beyond perfection

Best wedding venue (and place in general), maybe in the world,, ABSOLUTELY INCREDIBLE!!!! Shoshana & Brittany and management were so amazing and so incredibly quick on all responses.

Our wedding here blew away any expectations we could have ever possibly imagined. The scenery was phenomenal, so many activities, everyone was mind boggled by how insane this place is. The canoeing after our ceremony with all of our friends was so fun and so unique, and the photographs on the lake were just insane! We also saw moose during sunrise, and a little at dusk - SO COOL!!!!

One of my favorite things about this venue is that there is no service, so everyone was forced to be incredibly present for the entire event. We had a small wedding of about 50 people and we all stayed in the cabins after the wedding, which was the BEST - I cannot recommend enough having the entire party stay for the night with all of the fire pits lit, and cabin hopping socials.

There are a lot of ppl that complain about the "off roading" to get there and I will definitely argue with that - the dirt road up is really not bad at all, I saw a couple Prius's and regular sedans make it up without any issues.

Best day of our lives, nothing could have been more perfect. Perfect is an understatement, I am insanely obsessed.

THANK YOU PINEY!!!!!!!!

+ 2

photos

Are you interested?

Send a message

Renee B.

Married on 07/29/2022

Incredible Venue

There is not a better wedding venue in Colorado than Piney River Ranch! The views were absolutely incredible and everything ran so smoothly due to the amazing team that they have. All of the guests were very impressed with the quality of food and drinks that they served. I highly recommend renting out the cabins that are on site because the bonfires/after party at the cabins was one of the best parts!

Kirsten H.

Married on 07/23/2022

#1 CO venue IMO

Having our wedding at PRR was the best decision my husband and I could have made. The coordination team (especially Shoshana Orenstein) go above and beyond to create a perfect day for their couples. My experience with PRR throughout my planning process and day-of was informative, efficient, accommodating, communicative + overall carefree (an especially valuable characteristic). Our wedding day at PRR was truly an amazing experience at a beautiful venue with kind-hearted, devoted, genuine staff members. Not to mention the ranch is able to offer you all of the best qualities of Colorado -- gorgeous mountain views, a crystal clear lake, river, and streams, wildflowers galore, diverse wildlife, and quiet time to reflect + be present on your special day because there isn't a drop of cell service or wifi. If you have Piney anywhere on your venue options list, do yourself a favor and erase the others. In my very personal opinion, it truly is the best wedding venue Colorado has to offer.

Vanessa

Married on 07/16/2022

Best venue in Colorado

Piney is hands down the most spectacular wedding venue in Colorado. Everything from the amazing view to the marshmallow fire pit was perfect for our guests. They even set up a "canoe and cocktails" for our cocktail hour where our guests could take canoes out on the lake. It was an incredible experience. The coordinators, Brittany and Shoshana, are wonderful to work with. They were responsive and made the day stress free. Couldn't recommend this venue more.

Lauren L.

Married on 09/18/2021

Breathtaking venue

Piney is the absolute best! We had our wedding here and it is absolutely breath taking. It is a bumpy drive to get there, but beyond worth it. Beautiful views, stunning venue. The food was great as well as the service. Brittany and Shosana were great to work with and put up with us for 2 years since our wedding needed postponed. Our wedding party stayed at the venue the night of, and it was so special waking up there in the morning to such stunning and peaceful views. It truly is a magical place - can't recommend enough.

Lauren R.

Married on 08/06/2021

Our Wedding - 08.27.2021

Piney River Ranch...where to even begin? It feels almost impossible to leave this short and sweet as my heart is bursting with love but I will try my best. Our wedding was more than I ever could have dreamed of and we owe alot of that to not only this perfect venue but to the most beautiful staff. From the very beginning of planning, we felt right at home. They guided us, answered all of our questions, and worked around our schedule for our tasting and walk through. As stressful as planning can be, I truly felt so at peace working with everyone. Fast forward to the day of and that just really sealed the deal for us. Everything was perfect. From our food, our ideas and visions executed even more beautifully than I imagined, and the attentiveness to my husband and I so we could truly enjoy the day. It meant everything to us. They didn't miss a single thing. From the bartendars, the staff working at the gift store, everyone who helped set up, you couldn't ask for more positive, happy people. We would especially like to thank Brittany and Shoshana who are absolute angels from above. We couldn't imagine the day without them and we are so grateful to know them. Piney River Ranch and the staff will forever have a special place in our hearts. We are forever grateful. If you want to have the most magical wedding that you will never forget, Piney River Ranch is it. From the views, the moutanins, the water, the moose, the food, the never ending champagne, getting to take the canoe out to take pictures, and the most beautiful staff - it is truly heaven on earth

Holly S.

Married on 07/16/2021

Literally the absolute BEST!!!! Colorado venue

My husband and I lived in Denver when we got engaged and really really wanted a venue that was easy(ish) to get to, provided our guests with an amazing Colorado experience, and gave us the wedding of our dreams. Piney River checked ALL of those boxes. We got engaged in the winter and I knew that I was going to have to get a venue ASAP if I wanted a summer wedding in the mountains. When I found Piney, they weren't going to be open until June because of the snow, so I had to decide if I wanted to take the chance and sign a contract for a venue I couldn't see in person and that had only a few reviews on line. BEST DECISION EVER!!! The views are incredible, the food was AMAZING, and the venue was sooooooo flexible when it came to covid and us having to push our wedding out a year. Our guests continue to rave about how special our wedding was. The only thing that really sucked was having to pay for transportation up the mountain (its EXPENSIVE!!) but we did cost comparison for easier to get to mountain venues and it ended up being a wash because of how affordable Piney's catering is. If we had to do it all over again, I would pick Piney River Ranch over and over and over again.

Courtney S.

Married on 06/26/2021

Unforgettable Wedding & Venue

We are Vail locals and wanted a local wedding venue that felt true to us. The setting of the ranch in the mountains and the background of the Gore Range (our favorite) was exactly what we were looking for. Brittany was easy to work and communicate with, answering all of our questions as we navigated a 2021 wedding and the challenges associated with it. Piney and their caterer Cowboy Catering provided an opportunity to see and taste all menu options prior to the wedding. We and all of our guests agreed the food was fantastic. On the day of the wedding Piney's staff worked seamlessly with our wedding planner to ensure all logistics went off without a hitch, despite the weather.

We highly recommend considering Piney for your future wedding!

Lacey

Married on 09/04/2020

Best Wedding Backdrop!

Is there any comparison?? This venue was more beautiful than we could have ever imagined! Amazing views! I also loved how everything was in 1 location. Brittany was so helpful with everything! Our guests had a blast and can't stop talking about the venue. It was magical!

+ 5

photos

Piney River Ranch's reply:

Lacey and Russ,
Congratulations again!! PRR is happy you let us be apart of your special day. We hope to see you both at the ranch again soon!!

Loni P.

Married on 08/10/2019

#1 Venue Staff!

Piney River Ranch is not only a stunning venue to get married at but the event staff is ONE OF A KIND! They are friendly, helpful, respond to emails quickly, and make executing an event there a breeze. As a wedding planner it is always so nice to work with stellar venue staff! Highly Recommend.

Courtney S.

Married on 07/20/2019

Perfect Mountain Wedding - Highly Recommend!!!

We just got married at Piney River Ranch and it was absolutely perfect! The venue is absolutely stunning!! Brittany and Monique were amazing to work with leading up to and on our big day. They were very responsive and so helpful in explaining all of the details of the event and keeping us on track with everything we needed to do to prepare. On our wedding day, everything at Piney was absolutely seamless and well organized. The food was amazing and the staff were great! We cannot wait to visit again for our anniversary. If you want the most amazing mountain wedding - Piney is your place!!!!

Taylor

Married on 10/06/2018

Epic Venue!

I am a Colorado wedding planner and my company, Mountainside Events, finally got the opportunity to work at Piney River Ranch! I can say that out of all the weddings we have planned around Colorado, Piney is among the best of the best! The views are epic, and so is the staff! They are incredible helpful on not only the pre-planning, but then also on the day of. I highly recommend this venue and look forward to coming back again soon!

Maggie

Married on 10/06/2018

Great Team to work with!!

The team was amazing to work with! Very responsive on emails and we're so helpful on the day of. The views were amazing too! Couldn't recommend Piney River more!!

Brittany

Married on 08/27/2017

The views are so amazing it almost does not look real. Our guests are still talking about how amazing the location and food was. Piney River Ranch was very responsive during the planning process and our big day was perfect out there! They are very strict regarding some of their rules and were not very helpful during our walk through. We had to push to get a few simple changes. Overall we highly recommend Piney River Ranch and can't wait to go back for our anniversary!

Kim

Married on 07/22/2016

Brittany was such a pleasure to work with and has become a friend after having our wedding at the one and only, beautiful Piney River Ranch. She was always quick to respond to all of our inquiries during our planning process. It is always great to work with someone you WANT to work with. From the moment we met her on our first trip up to Piney, to the evening spent tasting food at Cowboy Catering, all the way to and through our big day, she was there to help and guide us through the process. Always willing to go the extra mile to make sure our wedding day was perfect and exactly how we envisioned it being, she came through every time! We look forward to seeing Brittany every time we are back in Vail! Brittany gets 5 stars! Piney River Ranch, although a trek to get to is more than worth the drive! I would recommend it to anyone and everyone looking to get married in the Rockies!

Kim

Married on 06/26/2016

If Piney River Ranch is a possibility for you, BOOK it and don't look back! It was the single best choice we made in our wedding planning. The Ranch is incredibly beautiful - the views are epic - and it creates the most intimate, unique, and memorable environment for your special day. I visited Piney once as a child, and I still remembered it, 20 years later. When I re-discovered it online and visited again in person, I fell in love all over again. All of our guests are still raving about it - I've never seen so many matching Facebook cover photo changes at once before :) It definitely has a rustic, ranch-y feel to it, but it's still elegant, with a focus on the beautiful natural setting. Brittany and Monique were an absolute dream to work with - accommodating, responsive (truly! They always got back to us with detailed emails or calls within 1-2 days, even when they were open and running weddings every day)!, and so willing to help us make the day feel right for us. They helped us manage lodging, dietary restrictions, table changes, and more with the utmost efficiency and respect. Buying out all the on-site accommodations is a must to use the venue, but it was one of my favorite parts - so many of our friends and family stayed on-site afterwards, so the celebrations could continue in a more laid-back, informal way. We roasted s'mores, paddled in the lake, made a bonfire, and watched an incredible starry night - no light pollution - simply gorgeous! The food through PRR's catering company was delicious - buffet-style, but super fresh and tasty. We did the trout and the brisket, and both were excellent. The only tricky thing about the Ranch is transportation - coming from Vail, it's another 45 minutes up a bumpy dirt road to get to the venue... but worth the ride! Price below includes venue fee, food, and open bar for 84 guests. Waking up the next morning to the beautiful sunrise over the mountains was a moment I'll never forget. Thank you, PRR!

Meg

Married on 10/10/2015

Piney River Ranch is the perfect venue for the quintessential Colorado wedding! The backdrop is breathtaking, the fare is fantastic and the service outstanding. As a wedding planner, I look for venues that provide a unique experience for my clients. Piney fits the bill perfectly. My August wedding at Piney River Ranch was a huge success. A moose actually walked past the couple as they exchanged vows against the gorgeous vignette of Piney Lake! Other venues have views of the Gore Range. Piney River Ranch is nestled within the Gore Range. You are truly part of the mountains and away from it all. Monique, the general manager, is great at communicating and anticipating guest needs. She has assembled a great team of professionals. Piney River Ranch is a magical venue and one not to be missed when considering ceremony and reception sites!

Jennifer

Married on 06/24/2015

Piney River Ranch was a fantastic place to have our wedding! Monique and Brittany were super helpful and worked with us to make everything just how we wanted it. The setting is beautiful and the wedding was perfect! The food was also really good. The view from the deck is amazing.

Nicole

Married on 09/18/2014

The views!! This place is one of a kind! I can't even begin to explain how amazing the Piney River Ranch staff was, leading up to my wedding and on the day of. Monique, the GM, who was our direct contact, was incredible from start to finish. Our wedding wouldn't have gone as perfect as it did without her. This venue is such a Colorado gem and our guests are still talking about our wedding day!! Thank you!!

Amy

Married on 07/14/2013

I have to say I was a little nervous signing a contract last year with Piney. The reviews for the food and customer service were horrible. But, you can't beat the location so we signed away hoping for the best. Luckily, months before my wedding Monique took over. She is just such a wonderful, amazingly nice person that I felt like I knew her for years. She catered to everything we wanted. We made up our own menu without a problem (and all the guests raved about the food) and everything we asked for was absolutely no problem at all. She definitely made our experience at Piney all the better and you can feel assured she will do everything in her power to make your wedding exactly how you want it. She's amazing!!!!

Marjorie

Married on 07/20/2014

Piney River Ranch is the perfect venue for people who want a rustic Colorado wedding. Monique is super helpful and customizes your event to fit your needs. Even though my husband and I live in the Vail valley, we are both transplants from other states. This venue was the perfect spot for our needs, it was very private, outdoors, yet an indoor spot with heater lamps and safety from the rain. Our friends were able to stay the night for a little post reception fun, while our family/other guests were able to head back down the mountain. The food was great, actually better than the tasting. All of our guests left saying "best wedding ever". I highly recommend Piney River Ranch to all futures couples.

Jennifer

Married on 07/14/2014

Piney River Ranch was the perfect venue for our wedding. We knew we wanted a mountain wedding and outdoors and this location was perfect. You couldn't ask for a location with more breathtaking views. The ceremony deck sits on a lake overlooking the mountain range. You are completed surrounded by nature, aspen trees, and wildlife. We even saw a moose go swimming during the reception. What makes this location even better is that it is a short drive from Vail but you feel like you are out of the city.

The staff was really great. Monique handled everything with our wedding and assisted with all the planning. We had a tight budget and she was able to help work with it and make adjustments so we could still have our dream wedding and not blow the budget. She was wonderful on wedding day as well as all the staff.

We look forward to renting a cabin on the property for our anniversary each year to relive our perfect day.

Julia

Married on 06/22/2014

Monique and the team at PRR were fantastic! The location is absolutely beautiful and we couldn't have asked for a more perfect mix of outdoors (for us) and modern amenities (for our guests). The staff was professional, lively, and extremely personable throughout the afternoon and evening of the wedding, we even caught some of our guests playing horseshoes with the cowboys ;) Everyone had the most amazing visit to PRR and we really appreciate the kindness and willingness of everyone to have a good time and let loose. Also, the food was fantastic! Would highly recommend PRR to anyone super outdoorsy (or not) looking to entertain their "city folk" friends and family who will be stunned by the views from the safety of flush toilets.
Are you interested?
Send a message