59 Reviews
Recommended by 100% of couples
Quality of service

5 out of 5 rating

Average response time

5 out of 5 rating

Professionalism

5 out of 5 rating

Value

5 out of 5 rating

Flexibility

5 out of 5 rating
267 User photos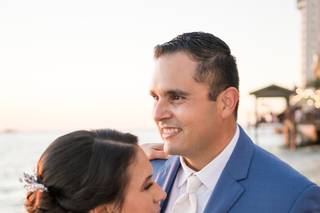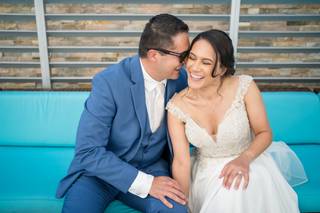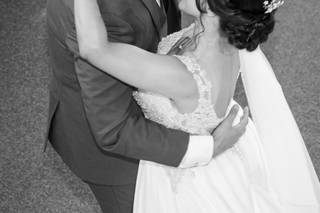 + 263

photos
Alyssa J.

Married on 11/11/2022

A very detailed and thorough photographer

Jose Hoyos is an amazing photographer! I would recommend him to anyone who is looking for a detailed, professional, personable, and hard-working photographer. The photos are breathtaking and exceeded all my expectations! He worked extremely hard throughout the entire night, making sure he got every possible photo opportunity! Thank you so much Jose!

Lovos

Married on 10/22/2022

My favorites vendors. Jose & Kristen are spectacular

Jose and Kristen make a spectacular team. They are patient, funny and very professional.
Since we saw Jose's photography work, we were delighted. We live in Texas, and the main reason we decided to have the wedding in Florida was because of Jose and Kristen, and the truth is that it was the best thing we did, it was so worth it. Kristen playing the harp was an additional touch to our wedding ceremony. Beside Kristen playing the harp, she also took amazing photos and she was super fun to work with. My mom even sent a message to Jose about how grateful she was for the way he worked with all of our crazy family and friends lol. I definitely recommend Jose and Kristen to capture those beautiful moments on your special day.

Carolyn

Married on 10/14/2022

Amazing photographers!

Jose and Kristen were AMAZING. We absolutely love our wedding photos and have received so many compliments on the pictures. You can tell they are passionate about photography and are such a talented duo! The pictures are very artistic and thoughtful and not just generic photos. Definitely recommend them for any event!

Are you interested?

Send a message

Astickney7

Married on 10/09/2022

Such a great experience!

Jose and Kristin are awesome to work with. Very friendly and fun! Have a good laugh while also making amazing photos and music!
They really love what they do and are great for small intimate weddings!

+ 2

photos

Magdalena K.

Married on 09/17/2022

Incredible Duo!

We used Jose & Kristen for our wedding. They are so incredible both as a team and as individuals. Kristen doubled as a photographer when she could and played her harp during our ceremony and cocktail hour. Even though it rained, she made the best of the situation. The music was incredible and all my guests were in love.
Jose was our main photographer and we couldn't be more grateful for him. He was incredible! We used Jose for our engagement and wedding photos and it was beyond worth it! He makes you feel comfortable and relaxed. He is very personable and easy going. He truly made this experience very enjoyable for everyone involved. Our wedding photos are above and beyond anything we could have dreamed for. We also got our full gallery back before we even returned home from our honeymoon which was a great surprise! Highly highly recommend this incredible team!

Donna T.

Married on 07/30/2022

Amazing Photos & Music

Jose and his wife Kristen gave us so much more than what we expected for our small, intimate wedding. Kristen played beautiful music and had a wide selection of songs to choose. Our favorite pictures were with her beautiful harp. Jose took amazing shots and made getting photographed fun. His pictures are creative, artistic, and stunning. If you are able to book the team of Photo Harp, you will be 100% satisfied that you did.

+ 14

photos

Alexandra V.

Married on 05/14/2022

The Most Incredible Team

Jose & Kristen went above and beyond our expectations, hopes and dreams! Their work is truly art in its most beautiful form. They were exceptional to work with - from our engagement shoot, through wedding planning, all the way to the wedding and after. They are both incredible professionals. We have received our gallery from our wedding (in only two weeks!!) and the photos are stunning. They made our wedding day so seamless - the organization and flow was unmatched. My new husband and I have found photographers for life!

Samantha T.

Married on 05/07/2022

My micro-wedding photos came out better than I could have imagined

My micro-wedding photos came out better than I could have imagined. He was super professional, and even though there was only 10 people at my wedding, you could barely tell he was there while still capturing the most beautiful, intimate shots. Highly recommend.

+ 6

photos

Danielle L.

Married on 05/01/2022

Amazing experience

We hired Jose to do our engagement our pictures and wedding day pictures along with his wife Kristen, to play the harp for our ceremony. I have nothing but good things to say about this duo. Jose is such a nice person and easy to get along with especially if you're a shy kind of person. He makes you photogenic even if you feel you're usually not. He gave us both our engagement pictures and wedding pictures back within a week edited, and they all looked so beautiful. He was very low key at our wedding and really appreciated all the great moments he was able to catch. His wife Kristen also plays the harp beautifully. It made our ceremony look so much more elegant. Thank you guys for everything and will be using you guys again in the future. Would recommend to everyone! ♥️

+ 2

photos

Marjorie C.

Married on 04/15/2022

Amazing 🥹💕

Jose has been amazing all these years! He has done our maternity, engagement and now wedding photos. We just got out pictures for our wedding in 2 weeks! Our sneak peeks next day! He is so fast and responds in a timely manner. The day of the wedding he was so organized and patient! Everyone was talking about how amazing he was! He captured every moment and now we will have memories that last a life time. Thank you so much Jose for all you do and making these moments so special!

+ 2

photos

Jasmine Q.

Married on 04/09/2022

Amazing Experience

Jose captured every moment of our wedding beautifully. We are so blown away by the photos. He was so easy to work with. I would recommend him to anyone.

Savannah R.

Married on 04/03/2022

Perfect and easy

I didn't get the pleasure of meeting Jose's wife who plays the harp, but Jose was the best photographer we could have possibly gotten! Him and his wife were so responsive over email, and he did a great job making two non-photogenic people actually look good lol. Thank you so much!

+ 4

photos

Jessica

Married on 03/18/2022

Photo Harp Weddings Review

I worked with Photo Harp Weddings for my engagement photos and wedding photos, and during that time this team displayed nothing short of excellence and professionalism. Jose and Kristen were organized, prompt and communicative in addition to their amazing photography skills/prowess. Jose was open to ideas from this amateur photography and I think it only strengthened our interactions. I would absolutely recommend them.

A link to their work here: https://www.photoharp.com/

Victoria S.

Married on 02/19/2022

Simple the BEST!

When we approached Jose we had a few strange requests and my fiancé was a bit apprehensive about getting professional photos done in general, but Jose not only made us both feel so comfortable he really leaned into every idea we had and enhanced our ideas with his expertise. He's got such a great eye, was so flexible, so FAST with taking the photos and editing, (also he's so great at nighttime outdoor photos which was so important for me), he was professional and also fun. We couldn't have asked for a better and stress free experience. Book Photo Harp for your family, engagement, wedding, event—just everything!

+ 4

photos

Justice W.

Married on 01/02/2022

All the photos are perfect I can't even pick a favorite!

Thank you both for all of the hard work you did for us. Your effort is revealed through the quality and quantity of the pictures we received the NEXT day! We will be recommending you to everyone we know that needs a high-quality photographer. Thank you again.

Thu

Married on 12/19/2021

Absolutely perfect!! Hire them!!

For reference, we hired Photo Harp for our two-day wedding. From beginning to end, they were so easy to work with. Jose responded to my initial inquiry within hours. He was patient with my questions, helpful in making recommendations, and always responded promptly. He also offered us a free engagement session to get to know us and learn more about our wedding. Those photos were sent to us within days and they were truly incredible!! My husband and I really dislike taking photos, but Jose made us feel comfortable and gave us directions that resulted in beautiful photos. The lighting, angles, and background scenery were gorgeous. He's a true artist. We knew then that we were in good hands for our wedding, and we were right. You can trust them to capture all the amazing moments of your special event. We will be hiring them again for our annual family reunions.

Jessica

Married on 11/18/2021

Amazing experience

He is AMAZING!!!! Came in, got right to work and the product is flawless. I love them all and I already booked him for another event.

Elena

Married on 11/13/2021

Photo Harp Weddings was beyond amazing!!

Photo Harp Weddings was everything I've ever wanted in a wedding photographer! From his respectful manner, patience with his couples, and absolutely stunning talent, he's the real deal! Ever since I was a girl, I planned a fairytale wedding, with a good photographer as a must - and I was not disappointed at all! Since our first meeting through Zoom, Jose absolutely captivated my husband and I. Not only was he flexible with meetings, sessions, and our lack of being photogenic, but he also included a FREE engagement session. And best of all, he's able to work through any obstacles to capture stunning photos. My husband and I were completely surprised when we received our engagement photos the VERY NEXT DAY - that is how amazing he is! And come wedding time, he fit right in. Ever the gentlemen he knew how to respect everyone's boundaries, when to take the shot (and when not to), and was so friendly that it felt like he was a guest, instead of a vendor. That day, largely due to him, was the best day of our lives, and his work shows it all. Once we received our photos, and a slideshow that he created for us, I was left utterly speechless! Not to mention that a few weeks later, a giant canvas of my favorite wedding picture appeared at my door, courtesy of our photographer. Photo Harp Photography is without a doubt, a master in their craft. I was blessed to have been recommended their way.

Nichole B.

Married on 11/07/2021

Fairytale Wedding

Words will never be able to describe how happy I am with Jose and Kristen! They make the best team ever!! Kristen played her harp for my beach ceremony and it was perfect! The vibe she set was incredible! She is so talented and played everything we asked for! Walking down the isle hearing the harp and seeing my future husband was a feeling I could never describe, but will forever hold in my heart!

Jose was my photographer and he was absolutely incredible. He did our engagement photos first and we knew it was so perfect for us! His work is incredible. He is super cool and down to earth! Mario and I felt sooo comfortable! Then on our wedding day he captured everything so beautifully!! It's hard to believe that's what our wedding really looked like! It's something out of a magazine. I couldn't recommend Jose and Kristen enough! They are absolutely worth every Penny spent!! Do not search any further!! I'm telling you, they are impressive!!

+ 7

photos

Anthony A.

Married on 11/06/2021

The best of the best

Wow, I don't even know where to begin. Jose and Kristen absolutely killed it. First off the photography was amazing I even saw Jose on the ground a few times haha. Whatever it takes for a good shot. And good shots there was! There was some photos taken by Kristen and Jose that I could've never even thought of the angles or positioning for the photo. Throughout the ENTIRE digital gallery there was not even ONE photo that was not amazing. They got every shot and everything we could've wanted. Now for the harp. Kristen is very very talented. It sounded absolutely beautiful and she played it exactly as we had pictured it in our heads coming up to the wedding. They were both very interactive and EVERYONE loved them.

For anyone reading this review. This is the one. These are the photographers and harpist you have been looking for.

Gina

Married on 10/23/2021

Amazing!

Jose was the perfect photographer. The photos speak to his extraordinary talent but, beyond that he is personable, professional, and organized. All of our wedding party complimented us on our photography choice.

+ 9

photos

Megan M.

Married on 10/16/2021

Absolutely Amazing!!

Jose was absolutely amazing to work with. He was very responsive and his work is excellent. Our photos turned out beautiful and we couldn't be happier. From the moment we met him during our engagement photos we felt very comfortable. I would highly recommend him! His wife is also fabulous on the harp! We had his wife, Kristen play the music for our ceremony and then she was an additional photographer after the ceremony! Book Jose and Kristen! Prices were very reasonable.

+ 2

photos

Dimitri

Married on 07/03/2021

Perfect photography and music!

Where to start. We could not have asked for a better experience. Both Jose and Kristen were very professional. The whole experience was truly a breath of fresh air in comparison to the rest of the wedding planning that we had to do. Any question we had was answered almost immediately and was always right to the point. My wife and I actually had two wedding ceremonies. One was a Hindu ceremony which was on July 2nd and the other was a US style wedding which was on July 3rd. For our July 2nd wedding, we had booked Jose for photos and for July 3rd, we had booked both Jose and Kristen. For our Hindu ceremony, we got married at the Hindu Temple of Florida. We really wanted to have wedding photos around the temple after the ceremony. As luck would have it, it was raining quite a bit on our wedding day. We really thought that we would not be able to take pictures after the ceremony. Jose told us it was not an issue and that he would make it work. Not only did he take our pictures outside even though the weather conditions were not favorable, he even rolled up his pant legs so that he could get ankle deep in water just to make sure to take the best photos. Beyond that, he made use of the puddle of water that had formed and took one of our favorite photos from either wedding. He had us stand right in front of the temple and took the photo in which he used the reflection of the water to create a truly stunning picture. We could not have asked for a better photographer.

For our July 3rd wedding, he showed the same level of professionalism and dedication that he had shown at our Hindu ceremony the day before. The photos came out better than we ever thought.

We had booked Kristen for July 3rd as well. She played absolutely perfect! Each song that was chosen was played perfect and the transitions between the songs were seamless. She continued to play even after she was supposed to! She had songs already prepared and the guests loved them. So many of the guests kept coming up to tell us just how much they loved the Harp. She even helped Jose afterwards with taking the pictures.

Honestly, our weddings would not have been the same without Jose and Kristen. We truly appreciate their professionalism and dedication to their crafts and would easily recommend them. Trust us, your wedding will be better by having Jose and Kirsten being a part of it.

Amberhope V.

Married on 06/06/2021

Beautifully Captured Memories I'll Cherish Forever!

In a last-ditch effort to find a wedding photographer we loved, my fiancé and I apprehensively went to yet another wedding show. The very first booth when we walked in the door was PhotoHarp Weddings. We were instantly smitten. Wow, photos AND a harp??? After 5-minutes of speaking with Jose and Kristen, we knew they were the ones! I felt so excited and relieved! Their laid-back, positive personalities made me feel so at ease and comfortable. I believed that I could trust them with their creative process in capturing my special day. Their comprehensive questionnaire was very straightforward and organized and made sure to make an account of every scheduling and photo-op need of the day.

On the morning of my wedding, they arrived right on schedule. However, I was actually crying in my mother's arms when they walked into the room and I was so embarrassed! LOL It was a stressful morning! But Jose & Kristen were very calm and comforting and let me know they would begin capturing all the beautiful moments possible while I made myself feel better and get beautified. I felt better just knowing that they were there capturing all the beautiful things that I couldn't see, especially while I was very stressed and so busy. Jose was very respectful and artful while he photographed me and my bridesmaids getting ready. His clear direction, enthusiasm, and positive affirmations while he photographed me made me feel so much more confident in myself and relaxed for the photos. While he photographed me, it was clear that he knows what he's doing. All the while, his beautiful wife Kristen ran around taking photos of the venue, the guests, the décor and the guys before she set up her harp at the ceremony site. They made a great team. Kristen even helped the gentlemen put on their boutonnieres! Throughout the reception, they were ready and available for any photo requests from us. I was able to relax and enjoy the event without worrying that something was not being captured. I really appreciated that.

I must say… the harp: WOW. Having the harp played while I walked down the aisle made it feel like a fairytale. I walked down the aisle to "Glasgow Love Theme" and it was stunning. I heard so many wonderful compliments about the beautiful, ethereal harp music. The beautiful aesthetic of the harp at our ceremony was unique and really heightened the atmosphere with a reverence that I have not seen with other kinds of live ceremony music. Kristen sends you a list of song options that she can play along with samples. She can also learn custom song requests in advance. I highly recommend Kristen's harp for a church or garden wedding! If you can, try to get a bridal photo shot with the harp! 😊

When we received our photo album, we spent hours looking at the gorgeous photos. I loved that Jose was able to create a photo album with diversity. He used a few mixes of styles including candid, journalistic, bright & airy, moody, artistic, and vintage. Some of the candid photos were so perfectly timed, we cried laughing! Overall, we feel that our day was captured so perfectly! Not a moment was missed!!! We are so grateful that they were part of our day. We feel like they are our friends. They will always be special to us because they were part of the most important day of our lives. Thank you!!! 😊




+ 17

photos

Kelly H.

Married on 03/20/2021

Couldn't have imagine our day without Jose

Absolutely amazing! Jose is wonderful and we couldn't imagine our day with out him. His skills are amazing, his photos are absolutely beautiful, but most importantly he is so easy to be comfortable with. Anxiety is high already on your wedding day and Jose is calming while also making you feel beautiful. He takes notice in the small details and captures parts of the day.
Are you interested?
Send a message