262 Reviews
Recommended by 98% of couples
Quality of service

4.9 out of 5 rating

Average response time

4.9 out of 5 rating

Professionalism

4.9 out of 5 rating

Value

4.9 out of 5 rating

Flexibility

4.9 out of 5 rating
124 User photos
+ 120

photos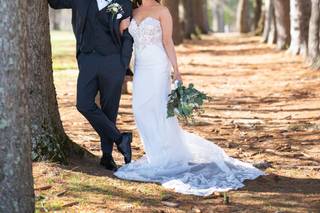 Featured

Samantha

Married on 04/23/2019

Rescheduling with COVID-19

To all the brides out there with future weddings at Perona Farms- they could not have been more accommodating. They were super transparent about their rescheduling process and sensitive to our needs. They responded to our initial concerns when the pandemic started and gave us a timeline for rescheduling. It was great that they called to reschedule one wedding at a time, and gave you multiple dates in order to find one that lined up with your vendors. Our wedding coordinator, Ivette, called us to check in on how we were doing and was beyond sweet. She asked how we were doing, how we were feeling, and asked if she could do anything to help. I feel really lucky to have booked at Perona Farms, as it is clear they value family and their clients- through the good times and the bad!

Lynsey S.

Married on 04/01/2023

The absolute best NJ wedding Venue

My husband and I can not say enough good things about Perona Farms! From our very first walk through of the venue, to the day after our wedding, they were an absolute pleasure to work with. Our event coordinator Ivette did A LOT of hand holding, which every anxious bride and groom need while planning a wedding, with warmth, grace and professionalism. We never felt uncomfortable asking a question (even the silly ones) and every question was answered immediately. The venue itself is beyond stunning, no matter which one you choose, so personal decorations can be minimal and everything will still look classic, modern and timeless. Our day of coordinators Desiree and Franklin felt like family immediately. We were actually sad to say goodbye to them that night! And our MatrieD Brendan made sure that we wanted for nothing and that whatever we needed was given to us without asking. The amazing attention to detail, not to mention the beautiful and extremely amazing cocktail hour and dinner (the food is out of this world!) is something out of a 5 star resort! The ONLY bad thing we can say is that everything was so perfect that by the end of the night we didn't want to leave!! 10 out of 10 would highly recommend and we can't wait to go back for their "event nights". The best of the best for sure! If you want the most magical, unforgettable experience for your wedding I HIGHLY suggest Perona Farms.

+ 2

photos

David L.

Married on 03/11/2023

Wonderful Venue and Staff

This was the perfect venue for our big day! So beautiful and the staff has everything perfected. Was great to work with them from booking through to the day of. We used the refinery and it was stunning and all our guests were complimenting the food!

Are you interested?

Send a message

Kiana M.

Married on 03/10/2023

The most incredible day

Just got married yesterday in the barn and cannot say enough good things regarding our experience at Perona. We had an excellent evening with all of our friends and family. Everyone kept raving about the food and how attentive/kind the staff was. The coordinators are top notch and thanks to them- everything ran smoothly. Ivette, Kim and Heather were so incredible to work with. Definitely bittersweet for this chapter to be closing!

Jennifer A.

Married on 03/05/2023

Professional & Best Wedding Food EVER

It is hard to even summarize how amazing Perona Farms is, but they truly are. The entire day was SEAMLESS, from the service to the food everything was perfect. They honestly went above and beyond, and the planning process leading up to the wedding with Marley and the rest of the crew was stress free. All questions were answered quickly and accurately! We never felt unsure about anything!! Also, Brendan our Maitre d Brendan and our day of coordinator Kim were so sweet and made sure everything was perfect. Our Bridal Attendant Fern was the cutest and made the morning getting ready so calm. Just overall AMAZING!

Maria W.

Married on 02/03/2023

Perfection

My daughter and new son-in-law just had their wedding at the Refinery. Everything was so beautiful. I can't recommend this venue enough. The staff and service were excellent, as well as the food and the atmosphere. My family and I could not be more pleased with the wonderful celebration we had at Perona Farms!

Caitlin B.

Married on 01/22/2023

Amazing Experience- BOOK NOW!

Wow wow wow- my husband and I are still are BLOWN AWAY by the staff at Perona Farms and our entire experience with them. Our guests RAVED about everything from the service, the kindness and attentiveness of the staff, the food, the venue itself, absolutely everything. There are times in the wedding planning process that get challenging and you start to question is it worth it - and we even live an hour and a half from Perona Farms which sometimes made us question if we should have chosen an closer venue (or at least considered one since Perona Farms was the first and ONLY venue we visited), but those thoughts were quickly put to rest from the moment we pulled up to the venue on our wedding day and were greeted by our suite attendant Linda. She was a ray of sunshine and made me feel extremely special and kick started the excitement. She was attentive and present, and so so kind. And then Bri, our day of coordinator-- with all of our decor, using rented flowers and purchased candles (aka no florist), Bri became our coordinator and our florist and she handled it with kindness, grace, and an extremely obvious high level of expertise. I had a vision, which I very vaguely communicated in hindsight, and it's like she read my mind, but used her own special touch to make it better than we could have ever imagined. I was worried only meeting her the day before that I would regret not having our own separate coordinator, but that thought never crossed my mind on our wedding day. The set up took our breath away. And with minimal notice her and the team were able to repurpose our circle arch from the ceremony to the reception space seamlessly. And Franklin, our maitre d', wow, his positivity, generosity, and patience (esp at times throughout the night when I was lacking it) was immeasurable. He said so many things that felt so personal throughout the night, he was so genuine it made us feel extra special! Also, Marley who worked with us from the day we booked the venue, attended our ceremony which meant so much to us. I feel like everyone we worked with became instant family to us, and it was all so clear that this was exactly where we were meant to get married and that all the stress and the long drives were MORE than worth it. We will be forever grateful. Perona Farms and their staff made our dream wedding a reality. If you are considering Perona Farms, this is your sign to book with them NOW! (We were in the refinery!)

Randi

Married on 11/03/2022

Dream Come True

Perona was a magical place to have our wedding and my dream venue. The staff went above and beyond in making our day extra special. Marley was phenomenal in all the aspects of planning and helping us through the process. Desiree was an asset and gift to help us with the ceremony. She mainly helped me the entire day which was a huge relief, especially when things went sideways a few times on my end. Brenden was also really helpful during the reception. He spent a lot of time doing the behind-the-scenes things. I couldn't have asked for a better experience or place to be married.

Courtney M.

Married on 10/15/2022

Just do it

Perona really knows what they are doing. My husband and I got married at Perona Farms in the Refinery on October 15th and it was truly the best day. There is not a single thing that I would have changed at all. We worked with Auggie and he really helped us to plan the perfect day. On the day of, everything went off without a hitch. It makes sense that Perona has been around for 100+ years because they REALLY know what they're doing. Our guests are still raving out the venue, staff and the FOOD. The food is unreal, so delicious and beautiful. Perona made our wedding the most perfect day and if you're considering them - just do it. You will not regret it!

Erika E.

Married on 10/10/2022

The Refinery at Perona Farms- AMAZING!

My husband and I got married on 10.10.22 in The Refinery and had the most amazing day!!

Our bridal suite attendant Mabel was amazing. She was standing outside waiting to greet us when the shuttle arrived in the morning to drop off myself and the girls. She was so attentive the entire morning, making sure we had enough to eat and drink and also making sure the temperature in the room was perfect. My mom and one of my sisters requested something for lunch that wasn't on the menu, and she was able to talk to the chef and make the accommodation for them. They were so appreciative of her efforts. When my bouquet arrived she noticed one of the flowers were wilted, so she removed it and replaced it with a beautiful hydrangea that PF had. Her attention to detail was amazing and I'm so thankful she went above and beyond to make sure everything looked perfect. She truly made the morning run so smooth.

Our coordinator Brie was great! I created a coordinator manual that listed all the details on the decor and how I wanted it to be arranged, and everything was perfect. She really helped us manage our time while we took first look photos, bridal party photos, and immediate family photos. She even helped me pick out the pines from my train when we were taking photos in the pine trees. Bloomery added some flowers to the green wall in the ceremony room, and she moved them to the green wall in the reception room and it looked amazing. When I did a walk through of the venue before the first look, I was so happy that everything looked exactly how I had envisioned.

Our Maitre D Kelly was amazing! She came into the bridal suite before the ceremony to introduce herself and asked us what drinks we wanted once the ceremony was over. Sure enough once my husband and I exited the ceremony room she was standing right there with both drinks in hand. She did a great job making sure all the cocktail hour food she brought my husband was gluten free (He has celiacs disease.) We both loved the pizza so much! My husband said it's one of the best gluten free pizzas he's ever had. Kelly put in a to go order for each of us, and we were able to get a box of pizza the next morning when we picked up our decor. She was so attentive the whole night making sure our drinks were never empty and making sure the temperature in the room was okay. When the entrees were served my husband and I were in the bridal suites and she made sure to come find us to let us know our food was served so we could enjoy it while it was hot. She was so sweet and fun to be around, and we are so happy we had her by our side to make sure we had everything we needed.

From start to finish every staff member at PF made our night the most amazing experience. Our guests have not stopped raving about how amazing the food and the venue were. If you're looking for a great venue in NJ, you need to visit Perona and experience how magic for yourself.

Tyler

Married on 08/28/2022

Absolutely Beautiful!

We had our dream wedding at the Barn at Perona Farms! It was absolutely breathtaking. The staff was incredible, guided us through everything, made sure we had food and drinks, calmed us down when we got nervous, and were simply so friendly and helpful through it all! The food was immaculate, everyone kept raving about how amazing everything was. I want to shout out Megan for helping us plan the entire thing and also Jenny and Heather for guiding us and holding our hand through it all! It was so perfect and we are so happy we chose Perona for our big day!

Rochelle M.

Married on 08/08/2022

The Refinery is nothing shy of Perfection

On our first visit we walked in and immediately knew this is where we needed to get married. Everything was beautiful and done with such attention to detail. How accommodating the staff was we couldn't have asked for anything better. In May they had an event for all summer weddings. A tasting of the menus, cocktail hour food, reception food, and a full bar. It was great to be able to see how the staff interacted with large amounts of people. For our big day we rented out the private suits to get ready and that in itself was an experience. Hidden behind a mirror the speakeasy style setup opened up to a full bar, panoramic window and two amazing rooms. Full time attendants made sure we were catered to all day long. The staff really worked well with all our vendors making our day so easy and seamless. Can't thank the amazing team at Perona Farm enough.

Allie L.

Married on 08/05/2022

The best day!

From the day of our tour to the day we got married Perona Farms was nothing short of amazing. We got married in The Refinery on August 5th, 2022 and it was the most perfect day. When we toured, The Refinery was not complete so all we had to go off of were renders and the current state of the venue was in. We knew the room was going to be unique and beautiful, but we really booked Perona Farms because of how wonderful their staff is. We felt so important and cared for throughout the process. Marley was very responsive to any questions we had, which we did have quite a few towards the end when sorting out all the details. She never once made us feel like a burden and was always so kind! She worked with us when it came to the menu since I (the bride) am a vegetarian she made sure there were options for me, which was greatly appreciated! The day of our wedding the girls arrived at the venue bright and early. We used the suites that are in The Refinery, and it was the best decision! Not only are they gorgeous but, it was so nice to be at the venue all day and not have to worry about a thing. We were greeted by Fern who is the sweetest woman! She got us started with coffee and breakfast and kept the food and drinks coming all day. We also worked with Kim who went above and beyond for us. From setting up our décor in the most beautiful way to always being there with cold water while we were taking pictures outside. Kim truly is a rockstar and made our wedding day stress free! After Kim left, Heather took over our group and she was also amazing! She made sure we had food and drinks the whole night and was always around for us. Heather was awesome to work with! When it came to the food, everything was fresh and presented beautifully! Cocktail hour had so many different stations and the hybrid style dinner we chose left our guests with many options! The appetizers were all placed on the table for everyone to share. Followed by the salad course and then the dinner. The service during our reception was top notch. Everyone was kind and professional! After the reception we had donuts to go which were delicious! A perfect way for us to end the night. Overall, we could not have asked for a better day and it was all thanks to Perona Farms and their amazing team!

Meghan T.

Married on 07/30/2022

Amazing Experience!

We had the wedding of our dreams at Perona Farms in the Reserve Room! I cannot explain how amazing the staff is, we felt so taken care of on our wedding day. The team was so friendly and helpful every step of the way. They frequently checked in with us made sure we had food and drinks available at every part of the day. I highly recommend getting the Carriage Suites and Workshop to get ready in. The food was incredible, all of our guests kept raving about it. The venue is stunning all around, the ceremony space, patio, cocktail hour spaces and the ballroom. We want to give a big thank you to Marley, Desiree, Linda and Christine for making our wedding planning process and wedding day so seamless and easy! We are so happy we went with Perona Farms for our wedding!

Em Weber

Married on 07/29/2022

Best venue, team, and night ever!

Perona Farms was the absolute best location to host our wedding. Marley is a true gem to work with from start to finish. Perona Farms is celebrating their 105th anniversary this year and it is not hard to see why this family establishment continues to shine! Everyone treats you like family! They are organized and truly go out of their way to make you feel special and taken care of. You will not want for anything. And to top if off the food is out of this world! Farm to table fresh! Everyone was raving about the venue and food! Kim was with me leading up to the big day and she is beyond a joy to have by my side. We consider the entire Perona farms team family and would recommend them without hesitation or reservation. Book now!!!! Thank you for making our day so special, love Mr. & Mrs. Weber!

Kourtney A.

Married on 07/07/2022

First wedding at the tent!

Perona farms really pulled thru for my husband and I, they got that tent up in time for us to be the first wedding. Stacy and Madison were top notch amazing at my wedding. From the moment I got on the grounds in the morning, we felt taken care of and we didn't have to think about anything or feel pressured we were going to forget something because these two girls had our back in every single aspect you could think of. All of the behind the scene responsibilities were done effortlessly they are so professional but also so fun to be around! Literally anything we needed, from the most random requests were provided to us INSTANTLY. I would highly recommend perona farms as a venue, and if you are lucky enough to get even one of these girls you are golden.

Amanda G.

Married on 07/02/2022

Best Wedding Ever!

Our Wedding at the Barn at Perona Farm was a dream! Marley was our event manager, and she made the planning process so easy for us by being so patient and accommodating along the way. She never made us feel like a "client," and always gave us so much of her attention and thoughtfulness. Marley also stopped on the Wedding day to ensure everything was running smoothly.

Jenny (Day Of Coordinator), Franklin (Maître d'), and Kathy (Suite Attendant) were so on top of everything the day of. They truly made us feel taken care of and special on our Wedding day, from constantly checking in to see what we needed, to making sure the event ran smoothly. If we needed to change anything or if something wasn't exactly right, they worked to fix it immediately and efficiently. I couldn't have asked for a better "day of" team.

The food was delicious, and so many guests raved to us about the quality afterwards. Our add ons included a 3rd entree option, a Venetian table, to-go doughnuts, coffee/espresso, and an After Party hour with s'mores. Crowd favorites were unsurprisingly the sliders, the steam buns, and the doughnuts, but special mentions include the veggie empanadas and peach tart. Many people were wow'd by the sheer vastness of dessert display. For dinner, we opted for the salmon in watercress cream, the Chateaubriand beef, and the Amish chicken. The salmon and beef were perfect, but my only regret is not picking the Chicken Milanese as the 3rd option instead of the Amish Chicken as I think the Milanese we had at the tasting was more flavorful! Either way, our guests are still raving about all the food!

The Barn's new outdoor patio was SO lovely, and guests really utilized it during the cocktail hour and After Party.

Overall, we are so happy we went with Perona Farms and couldn't have imagined a more beautiful or perfect day.

Kate S.

Married on 01/16/2022

A Dream Come True!!

My husband and I got married about a month ago and our guests are still talking about it. Our winter wedding was everything we could have hoped for. We went with the Refinery, which is so unique and stunning all at once. From the start, working with Marley was easy, comfortable but still very exciting. They were accommodating to the food allergies of a couple guests and the few menu items we wanted to change. She was kind, helpful and was great with communication. There are so many outstanding points to make about Perona Farms, I'll put the most impactful ones in here.
The service is impeccable. Myself and my family have never felt so cared for by a business. There wasn't a thing any of us lacked the entire weekend. Someone was always checking on us or being helpful in some way. As a bride, I have never felt more special. Not just on the big day, but even starting at the tasting, to the rehearsal dinner and even picking up our decor the next day. Our coordinator Kim, kept us all on time and on track for our ceremony and made sure everything was set up perfectly (which it was). She did this all while checking on me and my girls and helping our photographers. Desirre was in our wedding but still managed to help decorate and make gorgeous signs for our perfect day. Every moment was more beautiful than the last thanks to Kim and Desirre. Franklin and Kelsey did a fantastic job handling everything for the reception, I don't think there was a moment my husband and I needed a single thing. They kept things running smoothly from start to finish. I can't say enough about the people who work there. Everyone is wonderful!
If you're looking for great food it doesn't get better than this. The food was outstanding! Still-think-about-it weeks-later-outstanding. All of guests couldn't get over the food. The cocktail hour is to die for. You also don't have to sacrifice any of your wants, you get it all! Then the dinner is amazing too, we went with the hybrid option of family style and plated which is a perfect balance of slightly casual and a little refined. No one left hungry, that's for sure!
Another thing to mention, if you have the opportunity to have the DeBurgh house the weekend of your wedding I highly recommend it. The rehearsal dinner held there is an incredible way to start off your wedding weekend. Again, unbelievable food and the best service and staff you could every dream of. My new in-laws stayed and they have been raving about it since!! Trust Perona and their visions, without them our wedding wouldn't have been as beautiful as it was. They have been doing this for over 100 years! Aside from definitely getting married here I would highly recommend trying to not sweat the small stuff, at the end of it, if you're getting married at Perona you'll have an amazing wedding while marrying the love of your life!
All my husband and I want is to do it all again, not to change a thing but to experience it all another time!
All Pictures I'm posting are done by Carrie Kizuka Photography- She's amazing!!!

+ 5

photos

Nicole P.

Married on 12/18/2021

A perfect wedding day

We couldn't have asked for a more perfect wedding. Perona Farms was everything we could've wanted, and then some. Our wedding at the Barn was beyond beautiful and went off flawlessly thanks to Perona Farm's incredible staff. Throughout the entire process, they were always there to work with us and very responsive. Our guests had an incredible experience, with plenty of high praise for their amazing menu of food. We hope to be able to come back as a guest in the future, and would highly recommend Perona Farms to anybody.

Caroline C.

Married on 12/05/2021

Everything you could want and more!

We had our wedding at The Barn last weekend and are still in awe of how incredible the entire experience was.. from beginning to end I cannot tell you how seamless and pain-free the planning was, thanks to Ivette our event coordinator. We got engaged in 2019, and knew off the bat we didn't want the "cookie cutter" NY wedding.. looking for something exquisite but unique and rustic..Perona Farms checked all boxes and more. From the second we walked into the Barn, at knew our was where wet needed to have our wedding. We booked the DeBergh House as well, so everything would be at the venue and easier for us and our families. I recommend booking the DeBergh House to every couple, I cannot say more amazing things about the Rehearsal dinner and the fact that you wake up in this amazing, immaculate house, the people who work there are the nicest ever(Linda is the most amazing person ever), and you can just walk out onto the amazing porch, with the fireplace, and get ready without any extra stress.. every detail big or small, is combed through, and they make everything is how you want! All of guests were blown away by how beautiful everything was, and how incredible the food is ( everything is farm to table) I cannot begin to count how many people asked me"where did you find this place?!" And how much fun they all had.. if you have any doubts.. please book this venue I promise it will be everything you both dreamed of.
I cannot say this with more feeling..THANK YOU to everyone, Ivette, Linda, Ginnie, Jenny, and Brendan.. for making our wedding more than we could of dreamed of!
Xoxo,
Caroline and Angel Rosario

Chris C.

Married on 11/28/2021

excellent all around

all was excellent and exceeded our highest expectations (and we are not always easy to please)
The food was delicious (both the cocktail hr and the main)
The service was excellent. The bar tenders excellent. The setup and the overall presentation superb. Could not be happier! Thank you Perona

Brittany C.

Married on 11/24/2021

Perfect Day

Our experience with Perona Farms was fantastic from the beginning. We initially had our wedding planned for last November 2020, but decided to reschedule it at the last minute to remain covid-safe. Marley worked with us from our initial tour of the barn venue (we ended up booking it that day-pictures don't do it justice, as it is so much more beautiful in person) up to our last and final meeting. She was genuine, kind, organized, and responsive. We had several questions and changed things around quite a bit during most of 2020 and some of 2021, and nothing was ever too much to ask. She was accommodating when we could not reach our minimum guest count and graciously made some adjustments.

We finally got married yesterday, November 24, 2021 and it was absolutely breathtaking. Desiree was our wedding/ceremony coordinator for the start of the day and immediately met us outside when we arrived. She was lovely! She made sure everyone in our wedding party/family had everything they needed, kept managing our time, and made sure everything went smoothly with pictures. She even drove us around to different sites to take pictures with our photographers and made sure we had some food for the ride.

Franklin was our Maitre D' and I cannot say enough positive things about him. He was sooooo attentive to my husband and I the entire night. He entertained my need to have control and organized the entire night to our liking. He kept the traditional stuff (Introductions, dances, sparklers) moving, so we could enjoy ourselves and dance the rest of the night. He made sure we ate throughout the night (he continued to make us plates of food and brought them to the wedding suite when we wanted to get away) and had drinks made for us before we were even done with the ones we were currently drinking.

The rest of the service and operations team were also wonderful! I'm upset I could not get everyone's names, but just know that everyone was so kind and thoughtful.

I have never had so much more fun at a wedding and I'm not just being biased! All my guests had nothing but positive things to say in reference to the food (many many many compliments on that), the beautiful venue and decor, and several breathtaking places for people to take pictures.

Perona Farms knows how to throw a wedding!

Tracey T.

Married on 10/16/2021

A once in a lifetime experience

Hello to all fellow couples. My husband and I were engaged on November 22, 2019 and were recently married at Perona Farms this past Saturday, October 16, 2021 in The Reserve room. We had been working with them for over a year and to say that we feel like part of their family is an understatement. If I were able to choose ten (10) stars or more I would! We initially chose them due to the location and the fact that I personally love all things rustic and fall-like. After our initial meeting with them there was no need to look any further. From the owners, to our coordinators and down to every last member of the staff they were the most wonderful people to work with. We enjoyed every step of our planning with them and they truly helped us to enjoy the process. We always felt welcome with open arms even when we attended our tasting. There had to be over 100 couples and yet we still felt like the only couple there from the moment they greeted us when we first arrived to the moment when we left. The area and view is breathtaking and the property and aesthetics are sublime. Their individual buildings (The Barn, The Reserve and The Refinery) are exquisite! The food is out of this world and the variety is amazing! In addition, the vendors that are on their list are equally amazing and are too worth ten (10) stars! I am speaking from the heart when I say that if I had the chance to do it again I would not change a single thing. When you are with the Perona Family you will become a member instantly! Wishing all fellow couples a lifetime of love and happiness!

Antonija P.

Married on 10/10/2021

The Perfect Wedding

My husband and I are still amazed at how beautiful our wedding day was. The staff and services at Perona Farms is exceptional, and this was noted by all of our guests. The venue space at The Refinery is elegant, with a large dance floor and room for guests to mix and mingle. We wish we could have eaten more at our cocktail hour, because our gusts RAVED about the food. A tremendous thank you to Robin, Christine and Franklin who supported us in every way day of, and made sure my husband and I were taken care of. Truly fantastic service. Our wedding was everything we hoped it would be.

Courtney E.

Married on 08/27/2021

Flawless Execution

My husband and I booked The Barn as well as the DeBergh house for our wedding. The best decision we have ever made! The DeBergh house was a perfect two night stay. We came up the day before and had our rehearsal with amazing food and a low key comfortable vibe at the house followed by a beautiful bonding moment with our bridal party the night before our big day outside on the porch by the fire. The ease of waking up where we needed to be was amazing. The staff was extremely responsive and read our minds for our needs before we even knew we needed it! Our guests have been raving about the Venue from the service to the gorgeous backdrop of the rustic barn. Our ceremony was planned to be outside but because of some rain, Perona was able to flawless pivot to an indoor ceremony. The staff was amazing, friendly, professional, and all around perfect. The food for cocktail was amazing and with an even more amazing family style reception meal. The space inside and back porch area was accommodating for all of our guests wants and needs. And I love that they caught my vision for switching up from a traditional wedding cake to Perona home cooked pies. Perona was beyond accommodating for any special meal requests and treated us like family. As the night wore down and our guests heading home, we were able to head back across the street to the DeBergh house with our bridal parties to kick back and bask in our wedding glory. We were sad to leave the next morning since our wedding felt like a vacation thanks to the Perona Staff. Huge shoutouts to Marley for planning, Kelly for coordinating the ceremony, Franklin for coordinating the cocktail and reception and making sure I ate during the big day, and Ginny for all our DeBergh house needs!
Are you interested?
Send a message