454 Reviews
Recommended by 91% of couples
Quality of service

4.6 out of 5 rating

Average response time

4.5 out of 5 rating

Professionalism

4.6 out of 5 rating

Value

4.5 out of 5 rating

Flexibility

4.6 out of 5 rating
75 User photos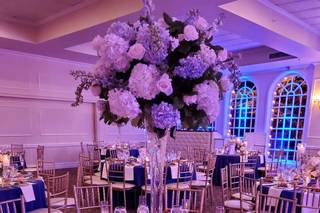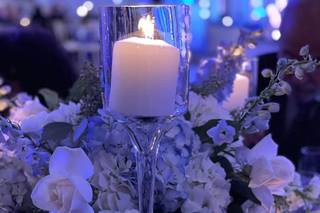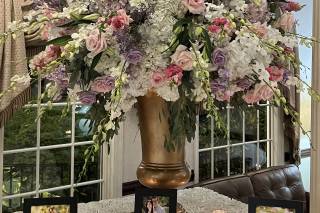 + 71

photos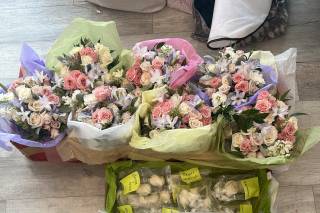 Lauren E.

Married on 10/22/2022

Amazing wedding florals!

Pedestals was truly an incredible vendor to work with for our wedding at the Heritage Club on 10/22. Joseph was extremely helpful through the entire planning process and worked with us to accomodate our budget and adjust our vision as it changed over the course of the year. The chuppah that the team put together far far exceeded our expectations - had multiple guests tell us it was the most beautiful chuppah they had ever seen. The other florals were amazing and perfectly matched our vision! Joseph and the team also let us bring in some of our own florals and set them up very well in the space. We couldn't recommend Pedestals enough!

Maryanne M.

Married on 10/09/2022

Beautiful flowers

They did a wonderful job. The room looked beautiful with their centerpieces. Flowers were fresh. Bouquets were beautiful especially my bouquet. Perfect!

Erica W.

Married on 09/10/2022

Breathtaking bouquets and arrangements

Pedestals exceeded our highest expectations!! Joseph was AMAZING to work with and truly has the best eye. The main decor of our wedding revolved around the flowers and everyone commented on how stunning they were. I brought in an inspo photo from online and Jospeh pulled flowers from the back on the spot to try and show how different color combinations would work. Day of, my bouquet was stunning and even more magnificent than I could have imagined. The floral arrangements for tables were beyond impressive and our photographers were so happy with the color combinations saying they would look phenomenal in pictures. Jospeh helped make our vision an even better reality and I cannot recommend him and Pedestals enough!!

Are you interested?

Send a message

Courtney R.

Married on 07/16/2022

Amazing!! Highly Recommend!!

We worked with Nadia from Pedestals for our big day & our expectations were far EXCEEDED! Nadia was great to work with, she was personable, sweet & not pushy at all. We sent over a few photos of examples we had in mind with the budget that we were working with & when we came in for our consultation months later she had examples that matched our EXACT vision. I highly recommend Pedestals, the Ballroom looked incredible because of it! Thank you!!

Tanisha M.

Married on 06/18/2022

Amazing Work

Pedestals did the floral decorations for both my bridal shower and my wedding and literally left guests in awe!

Robert was an absolute joy to work with! You don't have to worry about anything when you work with Pedestals. I can't thank them enough for making my events beautiful.

+ 2

photos

Lyle S.

Married on 06/04/2022

Beautiful Arrangement!

I'll start by saying that Rob, who was our floral designer was fantastic. My fiancé and I knew vaguely what we wanted but beyond that, knew very little about flowers. Just by talking to us and asking about the color scheme of the wedding, he came up with beautiful center pieces. He was very open to changing anything we didn't love(which wasn't much at all) and came up with a beautiful bouquet for my bridesmaids and an even nicer one for myself. I was so impressed by him. Alvin was our flower delivery man and deserves his own A+++. I had no idea what a flower delivery person did until I met Alvin from pedestals. He was a major bright spot of the day. He did so much more than just deliver flowers and decorate our cake(which he did absolutely perfectly). He hung out with my fiancé and his groomsmen, pinned they're boutonnières, helped fix ties for pictures and overall made a great impression on us and our entire family. He was a fantastic surprise. Overall I would absolutely recommend pedestals to any bride and plan to use them again for our next special occasion!

Wendy G.

Married on 05/29/2022

Mother of the Bride

Pedestals did the flowers for our daughter's wedding on May 29th at The Mansion at Glen Cove and everything was beautiful! We worked with Nadia who brought my daughter's vision to life. Everything from the chuppah to the bouquets and centerpieces were exactly what we wanted. Thank you Nadia and Pedestals!

N Babikian

Married on 05/20/2022

Beautiful flowers

Pedestals Floral Decorators were our florists for our wedding and truly did a remarkable job decorating our ballroom, church and with the bouquets. We worked with Phil who is so personable and creative. All the floral designs were high quality and absolutely beautiful!

Estee G.

Married on 02/06/2022

Top Floral Designers

I knew when I booked my wedding, I had to go check out Pedestals immediately. As someone who works in the wedding industry, I know that Pedestals work speaks for itself. We were so lucky to get to work with Phil on our design and he truly went above and beyond to make the ballroom look magical and execute a stunning, over the top design. I highly recommend working with Pedestals, they are extremely professional and go above and beyond to make your day incredible.

Leighmarie R.

Married on 12/10/2021

Incredible!

From the moment we met with Nadia back in January of 2020, we knew we needed to book her and her incredible team at Pedestals. Initially, my husband and I didn't have a clear vision of what we wanted in terms of flowers; we just knew we wanted an elegant/classy Christmas vibe for our December 2020 wedding. And Nadia knew just what to do when we mentioned that. Since we originally met in the winter and the flowers that she suggested were still in season, we were able to do a trail in late January/early February. During the trial, some of the flowers we picked out weren't giving us that Christmas feeling that we wanted, but we knew we had plenty of time to make adjustments before December rolled around. Turned out we had way more time then we anticipated. Everyone knows what happened in March of 2020 and in September of that year we decided to postpone our wedding to the following year (December 2021). Working with Nadia for during the postponement process was simple. I remember calling her telling her we were going to postpone and she reassured us that we were making the right decision. I sincerely appreciated her honestly and support during a major life milestone that felt like it got pulled out from under us. As time went on and the rest of the pieces to what felt like our non existent wedding was falling into place, so did our vision for flowers. I met with Nadia a few times over the phone to go over what we wanted. She was always there for us whenever we had questions about things or whenever I had moments of indecisiveness and changed my mind! Then it was finally wedding day. I was in the middle of hair and makeup when the flowers were delivered, and when I was done and went up to see them I was left stunned and speechless. Every detail in my bouquet and the girls bouquets were incredible. To this day I am still in awe of how all of the flowers turned out. I loved them so much I took them to get preserved. Our centerpieces and flowers on the cake were gorgeous too! Nadia definitely nailed the elegant/classy Christmas vibe that we were going for! Nadia and her team at Pedestals surpassed any and all expectations that we had in working with a Florist and you can't go wrong booking with them! They are true professionals and experts at what they do. What we appreciated most about Nadia was that she genuinely cared about making us happy on our big day. Every time we spoke, we knew we were being taken care of. We are are grateful we booked with Pedestals and even more grateful that we got to work with Nadia for such an important day in our lives. We would recommend them over & over again and we hope to work with her again for other big life milestones in the future!

Nathalie J.

Married on 11/13/2021

Joe was a flower expert

Joe knew what I wanted and delivered!! Our flowers and center pieces looked beautiful!! He knows everything about flowers and such a sweet person!

Lindsay L.

Married on 09/26/2021

Amazing!!! Most beautiful flowers!

just had my wedding at Westbury Manor and Robert did such a remarkable job! He designed the most gorgeous centerpieces and bouquet I could have ever dreamed of. He decorated the centerpieces with beautiful candles and gave the wedding a fairylike feel. He was a pleasure to work with and was responsive to all our needs. I have been getting so many compliments since the wedding about how beautiful the flowers were. Thank you so much! - Lindsay and Danny

Lindsay W.

Married on 09/11/2021

The most gorgeous flowers

So, I'm going to start off by saying I didn't realize how much I'd care about the flowers for our wedding. I went to a different florist and got a bad vibe from them, so my venue recommended Pedestals. And omg I'm so glad they did. From the second I met Joseph, I knew it was meant to be. He was able to describe exactly the look I was going for before I was even able to put it into words.

They were super good with communicating and their samples prior to our wedding was perfect.

Come to the day of, I CANNOT believe how gorgeous my flowers were. My jaw dropped when I saw the chuppah and synagogue decorated. I couldn't believe it was exactly what I envisioned.

I don't even know what else to say except that I can't recommend Pedestals enough.

Samantha

Married on 07/09/2021

They did such beautiful work

They did such a great job for our wedding on July 9th. We had a beach ceremony and the archway was incredible. We used sunflowers as our theme for flowers, centerpieces and the archway. It came out so amazing. I highly recommend!

Maria

Married on 06/25/2021

Beautiful work!

Nadia was amazing and a complete sweetheart to work with. The flowers were absolutely beautiful.

Jeanine J.

Married on 04/16/2021

The best florist on planet earth

I could go on and on about how amazing my experience was working with Phil from pedestal. He is an absolute gem and made planning our wedding seamless. I knew it was going to be perfect just based on our encounters with each other during the planning process but when I walked into the wedding my mouth dropped to the floor! He went above and beyond with every aspect the ceremony the reception it was all perfect and I've never seen flowers like that in my life. I could not recommend this company more not only was everything beautiful but they were just so professional and awesome I couldn't imagine our perfect day without them.

+ 9

photos

Krystal

Married on 04/03/2021

Fantastic florist

I got married on March 19th, 2021 and used pedestals for my arrangements. I'm very glad I did. The months leading up to the wedding were particularly stressful due to the changing covid laws. Pedestals allowed us to change the contract multiple times. They were very accommodating and fair. Robert was the florist we were in contact with and he was always accountable, professional, a joy to do business with and his vision was divine!! The bouquets, floral arrangements and beautiful arch we got married under were all stunning. The amazing candelabras on the tables were romantic and the candles burned throughout the night. It was truly spectacular. Even my flower girl crowns were perfect. The days leading up to the wedding I had a few extra requests (ex floating roses for the high boy tables) and Rob always delivered!! I highly recommend.

Samantha A.

Married on 12/31/2020

Loved everything about my wedding flowers - thank you Pedestals!

Working with Joseph and Pedestals for the florals for my recent NYE wedding was a wonderful experience. Joseph was always responsive, flexible when it came to some changes throughout the planning process due to COVID, and ultimately executed my vision for my color scheme, bouquets and centerpieces exactly how I envisioned. I would highly recommend Pedestals for your wedding or any other event!

Beverly L.

Married on 11/14/2020

Turn Dreams into Reality!

Our day was beautiful because of Robert and his team at Pedestals. At our first meeting, I explained our vision to Robert. He totally understood what we were asking for and hit it out of the park on the design.

Being a 2020 couple, moving forward with what we could do, we found that Robert truly was someone we were able to lean on for advice and guidance on how to make our wedding elegant and exquisite. He worked with us given the circumstances and challenges we were faced with and created a classy and gorgeous look for our wedding day. Our chuppah was stunning- well above and beyond our expectations. Robert was by far one of our biggest supporters and cheerleaders throughout the planning and re-planning process.

This is an incredibly talented team that you would be lucky to have be a part of your special day.

+ 3

photos

N A

Married on 06/20/2020

Expectations exceeded

I walked into Pedestal Floral and was greeting immediately by Joe who was super friendly and amazing to work with. He immediately assisted me and helped me figure out all the decor and details needed for my ceremony. The actual day everything was set up so beautifully. They exceeded my expectations.

Rj Noonan

Married on 04/04/2020

Treated As People

Full Disclaimer I write this as a Groom and we have not had our wedding yet, but for any couple planning a wedding sometimes just having one less thing to worry about is just as valuable as the money you need to save! We decided after we booked the Florist we were going to take a hiatus from wedding planning. Take a breath, enjoy being engaged and just try to relax and knowing it will all work out. There is a phrase we keep hearing, you get what you pay for when it comes to vendors. What gets lost in that is the people that make it happen, bring it together, and truly care that your special day is YOUR special day... Nadia hasn't treated us just as clients, as another date on the calendar, another means to an end. We've been treated as people... Throughout this process, the toughest part has been watching the excitement of the bride to be from the engagement glowing & cloud 9 slip into the stress and marathon of planning the wedding. We've met and spoken with Nadia a few times now and for what it's worth the Bride is excited to walk down the isle with her dream vision, walk up to her guests at their tables proud & handing her bridesmaids (All 12 of them -__-) their bouquets all without hoping nothing goes wrong because Nadia & Pedestals are in her corner. From the Grooms perspective, the Smile she had leaving Pedestals (yet again) reminds me, not that I ever forgot, but why I asked her to Marry me. The glow and smile is just unmatched & how much I just want her to have everything she's deserved. Let the Hiatus begin!

T. White

Married on 12/06/2019

Robert is the best

Love love love Robert! He was just so in tune with the vision I had for my wedding day. My ceremony space and reception table centerpieces were gorgeous!!! So glad I chose this vendor

Cara

Married on 11/16/2019

Exactly what I envisioned !!

Joe at Pedestals Floral Design is absolutely amazing! During our first meeting, I knew right away that I wanted to book them as our florist. Joe was able to see the vision of what I wanted based on just a few pictures I brought for table centerpieces and our chuppah. Joe was then able to make suggestions on the spot for my bouquet, bridal duet table, bridesmaid bouquets and groom/groomsmen boutonnieres. And I can't forget to mention the dramatic floral tree in the entrance way! I could not have been happier with the overall outcome. It came out absolutely beautiful!! I highly recommend Pedestals Floral Design for your wedding!!

+ 3

photos

Keri

Married on 10/26/2019

Above and beyond!

We cant say enough about pedestals! We worked with Nadia who went above and beyond to make us happy! She offered suggestions and recommendations for us that made our vision come to life. Nadia is not just another person behind a desk. She truly knows what she is talking about and shares her honest opinion on things. She worked closely with us and made sure we were comfortable with everything we chose. We knew that we could trust her judgement and she did not let us down. Our guests raved about our centerpieces and arrangements! If you are looking for a florist you dont need to look any further! They truly are amazing!

Kim

Married on 10/25/2019

Wonderful experience

We worked with Robert for our wedding and we couldn't be happier! Transparently, flowers were not a top priority budget-wise for us, and with that we had some less than stellar experiences with other florists. Robert understood our concerns and created the most perfect centerpieces and ceremony flowers all within our budget! Everything came out perfect, even better than imagined (I audibly gasped when I saw our alter setup :)) Such a pleasure to work with, I highly recommend!
Are you interested?
Send a message