78 Reviews
Recommended by 99% of couples
Quality of service

5 out of 5 rating

Average response time

4.8 out of 5 rating

Professionalism

5 out of 5 rating

Value

4.9 out of 5 rating

Flexibility

5 out of 5 rating
23 User photos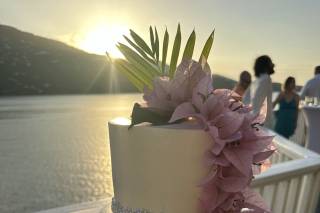 + 19

photos
Linda

Married on 01/10/2023

Would definitely recommend

Laura, her sister and team were excellent! They help create the perfect wedding reception for our daughter and her husband. They even created a beautiful table display and cake decorations when the flowers I thought I was getting from another vendor fell through:( Planning long distance was made easy with great communication and plenty of good suggestions! AND the food/cake were awesome…everyone raved how delicious everything was!!

Steven R.

Married on 12/07/2021

Excellent food, service, and staff

Laura and her staff provided fantastic catering service for us both on our wedding day and leading up. Great communication (sometimes you just have to follow up emails with a call!), great service, and really great food. Her bartenders were a ton of fun and really enhanced the party. Her team was on the ball with tables and chairs set up, which really helped reduce the burden on us the day of. We also highly recommend the coconut plum sauce!

The only thing I wish that went differently was that we remembered to find Laura for a picture before the night wrapped up! Sorry Laura!

Steven K.

Married on 05/21/2021

Exceeded our Expectations!

Laura and her staff where incredibly professional from the tasting a year ahead of time, the detail in planning along with her considerations and expertise. My daughter's wedding was flawless and the food fantastic! Highly recommend the Mahi sliders as an appy! Exceptionally professional and would highly recommend them and will surely use again even if for just a small dinner gathering at our next trip to St. Thomas/St. John. We are incredibly appreciative Laura and team! Steve K.

Are you interested?

Send a message

Kim H.

Married on 03/01/2021

What professionals they are. And lovely people, too!

Choosing a caterer was our first step as we planned our mid-January wedding... knowing how busy St. Thomas' best can get in 'high season.' So we met with and booked the services of Laura, Lorna and Cassandra of Passion Fruit Chefs last June -- 7 months in advance. Nobody does food like they do -- and I speak from decades of living and dining in St. Thomas. Their level of innovation, variety, and delight-the-eye presentation are ...exceptional.
Laura, the planner, was consistently available -- with details at the ready -- for advance questions on menu adjustments, logistics, and timing. She was acutely attuned to food allergies and able to provide substitutions... even last minute, to guests who til then hadn't made their intolerances or requirements clear.
PFC fed 150 of our guests in the course of 2 nights. And almost-as-many of our friends and family members said to me (that evening or later) "their food's amazing!" Not "good" Not "tasty"... but that word over and over: "AMAZING!"
Lastly, what a great spirit Laura, Lorna and Cassandra bring to their work, their staff -- and their clients. They made a full measure of magic for us that elevated and infused the entire, glorious weekend. Our hats are off to you, PFC Ladies!!!

Erika

Married on 02/06/2021

Delicious!!!

I highly recommend Passion Fruit Catering! The food tasted delicious and the presentation was excellent. Laura was very professional and accommodating to make our wedding day exactly how we wanted it.

Ruby L.

Married on 03/28/2020

Amazing!!!

Our experience with Passion Fruit Chefs was excellent. They responded immediately and were super enthusiastic. When all of our plans changed at the last minute due to a global health pandemic, they were compassionate and quick to adjust the plans.
The meal was delicious! Everything was scrumptious- even the salad dressing! You can't go wrong with Passion Fruit Chefs!

Sineta B.

Married on 01/12/2020

Outstanding Food & Service!

My husband & I recently got married in the Virgin Islands (St. John). We stayed at a beautiful Private Villa for 7 days where we hosted all of our events. Chef Laura w/ Passion Fruit Chefs prepared the food for our Welcome Dinner, Wedding Reception (& bar) & Day After Brunch. After the first meal, I was wishing I'd booked her for the ENTIRE WEEK! She was professional, sweet, prompt & her food was DELICIOUS!!!! Laura had great patience w/ me & all of my emails, calls & texts, until we came up with the perfect menus for all 3 events! I mean, EVERY SINGLE DISH from the hors d'oeuvres, to the salad w/ homemade dressing, to the entrees were TASTY & MEMORABLE!!!! We had 17 guests (15 adults)...a mixture of meat lovers, vegetarians & pescatarians and EVERYONE raved about the food! I also need to make mention that Laura was very mindful about her & staff being COVID-safe by wearing PPE & not allowing ANYONE to enter the kitchen or surrounding areas without a mask on! Not even ME, as the Bride. ;-) It was GREAT! We all felt safe & ate EXCELLENT food! We plan to return to the VI in the Spring for my birthday & Laura will be the first person I call to prepare our meals...for the WEEK this time! :-) If you're in need of a chef in the VI...LOOK. NO. FURTHER!!!!! You will not be disappointed!

Elaine C.

Married on 01/06/2020

Awesome dinner at villa

Two weeks ago, we arrived on St John and had a magnificent meal prepared by Laura at our villa on our first night. A wonderful relaxing evening after a long day of travel. Food was fabulous, wine and pain killers provided. Wonderful, friendly service. All cooking, service and clean up done by Laura. Very accommodating, one person doesn't do fish so we had 5 Mahi Mahi and 1 Chicken. Also, we ordered breakfast for the next day to be delivered at same time so we could enjoy our Easter morning. Fruit, delicious pastries and roasted vegetable frittata. Great suggestions and lots of options. I would highly recommend them! Will definitely use them again when we return to St.John

Cari G.

Married on 07/16/2019

Beautiful presentation, perfect meal!

We had been looking forward to our meal with Chef Laura our entire trip, and we were not at all disappointed. Prior to our meal, She kept in touch with us and made sure to prepare a custom menu that fit our tastes and many specifics (food allergies, sensitivities and pescatarians), and she presented a meal that excited all 7 of us, which was no small feat. The opening appetizer of vegetable fritters was flavorful and perfectly crispy, and I had to stop myself from eating too many. The first course of shrimp bisque was creamy with bits of shrimp, and more than enough, which was good because we would have fought over the leftovers. The main course of grouper was tender and had a special addition of sweet orange and kiwi. Our children, and the kids at heart raved over the brownie sundae. She made our villa beautiful and the presentation of food was pristine.
Chef Laura is extremely personable and accommodating, and was the highlight of our trip to St. John!

Chris& P.

Married on 07/06/2019

Spectacular Presentation & Service

Laura was our chef at our ARBNB villa in St John for 3 couples. She catered a fabulous meal, the presentation was marvelous, her conversation intriguing and fun, the appetizers, entree and dessert were absolutely delicious. She was attentive to food allergies in her presentation. She made our dinner part of the highlights of our trip. Thank you!

Tamara A.

Married on 06/29/2019

Professional, fun and delicious

Laura and her team were very professional and friendly to work with!!! We had many of our guest mention what an awesome job they did and how good the food was. The entire team was very receptive and attentive to both our guest and the wedding party needs. We would definitely recommend them for your event!!!

James

Married on 06/15/2019

CEO of telecommunications Co

Laura and her team are true professionals with amazing food, service and the extra touch whenever needed. All of our guests want to use her when they come back to visit St John. Highly recommend

Vanessa B.

Married on 06/13/2019

Excellent service!

I was in St John, an island that I'd never visited before and I wanted to host an intimate BBQ for my best friend the day after her wedding. I hired Passion Fruit because it was the caterer that my friend hired for her wedding. Everything was lovely, excellent service, stress free and the food was good. I'd recommend them for any event!!!
Vanessa Bell Calloway
Actress, director & producer.

Richad A.

Married on 06/12/2019

Everything you may need and want!

Laura Samms and her staff were wonderful, patient and fun.

Alyssa

Married on 04/19/2019

Wedding Caterer

We have been to many weddings throughout the years and Passion Fruit chefs made the best food by far!!! We are so thankful to have had the opportunity to work with Lauren and her team for our wedding and brunch the day after. Lauren was so incredibly helpful to plan with along the way, she made great suggestions, and even made last minute meal changes for a family members restricted diet. We cannot thank you enough for being such a crucial part of our wedding day. I can honestly say that everyone loved their dinner and devoured the deserts! Passion fruit chefs also has the most amazing staff! They were all so kind, fun, and helpful throughout the entire event and the next morning! In fact, we did not receive the coffee we ordered and one of the staff members was so sweet and not only made us two pots of coffee with her own personal coffee she had bought but she also left us the rest for the week. Passion fruit completely exceeded our expectations and put their personal touches on everything! Thank you so much!


Lindsey W.

Married on 01/19/2019

Delicious!

Laura and her team were absolutely fantastic. After having to change our reception four weeks before the wedding and go from a restaurant to needing a caterer, Laura was amazing in helping us choose the perfect menu for our wedding day. From passed hors d'oeuvres to dessert, everything was delicious and our guests raved about it, even days later. If you're in need of a caterer on St. John, look no further!

Joanna L.

Married on 01/08/2019

Superb food and service!

Superb food and service! Laura and her crew catered my daughter's wedding on New Year's Eve 2018 on St. John. We had Caribbean pig roast feast, with other Caribbean dishes in addition. Can not say enough good words,how delicious everything was, and every one of our 150 guests was very satisfied with the taste, preparation and appearance. Thank you very much Passion Fruit Chefs for making that wedding a very memorable event on the culinary side :)

Jeannine T.

Married on 11/14/2018

Amazing Corporate Event by Passion Fruit

Laura couldn't have been more accommodating. She was very responsive and worked within our budget. The food was amazing and truly made our event fabulous. I also loved the table decorations! Thanks again Laura for contributing to a success work retreat while in St. John. I hope to return someday soon!

Shayanna S.

Married on 10/01/2018

Catering was such a breeze with Passionfruit Chefs

We worked with Passionfruit Chefs to cater a company outreach trip that spanned over the course of 4 days and 3 different locations. Laura and Lorna were amazing, super responsive to all of our asks, and very professional. We were blown away with the service before we even had a chance to taste the food! Once we had the lunches delivered they were AMAZING! Every single day. Even though our situation was more complicated because we were not onsite and had to have packaged catering, the quality did not suffer at all. The dessert was literally to die for. I've never had such moist dessert. I'm still dreaming about the lemon cake almost a week later. If you're looking for an organized, professional and most importantly, talented chef, please do book with Passionfruit Chefs!

Gillian

Married on 09/08/2018

Passion Fruit catered our wedding at Villa Serenita on 8/25 and OH MY GOODNESS they are amazing. Every single guest commented on the food and said it was the best wedding food they had ever had. We had a cocktail hour with passed apps and a charceuterie station. For dinner, we had a grill station with two types of potatoes, ceviche, and hearts of palm salad. We then had 4 types of dessert in addition to the cake: mini key lime pies (Cassandra's special recipe, I'm still dreaming about them), tiramisu, gourmet brownies, and the most dense, delicious cupcakes I've ever had. We also went with the top shelf bar, and they let us choose our own alcohol and wine. Laura and Cassandra were by far the most enjoyable people to work with from our wedding from the very beginning. They were SO responsive, communicative, and patient. We also hosted a brunch the following day and it was DELICIOUS. We had an Omelette action station with potatoes, bacon, sausage, and pastries. Their team of chefs, servers and bartenders are TOP NOTCH. They were all so much fun and were unbelievably professional. There wasnt a single guest that didnt comment on the staff and how great they were. One of our amazing bartenders even had her teenage daughter sketch a photo of us and we have since framed it!! Don't even consider anyone else...HIRE PASSION FRUIT RIGHT NOW!!

+ 6

photos

Kevin

Married on 08/25/2018

We had our wedding at Villa Serenita on Saturday 8/25 and were SO HAPPY with Passion Fruit Chefs. Hands down the best food at a catered event I have ever had. We had a cocktail hour with passed apps with a station as well, grill stations for dinner and a full bar. Laura and Cassandra were by far the easiest people to work with. They were very communicative and responded quickly to our questions and concerns. About a month before our event we decided to add a brunch on the following Sunday and they totally rocked that out as well Their team of chefs, servers and bartenders absolutely blew us away. They were all so engaging, fun and professional. The next day at the brunch the bartender from the night before came back to work and her daughter had made us an amazing sketch of us from a picture that was taken. It was so so so cool! Our minds were completely blown by the entire experience and Passion Fruit made it happen.

Tracy

Married on 07/12/2018

Laura is such a pleasure to work with. Everyone at the wedding was so polite and kind and seemed so happy to be there. And on top of all the attention to details, the food is absolutely amazing. My guests could not stop talking about how wonderful everything tasted.

Thomas

Married on 06/17/2018

Mt husband recently arranged a most memorable surprise to celebrate our 40th wedding anniversary. On one of our first nights in St John, Laura showed up at our villa door, bringing with her all the necessary items to prepare the most amazing meal any of the 4 of us had ever had.
She quickly made herself busy in our kitchen, preparing incredible appetizers as she chatted away with us as if we had always know each other. By the time the hor doerves she had prepared were ready, she had without our knowing prepared a beautiful table outside on the deck, where we sat for the next glorious 2 hours as she served us a delectable 4 course meal. It was a meal and an experience none of us will ever forget! Laura is a gem in every way...from her sweet cheery personality to her amazing talent in the kitchen! One of the highlights of our trip!,

Georgiana

Married on 06/04/2018

From the moment we first spoke with Laura on the phone, she was very welcoming and happy to answer all of our many questions. We truly felt that we were dealing with professionals and that made us very comfortable from the beginning. As with any wedding, we were not sure what to expect or how to handle the reception dinner and select items that everyone could enjoy. Laura took that burden from us by offering suggestions and helping us create the perfect menu! She then created a timeline for our day, which was the first time we were able to have a better understanding of how a wedding on the island would play out, which in turn helped us work with our coordinator (IBW) to have a better idea of what we are looking for. We sent multiple pictures of cake ideas and indicated what we liked about each one, and the Passion Fruit Chefs team made it exactly as we had hoped! We had to reschedule our wedding from September due to the tragic hurricanes that devastated the islands, and Laura was so kind to help us move everything to our new date in June 2018. A few days prior to our wedding, we had an idea and decided to try and add mini champagne bottles for each of our guests to open for the toast. Laura quickly called us back and had placed an order to allow this to happen. On the day of our wedding, the team worked hard to make everything perfect. They were all so friendly. The appetizers along with the chicken and fish we had selected were so delicious, and our cake looked stunning! Laura and the entire team were so helpful and attentive throughout the planning process and on our wedding day, and we would highly recommend Passion Fruit Chefs for any special event!!

Kamli

Married on 05/26/2018

Passion Fruit Chefs exceeded our expectations for our wedding on St. John over the past Memorial Day weekend! The owner, Laura, made planning a destination wedding from FL very easy. We booked Passion Fruit Chefs in June of 2017 and Laura was very helpful throughout the entire process. She was always very responsive and went above and beyond for us. Laura looked into beaches and accommodations for us and our guests to ensure access/availability post-hurricanes and even made my mom a cake for her birthday, which was the same day as the wedding rehearsal. We did not expect to have superior quality of food given that it is a wedding and we have never experienced amazing food at weddings, so it came as a wonderful surprise to have DELICIOUS food served at our wedding! From the appetizers served during our cocktail hour to the plated dinner, everything was delicious and served hot. Laura's staff was very friendly and attentive. I really appreciated that the staff brought the bride & groom a side of appetizers with our salads since we were gone during cocktail hour taking pictures and did not get the opportunity to try the food being served during that time. We were VERY hungry once we sat down to eat and a salad alone would not have been enough at that time, so many thanks for that! All of our guests were raving about the food and told us it was the best food that they have ever had at a wedding. We had two successful executive chefs attend our wedding and they too were raving about the food. A major thank you to Passion Fruit Chefs for making our wedding so perfect. If you are getting married on St. Thomas or St. John, you MUST hire Passion Fruit Chefs. I promise you will not be disappointed!
Are you interested?
Send a message