50 Reviews
Recommended by 99% of couples
Quality of service

4.9 out of 5 rating

Average response time

4.9 out of 5 rating

Professionalism

4.9 out of 5 rating

Value

5 out of 5 rating

Flexibility

4.9 out of 5 rating
10 User photos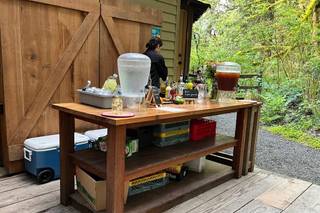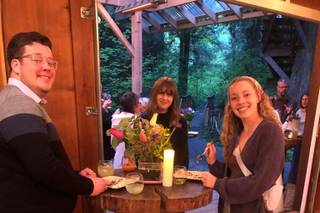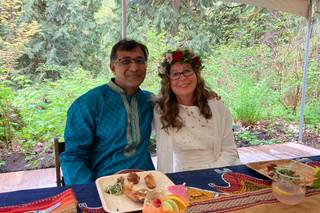 + 6

photos
Featured

Michael S.

Married on 07/24/2021

Super organized, professional and easygoing team for your wedding

Since the beginning, Claire and her team were so amazing to work with. My partner and I decided we wanted to have bartenders staff our wedding a few months prior to our date and we're so glad we found PotR. What we needed from PotR evolved so many times - the staff, the drinks, the logistics, everything - and Claire was so accommodating, flexible and easy to work with (we talked on the phone *several* times leading up to our wedding). We ended up with 2 bartenders (1 full time and 1 half time) as well as staff members to help with dinner set up, bus tables and refill water pitchers and buffet dishes. The bartenders (including Claire) and the event staff were professional, courteous and overall just a pleasure to have at our wedding. And of course the cocktails were a hit - we went with an old fashioned for a 'his' cocktail and an aperol spritz as a 'her' cocktail. I would highly recommend using PotR if you are looking to add bartenders and event staff to your event! Thanks Claire, you da best

Amanda S.

Married on 09/24/2022

Great Service & Drinks

Party on the Rocks was great to work with! We had signature drinks, wine, & beer at our wedding and the bartenders did a great job at making everything looked and tasted wonderful!

Party on the Rocks's reply:

Thanks Amanda! We work hard at making sure our couples and their guests have the time of their lives! Congratulations on your wedding and enjoy your lives together!

Michelle B.

Married on 09/17/2022

Great bartenders for our wedding!

We hired Party on the Rocks for bartending services for welcome drinks before our wedding and the reception. They were a joy to work with, everything was handled professionally and the drinks were flowing!

Are you interested?

Send a message

Lauren P.

Married on 09/03/2022

Absolutely amazing team

We had the most amazing experience with POTR for our wedding day. They were incredibly attentive to every detail before the big day and the staff did such a great job the day of. POTR has amazing packages that can be customized based on your needs for your special day. I would highly recommend using them for any type of party!

Sharkyla T.

Married on 07/29/2022

Amazing service!!

I swear that day was the hottest day in Seattle. The service was great. Amazing job with the set up and clean up.

Party on the Rocks's reply:

Thank you so much for the kind words! We work very hard to make our clients over the moon with our level of service!

Jess

Married on 07/02/2022

Seamless Service

We hired bartenders and event staff from Party on the Rocks for our wedding. It was such a busy day, I barely remember them being there. Which is high praise in my opinion. That is how seamless everything was. I didn't have to worry about drinks getting to guests or buffet items getting replenished. It all just got done before things were even noticeably needing to get handled.

Our guests also offer complements to the staff for their professionalism and good customer service.

Communication leading up to the event was decent. For a small company during a busy event season, responses were prompt and thorough. There was a significant miscommunication, that, in rereading our correspondence, was on my spouse and me for not being clearer. We were supposed to have 2 bars open for the duration of the event. However, they thought our second bar was opening later in the evening and as such recommended one fewer bartender than we needed to have both bars open the whole night. My recommendation is to have a call to discuss your vision over writing to avoid this.

TL/DR: we would book POTR again and plan on using them in the future if we host another large event.

Krista G.

Married on 06/25/2022

June Wedding

For those who are interested – We got married in June 2022, I know, our review is late – but it's better late than never! We wanted to write something helpful considering Jill, Gerri, and Mark were exactly that themselves. Planning your wedding is super fun, but there are a lot of details to sort out, all for the same day haha. Book the most important things first, and know that the sooner you get your vendors booked the better you'll feel having one less thing to worry about! We booked with Party on the Rocks back in March 2022. We chose to have two bartenders and an event assistant to help our day move along smoothly. An event assistant was absolutely worth it – Jill exceeded our expectations, she helped with so many things, from cleaning up cups/dishes to bringing out our cake and setting up our dessert table. Our bartenders, Gerri and Mark – exceeded our expectations, they were both talented and efficient, we had around 80 guests, but we hardly ever had more than a couple of people waiting in line (as they recommended – signature drinks helped with that). Jill, Gerri, and Mark were willing to make the trip to the middle of the woods in Easton, WA for our wedding – which is something not everyone will do. The far-out location made planning a challenge for us until we discovered Party on the Rocks. We absolutely recommend booking with Party on the Rocks, you will be thrilled you did.

Stephanie K.

Married on 06/09/2022

Excellent Staffing for our Grad party .

During the wettest June 2022 night in the history of meteological record keeping, Jan appeared on our rooftop venue with a smile on face ready for anything. The owner Claire was very responsive. I will utilize her for event staffing and bartending in the future . Five stars highly recommended. Stephanie and Jennifer

Lesley T.

Married on 05/14/2022

Incredible

I was so overwhelmed and frustrated by the "wedding industrial complex" as I tried to create what I wanted to be a simple and authentic. POTR was amazing, so responsive, and worked with us to make it exactly what we wanted it to be.

Sharman L.

Married on 02/20/2022

Great customer service!

Claire worked with me to find the best plan for our retirement party. She answered my questions quickly and thoroughly. The bartender was professional, clearly knew how to do his job, and was a delight to all. The helpfulness and flexibility demonstrated by the company and bartender allowed me to relax and enjoy the party. I would definitely hire them again!

Jake T.

Married on 02/06/2022

Amazing class for corporate event

I recently worked with Claire to put together a class for corporate interns that were forced to intern remotely across the US and Canada due to COVID-19. She and her team safely assembled hundreds of bartending and ingredient kits to be sent to our guests for two different classes hosted by her bartending teacher, Josh. They handled everything from assembling the kits to shipping them to all of our attendees. Both events went off without a hitch and were given amazing feedback by the interns who attended! Claire was incredible flexible, accommodating, professional. and quick to respond to my questions and concerns. I've been recommending them to anyone looking for an amazing virtual event and wouldn't hesitate to recommend them to anyone planning an event!

Party on the Rocks's reply:

Thank you so much, Jake for your kind words! We LOVED working with your group and can't wait for our next event!!

Susan M.

Married on 11/06/2021

Could not have been happier!

Party on the Rocks was a breath of fresh air in our planning process. They just took care of it in a professional, timely and gracious manner. Highly recommend them for any event large or small.

Party on the Rocks's reply:

Thanks so much! We just love what we do. Don't forget we can also help with private parties at your home, anniversary, birthday, any type of celebrations!

Noel P.

Married on 09/19/2021

Perfect Team

We were required to hire a bartender for our wedding venue, and were lucky to find Party on the Rocks! Decided to add an additional staff person to help with food service and setup, and it was a GREAT decision. Both of the Party on the Rocks folks were hard working and kind, and never stopped moving for the entire day. They kept the party going and we could not have done it without them. Worth every penny! Thank you!

Alissa T.

Married on 08/21/2021

Great for weddings!

Party on the Rocks was perfect for my wedding! Friendly and fun and just all around great service!

Kylie W.

Married on 08/14/2021

Love the Party on the Rocks team

Party on the Rocks was AMAZING for our wedding day! We got so many compliments from friends and family on how amazing their bar service was.

Leading up to the event, Claire and team were professional and quick to respond. I also felt like they were a fair price too for everything they did for our wedding day!

I'm so thrilled with their service and highly recommend them!

Elizabeth K.

Married on 07/07/2021

Awesome owner and company!!

I could not have been happier with our decision to hire Party on the Rocks! Claire and her team are absolutely amazing. She was always quick to answer any questions I had and was super flexible with our ever changing plans due to COVID. On the day of, her staff was on time, professional, and did an awesome job. It definitely took a lot of stress off of our backs! 10/10!!

Jackie S.

Married on 06/26/2021

Couldn't be happier with Party on the Rocks' service!

We hired Party on the Rocks to tend bar at our Welcome Party the night before our wedding. Their service was impeccable! Thanks to their professionalism and hard work, I could enjoy every minute of the party without worrying about whether guests were getting the drinks they wanted and without worrying about cleaning up. The correspondence leading up to the event was perfect. They shared a helpful list of what to buy so I could get a good deal at Costco. The bartenders were warm, kind, and fun. We're so happy we hired them!

Ashley S.

Married on 06/25/2021

Josh and Hayden were Amazing!

We are SO glad we hired Party on the Rocks for our wedding! They were on time, professional, and even remembered our guests' orders. Hayden and Josh - thank you so much for helping us throw such a great party, everyone raved about how much fun you were each time they went through the line!

Alexandra A.

Married on 06/12/2021

Stop Reading This and Go Hire POTR!!!

The gals at Party on the Rocks who worked my wedding freaking C-R-U-S-H-E-D their services. I am so thankful to have hired them; I knew wedding day would be busy, but looking back it was an absolute blur. To have trusting, reliable bartenders and event staff working with us on that day was KEY, and these ladies were exactly what we needed. I cannot recommend hiring them enough- stop reading this and email Claire ASAP!

THANK YOU, Party on the Rocks! We loved working with you and are so thankful to have you in our blissful wedding day memories. Be well, Alex & Eric

Dianna G.

Married on 06/11/2021

Fantastic mobile bartending services!

We had such a wonderful experience with Party on the Rocks who we hired for our wedding. Very friendly and professional. They took care of everything, so easy to work with. Would highly recommend!

Jeremy O.

Married on 04/09/2021

Non Profit Event

Claire and her team were awesome in staffing our beer and mimosa bar but a fundraising walk and 5K!

Brooklyn L.

Married on 10/03/2020

Amazing Bartending!!

Party on the Rocks provided safe, reliable and fun bartending during our reception! They had wonderful communication leading up to our event and put us in touch directly with our bartenders prior to our event so I was able to reach out with any questions I had while planning and settling last minute details. There was never a line at the bar and Cheyenne and Mandy were so friendly and always had a smile on their face every time I saw them. They were always checking in with me to make sure I didn't need anything and I knew I did not need to worry about anything with them bartending. Party on the Rocks is 100% worth it for all of your bartending needs

Laura M.

Married on 09/06/2020

Dream team!

Alec, Hillary, and Brandy, were invaluable additions to our wedding day. From helping us set up the tables, to shepherding guests through the venue, and cutting our cakes, our day would never have gone so smoothly if not for them. All three of them went above and beyond and ensured that a hands-on, type-A bride wasn't worried or stressed at any point on the wedding day!

Party on the Rocks's reply:

Thank you so much! We love them too! We work really hard and training to ensure you don't have to worry!

Alexia B.

Married on 02/03/2020

Efficient and Professional

We had two bartenders from Party of the Rocks come out for a company event last week. These two were so professional (also very prompt) and extremely helpful! They went above an beyond by helping me setup the bar stations with the rentals that came. They took control of the situation which allowed me to focus on other details that needed my attention more. Could not have thanked them enough for their can do attitudes and friendly service!

Erin L.

Married on 02/01/2020

Amazing initiative and hard work

Kadeena was the lead event staff and Josh was our bartender. They both got pointed at where the plates/glasses/silverware and booze was and they went to work right away setting up things in a very presentable manner. They got little to no instruction and made set up so smooth! Kadeena was great at quickly getting the sternos and water trays all in order while the food was getting picked up. Josh was a great bartender with our open bar and even rushed over to help us serve some personal tequila (thanks). Kadeena was so efficient at keeping tables bussed that I asked her to slow down for fear of running out of glasses, which we didn't. None of us had planned a wedding before and it went great in no small part to these two. Highly recommend Party on the Rocks!
Are you interested?
Send a message