70 Reviews
Recommended by 95% of couples
Quality of service

4.8 out of 5 rating

Average response time

4.6 out of 5 rating

Professionalism

4.8 out of 5 rating

Value

4.7 out of 5 rating

Flexibility

4.7 out of 5 rating
5 User photos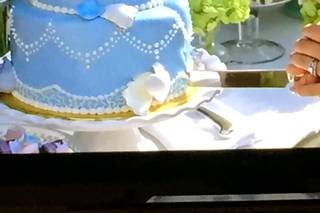 Jen A.

Married on 07/15/2022

A Delicious Cake!

Our cake was delicious and they brought our vision to life exactly how we had hoped. Three different tiers with three different flavors - can't pick a favorite!

Maggie

Married on 12/04/2021

Incredible, beautiful, delicious - a dream come true

I love cupcakes and always wanted cupcakes at my wedding. Party Favors made the most beautiful cupcakes topped with flowers that were so gorgeous and yummy, it was everything I hoped for. I have been obsessed with flower pieces since I was a kid so I promise I'm a tough critic and these exceeded my expectations. I am so happy with how they came out and the guests devoured them. The bakery delivered on time and as ordered and was nice to work with ahead of time.

Priscilla

Married on 05/11/2019

Beautiful AND delicious cake

Dairy allergy bride here! Loved loved loved that Party Favors offered a vegan chocolate cake/frosting that ACTUALLY tastes good! Our 3-tier wedding cake was so beautiful and though our actual wedding cake was not dairy free (we wanted a white cake - so faked the cake cutting tasting :D), Party Favors was able to make a sheet cake that I could have and we could serve to guests with dairy/egg allergy. Ultimate taste test: my dad who is not dairyfree and pretty picky even ended up loving it too and wanted that served to him instead :D


Are you interested?

Send a message

Nina

Married on 07/15/2017

We ordered a 3 tier vanilla cake with cream cheese frosting and it was absolutely delectable! It was even better the next day for breakfast! Thank you Party Favors!

Erica

Married on 05/20/2017

Our cake was SO GOOD. Based on our tasting, we expected a good wedding cake, but what they brought to our wedding was even better than we imagined (we chose different flavors than what we tasted). We didn't want a whole bunch of decorations, and they actually listened to us and made beautiful, simply-decorated cakes. And the price was way better than most other bakeries! Several guests told us they don't usually like cake/dessert - crazy I know - but that they loved our cake. Highly recommend the Funfetti!

Jenna

Married on 12/31/2016

Lights. Camera. Action... John, and his team at Party Favors went above and beyond the call for our replica, full scale, Stanley Cup wedding cake for our wedding this past New Year's Eve (2016). As major hockey fans, players, and friends attended our ceremony, "The Cake" took center stage welcoming our guests with all 250 in attendance hand-written onto the cake as our seating chart. The cake was so impressive, it stopped everyone from taking their seat for almost 30 mins, as selfies, social media, and memories were instantly created. The project was accepted with high enthusiasm from the moment we approached Party Favors with our idea, and every time we came in to visit we were the "Stanley Cup People", you could feel the pride and energy the staff had towards our cake. Other major cake shops in the area turned down the idea, and we were glad they did, as John and his team delivered a perfect 10/10.

From design through the installation on site at our venue the day of, everything was perfect. John had us to the shop three times throughout the process for meetings, cake tastings, and adjustments as the details and project went along. Our final product contained 7 different flavors, as tiers, and we even did a dozen gluten-free cupcakes to accommodate those with the need. From traditional marble flavors, through blueberry lemon and orange cream, not only was our picture-perfect cake a hit for the camera, servicing as a seating chart, and just an awe to walk into a reception seeing, it was also delicious and received just as many reviews when it was served later in the evening for the quality and taste.

Professionalism, Passion, and Perfection. Party Favors was a perfect vendor, baker, and holds a special place in our hearts for their hard work and a cake that will be remembered forever. Take a look at the photos on their website, and we hope your dream cake is from John and his team!!!

Mike and Jenna
-December 31, 2016-

Jill

Married on 11/12/2016

I have been working with Party Favors for years to design creative birthday cakes. As a true cake/frosting lover, I knew I wanted my wedding cake to taste as good as it looked and because Party Favors has never let me down on this front, I knew we didn't even need to attend so much as a tasting anywhere else. I had a very specific vision for a tiered cake that was half fun and half serious/traditional. The fun side reflected a different Boston Sports team on each tier. The traditional side used beautiful draping and buttercream designs to show sophistication. The amount this cake has been photographed and talked about is ridiculous. As someone who can't draw or bake to save my life, I am truly grateful for the Party Favors team. Their ability to work with me and make this cake exactly what my husband and I wanted is amazing. Bonus - they will remake the top tier of the cake for us on our first anniversary as part of the initial order. No year old cake for us and so excited for to celebrate again!

Karen

Married on 11/05/2016

I have eaten a lot of cupcakes throughout Boston and none other are as amazing as Party Favors! They are amazing! We had a cupcake towers and a small 6" cake at the top of the tower that was beautiful. We went in for our tasting and brought a picture for the cake portion and when we saw the cake at the wedding it was exactly what we envisioned with small accents of our colors to match the cupcakes. We were able to pick 3 different kinds of cupcake flavors, all who had them said they were delicious! We only had a few left over along with the cake so that was perfect! They were so nice and confirmed delivery time to the venue the week before and really help us to design the perfect cake and cupcakes for our wedding!

Lauren

Married on 10/08/2016

We had such a great experience with Party Favors! We came in for a very stress free tasting and has some delicious cakes. After tasting at 3 other bakers, we thought the actual flavor of the cakes were the best so far - not too sugary and you could actually taste a difference between all the flavors. We were looking for a more simply styled cake, and really wanted to focus on unique flavors, and this hit the mark. After doing the initial tasting, we came back to pick up the two flavors we were most interested in for our wedding in October and Party Favors made full mini cakes of each flavor. Highly recommend the Almond cake with apricot cream cheese layer! Delicious and a great value.
Day of the cake was just as beautiful and delicious as I could have hoped for!!

Rebecca

Married on 11/14/2015

Amazing! I brought in two photos of cakes (for the wedding and rehearsal dinner) that I wanted. They both came out so beautifully and tasted even better. They are easy to work with, have a vision and delivered the cake to the venue. I would use them again in a heartbeat!

B.j.

Married on 05/23/2015

Party Favors has been a part of my wedding dream since I was a young girl. I grew up in Brookline, MA and would find excuses to go there because their cakes, cupcakes, candy, chocolates are so wonderful that it melts in your mouth. I wasn't sure I was going to be able to use them because my wedding was over 2 hours away (including catching a ferry) but Party Favors delivers to Martha's Vineyard! It was so worth having them provide the dessert. It was delivered seamlessly and with extreme professionalism. I would recommend them to any bride or dessert lover!

Mathilda

Married on 04/25/2015

We have ordered several cakes through Party Favors, so it was a natural choice for our wedding cake. The tasting process was fairly hands off - we pre-selected a few flavors and tried them in the shop while looking through a book of previous designs. Most of our ordering communications were through email, including about design, which worked well for us because of our schedules. They were very upfront about what impacts the cost (e.g., fondant, design detail, etc.), and worked with us to produce a beautiful cake that fit our budget and looked exactly as we expected it to. Most importantly, Party Favors' cake is absolutely delicious - why choose a cake that isn't?

Mary E.

Married on 02/14/2015

Party Favors and Chris helped us create a sweet treat for all of our guests on our Valentine's Day wedding. After a disastrous cake tasting at another venue, I was persuaded to give it another go and try out Party Favors - so glad I did. We found a delicious cake to use as a small ceremonial cake cutting and then created an avalanche of cupcakes for our guests to consume - not one cupcake was left! They were delicious and appropriately decorated with roses, hearts and other Valentine's flair. Chris was super helpful and nice - letting us change our order a few times as the numbers rolled in w invitations. Recommend them!

Marissa

Married on 11/22/2014

Delicious Cookie Cake for our Rehearsal dinner. It was tasty and unique. They also let us do a full cake tasting even though we knew we wanted cookie cake. They accept cc which I love!

Hal

Married on 10/18/2014

There are a lot of places that we researched that could have done our wedding cake, and we went around to see many of them. We went with Party Favors because not only was their cake the bast tasting out of any of them that we tried, but they were also the friendliest and most helpful of any which we met.

Being a smaller operation than some of the others which we tried, gave us a better feeling because they were more interested in what we wanted rather than just trying to sell us a cake like we felt with some of the others. We also wanted to do a smaller cake with an ombre frosting, which they admitted that they had not done many of before, but we felt confident that they could. And boy, did they come through!

We were so happy with the way that the cake turned out visually, and with the way that it tasted. They delivered the cake on time, and there were no issues with any aspect of the process.

The cake was great, and Party Favors rocks. We totally would recommend them to anyone for their wedding cake or any cake for that matter!

Nicole

Married on 10/04/2014

Party Favors is hands down the best cake around. I was already familiar with this bakery since I work right around the corner, but was completely blown away with the cake they made for our wedding. Their flavors were fantastic and the cake was exactly what we were looking for. I was especially happy with the value, we had met with two other bakeries and Party Favors was surprisingly one of the more affordable ones. The tasting and ordering process was simple and everything went off without a hitch!

Donna

Married on 07/20/2014

OUR CAKE WAS AMAZING!!!

We chose the marble cake with the hazelnut filling and every single guest said it was the BEST wedding cake they have ever had. :)

Thank you Party Favors - here's to a lifelong relationship filled with cakes and happiness!

Party Favors makes amazing cakes. We live nearby and get cakes from them frequently, so we just had to get them for our wedding. We chose to get cupcakes for our guests, with a top cake for us to cut and a separate groom's cake. They matched our colors perfectly and made the cakes exactly as we had specified (and the groom's cake was pretty complicated!). The cake itself was super moist, and their frosting is amazing- best buttercream ever! If you send them a photo of your cake/cupcakes after they are "set up" at the wedding, they will make you a free anniversary cake too.

We had them deliver our order to the Cape, and the delivery went extremely smoothly. I just gave them the venue name, and they coordinated directly with the venue, no extra work for me. I highly recommend them, and can't wait to get our free anniversary cake!

Erika

Married on 06/01/2013

I sat down at my own wedding and ate my entire piece of cake, and if another piece had been in front of me I would have eaten that too. Best wedding cake I've ever had! Oh, and it was very pretty too, but that was almost besides the point because really, this cake was unbelievably moist and flavorful. We are already looking forward to the free cake on our one-year anniversary!

Kristin

Married on 05/25/2013

Party Favors provided us with a beautiful and delicious cupcake tower for our wedding. We were able to rent the tower from them which was extremely helpful and they also delivered and set up everything for us. The Party Favors butter cream frosting was the best we tasted and it was a delicious treat for our guests. The cupcake tower looked terrific and tasted even better. They were great to work with and my parents who returned the tower for us also raved about their customer service and their helpfulness. We are looking forward to enjoying our complimentary cake on our one year anniversary.

Hilary

Married on 11/03/2012

Party Favors was great to work with. Chris was especially helpful and patient! The cupcakes and cutting cake we ordered were not only delicious they were beautiful! We couldn't have been happier!

Courtney

Married on 09/22/2012

This is the best tasting cake I've EVER had. I still dream about eating it. I'm so excited that we will be able to have some on our first year anniversary! We chose the lemon cake with raspberries and cream filling with buttercream frosting. I had so many guests comment on it, and many had two slices because they were so in love with it! I really just wanted the most basic design, but they looked like they did great design as well. I just wanted something crazy simple with great flavor, and Party Favors definitely did that for me!

Judy

Married on 08/26/2012

There is nothing more delicious than a cake from Party Favors. We have purchased their cakes for every family occasion and will continue to do so. The cake was beautiful and everyone loved the lemon filling. I tasted a cake from another vendor just to have another data point and there was just no comparison. They are helpful and extremely organized.

Car-Love

Married on 08/11/2012

We had a 2 tier rum and pinneapple cake from them...DELICIOUS! Guests are still talking about how good it was!
Chris was superb each time I reached out to him and the finished product was fabulous!
I don't drink and at the 1st suggestion of 1 tier of the cake being rum flavored...I was ready to shoot it down. After tasting it...I was completely sold! MORE PLEASE!

Dana

Married on 06/16/2012

The most perfect wedding cake! Everyone loved it! They will even make one year anniversary cake for us for free. Fabulous!
Are you interested?
Send a message