174 Reviews
Recommended by 93% of couples
Quality of service

4.6 out of 5 rating

Average response time

4.5 out of 5 rating

Professionalism

4.7 out of 5 rating

Value

4.7 out of 5 rating

Flexibility

4.7 out of 5 rating
20 User photos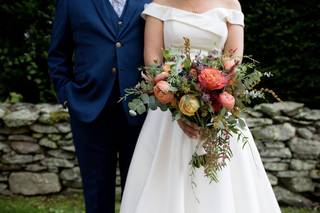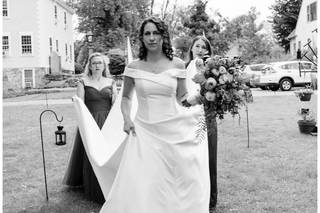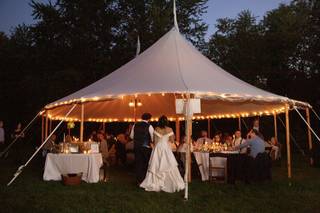 + 16

photos
Shanice G.

Married on 03/10/2023

Yes to the dress!

Party Dress express was a one in a life time experience, that I will never forget. I came from Orlando FL to attend my first ever wedding dress consultation and I must say I was very Impressed. I was introduced by Ashley K, and right from the beginning she was kind, and attentive. She listened and understood exactly what I wanted by the 6th dress. I was filled by emotions I can't explain. Till this day we speak of the experience I had with my mom and maid of honor. THANK YOU SO MUCH Ashley!
-Shanice G

Zamyra

Married on 11/11/2022

An All Around Vibe!

I had Ashley & she was FABULOUS! So attentive & made me feel AMAZING 😍

Christina P.

Married on 05/29/2022

Awesome and great selection!!

So grateful to have purchased my wedding dress through Party Dress Express! The sisters not only helped me find a dress that was perfect for me, but they made me feel beautiful. They were also great about making sure that I could get my dress in time with all the delays due to COVID. I highly recommend!

Are you interested?

Send a message

Kat O.

Married on 02/12/2022

Denise is the BEST

Had the most amazing time picking out a wedding dress thanks to Denise! She actually picked the winning dress after listening to all of my family's thoughts and opinions, and made sure it was something I loved. Bonus it came out under budget!! Can't recommend this place (and Denise!) enough!

Jessica

Married on 08/13/2021

Jess is the Best!

Today I went shopping during a pandemic for my wedding dress. I thought the restrictions might take away from the experience. I was so so wrong. Jessica Cordeiro was my stylist. Not only did she listen to me about what I was looking for, but she made me feel beautiful (even in the dresses that were definitely not for me). She was welcoming to the guests I had with me and made me forget that we were wearing masks and living during such a difficult time.

She had me try on styles like those I thought I wanted. Pushed me to try out things I never thought I could pull off. Offered suggestions on how to alter or modify certain dresses. And lead me right to MY dress.

The store has so many options, there was no way to not find something in my price range and style. I would recommend Jessica and Party Dress Express to anyone who needs a dress for ANY event.

I felt like my gown made me look like a million bucks without spending anywhere near the high end of my budget.

It was a great day at the perfect store. Thank you Jessica!!!!

Sinead M.

Married on 03/06/2021

I found my perfect dress!

Fatima was wonderful and helped me find the perfect dress for my winter wonderland wedding!

Jennifer L.

Married on 09/26/2020

Made Dress Shopping Stress Free!

Had a fantastic Bridal experience at Party Dress Express with Kelly! She was so helpful and knowledgeable during my appointment, we all had a great time. I would definitely recommend shopping here for any Bride looking for their dream dress!!

Jessica

Married on 05/22/2020

Awesome experience!

I first went to David's bridal, and the consultant was very nice but I don't think she was considering what I was saying. I then went to PDE and had an incredible experience with Jill. She suggested some things I may not have based on what she observed, and ended up finding my dream dress. I never thought I'd have that "this is the one" moment, but I did! We then celebrated with champagne. Everyone was incredibly sweet, and most dresses I saw were cheaper than David's Bridal. Would absolutely recommend!

Kelsi

Married on 09/27/2019

So much fun

I had a blast at my bridal appointment with my consultant Jill. Being a bigger bride there is always that fear of not finding something that fits , or showing yourself off to a crowd , being uncomfortable ECT. I found myself to feel absolutely comfortable in my own skin , and beautiful in almost every dress she put on me . The dress I chose was actually her choice , and the last dress I tried on . She made everything so much fun, and easy . I will never forget this day . My sister also found her bridesmaids dress the same day , and we will be back for mother of the groom and bride dresses! They offer discounts when you purchase a dress on your first visit which is amazing , and they have tons of dresses that are very affordable . I cannot wait to walk down the isle in my wedding dress ! Thank you Jill and party dress express !!

Meghan

Married on 06/28/2019

My Dream Gown!

Loved working with PDX for my gown and my bridal party's gowns - the team there understands their client and goes above and beyond to match you to the perfect gown and style. I loved everything about the one I chose and the staff were friendly, patient and response to all of my bridal questions! Much appreciated!

Nicole

Married on 01/19/2019

Found my dress!

Found my perfect dress here after my second visit. I went to 5 or 6 different places before I came back here to try again. I knew what I was looking for and found it here. All the girls were helpful from day one. I also purchased all the girls dresses here and they were accommodating to all our needs. Would recommend!

Alyssa

Married on 11/17/2018

Best Place Ever!

I visited a few different wedding dress locations before coming to Party Dress Express. I have to say they 100% had the best experience. My appointment was absolutely NOT rushed at all, they took their time to make sure they pulled all of my favorite dresses which were waiting for me when I arrived. I took my time in each of my top dresses to choose the right one and they always gave honest feedback. When I chose my dress, we popped some bubbly and took cute pics. They always wrote my name on the welcome board when they knew I was coming, the day of my appointment, the day of my fitting, and the day of pick up. They held my dress for as long as I needed and not to mention the prices were SO affordable. They have top brands and all of the consultants are amazing, I loved Jill who helped me in my try-on appointment she was so patient and got me into my dream dress! I will continue to recommend any bride to visit here - they will have exactly what you're looking for.

Kristin

Married on 10/19/2018

They made my day so special! Down to the tissues when I found my dress. I recommend this place to all brides to be!


Kayla

Married on 08/18/2018

I seriously can't say enough great things about party dress express! My maid of honor recommended it to me and even though I live no where close to it I decided to make this bridal shop my first place to try. From the second I walked in I felt welcomed. Everyone was so friendly and so willing to help you. I am closer to the plus size bride and I was nervous about trying on dresses but it was not a problem what so ever because they have so many different selections. Between all of us, including Theresa which is who I got (who is amazing by the way) we pulled about 10-15 dresses to try on that were all in my budget. I ended up saying yes to the dress to the first one I tried on even after trying on all the other ones that were still beautiful. This place was amazing and I'm so happy I decided to come here!

Meghan

Married on 08/10/2018

I couldn't have been more impressed. Went to a chain store first, and the service can't compare to Party Dress Express. Maria was a huge help. She and the store stayed late and let me start my appointment late on a Friday evening. There was a large selection of dresses to try on and both to order or take home immediately. I did not expect to find a dress so quickly. Maria's first choice ended up being my dress. The store had plenty of room to accommodate several appointments and not feel crowded. You can browse yourself and the consultant also helps find dresses. They do not hide the prices and clearly mark the dresses under $1000 and won't show you anything over your budget unless you ask. Also have great options for accessories and other types of dresses. My sister in law also got her dress here for her wedding this past summer. I was impressed by the level of service, which was better than at the store I'd previously gone to which had higher priced dresses and less helpful staff. Thank you Maria!

Sheilarenee

Married on 07/14/2018

They was my last stop and I've searced every where for the perfect dress! My second dress i tried on even though i tried on hundreds I knew this was the one! Thank you ladies for everything! My dreams came true and were perfect

+ 2

photos

Madeline

Married on 10/28/2017

I was skeptical of going to Party Dress Express for a wedding gown because I had previously gone there for school dance dressed and didn't think they would have the kind of dress I was looking for. But I was very pleased. Denise, my consultant was wonderful! I was there for 2 hours, tried on 10-15 dresses and she was patient, understanding, not judgy, and never made me feel pressured. She understood my style and was very knowledgeable. I wanted to spend under 1000$, and was aiming for closer to 500$ which is near impossible but I ended up finding he perfect dress in the clearance section and it was 300$! Dream come true. Other decent dresses that I tried were 600-800$ Which is still a good price considering. I would definitely recommend this place for brides with lower budgets who still want an amazing dress.

Kathleen

Married on 10/14/2017

I had an appointment with Rosemary on Sunday, April 23rd 2017. She was so sweet-i immediately felt at ease with her. I had an idea of what I was looking for and she pulled a couple off of the racks for me to try. Never did she rush me or push me to try on anything I did not want to. I am a very indecisive person (which I told her) so I wanted her honest opinion on each dress. She really knew her stuff and had a great sense of humor! (I needed the laughs-this wedding business has me all stressed out) They have large fitting rooms with mirrors (I went to another shop that did not have mirrors in their tiny fitting rooms) and a beautiful assortment of veils and shoes to try on. My experience was wonderful. And as others have said, do not be fooled by the location. Walk to the back of the store and your jaw will drop. So many choices! I found the perfect wedding dress, thanks to Rosemary and her team. I truly appreciate your help, ladies!

Melanie

Married on 08/18/2017

I wasn't going to shop here because It didn't seem like a very bridal store, I was so wrong! I walked in on a rainy Sunday without an appointment and was helped right away without any hesitation. The customer service here is excellent. There is no pressure to buy anything, you can take all the pictures you want and they are very honest about how you look in the dresses you try on, which I asked for and loved! They had a ton of dresses in the style I wanted and the prices were good too. I'm still deciding between a dress they had here and one at another store and they didn't make me feel bad about that at all. What I really liked also is that they can get the dresses pretty quick, the one I like was about 3 months while many other stores say 8. I will definitely return to this store!!

Victoria

Married on 07/15/2017

I had a great experience for my first bridal appointment. They had many of the exact dresses I wanted to try on, they were AMAZING in being able to accommodate my request to come in 2 hours early, and they have a HUGE selection of great dresses for all occasions. I think I found ~the~ dress here, and for $400 less than at other boutiques! They also don't let you lift a finger for yourself--your consultant preps every dress for you to try on, insists on re-hanging everything for you, and makes sure to discuss any alterations you're looking for.

Keri

Married on 05/13/2017

I found my wedding dress at the first store I went to. The price was good for what the dress was. I loved that all alterations were free. Everyone was so nice and helpful.

Melanie

Married on 10/15/2016

Great selection of wedding dresses. But the best part was all alterations with their department are included in the price of the gown. This was a great experience with alterations as I was able to have 5 separate appointments and they were more than able to make all the changes I requested. If you are on a budget, I would highly recommend Party Dress Express due to the all inclusive pricing.

got mother of the bride and bridesmaid dresses here! huge selection and great communication

Jessica

Married on 10/08/2016

I decided to try Party dress Express because I wanted to go to a dress shop and be able to look around myself and not have to set up an appointment. My mother is a nurse and has a hectic schedule so I did not want to have to plan to go to a dress shop months in advance. I also called a lot of shops looking for dresses that were not strapless and was not having much luck. I read some reviews on this place and decided to make the hour trek out here with my mom. I am so glad that I did! When we arrived we were able to pull dresses off the racks to try on. Our consultant also picked out a few based on styles I was interested in. Aside from not being a strapless gown I wasn't sure what I wanted. I tried on 10+ gowns and was able to take my time doing so. I found a beautiful allure lace dress that I fell in love with. The cost of the dress was very reasonable and it included alterations. I later found a lace trim veil and belt to compliment the dress. Once the dress came in I had a few appointments with the alterations department. They were very nice and accommodating. I wasn't sure what kind of bra I could wear with the dress as it had a key hole back, and they were able to sew in cups. I am also very petite and they were able to fix the straps and back very nicely. My experience dealing with everyone at this location over the past nine months has been amazing. I highly recommend this place to all brides to be.

Christine

Married on 06/19/2016

I was not expecting to find my wedding dress at Party Dress express. My dress was ruined 3 months before my wedding so I was a little nervous about shopping again. They made me feel at ease, although they did not have many styles/ sizes that I wanted...I tried a Mori Lee dress on and fell in love. I used their alterations as well at Alterations express and was very satisfied!
Are you interested?
Send a message