25 Reviews
Recommended by 83% of couples
Quality of service

4.2 out of 5 rating

Average response time

4.1 out of 5 rating

Professionalism

4.2 out of 5 rating

Value

4.1 out of 5 rating

Flexibility

4.1 out of 5 rating
5 User photos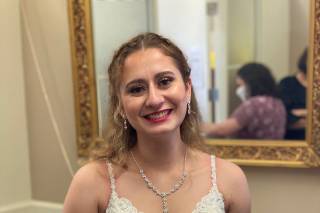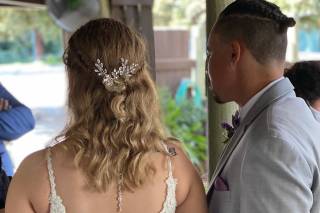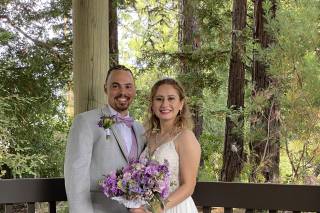 Connie A.

Married on 10/09/2021

Found my perfect dress with the amazing help of Georgette and her team!

Had a great experience with Georgette and her team! I had a very vague idea of what I wanted my wedding dress to look like, and with the few details I gave her she was able to help me find the perfect dress! My wedding was originally scheduled for May but because of Covid I had to postpone until October. Georgette was kind enough to hold my dress there for me until I was ready to pick it up.

Annalise

Married on 09/05/2020

Exceptional Selection and Service!

Georgette and her team were phenomenal! Besides just finding me a perfect, absolute stunning wedding dress, she puts care and love into the experience. Unfortunately, I was a COVID bride and had to reschedule my wedding four times. Every time Georgette worked to ensure my dress was ready and adjust any fittings as needed. She also checked in on me multiple times throughout the process with encouraging messages and thoughts. She had an amazing number of dresses to select from and a fantastic seamstress to make any alternations or modifications. I would highly recommend Paper and Petals to any and every future bride!

Kayla

Married on 10/12/2019

I can't say enough good things about the ladies at Papers and Petals. When we first arrived, I thought I had already found my dress, but once I came in and described what I was looking for, it was evident that the dress I had found was NOT "the one." Georgette has an amazing eye for style and personality, and the first dress she put on me was the perfect dress and the one I ultimately purchased. All the fittings also were extremely smooth – the staff was very professional and talented, and they were able to make the small alterations I wanted to the dress. The whole team always had my best interest at heart and was always honest and helpful with us.

From a personnel standpoint, I feel that Papers and Petals cannot be beat. Georgette has hired a lovely group that is friendly, kind, supportive, and just fun to be around. All of my bridesmaids, my mom, and myself all had so much fun every time we went to the shop and walked out laughing. Georgette and her team felt like family and we were so grateful for their support and friendship throughout the process. I am so grateful that we found them and would recommend them to every bride! Their service and the quality of their dresses cannot be beat.

Are you interested?

Send a message

Renata

Married on 09/07/2019

Mrs Kudinov

I found my dream dress on the first try!! Service was excellent!!

Bryn M.

Married on 09/01/2019

Georgette is a hero!

Georgette and the whole team at Papers and Petals were absolutely amazing to work with. Georgette was able to read my style to a T, getting me into the dress of my dreams within minutes of my appointment. She was thorough, thoughtful and ensured that I was happy every step of the way. I can't recommend her expertise and quality enough when it comes to making such an important investment.

John

Married on 03/12/2017

Thanks for such an incredible dress!!!

Sarah

Married on 05/21/2016

Georgette is a splendid being! She made my wedding dress very sexy. My hubby loved it. Customer service was amazing!!! Appointment flexibility was outstanding! Alterations were superb! Maurice did an amazing job on my dress. My dress was definitely worth every penny and the store was 100% professional! Overall, an outstanding bridal store! You should definitely check it out! 10/10 !

Geri

Married on 11/14/2015

After visiting 3 other salons, I pretty much had an idea of what I wanted in a dress. When I came to Paper and Petals, I described what I was looking for and after only 3 tries, Georgette found The Dress! I had 100% of her attention during my appointment and I liked that she pulled the dresses for me (otherwise I might have been overwhelmed by the selection). I got fitted for alterations only once and voila.... it came out perfect! Received many complements on the dress from family and friends but what mattered most of all is that my husband loved it!

Papers and Petals Bridal's reply:

Geri - thank you for the great review and kind words. You were such a pleasure to work with...and Congratulations on your wedding, hope it was all you dreamed it would be.

This is where we found the Mother of the Groom gown! After 7 Saturdays of intense searching, we walked in and found attentive, warm, interested and very helpful Georgette! The selection of gowns was extensive with a varied price range. Georgette and another sales person helped us and were patient and delightful. Although having seen many of the same gowns wherever we shopped, Papers & Petals Bridal had some very distinctive, elegant gowns. I am so relieved and thrilled to have found my gown! Great bridal shop, great selection and most of all, great service.

Katayoon

Married on 08/02/2014

I was looking for a bridal shop that carried dresses from the Maggie Sottero line, and came across Papers and Petals. I am so very happy I did...From the very start, it was a wonderful experience! Georgette, the owner, treated me like a daughter and worked with me very closely to find the perfect dress and achieve the most ideal alterations. The end result: a dress that looked as if it was made for me. You won't find a more kind, loving and professional lady as Georgette. She truly cares about the bride and wants to make the experience a pleasant and memorable one. At my final fitting, she had tears in her eyes, hugged me and wished me the very best in life. I was truly touched by her genuine emotion...

Papers and Petals is amazing! I was married back in 2012 and originally went in for just an engagement dress and with the help of the amazing store owner I ended getting my wedding dress, bridesmaid dresses and flower girl dresses. My best friend recently got engaged and I knew exactly who to take her too. When we walked into the store Georgette (store owner) remembered me by name. She had a conversation with my friend to see what kind of dress she wanted. Within minutes my friends fitting room was filled with options. Yet again I was amazed by Georgette and her ability to listen to what the bride wanted. My friend walked out with her dream dress and never went over her budget. Can't say enough about Papers and Petals.

Kelly

Married on 08/15/2009

Beautiful dresses and a great selection. The entire staff was very helpful and knowledgeable and nice. I had to order my dress and it came in on time, and the alterations and bustle were perfect! Very reasonable prices and the dresses are kept very clean and nice on the show floor. Highly recommended!

Rosa

Married on 08/31/2013

Ower and employees have a wonderful attitude. Always willing to help to make your dreams come true! Excellent service with a smile.


Lexii B.

Married on 09/09/2020

Every option!

The owner has been in the business for a very long time and really knows what she is doing. Any time I tried on a dress and said "I like this but I wish it had this or didn't have this" she would pull out exactly what I was searching for. It was an amazing experience. She was great with her communication and flexibility also. 10/10 would recommend. Not the champagne in hand experience or a boogie feeling shop but it was just perfect.

Beth

Married on 09/24/2016

I found my wedding gown here, and I absolutely loved it! Georgette was so helpful and so knowledgeable about wedding gowns. Alterations were a breeze, and my dress fit perfectly on the big day!

Megan

Married on 04/09/2016

I found my dream dress at Papers & Petals! Georgette was wonderful from start to finish and I couldn't have asked for a more perfect, beautiful gown. I felt incredible in my dress on my big day and everyone was blown away by it. I had never seen anything like it before and am so glad Georgette found it for me.

Stephanie

Married on 10/19/2008

I got a beautiful dress for much less than I expected. The staff is very professional and knowledgeable. Got my dress and bridesmaids dresses here.

I found THE dress here at Papers and Petals. I simply refused to take it off! Georgette was very helpful in listening to my likes and dislikes and found the dress! however, after I ordered it, I was told it would be here by late May or early June. I never heard anything from them even after multiple calls. Finally the dress arrived around mid July! Talk about my heart getting worried! But once it was here, I picked it up and paid the balance on the dress. The dress was beautiful and I got a TON of compliments!

The staff was helpful and friendly and there is a huge selection of both wedding and bridesmaid dresses. They also have resonably priced in house alterations, but I had to have multiple fittings and in the end my dress still did not fit perfect.


Rachel

Married on 11/03/2007

As a last minute bride, Papers & Petals were very accommodating and I found the perfect gown at their store. They made sure my gown arrived in time and did the alterations within days of my wedding. Georgette and staff give very personal service.

Mirin

Married on 12/17/2011

I got the dress of my dreams here. It was amazing. She really is a professional and knows what she is doing I walked out with earrings and a bracelet I never intended on getting because she knew it would look great. The service was fast and wonderful. they take their time and make sure you get what looks best.

April

Married on 11/02/2018

When I went in for my appt they had me fill out a check list of what I wanted / didn't want in a dress. Such as: material, style, beading, etc... I wanted an A-Line / Sheath (this style looks best on my body type), Lace, high neck or sleeves, and NO beading. I told them I wanted something simple and flowing, sort of 70's style and good for an outdoor rustic (I mean camping rustic) wedding. I am a very small person so a big dress doesn't work on me. I tried on 4 dresses. I believe one had straps, another strapless and they put a cover on both to make it long sleeve. 2 of which were mermaid style and the last was strapless mermaid, which I specifically said I did not want. While everyone agreed it looked good on my curves, I specifically said I did not want to look sexy for my wedding. All very big dresses which did not fit my style or my venue. They tried putting on this big gaudy beaded belt. Overall there was no attention to the type of dress I was looking for to fit my style or my venue. While I know most brides end up picking a style they didn't think they would like, the styles they put me in wouldn't work for my venue even if I fell in love with them (which I did not). Not to mention when I first walked in and was chatting with the woman, she asked if I had been shopping (I had only been to 1 place prior) and where I had been. As soon as I told her where I had been she began talking badly about the company. I personally don't think highly of the company but I felt like this was very unprofessional. Not the way to impress me. Unless you were to walk by and see a dress you love in their window, I would not suggest going here and going through a shopping experience like I had.

Kristin

Married on 10/01/2016

DO NOT CHOOSE THIS BOUTIQUE. This experience was absolutely horrendous. I am a bridesmaid in my brothers wedding, and his fiancée decided to order from Paper and Petals. After waiting for my dress to arrive MUCH later than it was promised, I was told that I needed to come to the boutique for a fitting. The shop refused to allow me to schedule a fitting for the weekend, which was frustrating. I scheduled an appointment and sat in more than an hour of traffic from San Francisco, then arrived at the shop. I was rudely greeted, and left alone in the shop for several minutes while they went to find my dress (since I had an appointment, I would expect them to maybe have my dress ready to go?). I tried on my dress that was about 6" too long. As this was a fitting, I thought she might help me pin my dress or give me feedback. Instead, I was told "the dress looks like it fits ok. You should take it somewhere to get hemmed." I don't know why I had to bother to drive to this store on a weekday to be treated poorly and pushed out the door. Clearly, this shop cares about making a sale. Once they have your money, you are worthless to them. Implorable customer experience, and every member of the bridal party had similar or WORSE experiences.

Papers and Petals Bridal's reply:

Dear Krissy,

My name is Carolyn I manage the social media for Papers and Petals Bridal. I was very surprised to see the reviews you posted; and wanted to clarify a few points after carefully reviewing your file.

1. The bridesmaid dresses were ordered on May 2, 2016 the dresses arrived in our store early part of July (they arrived early within 2 months, the typical time frame for BM dresses is 3.5 months)

2. You picked up your dress on Aug 4, two months prior to the wedding; therefore you had ample time to pick up your dress without rushing.

3. Your dress was ready when you arrived, we simply needed a few minutes to retrieve it.

4. As far as the length, the bride ordered extra long because your tall, and at that time she was planning on the BM wearing heels, which is an appropriate decision.

5. You were given the option of P&P doing the hem for you or, you could take the dress with you and have it hemmed elsewhere, for your convenience, as opposed to driving back down to Burlingame to pick it up. This option is available to all our customers.

6. The only reason we weren't able to take you in that weekend; is we we're booked all weekend, which is normal for a bridal shop.

Our shop does cares about our customers and the services we provide; I hope the above response not only clarified how the bridesmaid process operates; but also to let you know; it is never our intention to make someone feel they are being treated poorly.

Sincerely,
Carolyn

Erin

Married on 10/26/2013

Despite the negative reviews I had read on various review sites, my husband and I decided to give the shop a chance and check out Bridesmaid dress options. We were treated very kindly by the shop owner, and were even offered a discount for the bridesmaid dresses we selected. Sounded great...then everything turned sour. I heard from many of my girls that they were bullied into getting larger sizes than they had wanted (perhaps to get more money in alterations). The dresses did not arrive by the date I was promised (ended up arriving 10 weeks later than had been promised!). As I started getting nervous and called to check on the status, I was rudely treated by staff and was given conflicting/vague answers to my questions (maybe stuck in customs? can't track status? should be on their way? probably shipped that week?). Once the dresses did arrive (and were NOT shipped to my girls despite this also being promised to me), we noticed that one of the dresses was the wrong size. The bridesmaid who was given the wrong size called the shop herself and was very RUDELY told that she was wrong, despite all evidence on our side. She was eventually told she could bring the dress in and pay for her own alterations, despite not even living in the area. This issue was only resolved by one of my bridesmaids offering to switch dresses and the two of them making it work.

DO NOT BUY DRESSES FROM THIS SHOP!!! They are rude, lie, and are the most unprofessional shop with whom I have ever dealt!

First, look at their Better Business Bureau Report. She has a F rating. I didn't know that companies could still be in business with that many claims filed against them.

Then, read her unfiltered yelp reviews.

Finally, go to a different bridal salon.
Are you interested?
Send a message