77 Reviews
Recommended by 97% of couples
Quality of service

4.9 out of 5 rating

Average response time

4.9 out of 5 rating

Professionalism

4.9 out of 5 rating

Value

4.8 out of 5 rating

Flexibility

4.8 out of 5 rating
15 User photos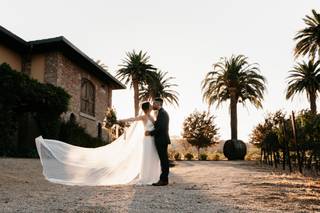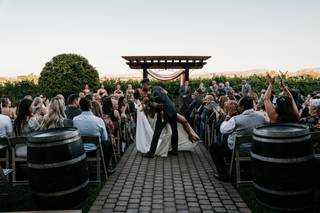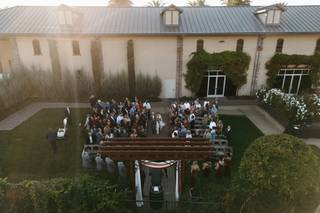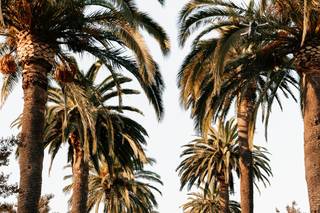 + 11

photos
Davy

Married on 04/15/2023

Palm Event Center made all of our guests rave about the best wedding they've ever attended!

My wife and I wanted to thank you all so much for being there for us on the best day of our lives (so far). We have had multiple friends and family come up to us to say it was the most beautiful reception they had ever been to, due in large to how beautiful Palm Event Center is, how well-coordinated the event was, and how welcoming all the staff members were. We couldn't have done it without all of you. So we wanted to thank each of you - Nicole for helping us get started and coordinating through the details, Genevieve for walking us through our planning journey and being so detail oriented (hope everything is going well with the new little one!), and finally Lexi for being there for us the weekend of.

We couldn't think of a single thing that didn't go exactly as planned, and we couldn't have done it without the PEC team. The food was amazing, the wedding went EXACTLY AS PLANNED, and you gave us the wedding of our dreams! We cannot thank you enough for the absolutely perfect day in our lives.

Davy and Elaine!

Christina P.

Married on 10/13/2022

Golden, Dream October Wedding

We had our dream wedding at Palm Event on a warm, golden evening in October. The grape leaves were still green and the rose bushes were in full bloom! After finding this venue, we realized later that Palm Event Center is one of the highest rated wedding venues on Yelp (via Daily Meal). Don't do anymore research if you're looking for an organized, beautiful, breath-taking venue. We booked our wedding on a Thursday evening and from the day we put down our deposit, we were treated like royalty. Our coordinator, Genevieve, (shout-out to the most amazing person and best coordinator in the world!!), was organized, friendly, funny, kind and relatable. We met on Zoom for our check-ins, so no need to travel to Pleasanton. Then we had our FABULOUS food and wine tasting at the venue. Let me just say - all our our guests RAVED about their dishes on the day of the wedding. They couldn't say enough of how delicious, fresh, and wonderful their meal was. Then we treated our guests with a late night snack - pizza! It was truly perfect. Palm Event offers open bar, with a full well. We also designed signature cocktails and brought cases of Red Bull for our guests. Whenever we had questions, the team responded within 24 hours and were flexible about decor and desserts. All vendors have to provide insurance and we also bought couple's wedding insurance for the day of. Our rehearsal went without any hitches and Genevieve adjusted quickly and thoughtfully! She honestly made our day so enjoyable and stress-free. On the day of the wedding, there were some details that I wanted to change last minute with the decor and the team quickly adjusted to make our day perfect. I cannot recommend their team and kitchen staff enough! The best moments of our experience were high-quality service from the staff, beautifully maintained venue and winery (I mean the palm tree entrance itself is WOW), and the amazing food and drinks! Thank you Palm Event for making our wedding dreams come true.

Liz Y.

Married on 02/27/2022

Beautiful Wedding Venue

Palm Event Center was everything we dreamed of for our wedding. The venue was beautiful inside and outside, especially the estate room. The food and drinks were delicious and well displayed. Genevieve was our coordinator and she was very organized and kept us on our feet through the whole process. Our whole experience from booking the venue to the day of had been wonderful. The whole team at Palm was very professional and thoughtful. We especially loved the champagne and charcuterie board for our bridal suite on the day. Thank you very much to everyone at Palm for making our day special!


Are you interested?

Send a message

Jessie F.

Married on 07/03/2021

Amazing Venue!!

The Palm event center was absolutely beautiful and we loved having our wedding there!

Genevieve our wedding coordinator was exceptional and helped us make our wedding a night to remember!

Carie

Married on 07/17/2020

Perfect venue — Perfect day!

Michael and I will forever be grateful for the ladies at The Palm Event Center.

We got married in the middle of a pandemic-- July 17, 2020. We didn't cancel, we chose to do an intimate ceremony only, and postponed our reception at a later date. And what made this day even more special is that we were their first wedding ceremony since the Shelter-in-Place mandate.

Love truly overcomes ALL!

Casey, Jade, and Marlene were like our fairy godmothers (there was one more lady the day of the wedding, I just can't remember her name, she was awesome too!) -- These ladies were simply amazing -- THEY MADE IT HAPPEN!! We loved them and our families loved them. We will forever brag about their excellent customer service.

Thank you so much for being so supportive and staying positive with us! Everything was perfect and we are truly blessed to have chosen a venue ran by the most fabulous team ever.

We cannot wait to celebrate with you all again! #SequelWedding #PartTwoComingSoon

Love,
Carie & Michael

Cheryl C.

Married on 11/11/2019

Thanks for giving me the BEST WEDDING

I stumbled across the Palm Event Center browsing through a photographer's gallery. Growing up in Napa, I always wanted a wedding in Napa. However since Napa won't allow weddings except for a handful of wineries and the fact we were paying for the wedding ourselves, we were limited to options. I took a tour to the Palm not expecting to be amazed but I was blown away. Jessica was my point of contact from the beginning. The property was gorgeous, the menu and photos of the weddings were just what I was looking for. Jessica was so organized and efficient in giving me a tour and going over options. I turn 40 in December, so I had a timeline to get married before then. Although it was only February, she informed me that there were no more Saturdays available and just a couple of Fridays and Sundays not reserved yet for 2019. She also said Monday 11.11.2019, Veterans Day was tentatively reserved and the couple had 3 days to pay their deposit That date sounded really cool that I had my heart set for it. Lucky for me, I was able to get it reserved. Through out the wedding planning, the Palm was always easily accessible and quick to respond to my calls and emails. This was essential to me because not only do I live 60 miles from the venue but my wedding planner had a baby a month before my event and I started a new job 3 and a half months before it. They were so Patient with me and explained my options thoroughly. I ended up adding day of/month of coordination with the venue. Jessica was paired up for my event and was amazing! If she wasn't there, Jade, Nicole, Jenny or someone else was always on top of filling in for her. They do work as a team and I was never worried that I had to wait for a specific person to get back to the office or call me back after her day off. Their vendors list was great and everyone spoke so highly about the Palm Event Center and their sister venue Casa Real. I enjoyed the additional offerings they had such as the donut flambe, poke bar, churro bar, fry bar, etc for late night snacks. I wanted a balloon garland and they knew exactly who to refer. The 2 months before the wedding, my planner had her bag prematurely. My hubby was hands off the planning, so I was frazzled trying to orchestrate everything. Lucky for me Jessica was organized, poised, calm and knowledgeable about everything wedding. I am ashamed I to say I was usually late to our meetings but she made use of our time and kept calm and happy through out our meetings. The rehearsal was a bit stressful due to family dynamics and I showed up an hour late. Jessica fortunately did a walk through with my bridal party. The wedding that night was beginning to set up. So she efficiently instructed us to focus on what we needed to do which was drop off the decor and finalize the seating chart so they would know who had dietary restrictions. She met with our officiant before I got there and assured me even though we ran out of time all was good. The day of the wedding, my chaotic mind forgot the batteries for neon lights, led lights, my special table setting, film for the photo guestbook. Jessica told me to relax and not worry. I had so many items that I wanted to use but because i don't know how to design or have my planner with me in the end, I didn't organize my items and just brought all of them with me. Jessica worked with my florists and made use of my stuff to design a beautiful venue. My wedding originally had 90 guests but because I wanted to upgrade to the premium menu. I ended up only having 55 attend. Jessica and Jade suggested I have the event in the barrel room as opposed to the ballroom since we eliminated 4 tables. This also caused stress for me trying to figure out linen set up and hiring or not hiring litigating and rental items. In the end it worked out fabulously. I cannot recommend this place enough. They made my dreams come true!! Food was phenomenal. My guests would not stop talking about how great the food was. I also appreciated that they threw in the premium bar upgrade for top shelf alcohol plus an extra half hour as an incentive for booking one or the remaining dates in 2019.

Amanda

Married on 11/02/2019

Nothing short of amazing!

From the the moment my husband and I saw The Palm- we knew it was a match made in heaven! The friendly and responsive staff answered all our questions and helped bring our wedding vision to life. The wedding weekend went off without a hitch and our day of coordinator, Genevieve made me feel at ease on the day of my wedding and helped the entire day run smooth as can be.

Jessica

Married on 03/29/2019

Best decision I made for my Wedding

Having our wedding at the Palm was the best decision I made the staff there was so professional and helpful and made every choice so easy. Every question I asked they answered right away with multiple people checking email. Jessica was our day-of-coordinator and after several meetings and emails with I had full confidence that everything would go as planned and didn't have to worry about anything for the whole day. The venue is beautiful I fell in love with it right away the barrel everywhere and the beautiful vineyard outside really added to the romantic feel. Everything was perfect and I attribute that fully to the Palm Event Center and its staff.

Romeo S.

Married on 02/24/2019

February 24, 2019 Wedding

Palm Event Center was amazing! It was the first venue my now husband and I visited when we were checking out venues. We couldn't help but fall in love with the place and book Palm to host our wedding reception. We initially signed our contract with Jessica and she ended up being our wedding coordinator. We loved that we had Jessica throughout this whole wedding planning process. Palm is so organized and we appreciate the timeline they provided us to keep us on track with deposits and meetings. Jessica was more than amazing! Our whole wedding party wanted their own "Jessica".

Shanna R.

Married on 01/18/2019

AMAZING wedding venue!

The Palm Event Center was AMAZING!!! I had my dream wedding here. I can't sing their praises enough! The venue is gorgeous. They have an option to get married outside, or inside a gorgeous room of wine barrels, candles, and uplights (which is what we chose). The customer service is the best. They gave me multiple tours, as I wanted to bring family members to see it after I toured with my fiancé. Jessica, who gave us the tour, is so sweet and helpful! She responds quickly if you email her. Jade, the manager, was also helpful, amazing and quick to respond! Any questions we had were answered right away. They are VERY organized and professional. They are strict in their vendor policies. All vendors must be approved ahead of time. It wasn't a problem though, they approved all of our vendors in a timely manner. They sent us a cute little USB drive to us in the mail (inside a wine cork) with all of the forms we had to fill out, photo examples, vendor lists, menus, etc. They also included a free wine tasting for you and your husband. The venue is pricey, but is totally worth it for what is included! We saw some really old/nasty venues that were similarly priced and less was included! 4 and a half hours of open bar is included! We did not see that at one other venue! They have a few menu options, with upgrades if you would like. They have vegetarian and vegan options as well. The couples food tasting night was amazing as well. Each of you got practically full portions of everything on the menu! So much food! They were so generous portion-wise. It was also nice to meet other couples that were getting married there. If you get married in the winter, you get lots of freebies like outdoor lighting, mulled wine and cider, free uplighting inside, etc. We were so glad to have chosen to get married in January! If you choose a weekday or a Sunday, you also get a much better price than on a Saturday. They book very quickly, so make sure you go months in advance. A year if possible! The ONLY complaint we had is they don't have a place for the groom and his groomsman to stay before the wedding. There is a room for the women to get ready which is great. They have a little lounge behind a curtain that would be great for the men, but they charge extra for that room. But this wasn't a big deal. The guys just came to the venue ready and they hung around the bar area before the wedding. The workers did a good job of keeping my fiancé from seeing me ahead of time. We also opted for the day of wedding planner that they provided and she was amazing. A life saver! Definitely worth the add on. We had Casey as our planner. Again, she was kind, professional, organized and quick to respond. After meeting with her we felt at ease. She helped us make a timeline for the day of, and she helped to make sure we kept to that timeline. She worked with the vendors on the wedding day, so we had nothing to worry about. She will help with ANYTHING you might need on the wedding day. She was very clear and informative at the rehearsal as well. I DEFINITELY recommend the Palm Event Center for your dream wedding!

Amanda

Married on 12/28/2018

A Fairytale Come to Life

When my now husband and I first started looking at Palm Event Center for our wedding, we were in total awe of the images we found on their website and of other's weddings we found online. When we visited in person, it was even more breathtaking than we thought. They specialize in weddings and truly, it shows - the venue is a showcase in romance and the staff knows quite literally everything there is to know about weddings. They handle most things in-house: the venue spaces, day-of coordination, food/beverage, tables/linens/chairs/place settings, etc. It was so wonderful to have one vendor who took care of so much. I also cannot say enough about Casey, our day-of coordinator, and the Palm staff. They are efficient, kind, fun to work with and they know how to answer any and all crazy bride questions you may have! :-) Our guests still haven't stopped talking about how beautiful romantic, and fabulous our venue was.

Sabrina S.

Married on 11/11/2018

The best thing we ever did was get married at Palm!

Palm Event Center is my favorite place in the entire world. The venue is gorgeous in photos, but better in person. We got married there in November and couldn't have imagined a more beautiful venue or a more detail-oriented staff. We worked with Jade and Jenny and both were amazing. Jenny was our day-of coordinator and I'm convinced she single-handedly saved my wedding and my sanity more times than I can count. She was so reassuring and kind while managing to keep the inevitable hiccups under control and calm. I would not have wanted to get married anywhere else. Palm made the planning so easy even though we were across the country. They are true professionals and it shows in the quality of their events.

Jessica

Married on 04/06/2018

Thank you To the Palm Event Center for the most amazing Wedding! Casey, Jade, and the bridal team made the wedding planning and process amazing! From start to finish, they were so detailed and always available to meet with us and answer questions. Special shout out to Casey for being amazing and right there with us on our Wedding Day! It was organized, beautiful and the best day! The food was amazing, the setup, everything! It rained on our wedding day, so our ceremony was moved indoors and Casey and Team changed it and set it up for us so beautifully! Thank you so much for a perfect Day!

Amanda

Married on 02/10/2018

My husband and I got married at the Palm Event Center 3 weeks ago and I cannot express in words just how wonderful our entire experience has been from the time we booked the venue to the actual wedding day. The staff, especially Jade Seck (office manager) was exceptional in her responsiveness and detail orientation. No matter what question we had, she always had an answer or was willing to research and provide a solution to our problems.

I would also highly recommend booking a "Day-of-Coordinator" for your event. We had the pleasure of working with Jenny Whitney and she was EXCEPTIONAL. She managed our rehearsals, worked with us on our Finalization meeting and took down detailed notes to ensure our wedding day was as close to perfect as possible. She was always poised, calm and directed our day with ease. If you have the opportunity to work with her, please do! You won't regret it.

Sam

Married on 01/08/2018

Saying you had the greatest, most effective, emotional, happy and solid wedding ever may be cliche. But for our recent wedding at Palm Event Center - not only can we say we had our dream wedding - but nearly all our guests were overflowing with praises about the venue, staff and how this was one of the most "epic weddings" they've ever attended.

From the beginning, Nicole helped us isolate and put together the perfect package to help form the foundation for our wedding. The cost was extremely competitive and even lower than other vineyards in the Bay Area - and for the mostly all-inclusive, open bar and dining package, as well as the beautiful barrel room for the ceremony - our dollar went more than 10x farther than it would go at any other venue. As we selected vendors and completed timeline and guest counts, Jade kept things extremely well-oiled, and was quickly attentive, accurate and on the ball when it came to helping us keep things on time and organized.

Throughout the actual planning, bringing together vendors, drafting up timelines and laying out the ceremony + reception, we were extremely fortunate to be paired up with Casey as our coordinator. A guardian angel doesn't even come close to saying what she did for preparing our wedding day. The day-of couldn't have gone smoother and Casey held every little detail together, kept our enormous party on schedule and stepped in to dot I's and cross T's where we would never have even thought of or remembered.

The entire staff at PEC deserves all the recognition in the world for being the greatest wedding team ever.

Alison

Married on 12/29/2017

Words cannot express how grateful my husband and I are that we chose the Palm Event Center for the reception of our wedding!
My then fiancé and I looked at many different wineries in the Pleasanton/Livermore area before we fell in love with the Palm Event Center. The openness of the entire room, the beauty of the winery itself, and the wine barrels made the initial first impression, and it just kept getting better! We booked the venue two years in advance of our wedding date, and I always felt that our needs and inquiries were speedily and accurately addressed.
Jenny was our primary contact throughout the entire wedding planning process and also our day-of coordinator. She was quick to respond to all questions and concerns, and eased all my worries about the wedding. We met with her several times, and worked out every detail from the vendor list to the shape of the napkins. Jenny thought of everything, and since she had done this many times, and I had never been a part of wedding planning before, I felt almost relaxed.
During our wedding, every member of the Palm Event Center staff worked tirelessly to make sure our event went well! One of them even boxed up the food from our meal for me and husband. On top of that, we had the best dessert ever: Donut flambé! The Palm Event Center provides this service in lieu of cake, and it was so memorable and delicious! It was truly a highlight of our day!
I cannot even put to words how grateful I am to Jenny. She completely ran our event flawlessly! My husband and I thoroughly enjoyed the day and have nothing but happy memories! Thank you, Jenny and the staff at the Palm Event Center for making our day so wonderful!

Millicent

Married on 09/17/2017

The BEST place of all time. Our wedding turned out amazing and our guest stated it was so beautiful and a memorable place. The entire team and staff at PEC are extremely nice, helpful, and just fantastic at what they do to make your special day stress free. Their entire food selection is also very delicious. For those couples looking to get married at a winery this is by far the best. Even though we went over our 20,000 budget it was well worth it. Highly recommend making an appointment and viewing their website.

Violet

Married on 06/04/2017

I'm so glad that we picked PEC for our wedding in June. The venue is stunning, the staff are super professional and friendly, and the food is amazing. A lot of our guests complimented about the venue and the food. We picked the Estate Room for our receipt and it was super classy and romantic.

Our Day Of Coordinator Casey was such a huge help. I couldn't imagine how the wedding would go without her help. She's super professional, very responsive and easy to work with. She kept everything in line and coordinated with all the vendors.

I highly recommend PEC to any couple who want to have an elegant, classic and romantic wedding.

Julia

Married on 04/07/2017

We loved our wedding at the Palm. I fell in love with the venue when I first stepped in. They have performed so many weddings and really know what they are doing. Giving us a suggested vendor list really helped us in our planning and we ended going with all their suggestions. They all worked amazingly well together. Our day of coordinator, Vanessa, erased all my worries and allowed me to really enjoy. She was flexible with the timeline but made sure that everything we wanted got done. The whole team at the Palm was always professional, responsive, and very accommodating. Plus their food was specular. We have received many compliments on the food and venue. So glad we choose the Palm for our wedding. Highly recommend!!!

Jameela

Married on 02/24/2017

We just had our wedding ceremony and reception at the Palm Event Center and it was everything I imagined and more! We worked with Jenny and managed to pull off a wedding in less than 2 1/2 mos. I would not have been able to have such a beautiful wedding without Jenny's help! Anyone looking for a beautiful venue that takes care of so many details should definitely check out the Palm!

Alexa

Married on 01/21/2017

If I could give the Palm Event Center and their team 10 stars, I would. We had our wedding there yesterday on 1/21/2017 and Jenny was our wedding coordinator, and the entire evening was literally perfect and a complete dream. Throughout the 13 months of planning our wedding at the Palm, we've worked hand in hand with their team and I can honestly say I've never experienced better service. They were available to answer any question we had, were extremely accommodating, and were an absolute pleasure to work with. Jenny and Jade are simply amazing, and Jenny helped ensure our entire wedding down to every detail was perfect.

Additionally, the entire Palm staff was five-star, and the best of the best. The drinks, food, dessert, and service were above and beyond. All of our guests continue to compliment us on how excellent the food and service was. The entire team at the Palm is so professional, attentive and I could not imagine our wedding day without their help. If you are considering the Palm as a wedding venue, stop looking and book them. They will make your dream wedding come true.

Monica

Married on 11/27/2016

We instantly fell in love with Palm Event Center when we toured with them and it was a no brainer to book them our wedding for November 2016. They are quick to answer all my questions and so patient! Everyone that works there is so nice! The Estate room is breath taking and the Ballroom so large and can easily accommodate our guests of 200+ people. We can't wait to get married here!

Marissa

Married on 05/14/2016

My husband and I had an amazing experience with palm event bridal team! They were quick to respond, very detail oriented and executed exactly what we wanted on our special day!

Stephanie

Married on 02/27/2016

Love love love our venue. Jade has been unbelievable! She has walked me through everything and has been unbelievably patient through my 1000 questions!!! Highly recommend!

Victoria

Married on 02/05/2016

I got married at the Palm Event Center last night and everything was perfect! Our coordinator Samantha and Dan were amazing throughout the evening. Helping everything run perfect! If there were any issues last night, the groom and I had no idea. We had a unique set up for our ceremony and they made my imagination come to life.

The food was delicious! We served chicken piccata and beef short rib family style. I've never seen such an efficient serving crew. All of the tables received their food incredibly fast and it was wonderfully hot.

The groom, our families and I would highly recommend the Palm Event Center. They do have some rules/standards that you may not find at other venues and could be off-putting, but it all helps create a perfect, classy event.
Are you interested?
Send a message