15 Reviews
Recommended by 88% of couples
Quality of service

4.4 out of 5 rating

Average response time

4.3 out of 5 rating

Professionalism

4.2 out of 5 rating

Value

4.5 out of 5 rating

Flexibility

4.6 out of 5 rating
2 User photos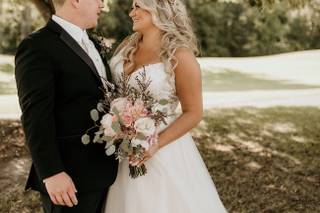 Angelica L.

Married on 09/12/2020

So welcoming and very reassuring

I walked in and fell in love with this place. They allow you to hold for 7 days a date and Haley is AMAZING and not overwhelming but calming which is so nice!

Amanda

Married on 10/05/2019

Nothing short of amazing!!!

If you are looking for an affordable, accommodating, respectful, and helpful place..look no further. There is not enough words to describe how great Steve, Haley and their staff are. They were amazing from our rehearsal all the way to the day after our wedding!! I'm thrilled we found such an amazing venue!!! They made our day extra special with how spectacular they were!!!

Daniel N.

Married on 09/26/2019

What a memory made

We wanted to share the experience that Paint Creek Country Club gave to my son Ben and his new bride Lyndsay over the last year, as they prepared for the big day. It all started with a sit down meeting with their wedding coordinator Haley. Haley gave them her undivided attention and walked them through the process and discussed everything from the smallest detail. She educated using her knowledge to help set expectations and budgets. Then there was the food tasting event where the chefs had laid out a spread very near to what you would experience on the big day. They had linen displayed, different types of vendors, hors d'oeuvres, meats and all the fixings ending with deserts. That event alone made it a vision instead of a fear of the unknown. Over the year Haley always made herself available and at times sent out reminders of things to keep on schedule. When the big day arrived Haley and the GM Steve were there to make sure that every detail was handled. They made the bridal party comfortable in the ladies locker room as they did hair, make up and all the usual fussing that brides do. The ceremony went off without a hitch due to Haley being so pleasant but firm to keep a rather large bridal party focused and on Que. The rest of the night went without a hitch. Cocktail hour, a sit down dinner ( our guests raved on the food) they managed the desert table including the serving of the wedding cake that was crafted by a close family friend. The s'mores station was the talk. The whole wait staff and bartenders made sure our guest were well served all evening. Compliments to the owners of the club for putting together such a dynamic team. Thank you all for the most memorable evening.



Are you interested?

Send a message

Mary

Married on 09/15/2018

Haley is amazing!

Haley made sure that everything ran smoothly and there were no glitches in the ceremony or reception! The food was outstanding! Not one complaint from any of our guests! All 243 meals were the perfect temperature and the filets were all done to perfection! Haley I know put in at least a 12 hour day because she was there to help set up and to help with take down. The staff had all of the things that needed to be picked up the next day all boxed up and ready for us to pick up. Thank you for making our daughter and son in laws wedding the wedding of their dreams!

Kim

Married on 09/26/2015

This place is beautiful and a little off the beaten path that is why I liked it to much. The floor plan was very open and they have a huge bar. The played dinner was excellent and hot when we got it. The ceremony space there is beautiful too. Many different locations for pictures and no one else there to bother you. Donna and her team did a great job in making sure that everything was done to perfection. Even two months after our wedding people are still talking about our wedding and the venue.

Mary

Married on 05/04/2014

Full marks!! I can't begin to say how awesome Paint Creek was. They have a new (to the golf club) banquet manager, her name is Donna, and she is incredible. She was so easy to work with. I never felt like I was an inconvenience or annoyance, even when I emailed her a bunch before the wedding. She is a great communicator. I, the morning of, was in such a tizzy that I printed out the wrong seating chart!! I was mortified when I realized it (not until half way through dinner) because I had given her a listing of which "special" (kids and gluten-free) meals needed to be at which tables. But her and the servers went with the flow and took care of everything without me even realizing it! Oh, it was magical I tell you. I still feel like a dummy, but the day was still flawless. Our server was amazing (Kathy, I think?). The food was amazing. We got SO many compliments on the venue (it's beautiful!). Neither my husband or I could touch our food because we were not hungry, but they boxed it up for us (plus some extra meals!) and we had dinner for the next 3-4 nights. They were very accommodating of my gluten-free requests. The price, for everything we received, was a steal. Tip is included. We got married inside. It was great. I highly recommend it. It feels like its a destination wedding, very secluded, even though it's a mere 50 minutes from home! I would recommend it to anyone. If I had even one complaint, it would be that the chairs weren't awesome looking- although very comfortable. So if it's that big a deal to you, you can rent your own or get chair covers. Go check it out! It was probably our 5th or 6th venue we visited and we knew it was THE one. I would give Paint Creek a 10 out of 5 for flexibility if I could.

Kathleen

Married on 10/05/2013

When we booked my daughter's wedding with Paint Creek Country over a year ago we had no idea that it would be under new ownership when the big day arrived. Fortunately for us, we really lucked out. The new owners have done a complete remodel and the interior is now absolutely gorgeous. One of the reasons we booked with them in the first place was their reputation on great food, and again, luckily for us....that did not change. The petite filets were comparable to anything you'd have in a fine steak restaurant. We had 230 guests and everyone was served hot, delicious food in a timely manner. Steve and Kathy were an absolute pleasure to work with and made sure everything was just perfect. If your looking for a venue with delicious food, a great wait/bar staff and beautiful views....Paint Creek should be your choice.

Kristy

Married on 04/27/2013

Working with the new owner of Paint Creek was incredibly easy and I felt at ease knowing that they were going to take care of everything and I had zero worries. I would recommend Paint Creek to anyone!

Jillian

Married on 05/05/2018

Overall our experience with Paint Creek was great. Haley, our coordinator, was simply amazing. She stepped in and took over nearly all the day of decorating and set up. She ensured that our vision came together seamlessly. The event space was great and we were able to utilize the dining area, bar and outdoor space. Finally, the food was amazing. We had many compliments on how great the tenderloin was (we had a duet of chicken and tenderloin). The staff here did a great job to make us feel special, allowed us access to nearly the whole club (pictures on the course, etc). Would certainly recommend. Great value.

Kate

Married on 11/19/2016

My husband and I had our ceremony and reception at Paint Creek and it was FANTASTIC! Donna was with us through the whole process and most of the night on our wedding day! She was so helpful and made planning a breeze, extremely professional. My girls and I had use of the bridal suite and it was a huge plus since we had our ceremony on site. The staff were quick to take down the ceremony chairs and get ready for the reception. Our guests RAVED about the food! It was amazing! I would highly recommend Paint Creek to anyone for any event- they do it all. We truly had the BEST day EVER!!

Brooke

Married on 10/01/2011

Paint Creek Country Club was a great location for our wedding! We had our ceremony indoors, which is an absolutely beautiful setting with all of the panoramic windows overlooking the golf course! The reception room was unreal-- it could easily hold 200+ with a large dance floor in the middle, a bar/lounge area, and an outdoor patio. At first I wasn't sure the banquet manager would pull everything off, but he proved me wrong the day of the wedding! The head table wasn't centered-- which didnt really bother me (ended up being better for pictures) but other then that every little detail was exactly as we had requested! The staff was great, very courteous and professional towards the guests and VERY helpful with things I needed... and the food is simply phenomenal! The head chef at PC has been around a LONG time and knows what he is doing! The prices were also the best we found (for a nicer venue) in the Rochester/Lake Orion area.

Jeanine

Married on 07/26/2014

Great venue! Everyone had a great time, absolutely no complaints. Staff, service, scenery, food were excellent :)

Paint Creek was a beautiful setting for our reception, and we received many compliments. The food was delicious, the setup was perfect, and the day of went flawlessly thanks to the coordination by the Paint Creek staff. We did have a bit of difficulty communicating with them throughout the planning process. We originally booked the venue with the former event manager, who up and left with no warning in the middle of our planning. We had to call the venue to find out that we were now working with the banquet manager after our emails went unanswered for weeks. However, the complications in communication were worth it because the day of was beautiful. The banquet manager, Donna, is very good at what she does. She's very professional - not the warm and fuzzy type - but if you go into the planning knowing what to expect you will be just fine.

Paint Creek Country Club has a new owner with new banquet manager and are currently updating the interior of the facility. The updates so far are very attractive. The banquet style ffood is good. They will tell you they are easy to get along with and will help you set up your event. This is pretty much an accurate statement, however beware of what is not said.

There is an employee by the name of Kathy, who seems to be the head waitress and she is wonderful. However, the facility dumps all their promises on her, without her knowledge, adequate experience and/or adequate time to perform the tasks prior to arrival of the guests.

Linens placed on the tables were apparently not freshly cleaned, as several tables had linens placed on them that were soiled with food spillage. We requested they be removed. We then discovered only 1 was removed with the remaining tables being turned to hide the filth.

The food buffet was removed and plates taken away prior to everyone finishing their meals.

Although they were provided with a timeline of the event which requested the cake be cut 9:30, it was cut, without our knowledge at approximately 7:30, with the waitstaff plopping a slice in front of the guests. This was a 5 layer cake with 4 layers of different flavor cheese cakes and because of this we wanted it placed on a table so the guests could pick the flavor they preferred. When it was discovered the way they were serving the cake they ceased individual servings and placed it on a table, but before the guest wanted to consume or discovered it was available it was already disposed of. Needless to say more than 50% of the guests did not get to enjoy this wonderful and expensive cake.

The staff tore the event down, removing all the decor, moving tables and chairs into place for the next day event prior to the end of our contracted time, while guests were still present and enjoying the occassion.

Because of this I WOULD NOT recommend this venue.

Jim C.

Married on 06/28/2019

A Total Disaster

Pray nothing goes wrong at this venue...

Our daughter's wedding reception was held here on June 28, 2019 and it turned out to be a disaster.

We agree with the write-ups which describe how beautiful this venue is. However the day of our reception, the air conditioning system failed. The thermostat read over 82 degrees in the banquet hall. The entire wedding party and guests were soaked in sweat, it was a nightmare. Half our guests had to leave early due to the heat. A large dirty construction fan was brought in only after complaints were made from dozens of people.

I understand problems happen, however when they do what's most important is how they are handled. We were told multiple conflicting stories at the start of the reception as to why it was so hot and were repeatedly assured the AC would be back on momentarily. That never happened. Our event coordinator, Hailey, left early that night and left an poor college intern in charge.

Following the event, we requested some sort of compensation off our bill that was even slightly commensurate with this impact. The owner frequently delegated our calls to his golf pro and was dismissive of our attempts to rectify this problem. We received a $200 credit off the total bill, which is a fraction of what we had paid in advance.