Reviews
5.0 out of 5 rating
Quality of service

5 out of 5 rating

Average response time

5 out of 5 rating

Professionalism

5 out of 5 rating

Value

5 out of 5 rating

Flexibility

5 out of 5 rating
99%
Recommended by couples
7 User photos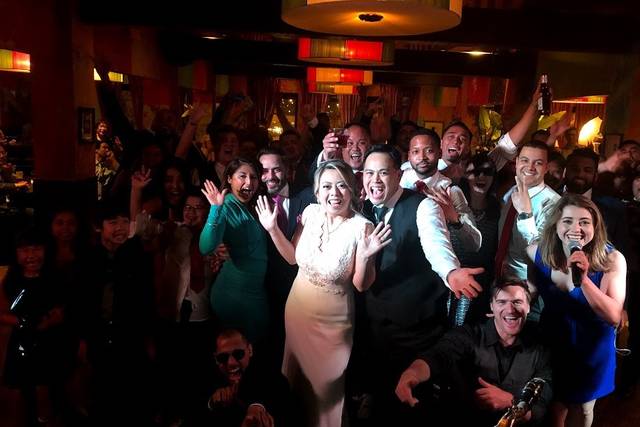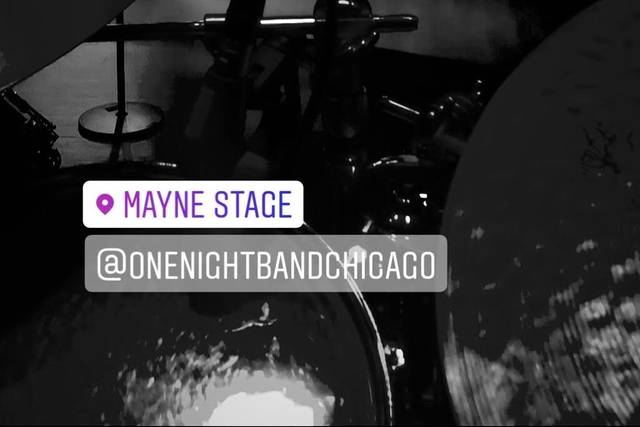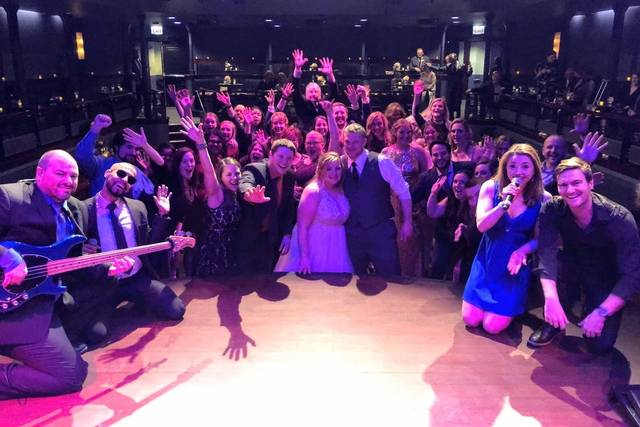 + 3

photos
Carrie L.

Married on 07/08/2023

One Night Band is the perfect wedding band!

I don't know where to begin, from start to finish, this band is incredible. One Night Band made our wedding the party that we had envisioned. Marty was easy to work with during the planning process and the band knocked it out of the park. I would highly recommend this band to anyone who is having a wedding!

Kristin

Married on 06/10/2023

Terrific band who kept everyone on the dance floor all night!!

We were so happy we chose one night band for our wedding reception. They were absolutely fantastic, and even performed an excellent live slowed down version of our first dance song for us. They kept everyone on the dance floor all night which was exactly what we wanted. We highly recommend to anyone looking for a terrific, high energy wedding band.

Cynthia J.

Married on 03/11/2023

Unbelieviable!

Unbelievable! That's all I can say about this band. From booking to the performance, they were professional and really got the party going. I would highly recommend One Night Band to anyone who is looking for a great wedding band. We couldn't be happier.

Are you interested?

Send a message

Lisa S.

Married on 11/19/2022

We couldn't be happier!

We were married in November of 2022 and finally getting around to writing reviews. One Night Band knocked it out of the park. They played the perfect mix of music, MC'd the evening flawlessly, and they were a pleasure to work with. Everyone at the wedding was complimenting the band and we couldn't be happier with our decision to hire One Night Band for our reception!



Kim W.

Married on 08/19/2022

Absolutely Incredible

One Night Band made our wedding night as great as it could be. From the planning to the execution, this band is pro. If you're considering them for your wedding I would highly recommend them. You can't go wrong. They played all genres, emcee'd the wedding very well, and everyone at our wedding was talking about how great there are!

Nina

Married on 07/03/2022

One Night Band was FABULOUS!

We are obsessed with One Night Band (ONB) and can't recommend them enough!!! Hiring a band was the absolute most important thing to me and my now-husband, and we are SO happy we went with ONB. The dance floor was packed the entire night, and countless people told us we had the best wedding band they'd ever seen. Marty also made the whole process leading up to the wedding seamless and stress-free. We felt so strongly about the music at the wedding that we hand-selected every song the band would play, and ONB accommodated all of our requests. On top of that, we had family members who were supposed to play music during our ceremony, and when we realized last-minute that they needed a keyboard and sound equipment, ONB stepped in to help us out. Marty's relaxed and calming vibe was much appreciated as we were frantically working through last-minute details in the two weeks leading up to the wedding. We can't thank ONB enough for making our wedding day so fantastic!!!

Madeleine G.

Married on 05/07/2022

Best Live Band for Getting Guests to Dance!

We got married in May 2022, and One Night Band performed at our wedding. They were truly amazing and made it such a great experience!! We had an 11am wedding with a 1pm reception, and I felt that a live band would really be the best way to get people up and dancing for a brunch wedding. And they definitely did!! The band is so talented, and they are also great at reading the room. I was not someone who wanted to plan every single detail myself, but they did give me the option to completely set the playlist. Instead, I just gave a few examples of songs that I liked / the vibe we were going for, and I left the detailed set list up to the band. I was so happy with all of their song choices, and it really took some stress off of me! I think one of the highlights of the whole day was when the band let our priest come up and sing a song with them. We worked with Marty for the planning process, and he is great to work with. I would 100% recommend One Night Band for weddings or galas or anything you want a great live band for!

Jasmine D.

Married on 04/02/2022

Best Wedding Band Ever!!

You won't regret hiring this group. They're professional through and through! We had the best wedding ever and owe a lot of that to One Night Band!

Haleigh

Married on 10/29/2021

First vendor booked and for a reason !

I think the first vendor we booked for our wedding was ONB almost TWO years before our wedding actually happened. Marty was the absolute easiest vendor to work with in regards to our multiple reschedules and always made it work. They played live guitar and piano for our ceremony and even learned a specific song for the processional that I always imagined walking down the aisle to.. it was beautiful. Now the real fun! The reception was an AMAZING. Our dance floor was packed the entire night and the range of different music that ONB can play just makes it that much better. So many of our guests have complimented how good the band was and how fun much they had. highly recommend !!

Jim D.

Married on 08/06/2021

One Night Band was AMAZING!

From the time we booked them, to the time we had to reschedule due to Covid, to the actual wedding, everything was perfect! Live music is very important to us and we knew we wanted a band. We saw One Night Band at a friend's wedding several years ago and when we got engaged we reached out immediately. If you're looking for a band, look no further, One Night Band is who you want. They put a concert on at our wedding and the dance floor was packed. It was the greatest night of our lives.

Kevin S.

Married on 06/06/2020

Great Company to Work With

Marty was awesome to work with very flexible and understanding. You will not regret working with them!

Jenna D.

Married on 10/26/2019

Absolutely Amazing

One Night Band was perfect for our wedding. We attended a wedding that they played at and didn't have to look any further when choosing a band for our own. The dance floor was packed the entire night, Marty was so easy to work with, and people are still raving at how amazing they were. I absolutely would recommend them for any event!

Alexandra

Married on 10/05/2019

They brought the PARTY!

The music was a hit for all ages - our dance floor was packed, and we owe it all to One Night Band!!! Professional, communicative, flexible, just perfect for our wedding!!! A++

Nicole

Married on 09/21/2019

Great wedding band

We're so glad One Night Band was part of our wedding reception. They kept the dance floor packed all night and helped make the evening memorable. They even created a slow version of the song September by Earth Wind and Fire for our first dance that led right into the standard version to get all of our guests onto the dance floor from the start. The wide range of songs on their set list appealed to guests, old and young. They are professional and talented - we highly recommend!

Liz W.

Married on 08/30/2019

This band is AMAZING!

WOW, that pretty much sums it up! I had no clue where to begin and we stumbled upon One Night Band at a street fest in Chicago. I knew within in minutes that I wanted them at my wedding. I approached them after their performance and asked if they perform at weddings. They enthusiastically replied, YES. From there, I worked with Marty to get things underway. The process was painless, the music was amazing, and my guests are still talking about them. We basically had a concert at our wedding, and we loved every minute of it. The MC'ing, song selection, crowd interaction, and crowd's response was everything I hoped for. My husband and I did our research and found One Night Band to be a great value, and they're a real band, not a hodgepodge of musicians that are available on that night. If you are going to have live music at your wedding hire One Night Band. We are so happy we had them perform for our big day!

Patty C.

Married on 08/02/2019

Thank you, one night band!

From start to finish, EVERYONE was dancing! THANK YOU One Night Band. I saw them at my sister's wedding in 2016 so I knew what I was in for, but they still exceeded my expectations. Book them, you and your guests will thank you!

Amanda G.

Married on 07/26/2019

So much fun

We loved having One Night Band for our wedding! Marty was great to work with. He was responsive, led us through the wedding process, but was also flexible and worked with our ideas. He was great to have the day of, and was MC throughout the night. The band was so much fun the day of, and we received many compliments from our guests. They are all great musicians, and had great energy. Can't thank you all enough!

Jon G.

Married on 07/13/2019

ONB Wedding Experience

We hired One Night Band for our wedding in July 2019, and it was one of the best decisions we made for the entire wedding. They sounded amazing, and even through 3 hours of live music had so much energy and kept the dance floor packed all night. Our family and friends count not stop raving about how great the band was all night (and we still get that comment a month later!)

Aside from sounding great and putting on an incredible show, they provided so many little touches that made the experience and night perfect - live music during cocktail hour, sound during the ceremony, DJ'd music during a set break - all little things that added up to a perfect night.

Marty was an absolute professional to work with. He answered all of our questions, was very responsive, and very organized. He helped us put together the perfect set list for the night, add his suggestions and experience to what works well, and was around the whole time leading up to the day to make sure everything went well.

I cannot recommend One Night Band enough to anyone looking for a live band for their wedding. And we are definitely planning on seeing them again next time they are playing a bar or festival.

Vicki M.

Married on 05/18/2019

Do you want your wedding to be amazing? If so, pick ONB!

One Night Band (ONB) was amazing. We checked them out at one of the gigs they played at a bar and thought they were great, we saw great reviews, meant with marty and went with it. For a 6 member band, their pricing was very reasonable. Marty was very professional and helpful along the whole way. As everyone knows, wedding planning and executing an amazing event takes a whole village. Marty and his band were the highlight of the night. We enjoyed them live at the bar but were completely blown away when they killed at our wedding. The two lead singers were great, they can sing sing! The musicians were stellar. You can tell they really love playing. We hired the guitarist to play during our ceremony and that was a special touch. Nothing beats live music. We got so many compliments from our guests how great they were. They really got the crowd dancing and going!
On top of that, Marty (captain/manager of the team) was able to help out when things weren't going as planned. He was helpful with making sure things were going as smoothly as possible.
If ONB is still around in 10-20 years, we would have them play our anniversary. Thats how much they rocked!


James M.

Married on 01/19/2019

Absolutely perfect.

I don't write reviews or have social media because both are as appealing as execution via flying rabid weasels...

My wife and I got married January 19, 2019 at the Mayne Stage in Chicago and we booked this band. Beforehand, my biggest worry was that they had nothing but amazing reviews, and so I thought maybe I smelled a rat.

No.

THESE PEOPLE ARE FREAKING AMAZING.

Everyone--EVERYONE--at the wedding raves/raves about them. Like I said, this is my second review and I don't want/care/need my opinion heard, but I also understand that in One Night Band's profession, the reviews are critical.

I normally wouldn't even care to comment (I mean, they quoted a price that we paid and that's that), but damn...they are REALLY REALLY good.

Sheila T.

Married on 12/23/2018

Amazing band!

One Night Band exceeded our expectations and kept the dance floor packed for the duration of the reception. I highly recommend them to anyone who is considering a band for their wedding. My husband and I can't thank them enough.

Jamie A.

Married on 11/16/2018

One Night Band is THE band for your wedding!

Everything was easy working with Marty and One Night Band. My husband and I were blown away by their performance, the emceeing of the event, and my guests still talk about One Night Band. One thing that I was assured of from the get go was that it would be the performers that we saw at a festival while shopping the band. I had no idea that many bands use a name and they they fill several weddings in the same night with a roster of people, you don't know who will be showing up at your wedding. One Night Band is an actual band that performs on a regular basis, we loved that when we were speaking to different bands about their services. Trust me, hire One Night Band for your big day, you won't regret it!

Amanda L.

Married on 10/12/2018

Simply Fantastic!

Simply fantastic! Live music was the most important aspect of our reception, and my husband and I couldn't have been happier with One Night Band. The dance floor was packed all night, and they put on one heck of a show!

Lisa A.

Married on 09/07/2018

Thank You, One Night Band!!

I'm really not sure where to start, ONE NIGHT BAND turned our wedding into an insanely fun party the second they hit the stage! Marty did an excellent job of MC'ing the wedding (really easy to work with for booking and coordination as well, can take a couple days to respond, but they're a busy band and I can tell they love what they do). My husband and I couldn't be happier with the decision we made to have ONB perform for our big day. Thank you, One Night Band!

Stephanie K.

Married on 06/30/2018

Thank you!

I cannot say enough great things about One Night Band. The live music was the largest compliment we received and ONB blew us away. They were incredible to work with from the beginning to the end and listened to our needs. EVERYONE was on the dance floor! They will make your wedding the party of the year! Thank you again!!
Are you interested?
Send a message