313 Reviews
Recommended by 100% of couples
Quality of service

5 out of 5 rating

Average response time

5 out of 5 rating

Professionalism

5 out of 5 rating

Value

5 out of 5 rating

Flexibility

5 out of 5 rating
71 User photos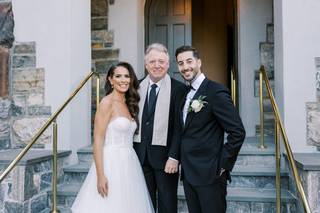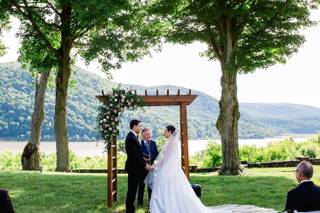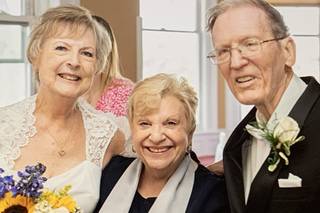 + 67

photos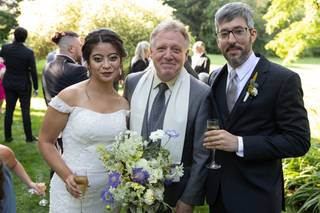 Featured

Julieta M.

Getting married on 07/15/2023

Beautifully Heartfelt Ceremony!

Mark was the officiate for our wedding this past May. He wrote the most beautiful, heartfelt, and personalized ceremony. We could tell he really took the time to get to know us through the virtual meetings and our questionnaires because his words captured our love story and personalities perfectly! He made our special day unforgettable!!! Thank you Mark!

Dominique R.

Married on 01/06/2023

Absolutely Amazing

Dear Norma,
Words can't begin to describe how thankful we are to you for giving us the most incredible ceremony. It was everything we could have imagined and more. We received so many compliments from all our guests on how beautiful it was and how it was so amazing that our ceremony was personalized just for us. You can truly see how much joy you get out of what you do and we are so glad we chose you.
- Dominique & Justin Rosa

Katie P.

Married on 10/28/2022

Mark is wonderful!

Mark recently officiated my wedding on 10/28/22 in Peekskill, NY and did an amazing job. We received so many compliments on the ceremony and how beautiful it was. Mark was very thorough in his questions for us and was able to create a beautiful and personalized ceremony. I would recommend him to anyone who is looking for an officiant for their wedding ceremony.

Are you interested?

Send a message

Melanie G.

Married on 09/24/2022

Beautiful Ceremony

Mark officiated our wedding and did such a wonderful job. We had a few calls leading up to the wedding where we told him the background of our relationship and discussed what we were looking for in our wedding ceremony. He truly listened to everything we said we were looking for on our wedding day and exceeded our expectations the day of. He brought in religious elements we wanted to incorporate and suggested a few readings that we instantly connected with. Our family and friends thought he did a great job and are still talking about our ceremony months later. We highly recommend Mark to anyone getting married.

Laura M.

Married on 06/10/2022

Mark is an excellent officiant!

We used Mark for our private Covid elopement and wedding celebration a year later. He did a great job both times! He was professional and easy to work with but most importantly he delivered a lovely ceremony exactly to our taste! You will not be disappointed with hiring Mark for your wedding!

Warren K.

Married on 06/04/2022

Speak to Norma and you will hire her for your wedding

I have known Norma for about 30 years, even before she became ordained and started officiating. Therefore it was an easy decision to ask her to be the officiant at our son's wedding because we knew that she would put the time in to meet with him and his bride, discuss their preferences for the ceremony, and develop a presentation that was personalized to them. We knew her professionalism and dedication to making sure that this important event was memorable to them and their guests. For those of you reading this review, you do not know Norma, and so I can assure you that if you speak with her and consider her as an officiant at your wedding, you will immediately understand that she is a person who sincerely wants to make your wedding a success, and will work with you to make that happen.

One Heart Personalized Ceremonies's reply:

Thank you Warren(and Dara) for your kind words. It was an honor to officiate at Saul and Sharan's ceremony and to bring their special inter-cultural ceremony to life in a way that was warm and meaningful for them and for all of you who love them so dearly. Congratulations once again and thank you for your support of this work that I am so passionate about. Norma

Erika Z.

Married on 05/14/2022

A Blessing!

Norma was incredible to work with! Our first meeting was via video call, but we connected with her immediately. She interpreted our sometimes unclear wishes and created the perfect ceremony. When a family illness spurred us to plan an immediate micro wedding two months early, she created a second ceremony for us and made the time to be there to marry us. Her kindness and skill gave us two beautiful ceremonies and we will be forever grateful to have found her.

One Heart Personalized Ceremonies's reply:

Thanks so much Erika and Chris for inviting me into your hearts and allowing me the honor of officiating at both of your ceremonies.
I hope your life together is filled with love, happiness and wonderful memories.
Norma

Jason I.

Married on 04/10/2022

above and beyond - twice!

"That was the best wedding ceremony I have ever heard!" After our long-delayed wedding in April of 2022, we heard the above from so many family and friends. And we're both in our mid-40s, so it's not like our guests haven't all been to dozens of weddings. But Norma was just THAT good.

Our journey with Norma started three years ago, when we became engaged in 2019. Norma met with us and designed a beautiful ceremony … which didn't get to happen, because it was scheduled for April of 2020. Instead, the pandemic forced us to cancel our wedding. When we told Norma, she offered to marry us right away in a socially distanced outdoor ceremony. She immediately revised the ceremony she had written for us, and the next day she gave us a beautiful wedding with only two witnesses instead of the 200 we had originally planned. Norma brought everything we needed and gave us a joyful day even as the world seemed to be falling to pieces all around us.

Two years later, we finally felt that it was safe enough to have the wedding we originally planned, and we knew we had to have Norma on board. And she DELIVERED THE GOODS! She rewrote our nuptials yet again, and delivered a ceremony full of love and good feelings and humor. It was so heartfelt and wonderful. Norma's words and thoughts and delivery made sure there wasn't a dry eye in the house.

Both of our wedding days were among the very best days of our lives, and Norma Moutal helped make it so. We can never thank her enough.

One Heart Personalized Ceremonies's reply:

Thank you Jason and Rebecca for your kind words and for allowing me the honor and privilege of officiating at both of your ceremonies!
Wishing you every possible happiness and a life full of love, Norma



Ciara C.

Married on 03/07/2022

Fantastic!

Mark gave us exactly what we wanted for our quick elopement during COVID. He was easy to communicate with, attentive to our needs and even waited patiently when we had to run back home for the marriage license! Highly recommend!!

David L.

Married on 01/09/2022

Multiple life cycle events -with one very big heart

Love – it really is the only thing that matters and with Norma it comes in spades.
We met Norma through my son and daughter in law who hired Norma for their wedding and for us it was love at first sight. Norma offered a completely personal, warm and loving ceremony that was a truly a highlight of our son and daughter in laws wedding.
As contemporaries, we connected with Norma and her husband as personal friends and have had the joy and privilege of spending time with the two of them.
Since then, Norma truly has become part of our family and has conducted baby naming for both of our grandchildren and has married our younger son and his wife. Each time she joined us as an efficient, her words connected with us on so many levels.
But the most meaningful was a memorial service she conducted this past November. Finally able to come together as family and in person, Norma spent the time to learn about our mom and the service she performed was so heartfelt and beautiful. All our guests commented on how beautiful the service was and how each of them was touched by Norma's words.
We look forward not only to spending time with Norma as friends but celebrating and sharing more family lifecycle events with Norma in the future.


Colleen F.

Married on 10/30/2021

Wedding 10/30/21 at Millbrook Winery

Norma was a fabulous officiant! Our ceremony felt so personalized and truly spoke to who we are as a couple. She had great ideas for how to add special touches to our ceremony including a time capsule box and a flower ceremony to honor our loved ones. We had a few last minute changes that we wanted to make and Norma was very accommodating. She was responsive and available by phone and email. We would absolutely work with her again!

Jon W.

Married on 10/23/2021

Norma made it a day to remember

Norma played a critical part in making our wedding a very special day we will remember forever. She asked us questions, made suggestions and in the end put together a ceremony that meant so much to us and all of our family and friends. We highly recommend!

One Heart Personalized Ceremonies's reply:

Thank you Mary and Jon for your kind words and for the honor of working with you. Experiencing you surrounded by your loved ones and friends when I officiated for you on wedding day was truly a delight for me. Warm congratulations!

Julie A.

Married on 10/23/2021

Incredible Ceremony

Norma took a considerable amount of time to get to know me, my husband and our family.. which was reflected in her incredible and very personal sermon. Our guest are still expressing how touched they were by the ceremony and how personal and intimate Norma's sermon was. We could not be more pleased with her special way of conveying our love story and observations of our family, making our ceremony truly one of a kind.
Julie Ann & Chris

One Heart Personalized Ceremonies's reply:

Hello Julie Ann and Chris. Many thanks for posting this review and for the honor of having worked with and officiated for you on your special day. Warm regards and please keep in touch, Norma

Jason M.

Married on 10/16/2021

Great experience!

We had our wedding in October 2021 and used One Heart Ceremonies to officiate and we could not have made a better choice! Norma responded to our inquiry right away and over the few months we worked with her really developed a personalized ceremony that exceeded our expectations. She met with us several times and got to know us so that she could incorporate those details into what she said that evening. One of the things that impressed us the most was her ability to take the information we provided her about us and really create a story that truly exhibited not only how we feel but what we really wanted to communicate to our family and friends in attendance. In addition to this Norma also went out of her way to give us suggestions about how we could personalize the ceremony and take it to the next level. We highly recommend One Heart and cannot stress enough how pleased we were with our ceremony!

One Heart Personalized Ceremonies's reply:

My dear Jason and Lisa, I hope you know you will always hold a special place in my heart. Thank you for inviting me to officiate for you. Wishing you every happiness on your journey together as husband and wife. Fondly, Norma

Natalie B.

Married on 10/08/2021

Mark is Amazing! Made the Ceremony Special!

From the very first inquiry through the ceremony to even post-ceremony, Mark was very professional & very sweet! He listened to our wants for our special day and included personal touches, sayings into our ceremony that really resonated with us as a couple! He's so personable and a great guy! Would totally recommend!

Lindsay S.

Married on 09/18/2021

Detailed and Personal Process!

Working with One Heart Personalized Ceremonies was a fantastic decision for our wedding. They came recommended by our venue, and we had such a great experience working with Mark and Debra. They were so organized and detail oriented, and we spoke several times before the wedding so they really understood us as a couple and to get all the details needed for the day-of. The wedding day was perfect and our ceremony could not have been better, it was exactly what we were hoping for!

Michael G.

Married on 08/19/2021

Mark was Amazing

Mark was extremely professional, communicative, and helpful. He put a lot of thought into his script to make sure it was relevant for us rather than just a rote reading. You can tell he cares a lot about his work and wants couples to have a great experience on their wedding day, which we did!

Josh B.

Married on 08/14/2021

Easy choice

We worked with Norma for our wedding this past summer. She was extremely professional and thorough throughout the process. She listened to our input and helped to craft a program that was perfect for us. Went off without a hitch. Thanks Norma!

Eileen U.

Married on 07/24/2021

Rev. Norma Moutal performed the most magnificent wedding ceremony for my husband and me on July 24, 2021

My husband and I were blown away by our wedding ceremony, which was performed by Rev. Norma Moutal. Everyone at the wedding, even the men, commented on how meaningful and personal the ceremony was. It was so evident that Rev. Norma had spent many hours preparing for our event. The vows that she wrote brought tears to my eyes. She also attended the rehearsal and took charge, turning chaos into a well organized, meaningful ceremony. We felt so blessed to have had her marry us.

One Heart Personalized Ceremonies's reply:

Dear Tom and Eileen,

Thank you for your kind words and for the honor of officiating for you on your special day! Warm regards, Norma

Julia A.

Married on 07/24/2021

The Perfect Ceremony

Norma was recommended to us by our wedding planner and we are so grateful for that! Norma is an amazing officiant and what she said at our wedding was so moving! She took the time to really get to know us via Zoom and had us fill out questionnaires so she could write up the perfect ceremony. Our ceremony was completely tailored to us and that made it most special! We're so happy we hired her and would definitely recommend her to anyone planning a wedding. Thank you Norma!

One Heart Personalized Ceremonies's reply:

My dear Julie and Henry - thank you sincerely for your kind words and for being such a pleasure to work with. It was an honor to officiate for you on your special day.

Megan M.

Married on 07/19/2021

10/10 stars!

This review is surprisingly challenging to write because there are so many things we want to say! Mark created the perfect wedding ceremony, went above and beyond in helping us write our vows, was incredibly easy to work with, and accommodating when we had to reschedule our wedding due to covid. We are so thankful Mark was a part of our day and will be happily recommending him to our friends and family!

Brian W.

Married on 07/10/2021

Wonderful Officiant

Mark was an amazing officiant! He was detail oriented, understanding, knowledgeable, patient, and kind. He was so considerate when it came to the different elements of our multi faith, multi cultural ceremony. He coached us through the processes of obtaining a marriage license, to writing our own vows, to ceremony logistics. I couldn't have asked for anyone better. Thanks again, Mark!

One Heart Personalized Ceremonies's reply:

Thank you for your kind words. Your wedding at the Elm Rock Inn was a wonderful event, at a beautiful location, on a splendid day, with a sweet & loving bride & groom! I was honored to preside at your ceremony. Wishing you all the best life can offer. ~Mark

Valerie M.

Married on 06/21/2021

Highly recommend Mark!

I thought that finding and selecting an Officiant for our wedding would be difficult, since neither myself nor husband actively practice any faith. So, I turned to Google to find if there were people who dedicate their lives to officiating wedding ceremonies. Lucky for me I did not have to research long, One Heart Personalized Ceremonies was one of the first listed in the results and after reading through the website and reviews I was impressed.

Mark responded within 48 hours to my Contact Us request, submitted through the website to set up a brief Facetime call. Being able to see Mark during this first meet-and-greet was important to me and I was able to see his facial expressions that he truly did dedicate his work to love and matrimony. He clearly outlined the process for getting-to-know us as newlyweds so that he could curate a completely custom ceremony. I was even more impressed with the professionalism and passion Mark had for this industry. At this point I knew I didn't have to look any farther for an Officiant. The months leading up to the wedding, Mark was responsive and helpful with guidance around obtaining our marriage license as well.

As Officiant at our wedding, Mark started our amazing day with a ceremony he carefully prepared that was completely tailored to us and our style. He set the tone for our celebration with a joyful and meaningful welcome for my husband and I, our families, and friends. Mark shared the biography of our relationship with insight and humor. He helped us relax while we focused on a moment that would become central in our lives. He closed with warm, personal advice and wishes for a happy married life ahead. We strongly recommend Mark without any reservation.

Erin M.

Married on 06/19/2021

Our Forever Memory

Mark gave us a priceless wedding gift; the most perfect ceremony. To rewind, we knew just moments into our first conversation with Mark that he and One Heart Personalized Ceremonies were the perfect complement to our wedding story. We felt like he somehow already knew us.
We felt at ease with Mark, at a time when so much was unknown, including if we were even going to have our NYC wedding due to Covid and the ever-changing guidelines and restrictions. Mark gave us guidance where we needed, as well as freedom to help him curate a ceremony that embodied a spirit of warmth and intimacy, with big laughs and an overall celebration of two lives becoming one. Every step of planning with Mark was thoughtful, organized and truly enjoyable. He will honor you and your wedding day by creating a ceremony that is truly unique to your love, your union and your future. We cannot recommend him and One Personalized Heart Ceremonies enough-they are simply the best. We now have our forever memory.

+ 2

photos

Jason B.

Married on 06/11/2021

Would highly recommend

Norma was the officiant for my wedding and she was AWESOME! She was very responsive and was incredibly easy to set up a time to chat with. We spoke with her mostly after work, close to 7pm, and we really appreciated her flexibility. Norma did a great job commanding the room and focusing on the love between the both of us at our ceremony. Neither my wife nor I are very religious and Norma did a great job learning about us before the wedding enough to accurately portray our love story to all our guests at the ceremony.
Are you interested?
Send a message