53 Reviews
Recommended by 99% of couples
Quality of service

5 out of 5 rating

Average response time

4.9 out of 5 rating

Professionalism

4.9 out of 5 rating

Value

4.9 out of 5 rating

Flexibility

4.9 out of 5 rating
19 User photos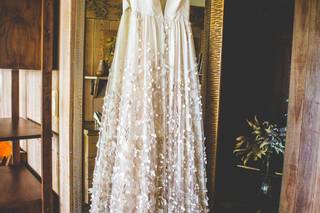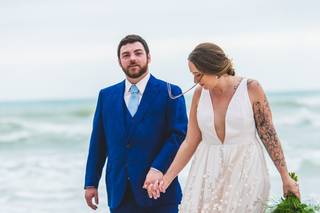 + 15

photos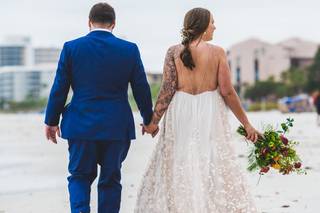 Megan B.

Married on 04/30/2022

Highly recommend

Olga came recommended to me by my bridal shop (Unbridaled) and I am so happy I chose her for my wedding dress alterations. She did an amazing job altering my dress, which had a lot of buttons and she made the bustle the "easiest bustle" my mother had ever helped with. She was on time and professional during our initial consultation and two additional fitting appointments. I cannot recommend Olga enough. She has a reputation as being the "best in Austin" and I completely understand why. She gets booked up quickly so reach out as soon as you buy the dream dress!

Lee G.

Married on 04/23/2022

Talented and Professional

Olga was the best to work with on my wedding dress. From the very first appointment she was super helpful with explaining how the process worked and helping me envision my whole day-of look with veil, jewelry, shoes, and she even semi-styled my hair so I could see how it would all come together and just made me feel so confident and beautiful! She is highly skilled and just so calming and kind, definitely recommend working with her! She also asked what I was wearing for my rehearsal dinner and told me to bring it to try it on and even helped to alter that as well!

Katherine G.

Married on 03/14/2020

Amazing talent!

Olga has an amazing talent! I was lucky enough to get in to Olga's busy schedule and it was one of the best decisions to have my bridal gown altered by her. Olga helped make my gown fit like a glove! My rounded train had 7 pickups in it and they all held throughout a night of dancing and interaction with our guests. Olga's kind heart is the cherry on top of her services and I will definitely recommend her to any bride!!

Are you interested?

Send a message

Samantha B.

Married on 11/24/2019

Dress magician!

Like every other review, I can't say enough good things about Olga! She's not only a dress magician, but she's also amazingly sweet!

I came in with a strapless David's Bridal dress (yes... I know), and I really liked the overall design. But while it was pretty, it didn't quite feel like MY dress. At the first appointment, I asked hesitantly if she would be willing and able to add some long lace sleeves I provided and alter the straight and beaded neckline to a sweetheart, expecting the answer to be no. Without hesitation, she said absolutely, and that her job was to make my vision of my dream dress come alive.

She absolutely didn't disappoint! The dress came out even better than I had envisioned, and by the end of my fittings, it felt like MY dress 🙂 It fit perfectly in every way, and I felt beautiful on my wedding day. I got a ton of compliments and a lot of people telling me the dress had been made for me. Best of all, those alterations, as well as the hem alterations and bustle, didn't break the bank. If I had to choose one wedding cost (other than the venue) that I am 100% satisfied with and would do again if I could go back, this would be it.

If you're looking for a sign, here it is. Olga knows her stuff, she's efficient, and whether you come alone or in a group, she'll make you feel both welcomed and beautiful, every time.

Emily

Married on 11/09/2019

I am so happy Olga did the alterations on my wedding dress.

I am so happy Olga did the alterations on my wedding dress. She was recommended to be from BHLDN in Houston, and after reading all the reviews online, I knew I needed to reach out to her. Ladies, Olga books up quickly! Call her for alterations as soon as you have your dress; you won't want to miss out on Olga. Thank goodness she was available for my wedding date; I'm astounded by the quality of her work, her attention to detail, and her passion for her craft. She is worth every penny paid—I truly don't think I could have found better service anywhere in Austin. Not only is she highly skilled, she's fun to boot! Olga truly made each experience visiting her in-home studio a delight. She was so cheerful, sharing in the excitement for my big day and making me feel so special. She encouraged me to twirl and spin and enjoy my dress. When it was time to leave my dress with her, she had me take photos of the front and the back in her "photo spot" (seriously, she even knows what part of her studio gets the best lighting and shots!) with my hair down, up, and to the side. She said they would come in handy later when trying to figure out how to style my hair (since I wouldn't have my dress with me anymore), and she was so right. She really thought of everything. Olga is an absolute sweetheart, and I highly recommend her services.

+ 4

photos

Elise L.

Married on 10/05/2019

My dress fit like a glove!!

I hired Olga to do my wedding dress alterations and it was PERFECTION. I am a teeny person - size 0 is too big on me - and Olga handled my dress with ease. It took her maybe 15 minutes to pin the top and waist of my dress and I swear it was magic. She knew exactly where to take it in and how to make it fit effortlessly. She also did my French bustle and it was so beautiful. I've seen really horrible bustles that look like the bride has droopy-butt, but Olga executed mine flawlessly. She is also just the sweetest, most joyful person. She was a dream to work with. She is not cheap - but to me it was well worth the money to make me look and feel like a million bucks in my wedding dress. I highly recommend Olga!

Torrie

Married on 07/28/2018

Olga was amazing. Everyone told me she was the best and I can not agree more. She made my dress fit me like a glove. I was so happy with how my alterations turned out. My dress was perfect. I highly recommend Olga to other brides. Make sure you book her early as she is in high demand and for good reason.

Amanda

Married on 03/04/2018

Olga did the most amazing job altering my wedding dress and I could not have been happier with the final results! She made sure we covered every single detail top to bottom and was organized and precise right from the start. I loved my dress from Unbridaled, but it definitely needed to be taken in at the shoulders and waist and hemmed quite a bit. Olga reviewed the dress and adjusted it perfectly to suit my figure. The first time I saw the alterations was when I really fell in love with my wedding dress. She did a fantastic job blending the alterations in with the design of the gown and making it look and fit even better than I had hoped. I had so much fun working with her and she is an incredibly talented, hardworking woman who will go above and beyond to make your dress perfect.

Mary

Married on 03/03/2018

Amazing Experience

Olga is so professional, passionate and organized. I couldn't recommend her enough. Get on the schedule early as she is very sought after.

Rebecca

Married on 08/12/2017

Olga was the only choice for me when it came to my wedding dress alterations. I bought my dress at Unbridaled in Austin; they recommended I call her for an appointment IMMEDIATELY and I'm so glad I did! She was attentive, efficient, and such a warm personality as well. It felt like she was reading my mind in the alterations I needed, and even suggested a few I wouldn't have ever thought of. On top of that, her pricing is super reasonable. Thank you so much, Olga! You were an angel and a delight to work with.

Paige

Married on 06/21/2017

I would highly recommend working with Olga. She was always quick to respond to emails and even helped me fit in two fittings in one weekend due to a work conflict that prevented me from attending my final fitting. Her work is incredible and she really took the time to make my dress special.

Mandi

Married on 04/22/2017

Perfection! Olga is absolutely amazing at what she does! She made my dress downright magical! And even comfortable!

I told her I required three things, I needed to be able to eat, dance, and breathe! In that order of importance, of course! She made the dress look amazing on me and I was able to dance the night way. I am a bit top heavy and I was worried about support in the dress. The dress is such that I could not wear any of the traditional bra types, and I bought some weird contraption to help, which was not comfortable. At my first fitting Olga said she would put in cups and to forget about the weird bra thing I brought. I was skeptical as I am a fan of lots of support, no movement and even some lift. The fit Olga was able to give me with just cups was incredible! I didn't miss having a traditional bra. I had the shape, lift and support I wanted and it was comfortable!

Also, my dress had some very fine lace, detailing, and bead work that required movement on the main fabric to give me a good fit, and Olga was able to make it all work! I know she did an incredible amount of work, but you cannot tell that any of the details had to be moved. Her work is immaculate!

Not only is Olga absolutely amazing at what she does, but she is a joy to work with! She has a great personality, and is so sweet! She sees brides every day, and yet she still gets excited with the new one walking in her door. She even danced around with me to make sure I could move and groove!

I would HIGHLY recommend Olga to anyone needing work on their dress. I also very much appreciated how transparent she was on her pricing. There were no surprises or hidden costs, which when planning a wedding is a huge help!

Olga was great! She has a good eye and showed me several suggestions which made the dress even better. She looks at every part of the dress to make sure it fits perfectly. Even at the next to last fitting, there were a few small things not included in the original quote that she did at no extra charge. I was worried about the scalloped edge on the back of my dress because it kept flipping out and everyone kept telling me the only solution was double-sided tape but she was able to work her magic and it stayed down. She is very sweet and I would definitely recommend her to any bride.

Katherine

Married on 10/22/2016

I could not have been more lucky or happy to have found Olga. She is beyond professional and knowledgable about the cut and fit of a wedding dress. Olga was so friendly and inviting. She took my intricate lace dress and cut it to just the right proportions. You couldn't even see where it had been altered. I didn't realize how well a dress could fit! If you are getting married don't go anywhere else in the greater Austin area for your dress alteration. Olga is the best of the best!

Lauren

Married on 09/17/2016

Olga is AMAZING! She is such a talented, gifted seamstress, and I am SO glad I found her! Not only is she sweet, fun, and professional, she made my dress fit like a glove! I told her what I wanted, and she made the dress I bought mine. It hugged and flattered my figure perfectly. Even though it was a backless dress and I couldn't wear a bra- she made it to where I had awesome support and oomph! Let's just say, the girls looked good! I wouldn't trust anyone else with something so important as my wedding dress. Olga is a joy to work with. She listens to your needs and what your vision is for your dress, and makes that vision a reality. She is absolutely the best at what she does!!!

Meghan

Married on 08/27/2016

As many brides know, it's difficult to envision your wedding dress when it doesn't fit you at the bridal salon. For many once you pick up your dress and take it to alterations, there's extra anxiety of "will it fit me" or worse, "did I pick the right dress?"

From the moment my mom and I walked into Olga's studio for my first dress fitting, we knew we had enlisted the perfect person for the job. Not only did she listen to my vision for the dress, but Olga also gave me options and provided guidance as I made the necessary decisions. Each fitting the dress started to morph into my dream dress, and by the third and final fitting (one week before my wedding) it was absolute perfection.

I highly recommend any Austin bride to leverage Olga's alteration services. Not only is she a perfectionist, but you can also tell that she genuinely loves her job. My mom and I loved getting to know her and are very appreciative that she made the entire process so fun!

Michelle

Married on 04/09/2016

Olga did such a phenomenal job perfectly fitting and altering my wedding gown. The gown had been ordered almost a year and a half before the wedding and in that time, I lost quite a bit of weight. When I finally received the dress, it was a few sizes too big (as I expected it would be). I could have easily used the seamstress that my gown shop provided and saved a little bit of money, but this wasn't a small alteration and I definitely did not want to take any risks. I'm SO GLAD I found Olga! She took a dress that I was seriously concerned about and made it look exactly how I envisioned. Not only that, but I originally had my dress altered early to have it in time for a bridal shoot. In the few months between the bridal shoot and the wedding, I lost even more weight, and Olga went above and beyond to make any other alterations needed so that I could look and feel amazing on my wedding day. I am so grateful to have worked with such a talented woman who obviously has a lot of passion for what she does. I can confidently say she's one of the best seamstresses I've ever worked with, and I would without a doubt reuse her services next time I need a beautiful gown fitted. Thanks Olga!!

Carolyn

Married on 02/21/2016

Olga was great! She came recommended from the bridal store because of expertise with lace. She enhanced all the right places! Plus we had fun during the dress fitting. It was a great experience.

Olga did my dress alterations, inserted a bra, and made a bustle. She did such an amazing job. I received huge compliments the entire night. I wish I could post pictures, she did such a wonderful job! perfect fit! She even showed me how to sit and use the restroom in my dress. She is top notch!

Heather

Married on 12/19/2015

I always planned to wear my mom's wedding dress because we're about the same size. However, since there were parts of it that made it look dated, I figured I'd just wear it for the ceremony and change into a more modern dress for the reception. Our wedding coordinator recommended Olga and when I went to her for a consultation, I was absolutely blown away at the ideas she had to keep the major elements of the dress but turn it into something more modern and "mine." It was so special to me getting to wear my mom's dress, and I got so many compliments on it. I highly recommend using Olga to help with a vintage restyle, if you're at all considering wearing a vintage dress.

Olga is amazing! I cannot recommend her highly enough. She was clear with pricing, answered all my questions, took time with my appointments, and even added an additional appointment to make sure the fit on my wedding dress was perfect. I bought my dress at a sample sale, and with Olga's amazing work I had people telling me it looked couture and asking if they could borrow it for their wedding! I felt so beautiful on my wedding my day, and I owe so much to Olga for that. Work with Olga, you will not be sorry!

Kate

Married on 10/23/2015

Olga is a fabulously talented person, and I really enjoyed working with her on my wedding dress alterations. I had a particular vision in mind for my dress, and my bustle ended up being more complicated than I originally anticipated. Ogla worked tirelessly through the entire process until we were able to find a bustle that I was 100% happy with. My dress fit me perfectly in the end, and I got many compliments on it. Without Olga's expertise, I don't think this would have been possible. She was even willing to steam my dress for me when I was nervous about ruining it by using a hand steamer at home. Olga loves what she does and it truly comes through in her work.

Tiffany

Married on 09/12/2015

Olga is knowledgeable and well-versed in wedding gown alterations. I used Olga for pretty basic alterations to my wedding gown so I can't speak to her more custom work, but she made me feel very comfortable with what I needed done. I had straps taken in, cups adjusted, bustle added, and hem shortened. She talked me through how she would adjust straps and explained different types of bustles and the different functionalities of the several layers of my skirt that would be hemmed. She really knows her stuff!

I had 3 visits (one in May and two in August): consultation, fitting before final cuts/seams are made, and final fitting. I suggest you make an appointment with her at least a couple months in advance so you can easily book a time that works best for you. I booked my May appointment as early as February (I expected my dress around mid-May) and then Olga set up both of my August appointments the May appointment. I actually had something come up a week or two before my 2nd appointment and she was accommodating and quickly responded with another date/time I could come in. Email is the best way to reach her!

Olga was a fabulous seamstress. I immediately felt comfortable around her and trusted her expertise. You can tell she knows what she is doing and by the end result of my wedding dress it proved that she is an expert! There was nothing she could not do to meet my wants and she came up with several helpful tips that made the world of a difference for the overall look of my dress. My dress ended up fitting like it was made for me and I couldn't have been happier. Olga made me feel special and beautiful! I am so happy I was referred to Olga for tailoring my dress because it would not have been as beautiful without her special touch! I would highly recommend her.

Anna

Married on 04/24/2015

Olga was absolutely phenomenal in what she does. She made my dress look absolutely perfect and spent a lot of time with me, even being willing to answer questions I had after appointments via email. She was quick to respond to emails and quell any last minute bridal anxieties that I had. She was very professional and very kind. She had to take in my dress at the 2nd fitting because I had lost weight but she wanted to make sure it fit me perfectly and I really appreciated her being willing to point things out to me. The buttons she added to the back of my dress were so beautiful. She was extremely competent in her job and I would trust her to do any other type of alterations that I may need in the future. She knew exactly where to send me to get my undergarments and the store she sent me to knew exactly what she wanted. It made that part of it very easy. I really enjoyed working with her and I am lucky that an acquaintance gave me the referral!
Are you interested?
Send a message