58 Reviews
Recommended by 100% of couples
Quality of service

5 out of 5 rating

Average response time

5 out of 5 rating

Professionalism

5 out of 5 rating

Value

5 out of 5 rating

Flexibility

5 out of 5 rating
29 User photos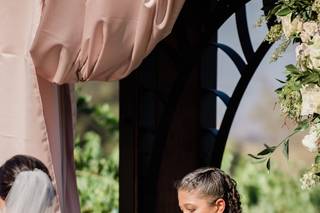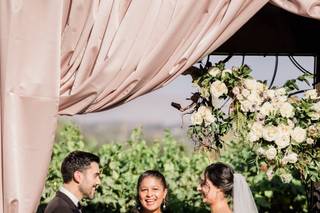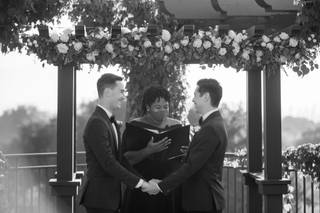 + 25

photos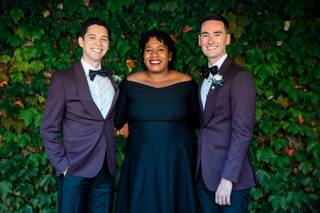 Paul D.

Married on 09/17/2022

Great experience working with Rachael

We worked with Rachael Tanner at Officially Hitched and had a wonderful experience. She took the time to catch up with us and get to know us so she could get an idea of what we wanted for our ceremony. We were initially uncertain, but had a lot of adjustments and omissions that we wanted once we had a draft; Rachael was very flexible and considerate, and helped us figure out what worked best for us while helping us to figure out some additional details.

At the event, she was prompt, helpful, and professional, and worked with the other vendors to get the details sorted out while my partner and I got ready. We're really glad we hired Rachael!

Andrea H.

Married on 09/16/2022

Thoughtful & professional officiant - we loved her!

We absolutely LOVED working with Rachael for our September 2022 wedding at the Palm Event Center. The ceremony was one of our (and our guest's) favorite parts of the wedding. Rachael took the time to really get to know us as a couple beforehand and helped to craft a unique, custom, & wonderful ceremony. She was also incredibly helpful when it came time to trim down / finalize our vows. Many of our guests thought we knew Rachel personally - that says a lot about how well she customized and executed our ceremony. She is incredibly well-spoken - we feel so lucky to have found her for our special day.

Lara H.

Married on 07/17/2022

Renesha is the best!

Renesha from Officially Hitched was so lovely to work with! She guided us through creating our unique, queer, non-traditional, secular ceremony that truly reflected us. She helped us figure out what ceremony elements we wanted to keep, change, and toss out, and provided plenty of examples and resources that helped us along the way. She even went the extra mile helping us in the weeks after our wedding when the USPS temporarily lost our marriage license on its way to the county office. Renesha was such a joy to work with and her love of weddings and love is palpable. We are so honored that she married us!

Are you interested?

Send a message

Alexis H.

Married on 10/06/2021

Wonderful!

She is personable, responsive, patient and professional. Everyone that attended loved her energy. She made this process very smooth. We love working with her.

Rob

Married on 10/01/2021

Extremely professional

My wife and I worked with Derek for our Oct 2021 wedding. He was professional throughout the process. He spent an hour chatting with us over zoom before we even started. Derek really delivered on our wedding day. He's a great public speaker and very flexible to get the ceremony you want.

Officially Hitched's reply:

Thank you for choosing Derek of Officially Hitched! We were so happy to serve you! Best of luck in everything.

Alessandra V.

Married on 09/25/2021

Happy bride!

I'm so sorry this took so long, I want to again say THANK YOU! The ceremony was perfect. You took so much time & effort into making sure it was exactly what we wanted. We still get compliments on how nicely the ceremony flowed & wasn't long and drawn out. I will be recommending your services to everyone I know for the future! Thank you for making something I was dreading so effortless. Wishing you nothing but great success in the years to come.

Kayla B.

Married on 09/18/2021

Would 100 percent recommend

Rachael was wonderful to work with. We wanted a short but personal ceremony and she helped create that. She added the perfect amount of personal stories and humor without making the ceremony too long. Our friends and family raved about her for weeks.

Officially Hitched's reply:

A little humor, a dash of weight, some smiles, a few moments of catching our breath, and a collective heart of love makes for a great ceremony!

Joseph H.

Married on 09/05/2021

It felt like having a close friend officiate

Renesha officiated our wedding and we could not have asked for a better experience. She took the time to get to know us, helped us brainstorm details about the procession, love story, and vows, and totally blew everyone away with her delivery. So many people asked us afterward if she was our friend, because that's how personal it felt. And truly, we really did feel like we had a close friend up there with us. We will be forever grateful for the time Renesha took to help us through the process and for being the one to marry us. She made it feel so special and memorable.

Mikia J.

Married on 08/21/2021

Amazing service

Rachel from officially hitched was beyond amazing! I was nervous at first about getting a officiant I haven't met before but after the first meeting we felt like we had new her for years! All of our guests raved about how amazing she was

Theya H.

Married on 08/08/2021

Shes the best!

TLDR: Amazing, do it! SHES THE BEST.

Rachael was amazing to work with! We enjoyed every part of the way from beginning to end. During our meetings she didnt only talk about what needed to do but she got to know us as well. We loved that it was so easy to customize different parts of our ceremony so it fit what we wanted (not too long & fun). Our guests loved that we included them in the ceremony which was rachaels idea! Our ceremony was wonderful,meaningful and filled with laughter.

THANK YOU RACHAEL

Officially Hitched's reply:

You are so kind!!! Thank you for choosing US for your beautiful redwood ceremony! It was magical and full of laughter

Kim R.

Married on 08/07/2021

Derek made our ceremony the highlight of our wedding

Derek officiated our wedding in Aug 202 and my husband and I cannot recommend him enough. When we first met him to see if he would be a fit for us, we were so impressed with how well he listened to our story, asked thoughtful questions, and eventually crafted the most amazing ceremony. The ceremony was one of the main highlights for us AND our guests. We had so many guests tell us how touching and personal Derek's message was- and that they had never been to a ceremony like that. He captured our essence and our day would not have been as special without him. We are so lucky our paths crossed, and I hope you are lucky enough to have him officiate your wedding too :) Thank you, Derek!

Ashley

Married on 06/19/2021

Renesha was amazing!

Renesha did a fantastic job on our ceremony! She's warm, funny, and put me and my husband at ease every step of the way. She took the time to get to know us and made the ceremony feel so personal to us. She made our guests laugh, cry, and above all just fostered a warm and welcoming energy with our guests.

We would highly recommend Renesha if you are looking for someone with a beautiful and authentic spirit to officiate your ceremony.

Officially Hitched's reply:

Thank you for choosing Renesha of Officially Hitched. Laughter, some happy crying, and warmth are all good signs. Thank you for taking the time to offer a review.

Sarah H.

Married on 06/12/2021

Highly recommend Derek Owens!

Highly highly recommend Derek Owens!!! He told our love story so beautifully and truly made the day even better! Our friends and family thought he was a lifelong friend based on his warmth, easy and intimate ceremony. He brings the perfect amount of love and humor on the day of the wedding and guides you through the process before and during the big day! So grateful to have found Derek, he is an incredible human. Thank you Derek!!

Officially Hitched's reply:

It is truly special when we feel like friends! Trust us, we feel the connection too. Thank you for choosing Derek of Officially Hitched!

Kaycee C.

Married on 03/06/2021

I have full confidence that Rachael can help you figure out & execute your ideal ceremony. ♡

No matter what kind of ceremony you're envisioning - heartfelt, full-on celebratory, or short & sweet (or all of the above!) - I have full confidence that Rachael can help deliver that and make your wedding day more special than you can imagine.

Rachael was our officiant for our March 2021 minimony - and through that, also became our guide and confidante as my partner and I formed and re-formed our thoughts and hopes for our marriage.

Having a hands-on officiant and thoughtful ceremony was always a priority for us, but having an impactful ceremony became all the more important when we (prompted by the paaaandemic) switched gears and decided to have a two-part wedding celebration - one small, intimate ceremony and one larger virtual celebration that centered around the wedding film from our first celebration.

Enter! Rachael!! When we chose Rachael (although was there really competition? nahhh), we initially went with a less custom package, but as we started to work with her, we loved her work and approach so much that we upgraded so we could really utilize her skills and guidance.

She asked us questions about our partnership, our community, and our approach to celebrations that we would never have thought to ask ourselves about. She brought no judgement and was always so inclusive throughout our time with her. She brought genuine enthusiasm and flexibility to the process; when halfway through planning we decided we wanted to add a Burmese water ceremony to the mix, she really leaned into the idea and helped us find a way to seamlessly weave the water ceremony into the flow of the ceremony. Finally, as far as the parts my partner and I were primarily responsible for - we were so, so nervous about our 'love letter' vows and she graciously affirmed our approach, improved our drafts, and as she did with all things ceremony-related, helped us create something that truly felt like us.

The ceremony itself was so, so beautiful. She respectfully commanded the 'stage' and brought us and our 25 guests into the warm, affecting tone that my partner and I aimed for. The poems, quotes, and flows she chose were perfect for the setting (the *chef's kiss* amount of celestial references!) and translated very, very well to our wedding film. We had lots of folks tell us that our vows & ceremony moved them to tears, and my partner and I truly credit Rachael for that; we couldn't have made a ceremony that felt so 'us' and so reflective of our love if it wasn't for her.

(photo credit: The Allens Photography)

Officially Hitched's reply:

THANK YOU!!!! It was such a pleasure to be with you two! It was such a "starry eyed" wedding at the planetarium!

Elena T.

Married on 07/10/2020

Officially Hitched

We were so very fortunate to find Rachael to be our minister. She was so professional and fun to work with. She made the ceremony process so clear and easy to follow from the start. Beginning with our first phone call, Racheal made both myself and my wife very comfortable. I especially liked her sense of humor😊

Rachael was very quick to respond to our ongoing questions and concerns as the wedding drew closer. This brought much relief to us during this stressful and exciting wedding process. As we provided our relationship history, Rachael created and beautiful and spot on ceremony. She captured our favorite memories, our relationship milestones and also provided a respectful notation for our lost loved ones.

Finally meeting her in person at our rehearsal dinner after calls and many emails, we both felt like we had known her for much longer.

In short Racheal was amazing! I would recommend her to everyone I know again and again. Our many thanks to Racheal for helping to make our special day happen just like we dreamed.

Thank you Rachael!

Elena & Carine


Michelle M.

Married on 02/16/2020

Our memorable moment

Tina was great! I wanted to change the time a few days before the event and Tina was able to accommodate us. She gave us a very sweet and memorable experience.

Becky G.

Married on 12/10/2019

Perfection.

Rachael officiated our destination wedding in Napa and it could not have gone any better. She was extremely professional, calm, and easy going. I loved how she pulled information about us from a questionnaire and put together the ultimate ceremony, even mentioning our dogs. I teared up when she sent the draft of our ceremony a few days before the wedding. It was perfect. Our guests were shocked that we hadn't met her/known her as a friend because it seemed like she genuinely knew and cared about us. We're so grateful that we found Rachael because helped she made our wedding day truly special.

Kurra

Married on 11/23/2019

Perfect wedding ceremony!

Rachel was so much fun to work with and did an amazing job at our wedding. She helped us tailor a beautiful wedding ceremony by hearing about our relationship, personalities, and by just getting to know us. We had so much fun planning. The ceremony itself was perfect and the delivery was great. So many of our guests came up to us to say how wonderful the ceremony was and how great Rachel was. Thank you so much for such a wonderful day!

📷: www.redspherestudios.com

Jillian

Married on 10/04/2019

Had a genuine, heartfelt, personal, and "us" ceremony thanks to Rachael

Looking for an officiant was surprisingly difficult for us. Most officiants seemed to do the usual - officiate the ceremony using their tried and true words and solemnize the marriage - which was all fine, but most of them lacked the personal and genuine touch that we were specifically looking for. We didn't want just a wedding ceremony read from a binder. We wanted our ceremony to sound like 'us' and to reflect our journey as a couple. We immediately felt like Rachael sincerely cared about this part
so we booked her "diy couture" package. In this package we got to be very involved which is what we wanted. We wrote a messy version of our own story, we answered her detailed questions, we chose what we liked and what didn't sound like us at all, and Rachael through the whole planning process got to know us and our story. It felt a little like couples' counseling and it did help us as a couple recognize that we were not just having a wedding. We were signing up for a marriage, and the more we worked on our ceremony, the more excited we got for this chapter in our lives.

On our wedding day, Rachael arrived early and she was just as kind and genuine in person as she was on a video chat. And our ceremony was exactly as we had hoped, and more. Our ceremony highlighted our love story and it highlighted our goals as a couple. It highlighted those that were special to us and it really was so heartfelt. It felt personal and very "us." Rachael spoke eloquently and also as if she was just an old friend we already knew before. After our ceremony many of our guests complimented her and how great of a speaker she was, and many of our guests commented how sweet and heartfelt our ceremony was. To us the ceremony was the most important part, after all this was the actual 'getting married' part and she made the entire process fun and easy as she edited, suggested, added, and thoughtfully crafted a cohesive, organized, and heartfelt ceremony that we will surely treasure and remember for the rest of our lives.

Thank you Rachael for this gift of being our officiant.


Nicholas P.

Married on 09/14/2019

The perfect officiant partner

Rachael was a rockstar. More than just an officiant she was a partner in helping craft the day exactly as we were hoping. We built the ceremony as a team over the course of a few meetings and she helped us go from blank page to something tailored for us.

She is professional, caring, and brought the perfect energy to the ceremony. Even during the heat! Couldn't recommend her more.

Rhonda

Married on 09/07/2019

Easy, fun, organized and awesome

Rachael was more than we could have asked for and made our ceremony memorable, sweet and easy. We planned our wedding remotely and we're able to schedule calls with her leading up to the big day and we couldn't have been happier with her. She's an eloquent speaker and has a great sense of humor. We'd recommend her to anyone wanting to have an awesome officiant on their big day!

Delaynie

Married on 07/13/2019

The perfect officiant experience!

We truly loved working with Rachael in the process of creating our wedding ceremony. The ceremony was super important to us, and she has a suite of options tailored to every style of couple. Our package included virtual meetings where we refined the parts of the ceremony we wanted to highlight, and where she helped us streamline our thoughts into a script. She was available for advice and help and it never felt transactional, but rather that a friend who was good at writing was helping us out!
The day of our wedding was perfect, and so many of our guests came up to us raving about Rachael. Everyone thought she was an old friend of ours because of how genuine she comes across in the moment. I highly recommend Officially Hitched!

Jen

Married on 07/06/2019

We can't recommend Rachael enough!

We did a lot of research for officiants, and were surprised by how hard it was to find someone who seemed right for us. When we found Rachael on the Knot, we were excited to talk to her. It was so easy to make an appointment with her online, and she sent us a questionnaire so we could share more about ourselves and our wedding. When we first met with Rachael over videochat, it seemed like she already knew us and we immediately felt at ease. Rachael is professional and trustworthy, but also warm, easygoing, and honestly just so cool and calming. After our first meeting, I told my husband that I wanted to be friends with her.

We met in person three times, and Rachael guided us beautifully through the process. She took the time to learn all about us and to write the story of our relationship, which hit just the right tone of casual, funny, and heartfelt. She helped us create a very personal ceremony that incorporated Jewish traditions that were important to my husband with literary readings and personal details. She even researched readings that she thought we might want to incorporate. It was just perfect. Rachael was also very flexible--she took the time to come to our wedding rehearsal, and came early for our ketubah signing. After the ceremony, so many people asked us how we knew her (assuming she was a friend) and told us how much they enjoyed the ceremony. She is wonderful, and we're so glad she will always be a big part of how we remember our day!

Kim N.

Married on 06/21/2019

She made it so simple!

My first contact with Rachael was so easy and light hearted, instantly i knew she was the right fit for us. Her personality shone through on the phone and through her text messages, and she was so knowledgeable about making everything run smoothly. We chose the ready-made ceremony as we were eloping, and I sent her some ideas of what i wanted, and she tailored it to fit our ceremony on the beach. My now husband literally was in shock of how easy it was and how comfortable we were with her. I cannot thank you enough for marrying us!

Erica

Married on 06/15/2019

The "glue" for our ceremony

Rachel by far was the overarching "glue" that brought all our thoughts and feelings about our union truly together on our special day! I am writing this review 3 years after our wedding because, well, I (the bride) was so exhausted after our DIY wedding that I just couldn't muster the proper brain-juice Rachel deserves. But don't let the long amount of time fool you! One of the most significant memories of our day was our experience with Rachel.

She has a very calming yet professional manner about her. During the time before our wedding, she was able to guide us to create a very personal and organized ceremony. I'm 95% sure we chose the DIY Couture experience; I would highly recommend this for a couple who can create much on their own, but need a little "nudge". After all, being creative is one thing, but most people aren't wedding professionals, with years of experience of what works and what doesn't - Rachel is that person!

Also extremely valuable is the rehearsal. Rachel helped all members of our small wedding party to know where to stand, when to do each step, etc… It made all the difference to feel prepared and "practiced" the day of our event.

In all, I'm still not sure if this review conveys how much we loved and appreciated Rachel. We had multiple friends and family members who came up to us after the wedding, saying they loved her and that our wedding was their favorite wedding they'd ever been to. Sure, a lot of it was because of us (if I do say so myself), but… it would have never been such a magical experience without Rachel.

Thank you so very much, Rachel. You will forever have a place in our hearts and memories as the "glue" that made our day so special.
Are you interested?
Send a message