Reviews
5.0 out of 5 rating
Quality of service

5 out of 5 rating

Average response time

5 out of 5 rating

Professionalism

5 out of 5 rating

Value

5 out of 5 rating

Flexibility

5 out of 5 rating
100%
Recommended by couples
Awards
37 User photos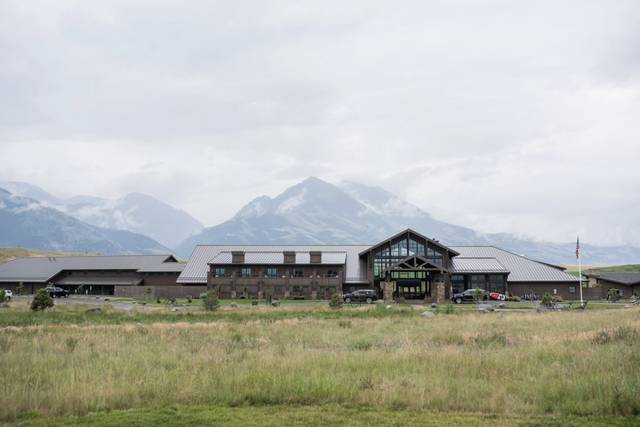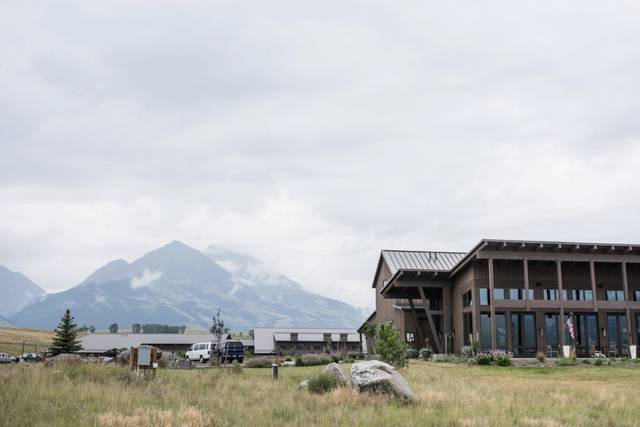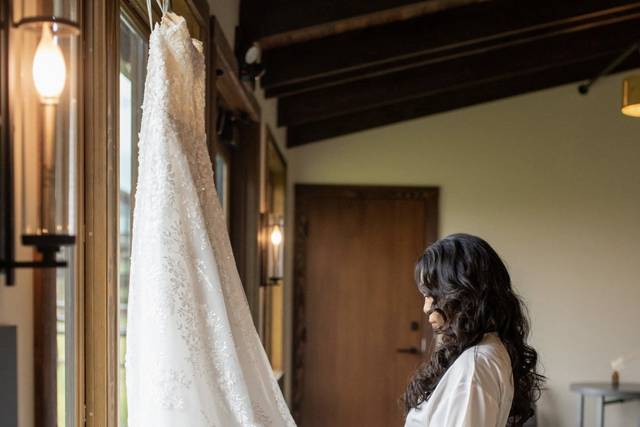 + 33

photos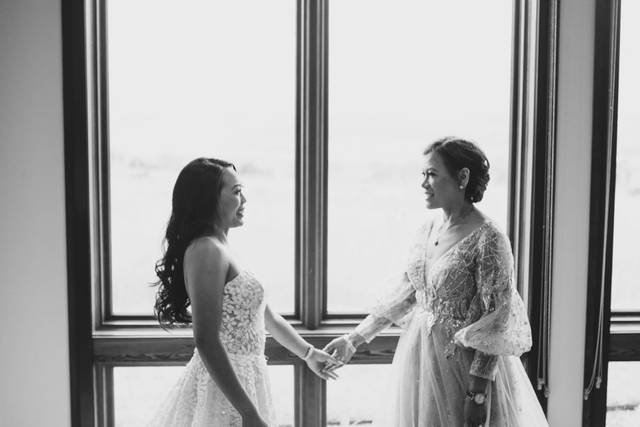 Featured

Laurel A.

Married on 06/08/2021

The best value of our entire wedding - they made our dreams come true!

The title says it all. We worked with Alicia as our planner and her husband Neal as our photographer. I can't recommend them enough. They helped us create a totally unique wedding event and we absolutely couldn't have done it without them. We came to them with some really unusual, some would say crazy, ideas, and they seriously didn't blink. They were patient, flexible, creative, professional, fun, thoughtful, devoted, talented - there aren't enough amazing adjectives to cover the amazingness they brought to our event. Our guests were stunned at the event we put together, AND, most fun of all, they were a pleasure to be around and have at our event. We got quotes from two other planners and they were way beyond our means, yet we could tell right away that Alicia and Neal fit our ethos much better AND provided above and beyond services that actually fit our budget. Feels like a miracle we found them and I'm still overwhelmed by the work and time they put in. Not to mention we LOVE the photos. Hire them!!

Off the Beaten Path Wedding's reply:

Laurel and Ryan,

It was our pleasure to be part of your festival wedding at Camp Paxson! It was amazing to help you create such an intentional & FUN gathering over those 3+ days, and Neal loved documenting all the awesome moments -- sharing the whole experience with your family and friends was truly a joy. Thank you for choosing us to be part of Larchalope! We wish you two years of fun, happiness, and adventures together!!

Hartini G.

Married on 08/04/2023

They are a power couple in the wedding industry!

We couldn't have asked for a better wedding planner and photographer combo than Alicia and Neal. From the moment we began working together, Alicia's exceptional communication skills put us at ease. Alicia understood our vision and turned it into a reality beyond our wildest dreams. Every detail was flawlessly executed. Alicia's dedication to ensuring everything was perfect made the entire planning process enjoyable.

Neal's impeccable attention to detail and artistic approach truly made our wedding photos come alive. He managed to perfectly capture the breathtaking beauty of Montana and the essence of our special day. The way he framed each shot and brought out the natural charm of our surroundings was simply remarkable.

Alicia and Neal are not only incredibly talented but also a pleasure to work with. Thanks to them, our wedding day was an absolute dream come true!

+ 13

photos

Lauren P.

Married on 07/20/2021

Just as we had imagined...

Alicia and Neal were our wedding photographers, officiant, and planners all in one. They took our dream of getting married and spending a day fly fishing on the Madison River, and made it a reality. We completely relied on them for the venue, hair and makeup, flowers, etc. since we were thousands of miles away. The vendors they set us up with were better than I could have imagined. Also, they scouted out venues several times to find our perfect spot, and were willing to change it at the last minute in order to accommodate the weather. The pictures Neal took were outstanding quality, and he made us feel so at ease and comfortable in each shoot. I cannot say enough great things about this duo and would 100% recommend them to anyone looking to get married (or for any type of photos) in Montana.

Are you interested?

Send a message

Cady A.

Married on 07/17/2021

Best decision!

Best DECISION EVER was working with Neal and Alicia!

Planning: Words cannot describe the amount of work Alicia put in to making our day flow perfectly. Okay there are so many things to list but here goes:
Planning: Consistent zoom and in-person meetings
Clear plan
Wonderful website she gives you a log in for and makes planning and "things to do" a breeze.
She basically did all the pre-planning, budgeting, speaking with vendors, on-site visit before wedding, day before decoration (they provide a few things of their own including café lights!), coordination of family and friends (we had 20 people in our wedding party), coordination day before when rehearsing, coordination day of with DJ and photographer and vendor, as well as clean up. It was TRULY THE BEST DECISION EVER TO HIRE HER. I would sacrifice a "beautiful" expensive venue for Alicia because she will literally turn any space into a gorgeous setting. She learned our family's names and understood their roles in the big day. She literally made every dream I had a reality and within budget (very important) and she doesn't judge. She is type A and puts her heart into planning.
Photography: Well it's just so amazing to have your planner and photographer married! Everyone is on the same page and they complement each other's styles. Neal has great eye, our engagement pictures were so so fun. He knows secret beautiful places to go around MT. The day of the wedding he worked so well with our videographer. He definitely went with the flow. They stayed a couple days in Havre (which is 5 hours away from Billings). I couldn't be more happy with the photos. We were able to download portrait quality and social media quality.

This team is worth every penny and more!! Thank you!
Venue was Prairie Farms Golf Course in Havre, MT. Offthebeatenpathwedding business is out of Billings, MT.
Or search Offthebeatenpathwedding on Instagram or facebook and to see all the amazing photos.


Eric W.

Married on 06/12/2021

Photographer

Neal did a great job as our photographer! He was super friendly and easy to work with. He did an amazing job of capturing out special day.

Vanessa R.

Married on 09/17/2020

Perfect Despite So Many Hurdles

Neal and Alicia were amazing to work with. They truly went the extra mile to make us feel special - especially after our first wedding date was canceled and our family could no longer attend due to COVID. On top of everything, the wildfire smoke rolled in and visibility was terrible. 2020 was not our good luck year! But Alicia found little ways to incorporate our dogs, have an instagram-worthy picnic on the beach, and make the day super special. We went for a hike and Neal's photos ended up beautiful despite the lack of visibility. He really captured my husband and I well, including our emotions and personalities. I am very grateful for everything they have done for us and would highly recommend them to anyone.

+ 2

photos

Nicole E.

Married on 08/22/2020

Absolutely Phenomenal

I would recommend Alicia and Neal 1000 % From the start they have been there for us and made everything stress free and comfortable. They helped with picking the perfect ceremony spot, air b & b, salon for hair and makeup including straight down to restaurants.

Off the Beaten Path Wedding's reply:

Nicole, it was such a joy to photograph and officiate your elopement! So glad that life brought you to Montana and that you decided to celebrate your love in the mountains. You two have such beautiful chemistry and are so much fun together! We're so glad it was stress-free, even with just 10 days to plan. Thank you for choosing us to be part of your special day - we'll never forget the experience.

Alicia & Neal

Tiana M.

Married on 08/08/2020

Best photos and best experience

Neal and Alicia are simply amazing - so easy to work with, fun to be around, and are so talented! We got our sneak peek photos two days after the wedding and are already blown away. We can't wait to see the rest! If you're looking for incredible photos and super helpful coordinating, these are your people!

Hannah C.

Married on 01/08/2020

Absolutely Amazing

Having a destination wedding in Montana required a qualified and talented wedding planner and photography team, and I found just that in Alicia and Neal! Every step of the wedding planning process, from the finest details to the overall vision, was executed with flawless perfection. Forget about the concomitant headaches of wedding planning and hire Alicia and Neal! Our beautiful wedding in Big Sky, MT went on without any hiccups, and our wedding photos are absolutely phenomenal!! We have so much gratitude towards this team, thank you Alicia and Neal!!!!

Jenna

Married on 06/22/2019

Alicia is amazing!

Wow, I don't even know where to start. Although we had friends who we always knew we'd be using for our wedding day photographers and didn't get the pleasure of meeting Neil, Alicia was incredible.

My husband and I traveled from New York to get married in GNP. We originally planned a tiny elopement but as the day got closer, more and more friends and family joined in. Alicia never missed a beat. From sending me 50 lodging options the first day we spoke to seeking out and coordinating plans for our large group to keeping the ball rolling on every single detail & coming up with things I never would have thought of to make our day (and surround days) absolutely perfect. Alicia is sweet, loving, assertive, talented beyond her years and an absolute boss. I can't imagine our trip without her. She fit in seamlessly with our group, like we had all known her forever & she even met us in the park to scope everything out and took a trip up going to the sun road with us. She also 100% understood my vision (& made up for my lack of) and constantly sent me amazing ideas and was never once pushy or bothered when I would change my mind 15 times. I could go on and on but I'm running out of characters :p
My (and every wedding guests) only complaint is that she has yet to come visit us in New York so we can all hang out more!!

Off the Beaten Path Wedding's reply:

Jenna, you beautiful soul! I promise we'll plan that trip to New York sometime soon :) It was so much fun to help create your + Kyle's destination wedding and show everyone Montana's stunning views. I loved bringing your unique boho style to life - and even more so, getting to know you two and your family and friends. Your ceremony literally brought me to tears. You two are moving mountains and totally amazing together!

Rachael S.

Married on 06/04/2019

Alicia and neal are simply the best!

LOOK NO FURTHER! The BEST wedding planner/day-of coordinator & photographer duo are right here. Alicia and Neal are the most amazing wedding/elopement planners and photographers you will EVER find. Our elopement turned into a small wedding after more family members agreed to come than we expected, and Alicia put together all of the pieces with ease (venue, vows, officiant, music, food, flowers, cake, decor of multiple venues, invitations, literally clearing the venue of grizzly bears, signage, photos.. I can't even list everything. the list of what she did to arrange our "short/small ceremony" goes on and on. It turns out you CAN have bougie, sky-high expectations on short notice with a small budget -- because Alicia will make it happen for you. She was extremely respectful of our budget and kept finding creative ways to help us save money. She was 100% reliable and dependable, and went the extra mile in every way. I didn't know what I didn't know, and Alicia handled it all. She communicated often and clearly, created spreadsheets and documents, and called/emailed frequently. I had not met Alicia until the day of the wedding, but I felt like I knew her because we talked so often and she's so open and personable. The day of, I almost spent more face-to-face time with Neal because he was photographing us for the entire day so he was always nearby (and Alicia was off making everything perfect). He has a very calming presence which I needed more than I realized. You can tell quickly that he is a HIGH quality photographer who knows what moments to capture. He made so many great memories for us just because he is a pro and knows how to do it and in a flattering light. Our photos are INCREDIBLE and they make me cry every time I see them. We have such wonderful memories of that day thanks to Neal's talent and the care he put into our special day. My (now) husband and I joke (but.. not really joking!) about getting married again every year because it was the best day of our lives. It would have never been so perfect without Neal and Alicia. I just don't know what to say other than I have super high expectations of basically everything, and I would not hesitate to not only recommend them to my best friend or family member, but also use them again in the future. THANK YOU, Alicia & Neal!! We'll be calling you soon for our vow renewal.

Off the Beaten Path Wedding's reply:

Rachel, what can I say! You are so kind. Neal and I will never forget your wedding day and the fun, intimate celebration you crafted for your closest friends and family. I'm so glad you found the planning process easy & stress-free - it was my pleasure to help! Neal had a blast capturing you two, and your chemistry in the beauty of the mountains was absolute magic. You chose such an amazing spot for your wedding - we can't wait to see what vow renewal ideas we can come up with!! Love always, Alicia & Neal

Jenifer K.

Married on 03/15/2019

Amazing day made even more amazing by Alicia and Neal!

I cannot recommend Off the Beaten Path Weddings enough. Alicia and Neal made everything for our day move along seamlessly and beautifully! If there was a problem, I still have no idea! They were great. From hiring the best vendors to scouting out the location in the middle of winter (a hike to a waterfall) there really isn't much they wouldn't do to make your day amazing.

Off the Beaten Path Wedding's reply:

Jenifer, it was so wonderful to work with you! You and Dave picked such a beautiful location and had the most FUN celebration we've been part of. It's hard to pick a favorite part of the day, from the frozen waterfall to the dinner yurt and sledding. Your guests will never forget it! Wishing you two a lifetime of joy together ❤

Heather P.

Married on 01/08/2019

Perfect experience!

My husband and I are from New York and decided to elope in Montana. We only hired Alicia and Neil a little over a month before the date. And you would of thought they had months! They made it so amazingly special for us. From the flowers to makeup to hair to the cake and etc! I can't even describe how talented they both are. Alicia with finding all the perfect vendors and knowing exactly what you want. To Neil with his amazing photography and making it so relaxed and special. If you want your dream wedding hire them! You will not regret it!

Off the Beaten Path Wedding's reply:

Heather, thank you so much for your kind words! It was really special to be part of your & Dennis' intimate elopement. We love that you wanted a unique, small town experience in the mountains. Wishing you years of great adventures together!

Allison

Married on 10/13/2018

Alicia and Neal are an amazing team. We hired them for wedding "day-of" coordination. From the time we hired them, they were attentive and a true set of team players. Coming from a bride who is very Type A, Alicia fit into our style of organization, brainstorming, and "get stuff done" attitudes. With living in Bozeman, having this team from Billings help out was the best choice for us with the steep/inflated wedding business here. I would recommend this team 10-times over for any wedding coordination needs.

Off the Beaten Path Wedding's reply:

You beautiful bride! We so enjoyed working with you and Ari to make your wedding dreams a reality. Your family and friends were so much fun! It was an incredibly special day we'll never forget.

Charlotte

Married on 10/05/2018

My fiancé and I won an engagement shoot through these guys! They are wonderful people. Very kind and and thoughtful and extremely fun people. I can't wait to book them for my wedding planning and wedding photography. I will highly recommend them to everyone! Thank you Neal and Alicia for capturing the most perfect pictures for us!

Maggie

Married on 09/22/2018

Fun and footloose

We got the whole package from Off the Beaten Path, both planning and photography, and couldn't be happier. I was finishing grad school while trying to plan our wedding, and Alicia and Neil were a welcome and fun break to studying. They made planning our wedding fun, and the day of was everything we wanted and more. Our pictures turned out great, there are too many to choose from to give to our family! I really love Neil's style, as it's different from traditional wedding photographers. He really pays attention to light and timing and sees what no one else does.

+ 4

photos

Off the Beaten Path Wedding's reply:

You are so sweet, my dear! It was an absolute joy for us to be part of your special day. You and Josh were so intentional in crafting the experience for your guests and it shone through. There were so many beautiful moments to capture!

Tyla

Married on 07/13/2018

Absolutely loved these two! They are both so helpful, & know what they're doing. My photos turned out amazing & I couldn't be more happy with how everything went. Thank you so much Neal & Alicia! I will be recommending you to everybody.

Off the Beaten Path Wedding's reply:

You and Luke are so sweet together! You two have such a beautiful love story. It was a pleasure to be part of your big day and capture all the special moments. We wish you years of love and happiness!

Ashley

Married on 07/07/2018

I am so grateful for the time and dedication Alicia (and Neal) put into making our wedding a reality. Our wedding site was truly "off the beaten path" with over 300 guests, and by no means easy to put into fruition, but Alicia and Neal were up to the task! There were some hiccups along the way, such as me not having cell service or wifi the entire week leading up to the wedding- making it nearly impossible for us to communicate, and the rental company getting lost for hours and then stuck on the land about a half mile away from the wedding site, requiring Alicia and Neal to work their butts off well into the night. Our caterer only spoke Spanish, and our wedding site hardly had cell service. Despite all of these challenges, the wedding was lovely and so incredibly special. Alicia helped me realize items we needed to rent/purchase/borrow/bring in order to accomplish our goals, communicated clearly with our vendors, and did it all with a smile. She was professional and friendly and easy to work with. I HIGHLY recommend working with Alicia as a day of coordinator/wedding planner!

Sara

Married on 06/14/2018

Alicia and Neal were incredible to work with. We had a simple intimate wedding in mind and they both went out if their way to make sure it was just what we both envisioned. Working with vendors, making sure small children were happy and taking us in the mountains for a ceremony we will never forget. Stress free and so easy going.

Off the Beaten Path Wedding's reply:

Sara, we loved your vision of an intimate mountain wedding and enjoyed our time working with you and your family. Weddings like yours are why we started this business! We wish you all the best.

Anne

Married on 05/05/2018

Alicia and Neal were the day of coordinators for our wedding. "Day of" is a loose definitely because they went above and beyond just the day of to help organize our vendors, create timelines, attend meetings, and visit our home (which was our venue) to ensure everything ran smoothly. I would highly recommend Alicia and Neal to any couple who would like a stress free, fun wedding experience.

Off the Beaten Path Wedding's reply:

Thanks Anne, it was our pleasure! You two are an awesome couple and we really enjoyed working with you.

Linda

Married on 04/27/2021

Could not have asked for more.

Neil and Alicia did everything we could have asked for and more on our wedding day. They were patient, imaginative, and the photos were perfect. My wife and I would highly recommend them for what ever photography needs you might have.
Are you interested?
Send a message