40 Reviews
Recommended by 95% of couples
Quality of service

4.8 out of 5 rating

Average response time

4.7 out of 5 rating

Professionalism

4.8 out of 5 rating

Value

4.8 out of 5 rating

Flexibility

4.8 out of 5 rating
10 User photos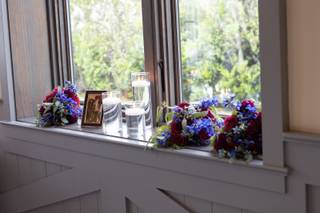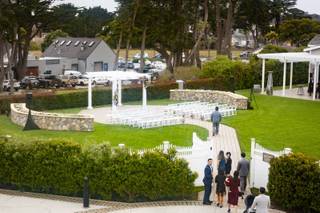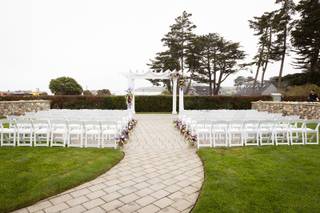 + 6

photos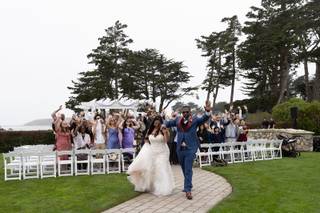 Hien A.

Married on 07/29/2022

The Most Beautiful Place

Oceano was so beautiful and was exactly what we wanted for our wedding! Honestly the best value for Oceanside venue with DELICIOUS food and a best coordinator ( Love you Nancy! ) along side you the whole way. The Gate house is the perfect canvas to your dream wedding. The hotel is very accommodating to us and all our guest! We will definitely be back to spend more time at Oceano

+ 5

photos

Oceano is the best venue!

Oceano was absolutely amazing! The venue is beautiful, the hotel is beautiful, everything was wonderful! Nancy and Jenn were so sweet every time we met with them. They were very patient and helpful with all our questions, and they set up all the decorations and coordinated the wedding flawlessly. The food was great, the rooms were amazing, everything was just perfect. We had the best wedding day.

Nia

Married on 10/13/2018

Absolutely amazing

ABSOLUTELY AMAZING! We had our wedding here mid October and the entire experience from day 1 was incredible!! We had the most magical, stress free, fun wedding ever! All of our guests raved about the amazing food, location, sweet staff, and beautiful hotel.

If you are considering having your wedding here... DO IT... you will not regret it! My husband and I had spent months looking for a wedding venue. We wanted to have something near the ocean and went up and down the coast trying to find a venue and nothing felt right. One day we called up Oceano and were lucky enough to speak with Nancy. Without hesitation she had us come in that day to give us a tour. To describe Nancy as an angel is an understatement... I don't know how we got so lucky to work with her! She was the main reason our wedding was so fabulous!!

I'm getting off track... so we met with Nancy that day and got the tour of the hotel. It has great views of the water and both of the wedding venues were beautiful. One of our biggest pet peeves when looking at venues was the cost of the wedding site and then we'd go look at the ballrooms and either the carpet was dirty and/or a crazy color, or the chairs were old conference looking chairs, or we had to pay a bunch of extra money to get drapes to make the room look nice. But with Oceano, none of that was necessary! The rooms are beautiful, they already have chiavari chairs ( which no other venue supplied, and those chair usually run about $10 without tax to rent-- so a huge savings) and there is normal looking carpet (none of that lime green ugly hotel carpet). So there wasn't much to spend on decor because you really do get what you pay for-- once you start the wedding planning process you'll know what I am talking about. When we sat down and spoke with Nancy, she was very knowledgeable with the in's and out's of planning a wedding. She listened to and addressed all of our concerns and needs. She also was not pushy at all and made us feel very comfortable. After looking for months, we knew instantly that we wanted to book Oceano for our wedding!

Here's a few other notes..

The hotel: rooms are gorgeous, well kept and very spacious. All of our guests enjoyed their entire stay there and many of them have already told me they are excited to come back on their own to vacation there!

The food: To be honest, food was not #1 priority for my husband and I. We know wedding guests care but we were pretty flexible and indifferent. However, when we had our tasting with Nancy, everything we tried was delicious! On top of that everything was organic from their farm! We also had some guests with dietary restrictions and Nancy was so accommodating and went above and beyond to ensure that they were able to get a dish that worked with their restrictions. All we heard after the wedding from our guests was how amazing the food was! That was not even our concern but all of our family and friends loved it and yet to this day comment on it!

The staff: everyone working at the hotel is so kind and was so helpful during the entire planning process and day of. They definitely know what they are doing when it comes to weddings and they made the whole experience so stress free. My husband and I were on a budget and one of the things other venues required were day of coordinators. At Oceano, that is not necessary because either Nancy or the other event staff pretty much are your coordinators.. so you do not need to hire someone! From the first day Nancy went over the details with us, helped us with our timeline and planning, and even reached out to our vendors before the wedding to finalize details with them. She was amazing at answering all of our questions and communicating in a very timely manner. To stick to our budget, we also did a lot of DIY decor. Nancy was so gracious to allow us to come early the day before and set up a few things and get everything ready, which was a major help and saved us so much money and time! For our rehearsal, Nancy was there to coordinate and was very calm and helpful ( even with our crazy families who kept getting distracted or asking a bunch of questions). On the wedding day, we had absolutely no stress and no worries because Nancy made us feel so confident that everything was going to run smoothly. She was there every step of the way, she checked in with all of our vendors, she kept us on track and she also made sure we ATE! She saved hors d'oeuvres for us so we can also try them during cocktail hour and brought us plates of food during the wedding and even after! Everything exceeded our expectations and our wedding day was just amazing.

Oceano truly checked off all the boxes when picking our wedding venue. My husband and I are so lucky that we found Oceano and Nancy. They have made such an incredible memory for us and our families. Trust me when I say.. BOOK YOUR WEDDING HERE, YOU WILL NOT REGRET IT!!!

Are you interested?

Send a message

Devan

Married on 07/06/2018

One word: AMAZING. Our wedding guests raved about the hotel as our ceremony and reception site. It was beautiful, the staff is friendly and responsive, and our guests loved being walking distance from the wedding itself, the water, and yummy restaurants!

We felt so at home with our coordinator Nancy. She took care of every detail and I spent the wedding day completely relaxed knowing that her team was taking care of everything. We had our dream wedding day and the beautiful Oceano was a big part of the reason why.

Shruti

Married on 12/02/2017

Simply AMAZING!! Their service was top notch. Such professionals. They treated all my vendors with respect and care. They helped me find some vendors and then worked with them the day of. I did not have to worry about a SINGLE thing!! I simply enjoyed my day thanks to Lauren and her team!! In addition to the amazing service, it's just a gorgeous venue!! Thank you Lauren and team for helping to make our day so wonderful and memorable!!

Oceano Hotel & Spa is a wonderful wedding venue coupled with great support from their onsite coordination team. I worked with Lauren and team on a mutual client's wedding earlier this year and they are professional and accommodating; really fun and easy to work with. As an event planner, I am blessed with the chance to work at many venues and with other onsite coordinators and I have to say that Lauren and team are on the top of my list for vendors that I would love to work with again in the near future. Lauren is proactive without being pushy, provides valuable info/ suggestions, and very helpful! Venue itself has a beautiful outdoor ceremony area and the ballroom for the reception is very pretty with minimal decor needed if you like elegant and simple decor. Highly recommend checking out if you are looking for a venue close by water with great onsite assistance!

Peachy

Married on 12/21/2016

Nancy is the best!!! We cannot wait to spend our special day at oceano!!!

Helen

Married on 08/13/2016

We worked with Nancy at Oceano and she was wonderful, along with all the staff there! From day one, Nancy was amazing. She really cares about making sure that it is your wedding day. Clearly, she has done many weddings. Planning with Nancy was always fun. She was good at responding to emails and phone calls. Before the wedding, Nancy provided us with a tasting and the day of food was spot on! She allowed us to build our own menu -- we chose what ingredients we wanted and the chefs at Oceano put it all together and made it super tasty. We went with the vendors that Nancy recommended and they were all amazing. Nancy is also very willing to work with new vendors. Nancy ran our rehearsal and made our whole wedding party feel very comfortable about how the day of proceedings would go.
Our wedding day went so smoothly. Nancy provided us with a beautiful bridal suite to get ready in (which made for great photography shots). Nancy checked in on us and also gave us lunch.
The ceremony site was so beautiful. The backdrop of the trees and the harbor are very serene and make for great photos. We ended up having about 170 guests and they all sat very comfortably at the ceremony site. We had two handicaps and Oceano was able to accommodate them and help them feel comfortable.
Cocktail hour food was delicious and everyone enjoyed being in the atrium where there was natural sunlight that filled the room. The atrium later became a wonderful dance floor.
Our reception was in the ballroom which was beautifully decorated with all the details that we had discussed with Nancy. Nancy was able to project our powerpoint slideshow perfectly. Nancy and her staff actually ended up plating our dessert and arranged it very beautifully. The alcohol package was flexible. We had extra food waiting in our honeymoon suite at the end of the night in case we were starving!
Everyone at Oceano was just so thoughtful and made our wedding day so smooth and fun!

Natalie

Married on 06/25/2016

We have picked The Oceano Hotel & Spa for the location of our wedding reception. When we first visited we met with Jenn and she has been a pleasure to work with ever since. The location is wonderful and the hotel is classic and beautiful. We can't wait to celebrate our wedding at such a great venue! I would definitely recommend it to anyone looking for a venue who wants a beach atmosphere and the convenience of having a hotel to stay at. They are also in the works of building a brand new reception area which we are very excited about.

Jen

Married on 08/22/2015

There aren't enough good things to say about The Oceano and it's staff. Our wedding was so PERFECT, and we couldn't imagine better service. We literally didn't have to think about anything, and our family/friends still rave about how wonderful everything was. The food is AMAZING, the chef is so talented and created my custom menu to exactly what I wanted. The rooms are GORGEOUS, and the staff are the most friendly and helpful people. We love going back to visit, and are looking forward to our next stay. W really can't thank them enough for making our dream come true.

Raj

Married on 07/04/2015

A very excellent venue for weddings. The manager Nancy was very efficient for the event organizations. I appreciate her help, she provided for my son's wedding at Oceano.

Annelie

Married on 10/11/2014

I absolutely loved our venue. They were amazing. Jennifer Pickart worked with us and I absolutely adore her. She and the venue made the whole process soo easy for us. They are incredibly flexible and accomodating to your requests. They made the entire process and our wedding day amazing. I felt like everytime I asked if we could do something or if they had something, I always got a YES. They even have a ton of decor you can use and borrow for your big day if you don't want to go out and purchase everything yourself. I 100% recommend this venue to anyone and everyone in the market for a wedding venue!

Kimberly

Married on 09/13/2014

If you want a great experience, a great location and the friendliest and most wonderful staff call and ask for Nancy! She made sure everything went perfect, was told to "turn my brain off" when we arrived the night before and she took care of everything! Her staff took care of setting up our center pieces, escort table (we just told her what we wanted) and our timeline of events. We did a food tasting prior and every meal was just as delicious during the reception and cooked perfectly! The passed appetizers during cocktail hour were amazing. The rooms at the Hotel are comfortable and beautifully decorated. Nancy made our wedding day so special and can't Thank her enough!

Ronald

Married on 09/06/2014

Written by the Mother-of-the-Bride:

I wanted to take the opportunity to write a review for the Oceano staff for their superior help in making my daughter's wedding a huge success. We were all very pleased with their hard-working, gracious approach with helping before, during, and after the wedding. Our wedding planner, Nancy is excellent and I highly recommend her service for anyone considering to host an event at the Oceano Hotel. She graciously listened to all of our wants, while effectively executing them with her professional expertise. During the wedding, many of our wedding guest approached me to express the excellent service they received from the Oceano staff. My daughter, son-on-law, myself, and the rest of the wedding attendees were very impressed with the outcome of the wedding, and a huge part of that is due to the Oceano Hotel staff.


Would highly recommend this venue to anyone! We are from South Dakota and Nancy was awesome! From the minute we met her, we knew she would be a great wedding planner. The venue is beautiful and Nancy covers everything possible to make planning a destination wedding as easy as possible!

Victor

Married on 07/05/2014

If you live in the San Francisco Bay Area and you're planning a wedding, you MUST check out the Oceano Hotel in Half Moon Bay, CA. Hands down the best venue to get married, the whole experience of our wedding was amazing, and it was all thanks to the awesome people at the Oceano, five stars!!

Sophia

Married on 06/27/2014

Couldn't imagine a better wedding. Nancy is amazing!!

Cassandra

Married on 10/12/2013

I cannot RAVE enough about Oceano Hotel and Spa!!! I literally looked at 23 different venues until I found Oceano and they truly are the BEST wedding venue EVER!!! The hotel is absolutely gorgeous but what makes this place special is the people who work there! Jenn and Nancy are so wonderful and they genuinely care about each bride and making all of their wedding dreams come true.

Everything I asked for they said yes to and if they didn't know how they would do it they found a way :). I remember when I first met with Jenn I told her how I thought it would be so cool to have a s'mores pit outside during the reception and she informed me they hadn't done that before that they would buy a fire pit and set it up for me. They did this on practically everything I asked for, I wanted a cookie bar where all of my family members brought different cookies and they set up a bunch of different jars and platters and so all I needed to do was have my family drop off the cookies. Oceano was the best wedding venue and I couldn't be happier with my wedding and the venue I chose.

Charles K.

Married on 09/21/2013

I cannot say how much my wife and I loved having our wedding here. The venue, service, and atmosphere were all so perfect. Nancy (wedding coordinator) was absolutely the friendliest and most helpful person and she just made everything work. Anything and everything we wanted, she was able to do and deliver. We had the best experience here and can't wait to come back to celebrate future anniversaries and events here whenever we can. Highly, HIGHLY recommend Oceano!

Nancy

Married on 09/08/2013

My Husband and I recently got married at Oceano Half Moon Bay Sunday September 8th, 2013. I have loved this hotel since the year it opened! I used to be in the special events industry, and worked a few weddings at Oceano in years past. Nancy, the Special Events Manager is AMAZING! She has always made my Husband and I feel like Oceano is a home away from home. Her assistant Jen is also so sweet and amazing! From the front of the house, to the lounge staff, house keeping, and banquet staff, Oceano has impeccable service! Nancy told me she was surprised that out of all of the places I had done weddings and events before, that I chose Oceano for our own wedding. Really, there was not a second thought to this, Nancy and the Oceano staff, not to mention the sites natural beauty, made it our first and only acceptable choice for our big day! Knowing all that could go wrong on a wedding day from personal experience of planning over 200 weddings in my career, it says a lot that I was comfortable and confident in Nancy and the Oceano team taking care of our big day. Our wedding was a platinum wedding, chalked full of wedding professionals and tiny details, but everything went perfectly. They worked hand in hand with us and our wedding consultant to make sure that everything was planned to perfection, and executed with ease. The rooms at the hotel are beautifully appointed and have the most comfortable beds! We were so proud to have our families stay here, it made us feel like we were hosting them in our own beautiful home. We had our ceremony in the wedding garden overlooking the pier, cocktails on the lawn, and dinner in their huge tent! The food was out of control good! The bartenders were fast. The service staff attentive. We couldn't ask for more! What a dream wedding!!!! Oceano will always be our special place, we can't wait to visit again! We love you Nancy and Oceano team!

Nancy was amazing, my guests are still raving about the job that she did! She made the day go by so smoothly and made it seem like it was the easiest thing in the world. She kept it together and did everything in her power to make everything the best it possibly could. My husband and I fell in love with the venue and couldn't have picked a better wedding coordinator. We are planning on visiting on our first year anniversary and cannot wait to go back!

Sara

Married on 10/06/2012

Love! The Oceano, I believe, is the best location to get married at in and around Half Moon Bay. They are reasonably priced, especially since their cost includes food, tables, chairs, and linens (if you selected theirs). They also have other items that you can use like cocktail tables and wedding design details. You also have the option of getting married at their beach location, in their ballroom, or in their garden. You also can pick to have your reception in their ballroom or in their outside tent (it has heaters if it is cold!) We chose to have our wedding in the garden and then our reception in the tent. We had our wedding in early October and the weather was absolutely beautiful!
At the Oceano, we had the joy of working with Nancy. She is phenomenal! We met a few times months in advance and stayed in contact via email. During the last month or so we contacted her weekly and she was easy to reach, extremely helpful in meeting all our last minute requests, and made sure our stay was calm and relaxing.
As for the hotel, the rooms might be a little pricey, but well worth it. Each space has a spa like atmosphere. Per the food at the wedding, some of the best I have eaten. We chose a sit down meal and they served each table quickly and at the same time. I still have guests telling me how much they loved their food.
If you are looking for a beach wedding, at a good price, with helpful people, great food and space then the Oceano is perfect. I cannot express how much I loved our venue and Nancy. You will not be sorry if you pick the Oceano, we are not!

Jen

Married on 06/29/2012

The Oceano hotel is the best place to have a wedding! We got to have the ceremony in the garden, cocktails in an already set up tent, reception in the ballroom, and dancing in the atrium! The wedding coordinators there are the best! Nancy was always easy to get a hold of & more than happy to work with us on anything we wanted. She made our wedding day dreams come true! Being a beach town you have to get used to a bit of a slower pace, but don't let it stress you out if you are more of a fast paced bide like me. Just enjoy the relaxing vibe, everything gets done perfectly in the end.

|Also if you are going to have an event that needs flowers go right next door to Half Moon Flowers! They work flawlessly together with the Oceano!

Jocelyn

Married on 09/04/2011

The Oceano Hotel and Spa is absolutely amazing. It was the perfect location to host our wedding. The hotel dones a casual but elegant vibe and just makes everyone feel so at home with the relaxing decor. A nice hotel alone would not have been enough for me to decide to host my wedding here. The main thing that drove my husband and I to the Oceano Hotel was the people. The staff at the hotel are fabulous. They are professional, customer service oriented, and just all around good people. In particular, Nancy is the most fantastic wedding coordinator any bride can ever ask for. Nancy made sure that it was my day and that there would be no stress involved because she would take care of everything! She takes care of every single detail from making sure there was food in our suite for after the wedding reception to spending 30 minutes trying to help me bustle my dress. Nancy was there every step of the way. We truly loved this place and will definitely be back to visit!

Giselle

Married on 04/17/2011

The Oceano was a totally amazing place to get married. Nancy, their event planner, made the entire process easy and painless for us. She was welcoming and reassuring every step of the way. They even let us do a food tasting before we made a deposit! The event was flawless. The food was amazing. Nancy managed everything - down to ensuring that we had food and cake when we got back to our room! - and everyone had a ball. The staff was welcoming and took great care of us and of all of our guests. The rooms are gorgeous, the location is ideal... I wish I could give them 5+ stars!
Are you interested?
Send a message