53 Reviews
Recommended by 99% of couples
Quality of service

5 out of 5 rating

Average response time

4.9 out of 5 rating

Professionalism

5 out of 5 rating

Value

4.9 out of 5 rating

Flexibility

4.9 out of 5 rating
11 User photos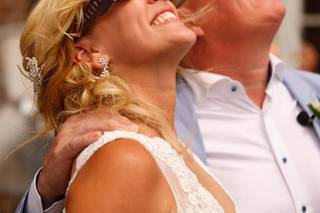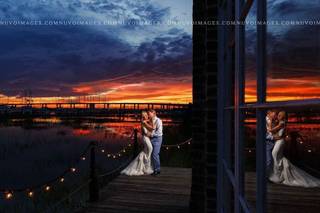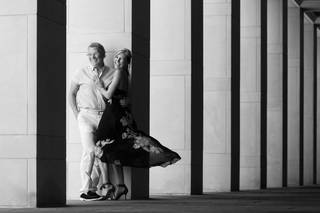 + 7

photos
Jami O.

Married on 04/23/2022

You won't be disappointed!

Hiring Rachel & Ted to be our wedding photographers was one of the easiest & best decisions we made about our wedding! I had come across them years before at a bridal show for my friend's wedding, & I was so impressed with their work that I always remembered their name so that if I ever got married, I knew it would be them! They did our engagement, bridal, and wedding pics. Working with Rachel was like having another best friend there, she made each session so much fun! They'll do whatever is needed to get the right shot. And they work together so well, they make such a perfect team! I cannot say enough good things about them, seriously. I have NO regrets about hiring them, & will for any future needs too! Love them!


Christine

Married on 01/19/2019

Super Sweet!

I loved working with Rachel and Ted. I ran into Rachel at a bridal show and instantly loved their photos. She was able to answer all my questions leading up to the wedding and made everything simple. She was also incredibly sweet and personable and made me feel so comfortable! Everyone loved the slideshow at the end of the night and my husband and I can't wait to see the photos!

Caroline

Married on 04/28/2018

We hired this husband and wife duo almost immediately after my first convo with Rachel. She is fun, professional and easy to talk to. Considering how intimate taking wedding photos can be, I wanted someone I connected with, and Rachel immediately felt like a friend. I loved the idea of having a husband and wife team since they knew each other's' styles, could predict each other's moves and would be able to capture double the shots! Rachel followed me and her husband, Ted, followed my groom prior to the wedding. It worked out great! After the ceremony, they did the traditional family shots, and then whisked us down the street to capture some couple's portraits in a few different spots. Walking down Broad St in a wedding dress is a once in a lifetime experience! They worked quickly, making use of every minute! If I have one regret, it would be that I wish we had had more time with them! But that would have messed up our timeline so alas, we'll just have to hire Nuvo Images for some family portraits in the future… We haven't seen all of the pictures yet, but they just released a few teasers on Instagram, and they look great! We are very excited to see the rest!

Are you interested?

Send a message

Mollie

Married on 09/09/2017

Ted and Rachel were fantastic! My husband and I obviously had some nerves on our wedding day and Ted and Rachel did a great job of putting us at ease. It was easy to tell that they take a lot of pride in their work and they try and get every shot, especially great candid ones. We were ecstatic on the finished pictures! I would highly recommend them!

Jude

Married on 09/09/2017

Fun and professional with a lot of great idea for shots and the ability to put their subjects in position to look great!

Scott

Married on 08/26/2017

Simply jaw dropping pictures! Amazing work and amazing people. Advice for wedding photos: let Nuvo Images do their thing. They produced some of the most breathtaking photos of us.

Scott and Alicia

Terry

Married on 08/21/2017

Easily a 5 star, they deserve a 6! I can go on and on; Rachel and Ted are the most accommodating, professional, visionary, extraordinary photographers you could hire. I KNEW from my first phone call that they were the ones for our event, and I was right. We live in Toronto so had to find/hire our vendors without the opportunity to meet first. I own a marketing company and understand the value of reviews, which is how I found Nuvo Images. From our engagement shot and first meeting to our event day, we were thrilled with this team. To see the results, our pictures, we could not be happier with our memories captured in time. Their creative flair, artistic eye and ability to "get the shot" is the key to their success. I would highly recommend them to capture your special moments, you will not be disappointed.

+ 7

photos

Tiffany

Married on 11/15/2016

Rachel and Ted were fantastic. Every photo we have from them is worthy of being framed up on the wall. Our album is the pride of our living room and we love showing it off to our friends and family that come over. Not only did they get beautiful shots of us, but also of the decorations, dancing, friends, and family. We couldn't have asked for a more pleasant and professional couple to work with. We felt like they really cared so much about capturing our perfect day exactly how we would want to remember it.

Emily

Married on 09/17/2016

I hired Rachel and Ted to do our wedding photography after Rachel shot an amazing boudoir session of me. Choosing them was one of the best decisions I have ever made. They are the most dedicated and talented wedding photographers I have ever met. They worked with my fiancé and me to get every shot we wanted and then some. Our engagement session was so relaxed and the pictures turned out spectacular. Classy yet intimate. Rachel was communicative before, during, and after the wedding and it put me at ease knowing that she was there for me. The day of the wedding they were so on top things. I didn't think anyone could wrangle my family into a single shot but they made it happen! The slideshow that Ted put together of pictures from before and during the wedding were breathtaking. Everyone crowded around to watch. This husband and wife team are simply the best out there. Both times I have used them (for boudoir and wedding) the results were top notch and I couldn't ask for anything more. If you want the best, hands down, use them to commerate your day.

Ted and Rachel shot my daughters wedding 4 years ago and we were so in love with our images and the service that when my son got engaged there was no thought of who we would get. We even planned our date so we could have them as our photographers. Rachel's bubbly personality and Teds incredible eye for locations and lighting made our photo time one of the best parts of the day. I cant say enough good things about them! Highly recommend!!!

Anna

Married on 05/14/2016

Rachel and Ted are a wedding day MUST HAVE! They were absolutely amazing to work with, very fun and calm on the day of, and their pictures are AMAZING! I had 3 bridesmaids tell me they wanted to use Nuvo Images just after seeing Rachel work with me on the day of the wedding. My husband and I have had almost all of our guests comment on the day of slideshow Rachel and Ted put together telling us how gorgeous the pictures were. If you want your wedding pictures to be the best you have to have Nuvo Images! <3

Chelsie

Married on 05/09/2016

Ted and Rachel are the absolute best! Finding a photographer for our wedding was my top priority and honestly the thing I was the most picky about. With having a destination wedding we did not meet Ted and Rachel until the day before at our engagement shoot and they were amazing! They made our wedding stress free, fun, and memorable. They are certainly the dynamic duo that would do anything for their clients. When we received our proofs I couldn't help but have tears in my eyes, they not only captured our day perfectly they created artwork that will be on our walls forever. I HIGHLY recommend Nuvo Images and we will certainly find our way back to SC to have them take our family photos!

Ted and Rachel are the kind of photographers you wish you could keep around you all the time so they capture intimate moments in your life even you wouldn't think of. This duo is seriously talented, not to mention dedicated to their clients and photographs. Ted goes above and beyond to do whatever it takes to get "the shot", which they all end up being :), while Rachel ensures you are comfortable, gorgeous, happy and that you know it. My husband and I have thoroughly enjoyed working with Ted and Rachel, getting to know their styles and just how they work together. Our engagement pictures as well as our same day slideshow have been a highlight of not only our wedding day but of our memories. Friends and family constantly ask to see the slideshow and loved seeing those early day pictures that were captured. We truly adore these two, not only as photographers, but now as friends!! I have never felt more beautiful or confident until I worked with these two. Their photographs are not just pictures, but true life works of art that we will cherish forever. Thank you for being amazing Nuvo, we adore you and hope more people get to experience your magical talent!!

Kaijsa

Married on 10/02/2015

Nuvo images were great! Easy to work with, very professional! Made our special day even more special, the pictures turned out amazing!! Highly recommend!

Sharon

Married on 05/29/2015

If you want truly unique, magazine quality photography to capture your special day, Ted and Rachel of Nuvo Photography are it! They shot my daughter's wedding and bridal portraits and we don't even have the photos yet and I already know we are going to be in love with every one. This photographer is not only extremely talented, he and his wife are the nicest people to work with. We just LOVE THEM!

Emily

Married on 11/29/2014

Words cannot describe how much fun I had working with Rachel and Ted. I haven't even gotten my pictures back and I'm confident giving them only the best review. My husband and I hate taking pictures but on our wedding day it was actually a blast! They know how to make you feel comfortable in front of the camera. We were a little rushed from the morning and late to the church but Rachel and Ted made sure to get bridal shots which I really appreciate. They shot my friends' wedding and the pictures were stunning. I cannot wait to get mine back bc I know they'll be just perfect.

Wow words cannot explain how AMAZING Tammy was. We did our engagement session with her, as well as my bridal portraits, and wedding. She was legit amazing. She is really good at helping with posing which was one of my concerns as I had never been photographed professionally before. He takes her time to ensure we are picking the right spot for our photo. Her husband Kevin is also amazing and there to help as well as her children. I cannot express enough how great my photographs were and how much I enjoyed working with Tammy. She is also very reasonably priced. Please book Tammy for your wedding, engagement session, bridal portraits, or any event you would like photographs for. You will definitely not be disappointed!!!

Rachel & Ted are amazing. Absolutely AMAZING. There is no other way to explain it. They were 100% professional from the get-go and even offered the idea of meeting up with us prior to our wedding date. Sadly they weren't part of our package with our planner, so we didn't book them initially. But when I saw my co-worker's engagement photos that they took, I immediately let the other photographer go and it was the BEST decision I made.

My wedding day was rainy and then VERY VERY HOT and HUMID to the point of being uncomfortable. Even before that, I was hot in my gown and the back of my gown had broken and I kind of had a little panic attack and didn't wanna be in front of the camera at that moment. Rachel let me collect myself and then found me after a few minutes to start up pictures again. I really appreciated her giving me that space. Then it POURED outside so everything was delayed, which made it hard to take enough pictures and it was HOT and HUMID (as I mentioned before) so, again, I was like "I need to go back inside and cool off and I'll come back and take more pictures," and they allowed me to do that too even though we were pressed for time.

They also dealt well with my planner who was basically like okay we need to get this reception going, so we didn't get a lot, a lot of pictures the actual wedding day but we got a decent amount especially when the rain cleared, Ted & Rachel worked their magic.

Afterwards, they even offered a wedding after session, which I recommend to EVERYONE. It's much more relaxed and fun and the bride and groom can just be with each other. It's a really beautiful experience.

Thank you Ted & Rachel for your patience, professionalism and the beautiful pictures! I can't wait to see more!! I recommend Nuvo Images to EVERYONE for every occasion!

Jonathan

Married on 06/07/2014

Rachel and Ted made our engagement session fun. They were very easy to work with and made me feel comfortable in front of the camera. They were also very receptive of our ideas.

Larabeth

Married on 05/09/2014

We love Nuvo Images and the Bevins! They not only provided us with awesome photos from our engagement session, they made it fun as well. Tammy and Kevin had so many great ideas for photo opps and made us feel completely comfortable. We love y'all!

Danielle

Married on 05/03/2014

Ted and Rachel were both AMAZING and fun to work with!

I am so glad we chose to use them for our engagement, bridal, and wedding pictures.
When my mom saw the engagement pictures and bridals, she was in tears. Happy Tears that is!

They both make you comfortable when doing the photo sessions. They are both fun to work with. I feel like we had been friends for years and we barely knew each other!

All the pictures we have received are amazing!

This will not be the last time we use Nuvo Images.

You will not be let down to pick them for your special day!

Tiffany

Married on 04/13/2014

We used Ted and Rachel for our wedding and we couldn't be more happy with our pictures and the service we received. They are both super easy to work with and they have the ability to make everyone feel comfortable. I even received multiple complements after the event about how much everyone liked them.

Our photos turned out beautifully. I absolutely LOVE them! I feel like our pictures could have been pulled out of a magazine. They even have the ability to make a location or ceremony beautiful no matter what. After the ceremony they took my husband and I to take some pictures of just us and we stopped in the parking lot for a few shots. When we stopped there they said we when receive the pictures we will have no idea we were in a parking lot when we took them. Needless to say, we were blown away and those turned out to be some of our favorite from the wedding. They are so talented and can make something beautiful no matter what.

Ted and Rachel go above and beyond when working with you. They even included a slide show at the end of the night of some of the pictures of that day and my guests and myself were blown away. It was an amazing feeling standing there with my new husband, surrounded my our family and friends while looking back at our perfect day (and getting a sneak peek of our pictures). It was also very cool for our guests to be able to see some of the behind the scenes of the day, like when were getting ready and stuff, that they wouldn't have been able to see otherwise.

I also enjoyed the preparation part with both of them. We were able to tell them before hand the most important pictures of the day that we wanted. They made everything go so smooth the day of the wedding and made sure we got the shots that were most important to us while making sure we didn't stress about anything.

I would hands down recommend Ted and Rachel to other couples. Your experience will be so smooth and easy and you will have beautiful pictures!

Whitney

Married on 04/12/2014

Nuvo images are the best! We couldn't have wished for a better photography team than Rachel and Ted Linczack. Every experience we had with them was awesome and unforgettable .

When I became engaged to my now husband the main thing on my mind was making sure we got the best pictures so that we could always remember our special day. I like to think that fate had a hand in helping me pick Nuvo Images. My sister and I first met them at The Charleston Bridal Show where I entered their contest. The contest was for a free engagement session and a free 11 x 16 photo from our session. When I left the show Rachel and Ted were one of the very few photographers that stuck with me. A week later I got the call that I won the drawing contest for the free engagement session. I couldn't believe it because I never win anything. When I spoke to Rachel on the phone to set up our session I knew that we would really get along. I was a bit nervous because my fiancé hates having his picture taken but once we met Rachel and Ted for our session he eased right into it. They are not only great photographers but wonderful people who can make you feel so at ease. I knew after our engagement session that they were meant to be our photographers and my fiancé totally agreed.

My Bridal session went just as great as our engagement session and our wedding photos turned out even more beautiful than I could have ever wished for. They truly are the best because I can just look at our photos and see the love that my husband and I both share for each other shining through each picture. I continuously receive wonderful comments from friends and family on how beautiful our pictures turned out and I couldn't be happier. They have truly gifted us with memories that we can cherish for a lifetime.

If you are looking for a wonderful experience and great photographers to capture memories that you can cherish forever of the most special day of your life, I recommend Nuvo Images. They are truly the best!

Taylor

Married on 04/05/2014

Nuvo images did my engagements, bridal shoot, & entire wedding & I was absolutely amazed at how perfect everything turned out!!!! They were so awesome to shoot with, & made me feel so comfortable. I have never had more amazing pics done than they did for me! They captured every moment for me to have the most beautiful memories for years to come!!! Thank you so much, y'all are awesome!!!!

-Taylor Scott

Kristina

Married on 03/31/2014

Rachel did our engagement shoot (and will be doing our wedding as well). I checked out there website when we first started the process and was so happy to see plus size brides in the sample pictures! That definitely made a wonderful first impression for a bride like me who doesn't see that often. I work nights so most of communication was by email (I would often email in the wee hours of the morning) and Nuvo got right back to me. So understanding of my weird hours! So easy to schedule and work with! The day of our shoot, Rachel was on time and so fun to work with. I am not a fan of pictures of me normally but I loved all the pictures and am so happy we found Nuvo! Can't wait to see what lovely shots they do for our wedding day.
Are you interested?
Send a message