16 Reviews
Recommended by 91% of couples
Quality of service

4.8 out of 5 rating

Average response time

4.4 out of 5 rating

Professionalism

4.7 out of 5 rating

Value

4.5 out of 5 rating

Flexibility

4.4 out of 5 rating
Awards
3 User photos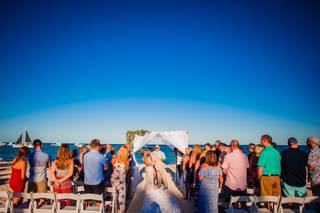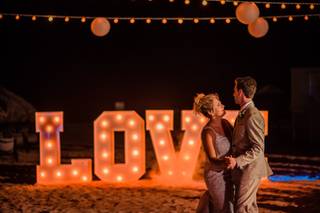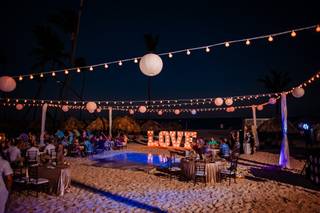 Victoria

Married on 05/04/2019

Confident in services

We will be traveling with many friends and family to the DR, and chose Now as our place to stay. They have been very responsive and helpful in the wedding planning process.

Tamika

Married on 04/27/2019

Lovely Experience!

It's was just how imagined it would be! Just Beautiful! Thank you Luisa for all your help!

Jalyn

Married on 01/29/2019

Perfect Wedding Destination!

My wedding at Now Larimar was an absolute dream come true! It totally exceeded my expectations and was the perfect day. I had my ceremony, cocktail hour and reception on the beach. Advice for brides that are hesitant about doing everything on the beach- JUST DO IT! I've come across some concern about onlookers at the beach- there were obviously people watching but they were very respectful and I hardly even noticed them (I was too busy looking at my groom!). My guests loved that everything was on the beach and I am SO happy with my decision! We had a total of 41 guests at the wedding and staying at the resort. I had the Divine Package.
The food was great and all my guests loved it- I thought it was the best food that I had all week at the resort! I had my hair and makeup done at the resort, which was also included in my package, but was a bit unimpressed with the results as was one of my bridesmaids. My ceremony was performed by my husband's step dad and we had the guitarist play the music for the ceremony. I brought faux flowers to decorate the arch with. For the reception, I had both a DJ and MC and I would highly recommend it! The DJ had an awesome playlist that kept my guests on the dancefloor the entire night! The MC really kept the program going quickly and efficiently. Lastly, I want to brag about the Now Larimar staff for a moment, especially the ones who worked my wedding day. My wedding planner was Luisa and she helped make my dream wedding vision come to life. The staff working the wedding made sure that all of my guests' drinks were full at all times and were also a lot of fun! The staff at the resort in general were amazing- definitely the most hard-working, polite and fun workers i've ever encountered at an all inclusive resort! The event staff was phenomenal as well (shout out to Baby Face, Mini Baby and Black Panda!).

Are you interested?

Send a message

Lauren

Married on 06/25/2016

Exceptional venue. Exceptional wedding staff. We had an absolutely beautiful wedding our guests had an incredible time and everything was top notch. We were incredibly impressed and extremely pleased with the outcome of our wedding. Every detail was absolute perfection. I highly recommend Now Larimar

Yeomandry was my wedding coordinator and she was amazing. My guests told me that right before I was walking down the aisle a party boat pulled up on the beach where our wedding was and she immediately went over and told them to turn off the music and get out of here, as to not disrupt our wedding. she made sure that everything was absolutely perfect! Our beach venue was gorgeous and we simply love the resort.

Amy

Married on 01/17/2015

I worked with Luisa Miranda at the Now Larimar in Punta Cana and she was so helpful to me. We had 75 guests fly to Punta Cana for our wedding and it could not have been better. My wedding was much more than I dreamed it would be and so much less stressful than I had anticipated and that had a lot to do with Luisa and the rest of the staff at the Now Larimar.

Alia

Married on 11/24/2014

The Now Larimar made our wedding day and stay unforgettable! We had the Divine Wedding package and Luisa Miranda was our on site wedding coordinator. Luisa was absolutely exceptional, accommodating, and ensured everything went perfectly! Bridal party and I had our hair done at the spa, it was the best choice as our hair was done really well. Everyone was very pleased. I also rented out the bridal suite where we enjoyed mimosa's and fruit before heading back to the suite until the ceremony. The flowers were the perfect color and flower combination. My dress/veil and groomsmen outfits were steamed perfectly. The ceremony was held at the beautiful Fountain. The weather was great, the violinist played beautifully (we had multiple guests comment on how well he played!!) and the cocktail hour food/location/service was wonderful. We had our reception pool side and it was SO much fun. The food was delicious and our cake which was vanilla with strawberry filling was delicious (guests commented on it being the best cake they have ever had!!). We also had a DJ and MC who made the night fun and filled the reception with laughter and dancing. We are really grateful for the amazing team at NOW for the most unforgettable day!

The Now Larimar resort staff treated us so well from the moment we arrived till the moment we left. We were upgraded to the Presidential Suite in the preferred club the night before our wedding day for the rest of our stay and WOW! The views were breathtaking and the suite was so exceptional. A resort staff by the name of Davis assisted us throughout our stay, he really went above and beyond to ensure our stay was more then we could have ever imagined. We really appreciated everything he did.

We honestly had the best time of our lives; the wedding day was everything and more then we ever thought it would be, the resort was beautiful, all staff were so kind going above and beyond daily, and the food and beach were fabulous!

Jamie

Married on 11/08/2014

We had a great experience at Now Larimar Punta Cana. We had our Rehersal Dinnat at the Carnival Buffet. We had our own reserved tables together and had a great time.

Our Wedding Coordinator, Francina, did a great job coordinating all of our wedding events and officiating our ceremony.

The ladies in my wedding party got our hair and make-up done by the Now Spa by Pevonia (onsite Spa). We rented the Bridal Suite. It was a very nice suite that we were able to be in until the wedding. Our flowers were beautiful white roses. I also ordered a white orchid for my hair - it was a great touch!

Our ceremony was held at 3pm at the Fountain and it was beautiful. We choose a guitarist to play during the ceremony. He did a great job and played the perfect songs (I did not provide him with any kind of list of songs to play).

Our Reception was on the beach. The appetizer (Fresh Salmon, asparagus & Shrimp Roll) and Soup (Chicken Consomme with Tortellini and Vegetables) were very good. We ordered a Champagne Sorbet which I thought was good - my sorbet connoisseur guests favored the other flavor options instead. Our Main Course was Lobster Tail & Beef Steak - this was amazing! The steak was perfectly grilled. We had the Mocha bavariose for dessert along with wedding cake.

The wedding cake was very pretty 3 tiers with an added ribbon. We choose a marble cake and it was also delicious.

I do want to mention the hotel did steam my wedding dress and the guys suits before the wedding and did a good job.

As you can tell...we highly recommend Now Larimar Punta Cana and the wedding team there. They did a great job! I'm so happy we chose their resort to get married at!

Very pleased with everything about this resort. Great value. Very accommodating, excellent service. Would definitely recommend to anyone for a vacation and/or your special day. I forsure go back.

Luisa has put our mind at ease with planning a destination wedding. She responds to all of our enquiries in a prompt manner and provides sound advice. We are extremely excited to have our wedding in two weeks at Now Larimar!

Lynette

Married on 01/18/2019

Dream Destination Wedding

This resort is beautiful and very well kept. It was perfect for our DW with guest ranging in age from 2-80. The wedding department executed my wedding vision flawlessly.

Anita

Married on 10/22/2015

We absolutely loved our wedding at Now Larimar. Yeomanry was our coordinator and really went above and beyond to assure an excellent experience. Responses are a bit slow, but that is understandable as they do so many weddings. Also the packages are an excellent value, but they add one can be pretty pricing as are outside vendors. We thought the food at our wedding was absolutely amazing the best we ate at the resort. I highly reccomend the egg roll appetizer.

We recently stayed at the Now Larimar Resort as newlyweds on our honeymoon. We stayed for 4 nights in a Preferred Club Pool View King room. We were on the ground floor (1148) in the Preferred Bavaro building (2nd furthest building from the beach) and had an okay partial view of the main pool, but we were within easy walking distance of the pools, beach, and all of the restaurants. The resort itself (25 minutes drive from PUJ and we used Amstar private transfers which I would highly recommend) is quite expansive, with the majority of rooms, restaurants, pools, bars, and activities located in the section on the beach side of the main lobby. There is another section of the hotel located on the other side that they use golf carts to shuttle guests back and forth to. This is where the garden view rooms are located, as well as the Italian restaurant (Capers), another pool, and the tennis/activity courts. We never ventured to this portion of the hotel and only saw it while we were driving in or out of the resort. Everyone we encountered was very polite and we had both highlights & low points during our trip which I will elaborate further on:
o Check In: Check in seemed relatively smooth. We had to wait for a while in the preferred lounge to be helped and then it felt as though we were rushed through the process and not given the opportunity to review anything. We had requested the lesser honeymoon package when booking, which was complimentary and we never saw any of it - no sign on the door, fruit & champagne in the room, etc. We were escorted to our room by our butler (who we never saw again), where our bags were waiting for us. We were given a voucher to go pick up our coupon vouchers (which when we booked through the hotel itself said we were to receive $400 since we booked a Preferred Club room), the lady at the desk gave us $200 and when we showed her the printout we had saying we should get $400 she said all they give is $200 vouchers. Because of this we never ask

Kendra

Married on 09/03/2016

I recently got married on the Preferred Club beach at NOW Larimar Punta Cana. The location was absolutely beautiful. The wedding and cocktail hour were all on the beach at sunset on Labor day weekend. The set up was nice and all of the cocktails and appetizers were delicious. The food at the reception was very delicious. Much better than the food anywhere else at the resort. My only complaint is that NOW Larimar charges you extra for every single thing. In order to save some money, I transported all of the my centerpieces for the wedding reception from the U.S. to D.R. because how much they charge for decorations. You can imagine how challenging that was. The Divine wedding package includes the bare minimum for decorations. I do not know any bride who would not want a beautifully decorated table for the reception. Additionally, I had to enlist the help of my family/friends to assist with decorating because the resort also charges you if they have to help decorate. The resort wedding coordinator Luisa was nice and great but I also had two additional people to serve as coordinators to ensure everything went smoothly. I had 74 guests and I did not have 100% confidence in the resort handling all of my wedding details. Lastly, we had a buffet style dinner because of the large number of guests we could not have a served dinner. I found it odd that my husband and I still had to prepare our own plates. I know it was buffet style but I would have thought the waiters would have least made the bride and groom's plate. Overall, everything was beautiful and went as planned without any major issues. My husband and I are very pleased with NOW Larimar and our coordinator Luisa. This resort is definitely a good place to have a destination wedding.

Madison

Married on 04/29/2017

I recently had my wedding at Now Larimar and overall it was a good experience. Communication was a bit difficult before we got to the resort but once we got onsite our planner, Anyeli, was great. She was very helpful and did a great job pulling together a beautiful event with great food. However, there were a few things I was disappointed with. As some other reviewers have mentioned, they charge for every single thing (and sometimes prices that are significantly more expensive than elsewhere in the Dominican Republic and even the US). Also, during our ceremony, despite me providing an outline of how I wanted the ceremony to progress, the officiant did her own thing and didn't follow our requests. Overall, it was a positive experience although there were some definite areas for improvement.

The flowers, reception, and overall decor were beautiful. The flowers were really the amazing part. If you want control over every detail, this will be hard for you. We went through a checklist of items when we arrived and things were put together the day of the wedding. You can bring items you want at the ceremony or reception. We wanted to swim in the pool at the reception and were told no even though we saw people swimming at night. Overall, a good experience.
Are you interested?
Send a message