Reviews
5.0 out of 5 rating
Quality of service

5 out of 5 rating

Average response time

4.9 out of 5 rating

Professionalism

4.9 out of 5 rating

Value

5 out of 5 rating

Flexibility

4.9 out of 5 rating
99%
Recommended by couples
35 User photos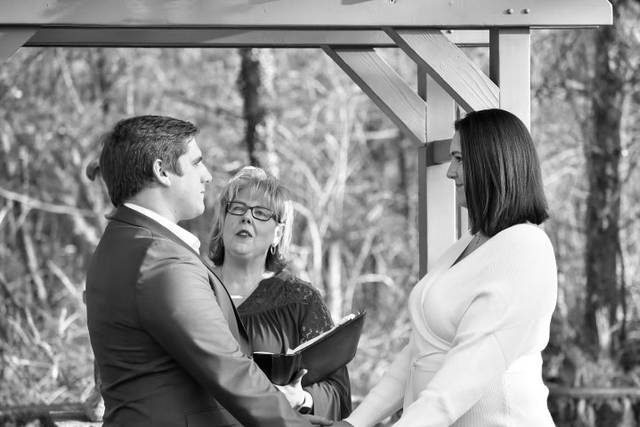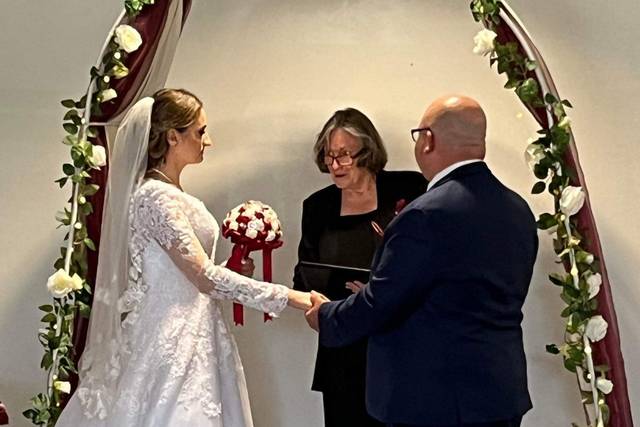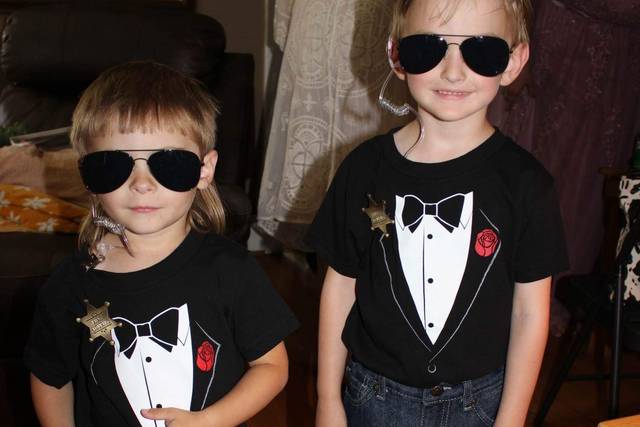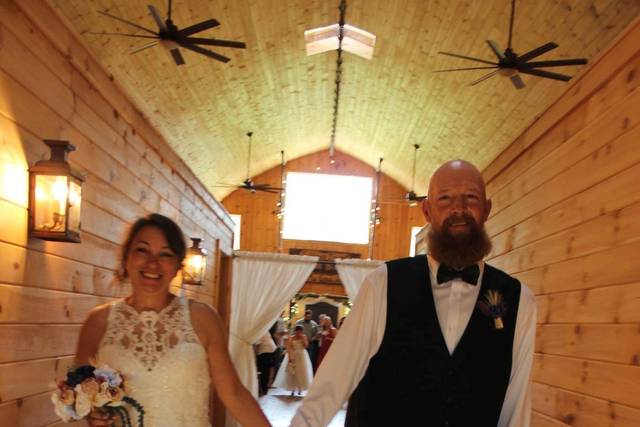 + 31

photos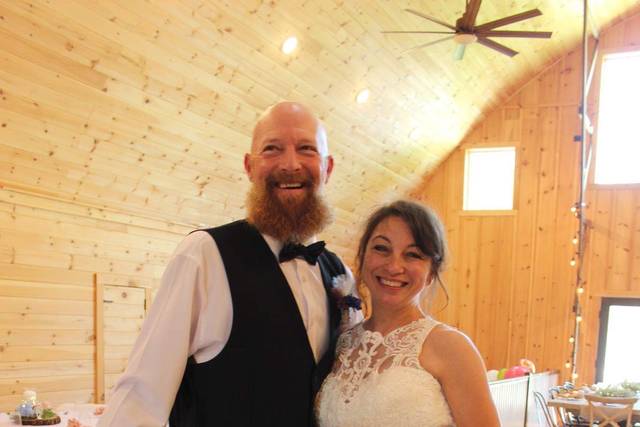 Featured

Katie

Married on 09/09/2022

Absolutely Amazing!!

We were so lucky to have Trish apart of our wedding day! Our guests raved about our ceremony because of her! They were touched by her message during the ceremony and how well it was delivered. Communication with Trish was never a problem and we always received a rapid response. She was professional, friendly, sincere and welcoming to friends, family and guests! We adore her and would recommend her in a heartbeat!

Mary G.

Getting married on 10/20/2024

Professional Fun

Trish was recommended to us by our coordinator, Twelve 19events. We scheduled a call and we're so pleased with Trish! We booked her almost immediately! She made the ceremony perfectly smooth! Family was informing me of how amazing she was! Trish listened to our request of a pinky promise ceremony! She made it happen beautifully! Highly recommend!

Jithmi M.

Married on 09/02/2023

Great experience!

Trish was amazing!! So helpful and walked us through everything beforehand so the day of went so smoothly. Highly recommend!

Are you interested?

Send a message

Amanda M.

Married on 08/19/2023

Trish is wonderful!

Trish was wonderful to work with! She made the ceremony welcoming and funny.

Trang N.

Married on 08/12/2023

smooth ceremony

Trish was the best and so much more you could want in an officiant. She provided various prompts to select before our wedding that fit what we wanted. She was also responsive and professional when discussing our ceremony beforehand. During our ceremony, Trish perfectly officiated our ceremony and made sure it was our moment. Use Trish for your wedding if you want a smooth, wonderfully spoken ceremony.

Tyneisha G.

Married on 07/06/2023

Trish was great!

Ms. Trish was an amazing officiant! We appreciated how well she helped to ease our worries. She even set a call with us a few days before so we could fully understand the flow of our ceremony. The day of I was quite nervous but having her there helped to ease my anxiety and nerves. My husband and I would definitely recommend her to all couples in the DMV! Thanks so much Trish!

Daniela

Married on 07/02/2023

A Wonderful Experience!

Trish was recommended by our day of coordinator and we are so happy that she was a part of our wedding day. 
Trish provided very comprehensive templates with lots of suggestions for you to build the exact program you want. We were able to plan and customize our ceremony including adding a special unity planting. 
On rehearsal day, Trish was great at explaining the ins and outs of our planned ceremony including what to expect, the verbal cues, and also some tips on perfecting our dip kiss :) We felt very prepared and reassured going into our wedding. 
On the wedding day, everything was so beautiful and we are grateful that Trish helped us feel so comfortable. 
Thank you Trish for a wonderful ceremony!

Margo R.

Married on 07/01/2023

Amazing Experience

Trish was an amazing officiant! They made everything so easy and enjoyable. Trish provided templates for different options for the ceremony, and I loved that we were able to select less traditional verbiage that spoke to us as a couple (although there were plenty of more traditional options). I would not hesitate to recommend Northern Virginia Marriage Officiant to anyone. Thanks for making our special day such a joy Trish!

Paula

Married on 06/30/2023

Amazing, best day ever.

Trish was wonderful. Very knowledgeable and easy to work with, her personality and laughter is contagious- our family & friends loved her and talked about our beautiful ceremony all evening. She made us feel special on our day. She has the ability to calm your nerves as if she has known you personally forever. Her process is easy simple and her ceremony style is very creative. She listens to what you want, while there is a template with scripts, you will never know that as she speaks so well and it flows perfectly. I would highly recommend Trish as our planner Katie sent us to her! Thank you Trish for a great experience on the happiest day of our lives.

Natalie H.

Married on 06/24/2023

Perfect and amazing!

Trish is absolutely amazing. She made everthing flow so nice, answered all and any questions i had. I would definitely recommend her.

Madisyn L.

Married on 06/23/2023

Amazing Experience

Such a great experience, Patricia was so understanding and listened to all that we wanted. It was a beautiful and intimate day.

Truck J.

Married on 06/03/2023

Amazing Officiant

Trish is a rare find and is an expert in her field. She created the perfect ceremony for our special day. Lois and I could not be more happy to have had Trish. She was prompt, professional, and make suggestions when we needed help. Rust Manor works with Trish for many years and suggested her as an officiant. She has experience and you won't go wrong with having her as your officiant, she even helped us at the courthouse with our marriage license.

Holly

Married on 05/27/2023

She made the "I Do" the easy part

Trisha was so easy to work with and made our day just that much easier. Hired her as a legal signer so my cousin who is a minister (but based in another state) could perform the ceremony without having to jump through any hoops to get recognized. She was on time, made it quick and simple. She came to the hotel, it was just soo easy!

Sean H.

Married on 05/27/2023

Trish and Sharon are amazing

Trish was so great to deal with. Unfortunately she had an emergency the day before our wedding and had her friend fill in. Her friend was so sweet and went above and beyond to help us with our wedding. We highly recommend Trish

Lisa B.

Married on 05/21/2023

Perfect for us

Trish was the perfect level of traditional and modern/customization for us. She did a great job helping us think of the details we didn't think about so we were fully ready for our day. Her presence was perfect in her delivery of our ceremony, and she made everything easy and comfortable. Very, very pleased!

Alice K.

Married on 05/20/2023

Very awesome would highly recommend

Trish was awesome and very professional and made our wedding day memorable and we appreciate her so much!!!! She made our day and friends and family laugh and also us

+ 3

photos

Laura G.

Married on 05/13/2023

Thank you for our Legal Signing

I'm glad we hired Trish Fox for our legal signing! We had a friend act as our officiant, so Trish came by that morning to take care of the formalities and paperwork. She was kind, on time, efficient, and helped us understand the process. Thank you, Trish!

Anna S.

Married on 05/06/2023

Just what we needed!

We booked Trish for a sign and go. She was so easy to work with and flexible with both the timing of the sign and go and the fact that we had to change venues just a month out from our wedding. This is such a great service to have and we would recommend Trish to anyone.

Margaret B.

Married on 05/06/2023

The perfect happy ceremony officiant

Trish was an utter joy to plan and work with. The only downside for my venue location was that it was away from the only church I know. Even so, it felt like I had known Trish for a very long time and that she can make a congregation wherever she goes. Many people told me afterwards that our ceremony was beautiful and it's all thanks to Trish (ok and the great weather we had, but it would have been perfect even in a thunderstorm!)

Lee J.

Married on 04/29/2023

Wonderful officiant!

Trish Fox is a terrific officiant! She has great presentation and has a great speaking voice as a wedding officiant. She will work with you in preparing your ceremony and has scripts/vows ready for use. She will also help you get your marriage license. Highly recommended

Shameka J.

Married on 04/23/2023

Memorable Ceremony

Patricia was amazing. She guided us on the journey that led up to our special day. She was very professional and knowledgeable. On our day she fit right in as our family and loved ones. She made us feel comfortable and brought so much happiness and joy to our ceremony. We enjoyed having her as the ceremony was beautiful. Thank you so much for adding to our day to ensure it was perfect and special.

Katie C.

Married on 04/15/2023

Hire Trish!!

We hired Trish to sign our wedding license. When we wanted a friend to marry us, I was a bit confused on the process, and after some googling learned about license signing. I reached out to Trish and she was so friendly, and explained everything we needed to do to get legally married and have a friend- who isn't an officiant- perform a ceremony for us.

Trish met us at our wedding welcome party and make the few minutes special in front of our parents who watched us get legally married.

Thank you, Trish, for answering my million questions and for marrying us!

Yiseul K.

Married on 04/01/2023

Extremely helpful and knowledgeable

Trish is amazing! We wanted a friend of ours to officiate our wedding but Virginia has strict rules for who can officiate. One workaround is to have a licensed officiant witness your willingness to wed and sign your forms, allowing your friend or family member to do the actual ceremony. This is the option we went with and Trish helped us through it all. In our haste to bring all of our stuff to our venue we forgot to bring our marriage license forms but Trish was kind enough to help us figure out a solution to this while allowing us to enjoy our wedding and honeymoon, headache free.

Christopher L.

Married on 02/14/2023

Great Experience

Patricia is great! The service was great and she was available on short notice. I highly recommend.

Elizabeth H.

Married on 01/29/2023

Accommodating and Personable

Patricia was amazing to work with. She was so friendly and informative all the way through the process. We couldn't have asked for a smoother experience!
Are you interested?
Send a message