57 Reviews
Recommended by 99% of couples
Quality of service

5 out of 5 rating

Average response time

5 out of 5 rating

Professionalism

5 out of 5 rating

Value

5 out of 5 rating

Flexibility

5 out of 5 rating
12 User photos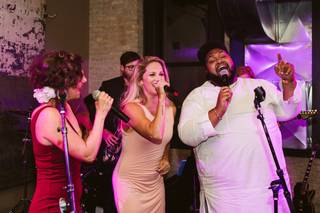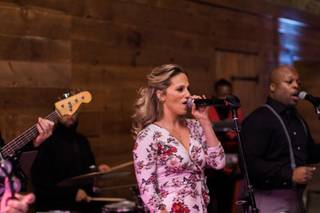 + 8

photos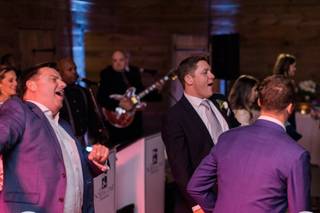 Mark P.

Married on 06/18/2022

Amazing wedding band

NCO did a spectacular job at our wedding - we couldn't imagine a more perfect wedding band. Their energy matched their talent and kept everyone dancing for the whole night. If you're looking for an amazing band that's fun, talented, and will be loved by everyone at your event - stop, you've found them.

Melissa M.

Married on 09/04/2021

This Band Ensures Memories

Our family and friends are quite the dancing crowd and had high expectations for the dance party at our wedding. North Coast Orchestra delivered 1000%. They had AMAZING vocalists that could sing arrangements from Aretha Franklin to Lizzo, ACDC to Justin Timberlake. There was something for everyone and the band truly kept the party rocking for hours on end. The quality of musicians is off the charts and their engagement with the crowd made our wedding memorable without a doubt. They were responsive and professional with planning, learned the first dance songs they didn't already know (and they know A LOT of songs!), and paid attention to every detail. Our wedding wouldn't have been the same without them and our friends and family still talk about them!

Helen L.

Married on 08/14/2021

Great party!

We loved having North Coast Orchestra at our August 2021 Wedding. The music was great and kept everyone on the dance floor all night long!

Are you interested?

Send a message

Max A.

Married on 06/26/2021

10/10 would hire again

Absolutely great band! The dance floor was packed all night long. Not only are they all great musicians, but entertainers too and they knew exactly what songs to play next - took stress off of us creating a playlist! Would recommend to anyone and everyone, a highlight of our wedding.

Megan S.

Married on 06/05/2021

Best Day Ever

North Coast Orchestra was amazing! All of our guests had the best time and the band really knew how to bring the energy to the dance floor. The talent of this group is unparalleled from the vocals to the instruments. Thank you for making our day so special.

Mike K.

Married on 04/09/2021

Are You Serious?!

Okay, you think wedding band, and you get images of the movie wedding singer, maybe remember a wedding you were at and think of the Hokey Pokey and the random DJ. I had no idea that when we hired North Coast, that people would still be talking about "the band at your wedding!" 7 months later!!!! To say they were the best band you have ever heard would be the understatement of the year! After listening to some online samples and getting a taste for what they sounded like, we started asking around. The word on the street? These guys were the real deal. Doing some more digging and guess what we found... yep.. you guessed it.. if you want a wedding done right? This is the answer. From the second the first key was hit on the piano and the moment their amazing voices hit the microphones it was a non stop real life performance for the ages. It began with the amazing piano work during our ceremony, and was followed up by incredible vocals during our father daughter dance, first dance, and then the real show started. Once they got going the party never stopped. The vocals made me question if this was really happening, that is how incredible it was. Not to mention the guitar work, the ability of the piano player, and did I mention the Horns!? Yes, they had the most incredible horn section you have ever heard. Taking classics and contemporary songs to another level with ease. They were incredibly professional to work with allowing us to choose some "Must Plays" and some "Please Don't Plays". Feeding off the energy of the crowd meant there was never a pause in the action and the slow songs came at the right moments as well. And as I mentioned, people are still saying - "MAN THAT BAND AT YOUR WEDDING!!" and all I can say back is ARE YOU SERIOUS?! I KNOW! When we remember that night it always comes up.. and man! That band! I wish I could write more but what it really comes down to is this. STOP LOOKING NOW AND CALL NORTH COAST ORCHESTRA!!! It will be the missing piece of your wedding puzzle that you will be glad you found. Worth every penny. My only hope is I get invited to a wedding and they are playing, so I can say it again as my jaw drops.. Are You Serious?! You guys are incredible! Here are some great pictures of the team in action!

+ 5

photos

North Coast Orchestra's reply:

Hi Michael- Can't thank you enough for having the band, for the kind words, and for taking the time to post these awesome reviews. Thanks you from all of us at North Coast Orchestra.

Anna P.

Married on 08/17/2019

Amazing wedding band!

North Coast Orchestra was everything we could've wanted and more in a wedding band! Matt (band manager) was so easy to work with. The band was fantastic and kept our dance floor filled all night, right up to the last song!

Erin

Married on 02/02/2019

NCO was the very first thing we booked when we were planning our wedding bc I wanted a KICK ASS BAND and let me tell you, NCO nailed it!!! Not only were they incredible to work with throughout the planning process, but they also took time to learn a few extra songs we wanted with no cost or hassle. They had the party going all night long and I am still getting compliments on how KICK ASS they were! I would get married all over again 1000 times and have NCO be the band - they KILLED IT!

Jane

Married on 09/29/2018

My daughter was recently married and had her reception at Villa Terrace. She and her husband wanted live music, but not the typical "YMCA"-playing sound, but rather more like standards and some Ed Sheeran-type songs. We also were limited because of the size of Villa Terrace, so went with a vocalist and three musicians to play. North Coast Quartet was phenomenal! Extremely professional, great communication, accommodating, friendly, and they were spot-on with the songs they played. They even learned a song played as a surprise to the newlyweds-Old Irish Blessing. Beautiful!!! We received so many compliments on the music, and Monday morning I had a guest ask for the group's information to pass along to a friend planning a wedding. That's about as big a compliment as can be received, and they deserve it! Honestly, I knew from the moment I booked them to play that everything would be perfect and it was wonderful not to have to give the music another thought. Don't hesitate to hire North Coast Group as a duo all the way to a full orchestra. They are the real deal!

Tami

Married on 07/20/2018

This was the best thing I could have done for our wedding. The band kept in contact with us, made sure they understood exactly what we wanted for music. Learned a song we wanted that wasn't typically on their play list and were 100% accommodating. Our guests continually came up to us and told us that we had the best wedding they ever attended. I know they were referring to the awesome band. Even the bar tenders were rocking!!!! Even the over 60 crowd danced the night away until the very end!
I would highly recommend the North Coast Orchestra.

Phil

Married on 06/23/2018

My wife and I hired the North Coast Orchestra to play our wedding reception. We worked with Matt of North Coast Management. The work we did with Matt before the event made the reception go off without a hitch. Matt helped us with logistics related to the evening schedule, and his advice was great.

We had about 120 people at our reception, and virtually every single guest came up to us and said we had an amazing band. North Coast Orchestra kept the energy level sky high and the dance floor crowded, with guests of all ages.

The band's catalog was huge, ranging from old standards to current radio hits. Their sets were also long. They only took 2 short breaks over the course of 4 hours post-dinner. They were outstanding.

If you're looking for a band for a wedding reception, or any big event, you will not be disappointed by North Coast Orchestra, or with working with Matt. Strongly recommend!

Emily

Married on 06/15/2018

After attending numerous weddings in Chicago and the East Coast last year, it became clear that we wanted a band at our wedding this June. After reading reviews of NCO and asking friends in the area, we decided to book NCO. We had a good feeling about them, but they far exceed our expectations! They were professional, flexible, TALENTED, and a FABULOUSLY FUN TIME! Our guests from out of town and locally were wildly impressed with their ability to keep people on the dance floor and their array of music played. Our wedding would not have been the same without them - than you NCO!

Jacqui

Married on 09/16/2017

We booked the North Coast Orchestra for our September wedding after hearing great reviews from our friends and in the end our expectations were exceeded! As soon as the band started up our dance floor was filled! It has been a month and I am still getting compliments about how great the band was and how much fun everyone had. Thank you to Matt, Bob, and the rest of the band!

Dana

Married on 09/09/2017

We were so thrilled with the quality of this band! They have it all...talent, great music selection, variety of voices, I could go on and on. The night was unforgettable ❤️

Katie

Married on 05/28/2017

North Coast Orchestra was a must have for us after we saw them at an event in 2016. They offer something for every single person in the room; from the grandparents that love just listening and viewing live music all the way to the bridal party that is dancing the night away. North Coast Orchestra delivers an incredible performance from start to finish and are great to work with through the planning phase (Thank you Matt!).

In addition, they were able to learn a very special song for our Mother/Son dance and the delivery was unforgettable and made the dance even more special than we had imagined possible.

If there were more than 5 stars to give, they deserve it! Book with North Coast and you will have a performance to remember for ever.

Dave

Married on 10/07/2016

Do not hesitate to book Matt and his crew! This band is sure to get your guests up on to the dance floor and moving and those who want to stay seated will surely be entertained. They are the real deal. They play all the old hits as well as pop music so everyone young and old can enjoy.

Ashley

Married on 09/04/2016

Everything about the North Coast Orchestra is great. Easy to communicate with, very accommodating, fantastic sound. Highly recommended -- our wedding wouldn't have been the same without the NCO!

Peter

Married on 05/21/2016

This is the ultimate and premier band in the Milwaukee area. I received a recommendation based on them playing at all of the Bartolotta events as their go to for bands. After speaking with Matt, who responds very quickly via email and extremely flexible with phone calls, we knew we had to book with them. Viewing their website, videos, and other reviews put us over the top.

The song list spans from the 50s to pop music that is playing on the radio today - it is essentially a book. They are musicians and professionals throughout the whole process. We had the Ultimate Package that included a piano player during cocktail hour, a trio for dinner, and the full 9 piece band for dancing and drinks. They made sure to follow up a few weeks before and again a week before. They were there early and did all of their sound checks and set up according to the space without disrupting anything.

Throughout the night, the dance floor was always packed as they really played off the crowd and were able to slow things down and amp things back up. It is great having 3 vocalists and all of the musical range a 9 piece band offers. We are EXTREMELY happy with North Coast Orchestra and would highly recommend them to anyone.

Nicole

Married on 05/14/2016

North Coast Orchestra was great! They played a nice variety of songs and there were people in the dance floor all night! Would high reccommend

Katie

Married on 10/04/2014

One day I was reading a magazine which listed the best entertainment companies in the area to use for a DJ and/or band for a wedding. I saw that North Coast Orchestra was the winner for the best form of entertainment for a few years running! I called them up over a year in advance and they said that for the 2014 wedding season, they only had 2 dates available; and one was ours!! I quickly played a few of their songs from their website and I KNEW that I HAD to have them at my wedding! I decided to have them play from 8-12PM, but then I realized that I didn't want to have silence from 7-8PM, so I hired a DJ from ACA Entertainment as well who played that first hour and also during band breaks. I was SO glad that I did this! I invited all of my little cousins to my wedding so they liked songs such as Miley Cyrus' Party In The USA and the Chicken Dance; it allowed my guests to be able to request songs that THEY liked! This made it more fun and 'interactive' for them to be able to request their favorite songs to dance to. We even had a request from a neighbor who wanted to hear 'their song' that they danced to at their wedding!! I HIGHLY suggest anyone who is considering having NCO and/or a DJ at their wedding from ACA Entertainment, don't think.....just go for it!! You will definitely not regret it!!

This band is phenomenal! Started off slow with some songs geared towards the older crowd, but once we spoke up they changed their tune and worked the crowed. Lighting also a huge perk. This band is a great value!

Bente

Married on 06/07/2014

We just recently had Velocity play at our wedding in central Wisconsin. They did an incredible job! They were fun and professional and picked great songs that kept everyone on the dance floor ALL night long. We had guests coming up to us all night and the days after about how impressed they were with the music. It made the night. We absolutely recommend them for your next big event!

We had no question we were going to have a band at our wedding. We heard/read nothing but positive things about this band prior to booking them, and I now know the reason why. Preparation was very easy and had a very lengthy list of songs to choose from. We had a surprise appearance with Bucky Badger and they were flexible in playing U. of Wisconsin-Madison songs during that time. They even learned our first dance song which was very neat to hear- All of Me by John Legend. I have heard from many after the wedding that the band was one of the best ones they've heard. The passion and energy was felt by each person. We highly recommend!

Shelley

Married on 05/24/2014

Truly 5-star service! At first, the fee sounded high, but as we worked with them and having them we realized that it was worth every penny-- would never consider anything less. Everything was perfect and we had nothing to worry about-- it was all handled flawlessly-- even a couple of little extras we asked for. They have a great variety on their song list-- very handy! Dance floor was packed and those who dd not care to dance were also entertained and enjoyed just listening and watching. We added the solo piano for cocktail hour and a jazz trio for dinner-- simply elegant and perfect. The lighting provided was great and tailored to our wedding colors and the venue. All went as planned and Matt was great with help in the plans.

Nick

Married on 05/17/2014

The North Coast Orchestra did an amazing job at our wedding! All of our family and friends raved about the music they played, their professionlism, and their ability to keep the dance floor packed all night. From the very beginning, we faced a bit of a challenge because we were not in the local area. We were planning our wedding from Colorado, and Matt and his team made it very clear that they would do whatever was necessary to help us. After crashing a few weddings, we decided on NCO, and boy did we make the right choice. Matt was very receptive to the type of music we wanted to hear ('80's baby!) and adjusted to what the crowd wanted to hear. He did a great job acting as the emcee as well. If you are looking for an exciting, professional, and great value band, these guys are your number one choice! NCO rocked the house and we can't thank them enough!
Are you interested?
Send a message