35 Reviews
Recommended by 99% of couples
Quality of service

5 out of 5 rating

Average response time

4.9 out of 5 rating

Professionalism

5 out of 5 rating

Value

5 out of 5 rating

Flexibility

5 out of 5 rating
13 User photos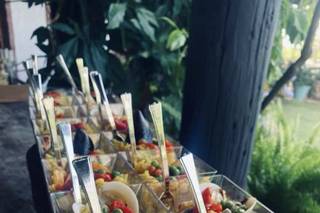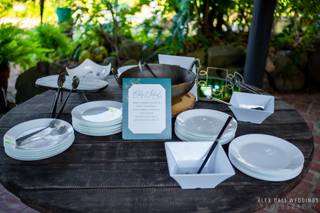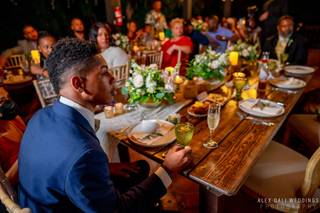 + 9

photos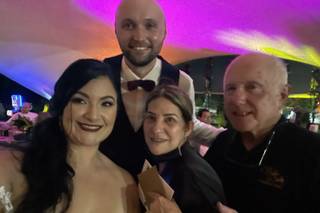 Karla C.

Married on 03/18/2023

Incredible Food and Service by Nilsa's Catering

Wow! Nilsa's catering executed an absolutely amazing service. From the beginning we had mentioned that we would need a Gluten free service due to family members with allergies and she did just that. Not only did we request the GF but we also asked for a very unique menu to represent the cultures we are coming from, it was obvious that Nilsa studied the plates she served and surprised us with some we hadn't even planned to eat. The attentiveness of the waitstaff was also great, we had many guests give us compliments on how well they were attended to. We also had a Vegan friend at our wedding and he was blown away by how good his meal was. Nilsa's Catering deserves 10 stars, we definitely recommend her to anyone looking for catering.

Amy P.

Married on 09/23/2022

Nilsa is a class act

Nilsa was by far the most responsive caterer that works with hacienda siesta Alegre. She held a very intimate tasting with us and we had so much fun talking with her and trying her delicious food. Everything we had from start to finish was amazing at our wedding. Her and her team are true professionals and so kind. Take my advice ADD THE LECHÓN TO YOUR HAPPY HOUR. Our guests are still talking about it. The skin was so crispy you could not believe it. Absolutely amazing! Thank you nilsa!

Maria S.

Married on 05/19/2022

Outstanding service

We hired Nilsa for my daughter's wedding on May 19, 2022. We could not be happier with the service she provided. The guests could not stop talking about how delicious and abundant the food was.
We had continuously flowing appetizers, including a Paella. Also, a buffet with a variety of breads, salads, meats and side dishes. We ask for a churro bar and she added for us. At the end of the night, a complimentary Asopao,(chicken soup).
Nilsa was present at the activity, making sure everything was perfect.
I highly recommend Nilsa Colon Creative Chef. Maria, NJ

Are you interested?

Send a message

Mariela D.

Married on 05/19/2022

The absolute best!

I love Nilsa. My family and I are foodies, so we knew our food vendor had to be good. From the beginning she was always responsive and professional. I'm still dreaming about the food during the cocktail hour, all the Puerto Rican fried foods and the best paella ever. The sorullitos with guava sauce!!! Best I've had in my life. She was flexible with us as we were choosing between sit down and buffet, and are very happy we went with the buffet because it was beautifully presented and everything was delicious. We had a churro bar which the guests loved, and ended the night with asopao which blew everyone away. The best part of it was, Nilsa felt like a family member. She got along with all our guests, and made herself part of the party. I would hire her again in a heartbeat.

Amber B.

Married on 04/28/2022

Food Was Amazing!

Nilsa's menu options were so great, that we had to fly to the PR for a tasting to make a final decision. The food was good, even the day after the wedding. I come from a long line of chefs and caters and my family and I loved Nilsa's food and presentation. Thank you, Nilsa!

Ciera J.

Married on 03/22/2022

Amazing Food & Service 🤩

Nilsa and her staff were nothing short of perfect customer service fueled by the love for their work. 😍 The food during cocktail hour and dinner continues to be the talk amongst our guests as well. So flavorful, delicious, and plentiful! To have a memorable wedding reception, you have to have AMAZING food. Well thanks to Nilsa, our wedding is the perfect memory for our families!

Natalia

Married on 03/05/2022

La mejor Chef

La comida es DELICIOSA, los precios por la calidad de servicio y la calidad de los platos son muy buenos. Es una persona responsable, amable y muy servicial. No busques a otra persona, la comida para tu boda, si no te la hace Nilsa mejor ni alimentes a tus invitados.

Genesia R.

Married on 01/09/2022

Best food!!

Chef Nilsa's food was AMAZING. She is super sweet and very accommodating. I loved everything on my menu especially the lechón. It was everything I could have ever wanted!

Melany

Married on 12/04/2021

Great service!

Nilsa goes above and beyond to make sure that your special day is not forgotten. The tasting at her home was amazing with a great view and a great conversation. At the wedding, everything ran smoothly. People still talks about how good our food was! Steak skewers are the best. We ended the night with an asopao, which was so much needed and appreciated by all our guests after a full night of drinking at Bacardi (our wedding venue)!

Jessi D.

Married on 06/12/2021

Delicious catering!!

I can't rave enough about Nilsa's food!! Every single food item she created was absolutely delectable. We chose to have a cocktail hour with appetizers prior to our main meal and our guests were completely blown away by every option. The dinner itself was divine! Nilsa was extremely professional, responsive, and accommodating. We had a couple of food allergies on our guest list and both Nilsa and the wait staff were very adamant about ensuring they were taken care of. I would HIGHLY recommend Nilsa for any event!!

Ana

Married on 09/19/2020

Amazing food!

Excellent food. My husband and I were greeting all of our guests and our food got cold, Nilsa without hesitation made us fresh, hot plates. Would highly recommend!

Raquel C.

Married on 02/27/2020

Best chef!

I got married last week and Chef Nilsa did the catering for our wedding.
The food was EXCELLENT and her team gave us and our guests great service!! We had a sit down dinner and everyone was served quickly and everything ran smoothly.

Nilsa is a wonderful human being. My father can be a bit picky and demanding when it comes to making sure that contracts are fair, and that everything is done PERFECT. I was impressed how well Nilsa was able to work with my dad. She is so easy going. Her focus is just to deliver the most delicious food she can do for your guests and to give excellent service to her customers.

I really felt she was a breath of fresh air to have in our team of vendors and would recommend her 1000%!!!! I was lucky to find her, because my wedding planner recommended her. She offers very fair prices (we did our research with other similar high quality chefs) and her food is TOP.

Allison B.

Married on 02/26/2020

Guests were RAVING!

We planned our wedding in Puerto Rico and it was important to us to have traditional flavors and delicious food. Nilsa and her team went above and beyond, with salads, rice, meats, several appetizers, all tablewear, etc. Guests were literally raving all night about the food. Ahead of our wedding, she also prepared a spectacular tasting menu for us…after a few bites, we were SOLD. I would recommend Nilsa to anyone!

Carol

Married on 12/29/2019

¡Sabroso y vegano!

Nilsa superó nuestras expectativas. Queríamos un catering completamente vegano para nuestra boda y que además fuera sabroso y apetitoso hasta para los carnívoros. ¡Nilsa lo logró! La comida estaba más allá de sabrosa. Nuestros invitados nos han dado tantos y tantos elogios de la comida. El menú espectacular. Desde los aperitivos para el cóctel hasta la cena. ¡Todo perfecto y la presentación bien bonita! ¡Gracias Nilsa!

Margarita C.

Married on 11/09/2019

Total professionalism

I would hire her again, amazing

+ 3

photos

Florence

Married on 09/14/2019

Fairy tale wedding

Nilsa, her husband and their staff catered my daughter's destination wedding last Saturday, a seated dinner for 117 guests at Hacienda Siesta Alegre, Río Grande. The food was absolutely delicious, portions were generous and servers did a great job. In addition, Nilsa and Toti are delightful! I highly recommend Nilsa's catering...for a fairy tale wedding or absolutely any catering need. Thank you!

Lhuan

Married on 07/13/2019

Oustanding service and delicious food

We did a catering for 100 guests in a family garden, without all the comfort caterers are used to and Nilsa and her team were absolutely perfect.

The food was excellent, and our French guests were delighted and happy to taste the puertorican menu Nilsa proposed. The service was flawless from the beginning to the end. Servers were accessible, professional and accommodating, they took care of all our guests demands with a big smile.

The presentation of the buffet was really nice and adapted to our wedding's theme (Puerto Rican Christmas dinner in Summer :) ). The appetizers were also well presented and exquisite. Our guests were delighted of our wedding dinner!

After this successful experience, we will be contracting Chef Nilsa for all our future family events!!


Stephanie

Married on 06/07/2019

Excellent service, delicious food!

I am so grateful we found Nilsa and she was available for the day of our wedding. She was incredibly responsive when we were emailing her to get a quote. We planned our wedding in PR from the states, so we did everything by email. Nilsa was also very accommodating to me since I am vegetarian, so she helped us craft the perfect menu that would please everyone. All I have to say is WOW. The food was delicious--both the hors d'oeuvres during cocktail hour, and our buffet style dinner. Our guests definitely went back for seconds and thirds and gushed over how delicious everything was. Her staff were impeccable. My husband and I were never without a full plate of food or drink. We felt like royalty. Nilsa and her husband came to greet us after dinner, and they are the sweetest couple! Thank you so much Nilsa, and team. You were a major part of making our special day absolutely unforgettable.

Jessica

Married on 05/25/2019

Wedding caterer

Nilsa was amazing! My family is originally from Puerto Rican and her food was just like the good ol days! So flavorful and incredible! I wish I could have brought her home with me. She and her team did an outstanding job! I would highly recommend her!

Loreal

Married on 03/21/2019

Our guests STILL talk about the food...

We were absolutely in love with Nilsa's company from the beginning. From receiving a quote, to food list, to payment, to the tasting.... it was all so enjoyable. Her presentation at the wedding was INCREDIBLE, and you can tell she really prides herself on perfection and taste. I mean, the appetizers alone were soooo mouthwateringly good. GO WITH HER RECOMMENDATIONS! Her staff were on time, respectful, and we even had 1 waiter dedicated to US (bride and groom) the entire evening. For example, when we started cocktail hour, we went off to take our couple's photos and our waiter was there with a huge plate of appetizers and drinks of our choice to enjoy in between shoots. Also, he offered to serve us our food and bring it to our table. He kept waiting on us and asking if we needed anything which was AMAZING. If I had to think of anything we would have liked to change, it would be the dessert sizes. Unfortunately we asked for a dessert bar of 3 kinds, and the sizes were literally tiny lol. You could eat it in 1 bite, which I think for a price of $300+ we should have better portions. Otherwise the dessert was delicious. And secondly, we were very sad we did not have leftovers packed in boxes for us. We're not sure why (perhaps there weren't any?) but its true what they say, you don't get to fully enjoy your wedding food. We ate a plate but in between the nerves and the toasts and greetings, we didn't get to TRULY savor and enjoy the dinner. I wish we could have had a to-go box prepared for us for the following day to eat. Of course these are small details, but we were VERY happy with our experience with Nilsa!! Our guests will reminisce about our wedding and bring up the food EVERY SINGLE TIME lol :) it was the best they ever had! I agree!

Jazmin

Married on 02/15/2019

Outstanding food & excellent service 👍🏼👍🏼

Delicious buffet and excellent customer service from first contact. Professional staff/servers. In planning our wedding the catering was priority since many of our guest are food critics 😆 or so it seems, and surely they came through with high praises for the Chef and staff. Three weeks later and we're still getting high compliments on the delicious hors d'oeuvres and the variety of buffet entries to please all guest. The Paella eaters couldn't stay away. I don't eat seafood but most of my guest do, so we added the Spanish all seafood paella. A must. Got outstanding compliments on the paella. The staff was very professional including Marie. Quick easy communication. My hubby is from the island, so we will be contracting Chef Nilsa for all our future events. THANK YOU Chef Nilsa! You made our event one to be talked about and we are loving it 😉

Marie A.

Married on 12/21/2018

Just amazing!!!!!

This is the best food, service and presentation ever!!! I still get friends comments telling me how it was the best wedding food they have ever had. Even my most picky guests were very impressed and couldn't stop eating. From the appetizers to the buffet and the chefs soup at the end of the night everything was just incredible. Nilsa went above and beyond to make all our dreams come true and she really exceeded our expectations.

Chayce

Married on 06/24/2018

Nilsa and her staff were truly amazing, the food was out of this world and she worked with me to make everything perfect . I highly recommend her to anyone coming to Puerto Rico !!!! Thanks again Nilsa .

Rebecca

Married on 05/26/2018

Coming from New Orleans, having amazing food at our wedding reception was one of our highest priorities from the beginning. We totally nailed it. From the moment Nilsa and her partner, Toti, invited us into their beautiful San Juan apartment for a tasting overlooking the ocean, we knew she would be our caterer. We fell so much in love with Nilsa and her food that when we had to reschedule our wedding due to the hurricane, she was a non-negotiable as the vendor we would schedule around. Her warmth and love for the food she creates permeate every delicious bite that she served to us and our guests. Our wedding posed the added challenge of having a number of vegans in attendance - Nilsa was unphased, creating outstanding food in every course for all our guests, from the vegans to the biggest carnivores in the bunch. She and her staff took care of us all night, ensuring we had a special plate and were able to taste every mouth-watering morsel. Guests raved about the food, from the pass-around appetizers and the buffet-style dinner to the desserts and traditional white bean soup served as an extra treat at the end of the night. We could not recommend a vendor more highly, and are already looking for excuses to cross paths with Nilsa and Toti again in the future. From two hard-core food lovers to others wanting to ensure you and your guests will be obsessed with the food you serve at your wedding: trust us, you want Nilsa.

Jenni

Married on 04/07/2018

What an amazing chef! Nilsa was an absolute dream to work with. Not only was the food incredible, she was accommodating to my special requests and went and above and beyond to make sure my event was beautiful and everything was presented perfectly!! The food was incredible – my guests are still raving about how delicious all the appetizers were. We also had a beautifully plated dinner and an awesome dessert station. Nilsa, her husband and Yolanda were all so kind and helpful – what wonderful people!! Do not hesitate to work with any of them, you will not regret it! What a great event and delicious food!! Thank you Nilsa for everything!!
Are you interested?
Send a message