217 Reviews
Recommended by 100% of couples
Quality of service

5 out of 5 rating

Average response time

5 out of 5 rating

Professionalism

5 out of 5 rating

Value

5 out of 5 rating

Flexibility

5 out of 5 rating
30 User photos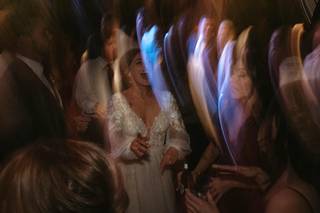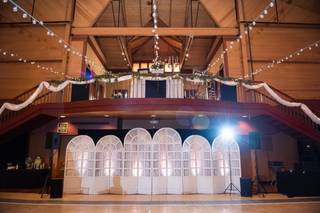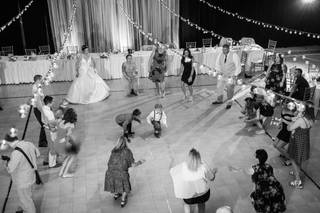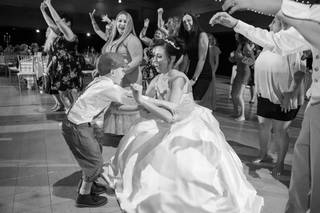 + 26

photos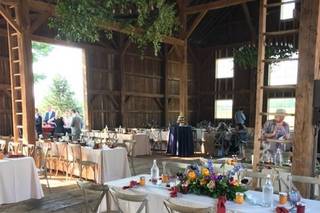 Bryan W.

Married on 02/11/2023

Night Music DJ professionals

Steve is the absolute best, he definitely knows how to make a smooth wedding run and ensures it's all about us and how he can help it be that way. Steve was extremely open and flexible with things we wanted to do, we highly recommend using Night Music DJ to take loads of pressure off your big day with the confidence knowing you and your guests will have a great time!

Eric M.

Married on 12/31/2022

Great Wedding Experience

Jodi made our reception a great experience. She helped lead us through the pre-wedding process to choose songs and genres we preferred, as well as led the reception activities (wedding party entrance, dinner, toast, dancing, etc.). I highly recommend Jodi and Night Music DJ again.

Hope H.

Married on 10/22/2022

We are so glad Steve and his team were the DJ for our wedding!!

Steve was AMAZING! Him and his team were very friendly and determined to make our wedding day perfect. They played great songs and set the pace for our day. Our reception was perfect because of them. We got so many compliments about our DJ from our guest the entire night. They dismissed tables for food and announced everything that was going to be happening. We rented the photo booth as well and it was a great addition to our wedding. Highly recommend Steve and his team!

Night Music DJ Professionals's reply:

I knew from the first time we talked that you were going to have a spectacular celebration. What a beautiful day you and Noah had for your incredible wedding. I LOVED how your guests turned the WHOLE VENUE into a dance floor! I wish you all the best in your future together.

Are you interested?

Send a message

Rachel V.

Married on 10/14/2022

A true professional!

Steve did an incredible job DJing our ceremony, cocktail hour and reception at Franklin Park Conservatory! We can't think him enough for his attention to detail, listening to our requests and musical tastes, and creating a wonderful event for my husband and I and our guests! The dance floor was full from the time it opened up until the very end of the night. Steve is truly a knowledgeable and skilled wedding professional and we would highly recommend him to anyone!

Night Music DJ Professionals's reply:

Thank you so much Rachel! You and Dan were such gracious hosts, and your guests really loved to dance. What a super fun coincidence that the two of you honeymooned at the SAME PLACE my wife and I did :) Wishing you all the best!

Carolyn F.

Married on 09/24/2022

Jodi went beyond our expectations...110%

I can not say enough nice things about Jodi. My daughter I both feel that Jodi was the main reason our wedding went flawless and had such an incredible personal touch. We had a guest ask us if she was a relative of ours...such a great compliment to her professionalism and extra personal touch...the dance floor was packed the entire night...thank you Jodi.

Night Music DJ Professionals's reply:

Thank you so much. I LOVED being part of the beautiful and fun reception for Morgan and Kyle. The Wells Barn at Franklin Park Conservatory was a perfect location for such a FUN dance party. What a great night!

Katherine C.

Married on 09/23/2022

In short- if you've found DJ Jodi, look no further.

I knew our wedding would be somewhat untraditional- we're a queer couple, I use they/them pronouns, and we had a playful vision for the day. Having the right DJ was important to me, and when I met Jodi, I knew we had a winner. Not only did she embrace us as a couple, but Jodi didn't miss a beat when I requested a surprise second entrance down the aisle complete with ribbon twirling. The musical transitions between our ceremony, cocktail hour, dinner, and dancing were flawless and the dancefloor stayed crowded all night. Our guests had raving reviews! Some of our friends were surprised when they first saw Jodi- they were even more surprised when she played WAP by Cardi B. She's a seasoned DJ in a male-dominated industry and she knows her stuff. She prioritizes the couple and when we said no line dances, we got no line dances. If you're like me then you know music sets the vibe for the whole evening, and I can't say enough good things about Jodi's ability to create the ideal wedding environment.


Sarah T.

Married on 08/14/2022

Very engaged and knowledgeable

He was very knowledgeable about the music and delivered above and beyond what we were expecting. He provided all the equipment and gave great advice when we had questions. Throughout the event I kept going "OOOO I love this song!"

Night Music DJ Professionals's reply:

You and Ros were super cool, and had a lot of fun and unique ideas for your wedding day. I especially loved the prize giveaway for guests to NOT bring their phones into the ceremony at Wedgewood. Brilliant!

Madison F.

Married on 08/13/2022

Steve is THE BEST!!!

Steve is the absolute best!! We could not have asked for a better DJ to make our dream wedding truly magical! He is highly organized, and ensured we had all the details we needed so it was a smooth process for us! We had SO many compliments about how fun our wedding was from guests of all ages and I think that speaks volumes of Steve and his talent!!!

Night Music DJ Professionals's reply:

The Exchange at Bridge Park BLEW UP with all of your dancing friends and family! There was a lot of LOVE in that venue, and I'm so happy that you and Tommy made me a part of it.

Patsy G.

Married on 07/30/2022

Incredible Emcee for an incredible evening!

Steve absolutely knocked it out of the park! I worked with him years ago and saved his info for when our wedding came along. He has an extremely professional nature and is fun, and has great taste in music. I lost count of how many compliments we received all night. He got the crowd engaged in wedding activities and guests danced all night long!
He and his wife even scoped out the venue ahead of time, worked very well with the wedding planners and guest speakers. He truly made our wedding perfect and I can't recommend his services enough. Worth every penny!

Night Music DJ Professionals's reply:

Thank you so much Patsy! What a beautiful night for dancing under the stars. I just LOVED working with you and Tony to make your wedding day perfect. Thank you for choosing me as your DJ!

Stephanie M.

Married on 06/12/2022

Highly Recommend! Jodi is Awesome.

I'm so happy we chose Night Music for our wedding reception! Jodi was our music/event coordinator and she was a pleasure to work with. Some DJ's can be a bit opinionated or overbearing, but Jodi understood our vibe and what we were looking for. She's professional, relaxed, and made the reception flow seamlessly. A month before the wedding, we filled out music and reception activity forms. We then had a follow up conversation where Jodi was super helpful with suggestions and developing an itinerary for the night. We had very specific music we wanted so we submitted a playlist that she mixed seamlessly from cocktail hour to dinner and dancing. She respects music choices and overall has a chill, relaxed vibe (and an excellent voice!) We had our reception at a restaurant and she worked with the manager as well as our photographer to make sure the night ran smoothly. She also checked in with us throughout the night and let guests know what to expect next. Everything was amazing! I highly recommend Jodi and Night Music!

Night Music DJ Professionals's reply:

Thanks so much for the kind words! Your wedding reception was truly a highlight of my summer. I loved being there with you and Richie as you celebrated with your friends and family, and I'm so thankful you trusted me with your night ... and all of your EXCELLENT songs! Thank you both.

Matt

Married on 06/11/2022

Wonderful choice, would recommend!

Steve was very professional, kind, courteous and fun in the months leading up to our celebration and on the day of. He has the right combination of passion and skills to be an emcee and DJ!

Night Music DJ Professionals's reply:

Thank you so much Matt! You and Tyler were a lot of fun. Your music really covered it all from Pink Martini to that awesome Taylor Swift custom mix that you had for your 1st dance. Loved it!

Ed Latorre

Married on 06/04/2022

Excellent Party

Our wedding reception was wonderful, everyone has told us how great it was. Jody was a huge part of the evening! The music was great, exactly what we expected, and the show was fabulous!

Night Music DJ Professionals's reply:

Thank you Ed! I had such a blast planning with you and Alyssa. It's always a pleasure to work with music lovers like you two, and I was so happy to be there for your beautiful and fun reception. Thank you!

Seth

Married on 04/30/2022

Excellent Experience

Night Music DJ provides a great experience. He really hit on exactly what we wanted for the different phases of the wedding. He has a detailed process to get a feel for the types of music you want and then follows up with a phone call to make sure that everyone is on the same page. Your wedding is in excellent hands if you choose to go with him.

Night Music DJ Professionals's reply:

Wow! You really pulled off a fabulous celebration. Having a dance party and reception in a tent behind Tartan Fields was FANTASTIC! You and Jenna were a blast, and all of the guests were super fun dancers. Congrats!!

Haley W.

Married on 12/11/2021

Knowledgable!

DJ Steve really helped us along in our wedding. Steve provided help where it was needed and advice when asked. We've received compliments on our choice of DJ all night based on how personable and well liked he is. If you want someone professional for low cost, DJ Steve is your guy!

Night Music DJ Professionals's reply:

Thank you Haley! Your music choices were spot on, and the dance floor was lit up with cool tunes. I love celebrations at Camp Mary Orton, and you and AJ threw an awesome party!

Sara D.

Married on 10/16/2021

Best DJ Ever!!

Steve did an amazing job pulling off the best wedding for my wife and I! We can't say enough good things about him! From the very first conversation we had with him he made us feel so comfortable and had the best suggestions for a perfect, seamless day! His music guide was super helpful. His years of experience really showed through with every aspect of the day- from the prelude, to grand entrances, to communicating with our guests on what to expect next. We received compliments all night long with how great of a DJ he is and still do now months later. We highly recommend hiring Steve as your DJ!

Night Music DJ Professionals's reply:

So much fun! So much dancing! I love my job because I get to work for such great couples like you and Danny. Thank you so very much for your kind words, and I wish the two of you all the best!

Dr. R.

Married on 10/08/2021

Amazing Class Act

DJ Steve was amazing. He was so thorough explaining everything leading up to the wedding, so that when it came wedding day, we had no worries that everything was going to be perfect. Seamless transitions throughout the night and he knew how to get everyone on the dance floor. Highly recommend.

Night Music DJ Professionals's reply:

I was so happy to be part of your big day! You and Courtney were such a pleasure to work for. Your "Magic Mike" was so much fun. I will never listen to "Pony" the same way again. Congrats!

Thea J.

Married on 10/01/2021

The best in the business!

Steve was the BEST to work with. He listened to what we asked for and made the night so incredible. He even had my husband (who doesn't usually dance) out of the dance floor! I couldn't be happier and I highly recommend him if your looking for the best in the business!

Night Music DJ Professionals's reply:

Thanks so much Thea! I always enjoyed working with you at events, and I was so honored that you when it came time for your own wedding that you chose me as your DJ. Best wishes to you and Andrew!

David H.

Married on 09/18/2021

Complete Satisfaction with Night Music DJ

Night Music was the best choice we could have made. Jodi met with us and outlined our intent, then executed, the plan perfectly. From every detail coordinating with the Caterer's, guests and venue. Night Music was very flexible and monitored the timing of the event and kept it on schedule. Very professional and personable, We will have them back for our Anniversary party!

Night Music DJ Professionals's reply:

Thank you David! I loved getting to know you and Brooke, and working together on the perfect plan and perfect music for your wedding and reception. I was honored to be a part of your fantastic celebration complete with dancing, donuts, sparklers ... and lots of love. Thank you

Molly C.

Married on 08/21/2021

Jodi is amazing!

Jodi did such a wonderful job at making sure to play all of our favorite songs and the timing of each song throughout the night was so perfect. Her emcee skills are excellent and her sense of humor and the way she transitioned from speeches to first dances, and toasts was truly incredible. All of my guests said that they wished they had known about her when they got married. We also had several venues close/cancel on us during the planning process and with all of the stress and uncertainty, Jodi made sure to accommodate our needs and adapt to any changes in spaces and types of venues. Jodi went above and beyond to make sure our venue we ended up with would work for us and when we asked if she could provide music downstairs for dinner, as well as upstairs on the rooftop (National Vets Memorial Museum is awesome!), she didn't hesitate to say yes and made it all happen with only a month or two notice!

Night Music DJ Professionals's reply:

Thank you for choosing me to DJ your amazing celebration. Your rooftop dance party was SO MUCH FUN. My favorite part of the evening was when John got out his guitar and serenaded you! Lucky :) Best wishes to you both.


Kortney S.

Married on 07/24/2021

Highly Recommend! Best Wedding DJ!

My husband and I were both so happy with our decision to hire Steve as our DJ for our wedding. He was so easy to meet with (even virtually during Covid times), very reliable and professional. He really helped take the stress off the wedding planning process because we knew we could count on him. The day of the wedding, he made sure everything flowed smoothly from ceremony to cocktail hour to reception. He even got us a drink when we finally sat down at our table. He provides a very detailed song list as well to help you pick your music for each part of your wedding day. We highly recommend Night Music DJ!

Night Music DJ Professionals's reply:

t was an honor to be the DJ for your wedding celebration at Strongwater. You and Scott had such a fun variety of music, and your guests were a RIOT on the dance floor! I loved that we got everybody outside for "Dancing In The Moonlight" for the final song under the actual moonlight :) Congratulations!


Hallie P.

Married on 07/17/2021

Amazing!

Jodi was phenomenal. She was so accommodating during the planning process, especially through the pandemic. She was available for Zooms, phone calls, and meetings to make sure things were arranged just right for our night. During the wedding, Jodi kept our guests on the dance floor all night and played all of our favorite picks. Our younger friends and older relatives had the best time, thanks to our amazing DJ!! Highly recommend Night Music!!

Night Music DJ Professionals's reply:

Thank you! Wow....we all really did have a FUN night! I loved being part of the blowout celebration. XO to you both, and your incredible friends and families.

Julie W.

Married on 06/26/2021

Master of Ceremonies!

From our very first meeting, Steve always said that it was his job to read the room and ensure he plays the right song at the right time. Well, Steve nailed it! I had so many guests comment on how wonderful he was and that he was the best they had ever seen. They said he was a master of ceremonies! He came out from behind the DJ stand and interacted with the crowd. He even helped guide me during the congo line to ensure everyone had enough room. When the photographer grabbed us for an unscheduled sunset photoshoot, Steve had his eyes on us and discussed plans for moving the night forward. We had conversations prior to what type of music we wanted or didn't want and when he felt something wasn't in line with what we had previously talked about, he quickly verified that we were okay with a particular song. He was very flexible and set up evening meeting times with us, because of our work schedules. I would highly recommend!

Night Music DJ Professionals's reply:

Your party was SO MUCH FUN! Not only was the dance floor absolutely packed with all of your friends and family, but YOU were the biggest dancer of all! I loved getting to know you and Sean, and I'm so happy you have such a great wedding celebration. Thank you for your kind words!

Maria F.

Married on 06/13/2021

Great DJ!!!

Jodi did the music for our ceremony and reception and it was great! She asked a lot of questions to learn about the types of music we would like so that we didn't have to worry about anything the day of.

Night Music DJ Professionals's reply:

Thank you Maria! You and Mitchell were a dream to work with, and no one was more fun! Your photos and videos from your reception at Swan Lake were BEAUTIFUL.

Katie C.

Married on 10/10/2020

Amazing DJ at our October wedding!

Steve was amazing to work with! From setting up as many meetings as we needed up to the wedding and responding quickly to emails, we could tell how much he cared about making sure our wedding went as smoothly as possible! We loved how organized he was and was fun and enthusiastic to work with! The day of, we received so many compliments from our guests about how Steve did a great job directing the flow of the reception for playing songs that were fun for everyone to Dance to! I would highly recommend Steve to anyone looking for a DJ for their wedding!

Night Music DJ Professionals's reply:

Thank you so much Katie! I am so happy for you and David, and I was super excited that we had the perfect evening for dancing on the deck at the Grange Audubon Center. All my best!

Rachel K.

Married on 09/12/2020

Amazing Amazing Amazing

We would recommend Steve to anyone getting married! Steve is such a welcoming and professional person, every time we spoke with him was great always asking us how he could make our night one to remember! I am not much of a dancer and dreaded that part of the reception but Steve knows how to throw a party and I was on the dance floor with my guests all night long! If I could give more than five stars I would have, hire Steve you will not regret it!

Night Music DJ Professionals's reply:

What a great night! Not only was there so much LOVE at your reception, but so much ENERGY and FUN. Ending it with the entire crowd singing Bohemian Rhapsody at the top of their lungs was a great closer to a great party. I wish you and Jacob much happiness in your future.
Are you interested?
Send a message