Reviews
5.0 out of 5 rating
Quality of service

5 out of 5 rating

Average response time

5 out of 5 rating

Professionalism

5 out of 5 rating

Value

5 out of 5 rating

Flexibility

5 out of 5 rating
100%
Recommended by couples
39 User photos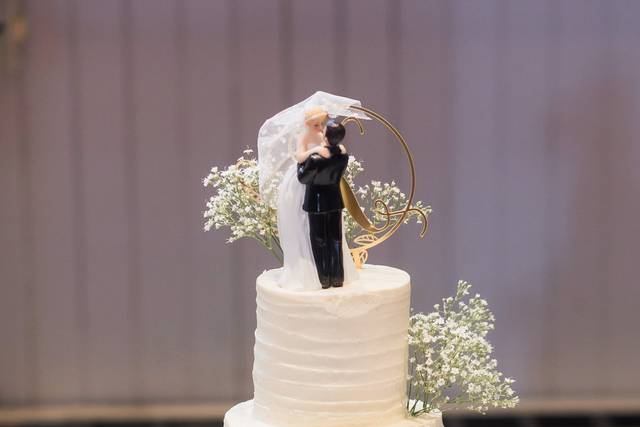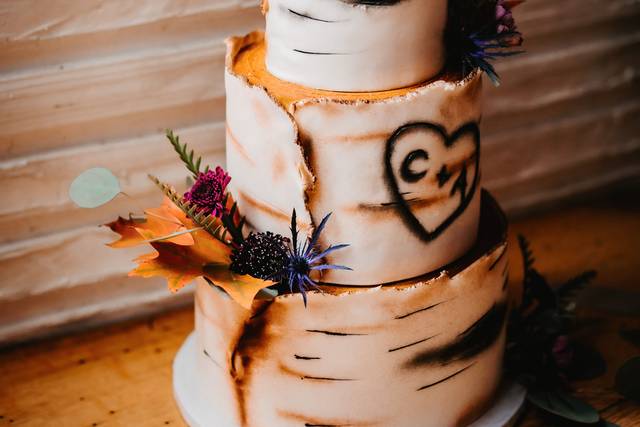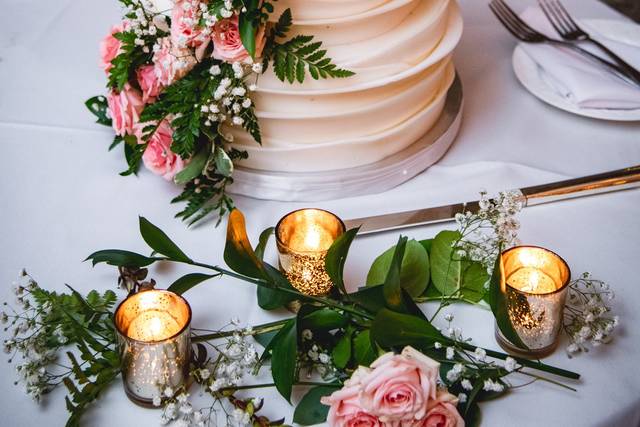 + 35

photos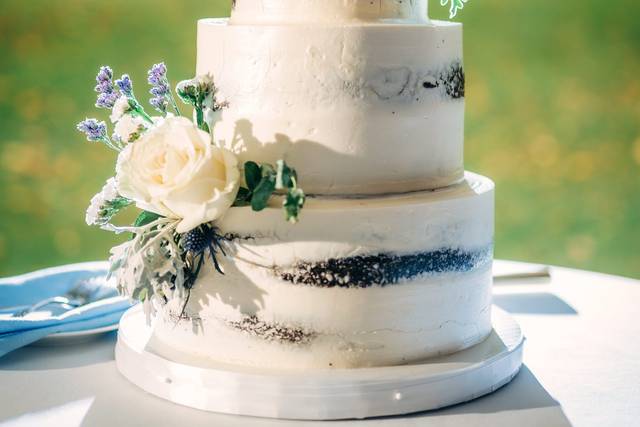 Caroline S.

Sent on 10/17/2022

Beautiful and delicious cake!

We absolutely loved our wedding cake from Night Kitchen Bakery. Amy and her team were wonderful throughout the planning process and we got lots of compliments from our guests on the beautiful, flavorful cake they prepared for our wedding. Highly recommend!

Jenny W.

Sent on 08/31/2023

Great Experience!

Night Kitchen was awesome! Our cake was included in our catering package but after reading reviews, we knew we were in good hands. Our tasting was awesome and very helpful. We were able to get a smaller cake and use the remaining "servings" to supplement for mini baked goods. Everyone loved all the options and so did we! We went for a very classic wedding cake: white ribboned icing, chocolate cake, chocolate filling. We left a few extra baby's breath and the associate that dropped off the cake was able to place them on there for us. Overall, really great experience, no fuss and simple and delicious!

Casey H.

Sent on 06/29/2022

Excellent wedding cake

I absolutely loved our wedding cake from Night Kitchen bakery. It was the most delicious wedding cake I'd ever eaten, it was gorgeous, they were willing to customize it exactly the way we wanted it, and Amy was so easy to work with. Highly recommend!

Night Kitchen Bakery's reply:

So glad you loved it, Casey! We appreciate your feedback. Congratulations!! We look forward to creating your sweetheart cake in a year.
Sincerely,
Amy

Are you interested?

Send a message

Allison

Sent on 06/23/2022

Oh my goodness

Our cake was PHENOMENAL. Both in the flavors we chose and also how absolutely gorgeous it was to look at the night of our wedding. So many people complimented it. I had never seen a cake like it before and I never thought the cake would be something I'd remember so fondly from our wedding but wow was it just amazing

Night Kitchen Bakery's reply:

Dear Allison,
Thanks so much for your wonderful review! We are so happy that you loved your cake and we look forward to creating your anniversary sweetheart cake next year.
Sincerely,
Amy

Caitlin

Sent on 12/20/2021

Delicious, beautiful cake!

Our wedding cake was absolutely delicious and beautiful, and Night Kitchen Bakery was very easy to work with. They gave us exactly what we asked for and our guests all said how wonderful the cake was.

Georgia B.

Sent on 09/26/2022

Highly recommend

Our wedding venue partners with Night Kitchen and a couple others in the region as preferred vendors for their wedding cake and dessert packages. For my wife and I, it was a no-brainer to pick Night Kitchen and we couldn't have been happier with the experience!

Now this wasn't our first experience with them since we'd had a few other cakes and other desserts from there before, but it was certainly the first time we got the VIP-level treatment that comes with their wedding cake experience. The tasting was fantastic, they offered a wide range of flavors for the cake, icing and fillings...all in the form of cupcake pairings! In particular, I historically don't enjoy fruit jams in desserts, but I was absolutely blown away by the raspberry filling and it immediately earned a spot in one of the 3 layers.

When it came to the design and other features, they never pressed us for any of the add-ons that would've required additional costs (there was a base package that was included with the venue's wedding package), and they took all of their direction from our preferences and reference material. In other words, they'll give you a ton of creative control while always being transparent about what they can and can't do within your budget needs.

So yeah, if you're looking for a cake vendor - wedding or otherwise - you're getting the best in the region with The Night Kitchen

Kristin B.

Sent on 01/04/2022

Responsive vendor & delicious cake

Night Kitchen Bakery was very easy to work with. They were responsive, accommodating to date and guest number changes, and transparent with their options and pricing. The cake was DELICIOUS! We decided on alternating layers of mocha chocolate and yellow cake with chocolate mousse and fondant icing. They brought the cake to the venue early so our florist could decorate it with our flowers. We of course enjoyed the tasting, and the bakery itself has a ton of delicious treats we ended up leaving with!

Jamie W.

Sent on 08/26/2021

Delicious!

Our catering team included a wedding cake from night kitchen bakery. After taking a phone call with the team at the bakery, I knew that not only was this an easy decision for us, it was obviously the right decision! Everyone was so kind & helpful, and even helped us to set up multiple at home tastings so our loved ones could feel a part of the experience. All of our emails leading up to the wedding were promptly answered, and every time I had to drop by to pick some samples up the entire bakery was always so friendly & efficient!

On the day of our wedding, I could not have imagined a more beautiful cake. They say your wedding day goes by very quickly, and my biggest regret is not getting a better look at the cake because it was so stunning. The team at Night Kitchen Bakery created a beautiful floral cake for us, and I cannot wait for the professional pictures to come in so I can see all the beautiful intricate details all over again!

The only thing to top the beauty of the cake was the TASTE! My goodness, it was delicious. All our guests couldn't stop raving about it, and we were so happy to get some leftovers to take home (& freeze for our 1 year anniversary! :)). Overall, the entire time was lovely, the cake was a show stopper, and it was the most delicious wedding cake we have ever had!

George K.

Sent on 09/01/2021

Delicious Wedding Cake!

I absolutely loved our wedding cake! We had 3 tiers: chocolate mocha with chocolate mousse, carrot cake with cream cheese, and chocolate mocha with raspberry. All of our guests raved about how delicious the cake was. Night Kitchen also did a beautiful job with the decoration, I provided some flowers and it was exactly how I imagined. I would highly recommend the Night Kitchen for your wedding cake!

Katerina P.

Sent on 10/18/2020

Absolutely Beautiful Wedding Cake

Our venue, Joseph Ambler Inn, included a wedding cake in their wedding package and we selected Night Kitchen Bakery.

There were so many different flavor combinations we tried at the initial tasting that we had to sit for a bit and make a choice. We made the request to have our two cats poking out of the bottom tier of the cake and they made that happen. It was a great way to be able to include our cats in our wedding.

(Will add pictures when I get them from my photographer)

Mandy-Lee G.

Sent on 03/26/2020

Loved Our Wedding Cake

Our venue, Joseph Ambler Inn, included a wedding cake in our package and we selected The Night Kitchen from the list of vendors and we were not disappointed!

Everyone was so helpful and pleasant to deal with from our first call right up to the day of the wedding. My teenage step-daughter came with us to the cake tasting and we had so much fun deciding on the flavors as a family. It was a tough call because everything tasted so good, but we went with the AMAZING Mocha Chocolate flavor and we were also able to have the Yellow Cake with Lemon Curd as an additional flavor/tier as a bright a refreshing alternative to the chocolate.

We had a small intimate brunch wedding with only 22 guests and we had an adorable 3-tier cake that looked exactly as we had described it. We loved the way it turned out so much and I really appreciated the way they used the book-page flowers we had made as decorations for the cake.

It's been almost a month since our wedding and my sister keeps bringing up the cake. I guess I know were we are getting her next birthday cake!

Night Kitchen Bakery is wonderful and will to disappoint!

I still dream about their wedding cake

I've been to more weddings than I can remember in the past few years, and I think Night Kitchen Bakery made the best tasting wedding cake I've ever had. Working with them to make our wedding cake was probably the easiest and most fun wedding task.

I really liked that their cakes are lighter (as opposed to pound cake). We got to try different combinations of cake flavors, fillings, and icings for our four cake tiers (preCOVID wedding, it fed 150 people with plenty of leftovers to spare). We ended up with mocha chocolate cake with mocha chocolate icing, yellow cake with lemon curd, yellow cake with raspberry jam, and carrot cake). They were all delicious, but my favorite was the yellow cake with lemon curd. We received lots of compliments from our guests about our cake!

Bakery staff were great, and Chef Amy was very responsive and easy to work with. They have examples of designs they have done in the past, or you could send them cake inspo pics.

We look forward to visiting their bakery again!

Samantha

Sent on 06/10/2019

Delicious and great looking cake

Our venue works with Night Kitchen Bakery and it was a great recommendation. We had a five tier cake and each tier was co pertly different. The carrot cake is incredible! What I love most about Night Kitchen is that they will remake your top tier before your one year anniversary so no need to save and eat spoiled cake.

Taylor

Sent on 06/04/2019

Delicious and Rich Cakes

I loved our wedding cake so much! My only issue was that we had ordered a 3 tier cake and got a 4 tier cake, but can I really complain about having more cake? Nope!
We were able to have a different flavor for each tier which was fantastic. We had the chocolate with the chocolate mouse (to die for! So moist) and the vanilla with Raspberry Filling and Lemon Curd which is fabulous! The fondant is actually delicious (which is very rare!) and the icing is good too. Their cake was included in our venue package so we did not have to pay extra, but they are also reasonably priced for add ons like sugar flowers and designs!

Delicious and Beautiful Wedding Cake!

We came to Night Kitchen Bakery through our caterer and chef Amy was so great to work with from the beginning! Our tasting was so fun and she was very open to our ideas for our decorations. I loved being able to choose multiple flavors for different tiers of our cake that suited our tastes as well as our guests. The cake came out exactly as we hoped it would and looked and tasted absolutely amazing! The sugar flower work we got was beautiful and added that extra special touch we were looking for. If you're getting married in the Philadelphia area I highly recommend Night Kitchen!

Victoria

Sent on 01/08/2020

Night Kitchen saved the day!

Night Kitchen Bakery honestly saved the day as far as wedding cakes are concerned. I was originally working with another bakery for my January 2019 wedding, but after months of unresponsiveness as well as inaccurate details I decided to last minute go with my gut and find another bakery. I called Night Kitchen, they got me into the bakery that weekend for a tasting in their bakery/cafe, which was AMAZING, discussed the design I was going for, and signed the contract on the spot. I was even able to drop off a paint chip sample of the color I really wanted since it was such an important aspect of the cake. Amy and the Night Kitchen were the easiest, calmest, and promptest team to work with, which was a relief after leaving the other bakery. Not to mention, the cake itself was exactly what I was picturing and so delicious. My only complaint was that there wasn't enough to take home! Highly recommend Night Kitchen to anyone in the Philly area getting married!

Stevie

Sent on 11/06/2018

Sugar Skulls and Wedding Cake

I absolutely loved our wedding cake! It was beautiful and beyond anything I could have imagined. The skull was perfect for our day, and the cake was delicious. Everyone thought it taste great. I can't wait to eat it again in a year.

Laurel

Sent on 11/09/2018

Delicious and full of surprises

We LOVED our Night Kitchen wedding cake! From our first tasting, we were blown away by the flavors, service and value they offer.

We had a 3-tier wedding cake with two different flavors--chocolate mocha cake and yellow cake with lemon curd. In our consultation, Amy showed us numerous designs and concepts we could choose to replicate exactly, or offered to make something custom in collaboration with the decorator. I had a basic idea that I wanted an Art Nouveau cake, but I wasn't sure what form I wanted it to take, so I brought in a full Pinterest board of inspiration. We decided to let the decorator look through our inspiration and come up with something to surprise us.

On the wedding day, I didn't see my cake until the reception, and it was such a pleasant surprise to see such a beautifully constructed cake that perfectly captured our wedding. They even used a Mucha painting, 'Laurel,' which I not only share my name with, but was my starting point for all the colors in my wedding. Perfect.

My one regret is that after cutting the cake and tasting one bite of the mocha (to die for), I was anxious to hit the dance floor, and didn't eat any more of it. Rookie mistake! I've been dreaming about that chocolate cake ever since and wish I'd had more! :) Thank you!!

Our cake was beautiful

We arrived with very specific ideas for the cake. They were more than willing to work with us and matched the color to our bridesmaids dresses. The cake arrived exactly as we expected. On top of it all, the cake was delicious!

Desiree V.

Sent on 06/01/2019

A Cake to Remember

Our wedding cake was certainly one to remember in photos, but also in taste! Amy and the staff made the process very smooth in selecting our cake choices as well as cream fillings. She made sure that the design we had in mind for our cake was clearly executed and seeing our vision for our cake displayed on our wedding day was certainly a joyful moment! The staff at Night Kitchen Bakery are true artists and their work in the creation, beautification and quality is unmatched! Our red velvet/carrot with vanilla buttercream filling wedding cake was delectable! We enjoyed the rich taste of the cake and sweetness of the cream. Our guests raved about our wedding cake from the style and design to the delicious taste! Thanks again for the professionalism and courtesy of Amy and all staff at Night Kitchen Bakery! You all made our wedding cake dream come true with style, grace and taste!

Monica

Sent on 09/15/2018

We were extremely happy with our wedding cake from Night Kitchen Bakery! The cake itself was very moist and delicious, and we received a ton of compliments from our guests. The quality of design also exceeded our expectations. They were able to re-create almost an exact replica of the picture we gave to them. The owner was very professional and easy to work with. I would highly recommend this bakery for your wedding cake!

Christin

Sent on 07/28/2019

Our Cake Was Amazing!

Our wedding cake was included with the cost of our catering through Company's Coming. We only had to pay $25 to add extra details to the cake that was beyond the "basics" including with the catering. I was able to draw out the cake we wanted and they recreated it beautifully!

Nicole

Sent on 06/28/2019

Loved Night Kitchen!

Night Kitchen Bakery was an amazing choice for our wedding cake! There was literally NONE left by the end of our wedding day. Their cakes taste amazing, look beautiful, and the staff is so professional and helpful.

Kathleen

Sent on 08/10/2018

Night Kitchen Bakery was the bakery affiliated with our caterer at the Morris Arboretum. Amy was a pleasure to work with. We did a three tier cake with chocolate, carrot, and red velvet. While I didn't get to try to red velvet tier (apparently it was a huge hit! and the smallest of our tiers), the other two were DELICIOUS. There was barely any cake left at the end of the evening! I highly recommend doing a chocolate layer with hazelnut buttercream, which was so moist and delicious. She can do a variety of designs and clearly is very talented, though we opted to go with a simple pattern.

She also will do a top tier for you for your 1 year anniversary if you provide her with a photo of the cake, which I've never heard of any other bakery doing!

Kirsten

Sent on 07/19/2018

We worked with Amy to design my wedding cake for this past weekend at the Joseph Ambler Inn. The venue works with the Night Kitchen Bakery all the time and they are fabulous! They have this really cool option where you can have your entire cake served at the wedding and then the top tier can be replicated the week before your 1st anniversary instead of storing it in the freezer. This also gave us the opportunity to have more flavor options (bottom tier marble/chocolate, middle devils food/raspberry, top tier yellow with lemon curd). The cake was beautiful - exactly how I wanted it designed and they were so kind and easy to work with! The tasting/design meeting was very professional and their bakery/cafe was clean and welcoming. Highly recommend!!!!
Are you interested?
Send a message