15 Reviews
Recommended by 81% of couples
Quality of service

4 out of 5 rating

Average response time

3.8 out of 5 rating

Professionalism

3.9 out of 5 rating

Value

4.2 out of 5 rating

Flexibility

4.2 out of 5 rating
2 User photos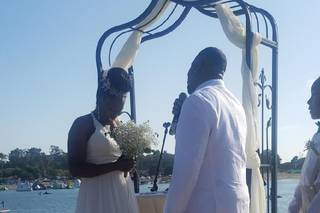 Featured

Carlos E.

Married on 07/22/2022

Very Pleased

Very professional. Angela Del Toro was very attentive to our needs. She delivered as promised. Everything was in order. They even accommodated us with a water station and water bottles that we didn't even ask for, which was very nice of them. We would definitely recommend Newport Dunes to anyone looking to get married or for any type of special event. We personally want to thank Newport Dunes for making our special day very memorable.

Newport Dunes Waterfront Resort's reply:

Hello Carlos & Jovonne,

Thank you for the wonderful review and for taking the time to share your feedback with us here at the Dunes! Our priority is customer service and we are ecstatic we met that mark!
~
Kind folks like you make our job a pleasure! Please share your Wedding photos with us to be featured.

Thank you!

Sincere Regards,

Angela Del Toro
Wedding Sales Rep

Lenora

Married on 07/05/2019

Exceptional

Great food, atmosphere, and staff! Brianna and all the staff were so helpful and made our night really special!! Thank you Newport Dunes🙂



Sharon

Married on 06/19/2016

Selina Grande did an exceptional job at coordinating the details before, during, & after our wedding/reception. Professional! Personable! Knowledgeable! Selina went above and beyond our expectations! Thank you Selina!

Are you interested?

Send a message

Having the Wedding outside was called OFF at the last minute, bur plan B went into place without a hitch:):)

Selina Grande was a fantastic event coordinator at Newport Dunes Waterfront and Resort. She met our every need; she is so accommodating and so sweet. She helped make our special day absolutely perfect.

Lorie

Married on 05/18/2013

Selina was amazingly helpful! I was planning my wedding from afar, and she was so patient and responsive. Prices were perfect for my budget and reasonable for the area. Made my wedding perfect.

Teresa

Married on 04/25/2009

Vilte

Married on 06/27/2009

Our wedding was very small and this was the perfect venue for it! Ive always dreamed about a beach wedding and this was just what I imagined. Great food, amazing atmosphere. They took care of everything. It was also the best deal we found. If you wish for a water front, candle light wedding, look no further.

Chad N.

Married on 10/20/2012

The Newport Dunes was great to work with, the only struggle we had was some of the responsiveness of the staff (before, during, but mainly after). We always received a response, but not always within what we felt was an adequate time. We might have been a little more demanding than some couples though, so take this criticism with a grain of salt. The biggest complaint was the follow up on some items left at the venue, we felt a little like once the checked was cashed, we were dismissed.

One of the things that was very important to us was the quality of the food and reception. This is something that we cannot complain in the least about. The venue was very accomodating in our requests and even worked with us to develop a unique package based on some special requests. Including working within a budget, without making it seem like they skimped on anything. During our tasting the chef and our account rep were AMAZING! The food was equally amazing and many of our guests complimented our choice in venue and food.

The staff on the day of the wedding was great, the set up and venue was beautiful, the day was unforgettable. They did make our overall experience easier to plan and we received multiple compliments on the venue.

Steven

Married on 09/12/2009

The original coordinator that I booked my wedding with was "no longer with the company" by the time the wedding came around, which was a little scary. However, another person stepped in and fulfilled all the promises the other had promised. She was very kind, when we finally got to speak with her. She threw in a whole bunch of stuff that the other coordinator was going to charge us for! There was a few things that got lost in translation. I had to remind her of what we had tasted, at the food tasting she was supposed to attend but had others help us with. Day of, things weren't set up like she had promised and my coordinator had to make the staff do the things we were promised, like tying napkin bows, etc. In fact, the staff delayed the wedding, as they were still setting tables as guests arrived and my friend had to go around tables, making sure everyone had spoons. However, the location was just what I wanted-a beach wedding, without strangers walking through it and gawking, and easy parking and concrete for the reception with electricity for twinkle lights. The food was great! The service during the wedding was awesome! The gorgeous setting was definitely worth it!

Angela

Married on 09/20/2014

From where I was standing, and honestly it's hard to tell when you're the bride, our wedding day went by without any major hitch. We did hire an external coordinator because I honestly think Selina has too much to handle given the number of events that happen at the Dunes. She was very professional through the year-long stretch of planning despite minor miscommunications but response time started lagging a bit as we closed in on the wedding date and sometimes details fell through the cracks or were inconsistent. I'm generally a more critical person though and would say she did a solid job overall.

We ultimately chose Newport Dunes for its unique view and the convenience factor. Doing the reception at the restaurant meant you don't need to worry about a separate catering vendor, the gazebo is a short walk from the restaurant, there's plenty of parking, and there are many hotels within a mile of the spot. As for cons: events can happen across the water and that noise carries like mad (luckily it was completely empty on our wedding day), the restaurant itself has no A/C, and the stretch between the gazebo and the restaurant is a big ugly parking lot littered with boats. These things are expected given the nature of the location, but details you want to keep in mind.

All of our guests kept saying the wedding was beautiful and that the food was great, so I'm a happy camper.

[edit] I bumped up my original Value and Flexibility ratings because I just found out that the venue acquiesced to some risky requests the night of the event, and I think that flex contributed a lot to the success of the evening.

Nicole

Married on 06/28/2014

I have to say the Venue was beautiful. There are quite a few venues there, we got married at the Gazebo. The planning and everything up to the wedding was great. Our planner Selina was great up to the event as well. She was very flexible and accommodating with us. We also had our rehearsal dinner at the Back Bay Bistro and the wedding was catered by them. We got many compliments on the food the day of the wedding.

Once the wedding day came everything was set up and beautiful but things became a little bumpy. Unfortunately the venue did not pay as close attention to details on the day of as I did. Which is frustrating when you have done all of this planning and payed all of this money, you want everything perfect. The first glaring issue was we had ordered special table cloths for certain tables (head table, cake table, etc.). When they arrived no one bothered to iron them so they have fold lines all the way across our head table and are in every single picture of us. Which was extremely frustrating, especially when we had to pay extra for them. Next issue was the way in which Selina addressed people. With tension rising Selina should be the one who is calm cool and collected, not the one who is snapping back and being rude. We also has had what appears to be theft from the staff following the event that is a substantial amount of money. I have been told that a security report has been made and tat they will look into it but never heard back. I didn't let it ruin my wedding but it was definitely frustrating to say the least. I am not sure I could recommend this venue to a friend.

London

Married on 06/22/2012

The venue itself was beautiful! After reading many 5 star reviews on Rob the onsite coordinator I was pleased to have him assigned to us, however, he did not meet up to my expectations. Almost all of my other venders (wedding planner, flowers, band, photographer, videographer) said that he would never return their calls and he was no where to be found the day of my wedding. But overall, my guests had a blast and if you weren't privy to behind the scenes information you would never guess there were so many errors on behalf of the coordinator.

Courtney

Married on 07/28/2012

We had our event at Back Bay Bistro (the restaurant within Newport Dunes). The venue was absolutely gorgeous! The food was also very good, and I thought reasonably priced considering the location.

However, the night of the event, there were WAY too many things that went wrong. There was theft by employees, meals were served wrong (including to the groom), they were not at all ready with tables set when guests were getting there and they argued with me (the bride) and also my mom. We will be meeting with them tomorrow to see how they plan to correct all these mistakes. I will update my review when I hear back from them.

Leah C.

Married on 05/28/2022

Be careful booking this venue for your special day!

I'm only giving this venue a 1 star and here is why...... After the venue received our deposit and signed a contract with us there was zero communication for 9 months. I sent over 10 emails and left many many voicemails, we never heard back from anyone. We literally had to go down there and see what was going on. We decided to just show up. We learned that our wedding had been reassigned to another consultant. The new consultant never made contact. Our original consultant no longer worked there. We then made contact with our new(3rd consultant) and she said she would take over our wedding. Come to find out through a little online research the second consultant who we never met had been promoted! Which makes me wonder what would've happened if we never went down there. Because no one was working on our wedding. The person assigned was no longer doing that job. She is now the sales office general manager. Which in my opinion makes this worse.

We were notified by our new consultant(technically our 3rd) 1 month before the wedding that there will be a large stage put up on the sand next to our wedding area which is the Gazebo. She asked us if we hired a DJ. Her response when I said yes was she thinks the GM can get the other DJ to be quiet during our ceremony(I still have the email). In a future email she claimed she said that the loud event would have been finished at the time of our ceremony(I have that email too). Our wedding day was the Saturday of Memorial Day weekend. When we chose that day we were only told that their RV park is busier that time of year. Our first consultant made it seem like it was just a bunch of families. We weren't told that there would be a DJ on the sand next to our ceremony. When we talked to them I said how could someone book those two events next to each other. This wasn't a birthday party, this is our wedding! We booked 11 months in advance. The new consultant said in an email "well there are 3 sales agents in the office booking" Wow! Don't they meet and discuss what's on the books especially when something had been on the books for basically a year? If they always do the beginning of the summer party, why were we allowed to book our wedding on that day? They offered the Back Bay Bistro which is a really cool, more expensive venue but it's not what we wanted. We wanted to dance under the stars. We wouldn't have ever booked with the dunes if it hadn't been for their Gazebo location. We paid for a photography package that had drone footage. Which was almost basically waisted. When we protested and asked to be more compensated they said well your new venue was a complimentary upgrade. NO, YOU GUYS MESSED UP!! That wasn't nearly enough and again not what we wanted. I decided to stop fighting and try to enjoy the month before with all the parties and fun. Basically when things were getting finalized with my vendors I had to plan the whole thing over again in 30 days which was a total nightmare.

We went to the new venue to check it out twice. The first time we just stood in it and figured out how to decorate with 30 days notice which upped our flower budget by 2k. The second time was to measure for the florist. Both times it was closed even though they knew we were coming.

Our DJ had to scramble and go down to the venue himself to see how he would set up. Our florist had to scramble as well. She thought for 10 months that she was decorating a much smaller space. We had to have an emergency meeting after hours to get it all done. The venue only allows vendors to arrive 2 hours before the event start time. I asked all my vendors and they said that is ridiculous. They were all shocked at how little time they got to set up.

I ended up not having a wedding coordinator because we were told we could only hire through their company. I was trying to get in touch with her. No response. By the time we understood that we could hire outside of the company it was too late. You must have a coordinator dealing with this venue if you chose to go with them.

To save on floral costs we decided to repurpose our aisle decor to our centerpieces. I noticed that they weren't moved after the ceremony while we were shooting our couples video. I have the email that our consultant agreed that she would have them moved for us. and luckily the DJ was standing near us so I had to ask him to tell the consultant. The chairs were so close to the aisle. Barely two people could walk down the aisle. The chairs were super close to each other too. Our guests were smooshed. We only had 41 people sitting. There was more space to the right. Not sure what the thinking was there.

We added late night snacks for our guests. Our guests didn't know about the food so we wasted almost 2k on food because they were tucked away in another room and the staff never alerted anyone that food had been put out as a buffet.

We were told that when we were waiting for the ceremony to begin we would have beverage service in the private room. No one ever came and took our orders so we had to go to the bar.

The bathroom was in the main area of the venue so the guests were having to come in to use it. Some guests had found their dinner seat already and started putting their stuff at the tables before the photographers had even arrived. Which meant before the ceremony had even started the table settings were getting messed up. I said to the consultant. "I thought the guests were not going to be let in before the wedding." Her response was "I don't know that's what I thought too". Why did she respond that way? She was the consultant meaning it was her event she was in charge. I had to tell her to kick them out. Her response enraged me 20 minutes before walking down the aisle. Never tell a client "I don't know" this is your show. Why is the bride having to stress on that too? It's fine if people need the restroom but no one should be hanging out in the reception area before the ceremony even began. They have plenty of staff to control that.

We paid for cake cutting and the venue didn't cut any more cake than the first round. There weren't extra slices on the table for guests to come up and get which is a standard at weddings. Our guests told us the slices were super thin. Not sure why when there was a ton of cake left over. After the event no one came to box up the cake. My mom had to do it and search for the cake box.

We wanted to get sparklers for our grand exit and asked if it was allowed. The consultant didn't know and said she'd get back to me and she never did. I was so tired of dealing with her I just let it go.

Before posting this review I made an effort to communicate with the GM of the Sales department. I emailed her a rough draft. She waited a day and a half to respond, only apologizing for her not responding to me when she was our consultant. She responded at close of day before she was gone for a whole week. I emailed her and said I'm not available by phone only by email. She was supposed to be back in the office last Thursday, today is Wednesday. I have not heard from her and it's almost been a whole week since she was back in the office.
The Dunes Waterfront Resort has a beautiful location but beyond that there isn't really anything great about this place. More upsetting than anything. If I could go back in time I would have booked with another venue. I urge you not to make the same mistake we made.