63 Reviews
Recommended by 100% of couples
Quality of service

5 out of 5 rating

Average response time

5 out of 5 rating

Professionalism

5 out of 5 rating

Value

5 out of 5 rating

Flexibility

5 out of 5 rating
25 User photos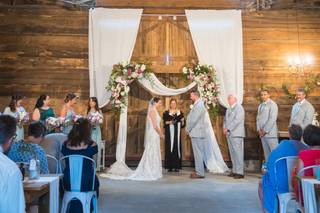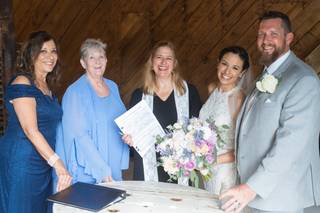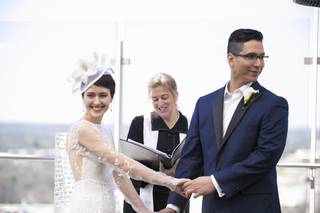 + 21

photos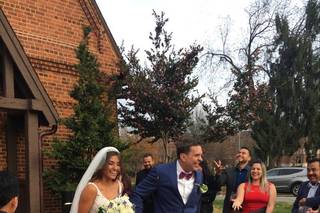 Gil V.

Married on 03/11/2023

Highly recommended !!!

I can't say enough good things about Julie !!! From the moment we reached out to her to the actual wedding day, she was very welcoming & so very helpful. She prepared a beautiful and personalized ceremony for us, and her valuable insight made all the difference in the world. We were both previously married, but we really had no idea what kind of ceremony we wanted, and Julie guided us to where we needed to be. We will forever be grateful that Julie was part of our special day. She just has a wonderful personality & she has that special quality that makes people feel so comfortable. Julie is the best !!!

Sierra C.

Married on 11/01/2022

Great Experience

Julie did an incredible job! She made it an easy process, we had no questions go unanswered, and her words catered beautifully to us as a couple and to the ceremony we envisioned. I would highly recommend!

Sabrina D.

Married on 10/22/2022

Julie officiated our ceremony beautifully!

We could not have asked for a more warm, personalized ceremony experience. Julie listened to what we had to say about each other and wrote 'words of wisdom' tailored to our own personal relationship. Our hand fasting added a uniquely beautiful touch and Julie incorporated it perfectly. The entire ceremony flowed effortlessly, and Julie was warm and sincere in her delivery. Our guests loved her and we received many compliments on how perfect our ceremony was. We are very grateful to Julie for everything!

Are you interested?

Send a message

Tasnuva Z.

Married on 09/18/2022

Julie is Phenomenal!!

Our experience with Julie has been nothing short of perfect. She was attentive, responsive, very detail oriented, and prepared! We chose to go with Julie because she is experienced with fusion and mixed culture weddings, she is open minded and open hearted and it shows in every interaction. We received compliments from our guests as to how wonderful she was and how wonderful the ceremony was, and how unique the vows were. Julie is inclusive, kind, and truly listens to your wishes to make the ceremony unique to you.

Jenna V.

Married on 05/21/2022

Wedding Officiant - 5-star experience

Julie was awesome! From the seamless onboarding process to the thoughtfully designed, customizable PDF templates and questionnaires, to the exceptional communication throughout the whole process, she went above and beyond to give us the best experience possible on our wedding day.

Jeniece J.

Married on 05/14/2022

My Amazing Experiene with Julie Furr

Julie was literally the BEST! I was so impressed with everything she did she was easy to always reach and the ceremony was my favorite part of my wedding her words the way she says it! My husband loved it and the crowd could not get enough to this day all my friends and family asked me how I found her and they said it was by far one of the best ceremonies they have ever been to! Please choose her she is worth every cent! I could rave on and on she was just so amazing ppl!!!

Jessica B.

Married on 05/13/2022

Julie was Great!

Julie was the officiant for our wedding. She was super helpful, calm and fun. She did a great job helping us get the ceremony script exactly how we envisioned. On the big day and helped us get ready, calm our nerves and have the amazing and quick ceremony we wanted! Thanks Julie!

Mikaela C.

Married on 05/02/2022

Exquisite Ceremony

Julie was so personable and made our ceremony effortless! She was so animated and gave our day a modern and joyus feel full of laughter and happy tears. She took care of everything and made sure our license was properly filed and documented! We loved Julie and our day wouldn't have been the same without her. Go with Julie and you will be more than glad you did!

Haley

Married on 03/26/2022

Amazing Officiant!!

Julie was amazing on our wedding day! We had to contact her last minute to help us as our previous officiant had to cancel. She reassured us that everything would be great and it was. The ceremony was very personal with the Words of Wisdom. All of our family told us that they loved our officiant and that they thought we had known her for years as the ceremony was so personal and special. Would 100% recommend Julie!!

Melinda H.

Married on 03/12/2022

Great Officiant

Working with Julie was great. I love that her forms are thorough and help her truly get a sense of the couple and what they are wanting. Her services can easily be tailored and she never pushed a particular feel for the ceremony. All communication was prompt and she worked well with last minute changes at the venue. We could not have asked for a better officiant for our special day. Julie truly captured what my husband and I were looking for and helped amplify our love for one another during our vows.

Laura D.

Married on 02/26/2022

Julie is Awesome!

Julie was absolutely wonderful to work with! She took the time to get to know us first and then sent us a questionnaire to answer for our ceremony. She went over the service with us before the wedding to make sure everything was to our liking. During the service she was professional and had great energy. I highly recommend Julie!

Leanna M.

Married on 09/25/2021

Wonderful experience!

Julie did an incredible job with our ceremony! We loved that she included the words of wisdom! She also gave us a really good idea of putting love letters in a wine box - which all of our guests loved. She was very friendly and professional and helped walk us through everything we needed to do with our marriage license. I would 10/10 recommend Julie!

Whitney S.

Married on 06/07/2021

The Best Officiant

Julie Furr was a wonderful officiant because she went above and beyond by adding her own special touches to the wedding ceremony. She asked each one of us a set of questions and then put together a speech that made the ceremony that much more special. We would recommend her to any other couple who is looking for an officiant. We were very pleased with Julie with her and still compliment to say what a great time that we had on the day of the wedding.

Adam S.

Married on 05/15/2021

Julie is fantastic!

My wife and I decided to get married earlier this year (2021) and when we got in touch with Julie things were just falling into place. From the first time my wife spoke to her, she knew she wanted Julie to be our officiant. After meeting with her and seeing for myself just how friendly, caring, compassionate and dedicated to making our experience as customized as we wanted by providing options for many different traditions and asking us to fill out the "Words of Wisdom" information so that she could make it specified more toward the two of us and not just some generic ceremony, I knew that it couldn't be more perfect! She never seemed irritated with us even though we didn't have much time to get things together before the big day. She was always professional and willing to answer any questions or concerns. The ceremony turned out perfectly, even though I almost fainted in the middle of it. Haha. When everything was said and done, she had shown that she truly cares for her couples and wants the best experience possible and that's exactly what you get with her. I wouldn't recommend anyone else for the task!

Donna S.

Married on 05/15/2021

Adam and Dakota

Adam and Dakota were given Julie Furr's name through the venue when they were looking for an officiant. From their first meeting, my son told me how awesome she was to work with. She put them at ease and made the process a comfortable one. I was absolutely thrilled with her professionalism, kindness, and compassion ( my son almost fainted during the ceremony)! I loved how she incorporated their personalities into the ceremony. If you are looking for an officiant, you will not be disappointed!

Amanda F.

Married on 04/24/2021

Very Personalized!

Julie was very responsive, easy to work with and personalized our ceremony in a way that was "us". Julie has each couple to fill out a separate questionnaire on "why you want to marry wife/husband" and uses it as speaking points in the ceremony. My husband's responses were lengthy and we didn't expect everything he wrote to be used during the ceremony because we also wrote our own vows. The only advice I would give for couples choosing Julie is to set expectations on how long you want that portion of the ceremony to be.

Caroline D.

Married on 04/17/2021

Julie Furr is amazing!

We had the best experience with Julie Furr! She was very organized, professional, and easy to work with, helping to put us at ease throughout the process. We were extremely impressed with how she pulls her ceremonies together and we had so many guests tell us that they enjoyed how personal each element of the ceremony felt. Julie brought a great energy to the day of the wedding and we appreciate the time and effort she put into making our day so special. If you're looking for an officiant that will listen to your wants and needs for your wedding, look no further! We highly recommend Julie and her services.

Brandon F.

Married on 12/12/2020

From the Minute we Met Her we Knew She was the One we Wanted

From the minute we met Julie we knew she was the one we wanted to officiate our wedding. She has a calmness about her that was so reassuring and had everything mapped out for us. When it came time for our ceremony, you would have thought she had know us for years. 10/10 will always recommend.

Sarah C.

Married on 12/12/2020

Sarah Wiggins

Julie was beyond amazing! She provided the opportunity to customize each detail of our wedding. She was punctual, professional, and personable. We could not have asked for a better person to make our day official and perfect! Thank you Julie for making our day a dream come true!

Chelsea S.

Married on 10/31/2020

We had an amazingly beautiful ceremony !

Julie was absolutely wonderful to work with. She was very helpful and friendly throughout. She made our ceremony very special and personal. I couldn't have asked for anything more in and officiant. If you want a beautiful wedding ceremony she's the one for you!

Amanda P.

Married on 10/31/2020

Highly Recommend Julie!

Julie was a great officiant for our micro wedding. We were very specific on the language we wanted to be used and what we wanted incorporated into our ceremony. It was wonderful being delivered the script beforehand, but still having some surprises the day of. Julie was professional and kind through the entire process, and was great to accommodate us on a shorter timeline.

Christine M.

Married on 09/12/2020

heartfelt, down to earth, flexible

Julie was awesome. Because of the pandemic, my daughter had left a lot of wedding details to the very end. Finding an officiant was difficult because many on the vendor list of the venue had already been booked. Julie worked with my daughter (the bride) and her fiance to come up with a perfect customized wedding that she tailored perfectly for them.. And this was all on very short notice. Thank you so much to Julie for helping to make the wedding day so special.

Natalie B.

Married on 08/11/2020

10/10 would recommend!

Julie was absolutely amazing throughout our wedding process journey. When we sat down and met her, she got the time to know us each individually and as a couple. She was always quick to respond with any questions we had via email or text along the way. She made our ceremony so personalized and we got so many compliments from our family and friends after the fact how perfect it truly was. Thank you so much Julie for making everything so special! I highly recommend if you want a personalized ceremony for your perfect day!

Hannah

Married on 08/02/2020

5/5 stars for Julie Furr

Julie was fantastic to work with. We were complimented countless times by our guests on how personal our ceremony was. Communicating and planning with Julie was seamless, and she was such a calming presence on the day of our wedding. We were lucky to have her!

Tracey W.

Married on 06/27/2020

Julie is wonderful!

We met Julie in February before the pandemic arrived. I was nervous about finding someone who we connected with. We felt so comfortable with Julie right away (which was not the case with other people we had met with). She is both relaxed and welcoming, but very organized and professional. Trying to plan and have a wedding during COVID was no easy task and extremely stressful. Julie was wonderful- she was flexible and understanding. We ended up having a small ceremony this year, which Julie officiated and we postponed our big wedding until 2021, which Julie will also officiate! She helped to make our small 'Covid wedding' so special and perfect. Her energy is warm and loving. She personalized the ceremony and made it about us and our family, which is exactly what we wanted. We couldn't have been more pleased. Thank you, Julie! We can't wait for wedding #2.
Are you interested?
Send a message