Reviews
4.9 out of 5 rating
Quality of service

4.9 out of 5 rating

Average response time

4.8 out of 5 rating

Professionalism

4.9 out of 5 rating

Value

4.9 out of 5 rating

Flexibility

4.9 out of 5 rating
98%
Recommended by couples
Awards
2 User photos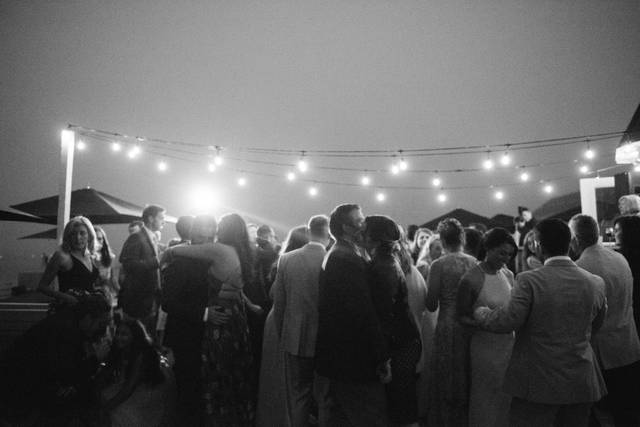 Steph

Married on 05/19/2018

Five Stars

Navy Beach gave me and my husband the wedding of our dreams. The only thing we love more than the beach is each other, so we knew from the moment we got engaged we wanted a beach front wedding, but we weren't set on a venue. If you are in that boat, I can make it easy for you, choose Navy Beach! It is unlike any of the cookie cutter long island venues, and gives your wedding a much more fun, laid back vibe. Franklin is the coordinator and he is amazing. From my very first phone call, Franklin put me at ease and was always available with quick and creative answers to my questions. If you have any questions, concerns, ideas he will not only get back to you instantly, but if your request can be accommodated it will be. I honestly don't know how we would have done everything without his guidance! It rained on our wedding day, luckily for us the rain stopped shortly before the ceremony began and we were able to host it outside (this seems true of many May weddings in this area). Initially I was a bit bummed we didn't get a beautiful sunset ceremony, however the post-rain fog that lingered made our pictures and video look more stunning than I could have ever imagined. The rain also cooled down the evening which was perfect because the outdoor dance floor – which I feel is a must if you book this venue – was packed all night. So, if you are concerned about the weather ruining your big day - don't be, they will work through anything Mother Nature throws without stressing you at all! The whole day went off without a hitch. Multiple guests told me it was the most beautiful wedding setting they had ever seen. If I could do it all again, I would, and I would not change a SINGLE thing (even the weather my May brides)! I would recommend getting married at Navy Beach to ANYONE. We simply can't thank the entire team at Navy Beach enough for providing an unforgettable wedding day. I'd recommend them a thousand times over!

Dana

Married on 09/19/2015

Per feedback from our guests, our wedding at Navy Beach was the best wedding most had ever been to.....and I can't disagree. From the planning phase and working with owner, Franklin Ferguson, to the gorgeous, yet laid back location, the quality of food and service from the staff, we could not have asked for a more perfect wedding day and venue. Our wedding ceremony was on the beach where we had a backdrop of the water and sunset. For food, we chose to do family style which allowed guests to try a wide variety of food, which I would highly recommend. Franklin / Navy Beach provided an extensive list of recommended vendors which made the wedding planning so much easier! I would highly recommend Navy Beach for your wedding/reception, if looking. There is not a single thing I would have changed about our day.

Stefanie

Married on 05/30/2015

Our wedding at Navy Beach on 5/30/15 was perfection; more than we could have even imagined. Our guests are saying it was one of the best weddings they've ever attended! The food was amazing, the staff were helpful and attentive, and the scenery couldn't have been better. We had the most amazing sunset!

What makes Navy Beach really special is that everything is completely customizable and you can't beat the location! The guests especially loved the food as well. Everything served beginning at cocktail hour to the entrees and sides were delicious, and that is hard to do at a wedding!

A special thank you to Franklin for answering my hundreds of questions, setting up the day of, and just general friendliness! He was the best person I worked with throughout my entire wedding planning.

We highly recommend anyone looking to get married in Montauk to check out Navy Beach, you won't regret it.

Love, Stefanie and Daniel Valenti

Are you interested?

Send a message

Eileen

Married on 09/14/2014

If you are looking for the perfect beach wedding look no further, everything from the beach ceremony to the food was amazing, I could not have imagined a more perfect venue. So many of my guest have no declared Navy beach to be their new favorite restaurant!

Tracy

Married on 05/16/2014

Our DREAM wedding came to life!!!

Our wedding day was truly the MOST PERFECT and BEAUTIFUL day that we could have ever imagined! Choosing Navy Beach was the best decision that we made in the whole wedding planning process! Franklin is the best! He was there every step of the way to answer questions big and small around the clock to ease our minds of all the details that never once felt overwhelming! Every single one of our 100 guests are still talking about how our wedding was the BEST wedding they have ever been to! Saying "I DO" right on the beach followed by dancing under the stars was literally my dreams come true! The food was excellent and the ambiance was intimate and classy without being "stuffy" whatsoever! The love and the JOY of the whole wedding was palpable! Everything was seamless and the flow was perfect… Franklin took SUCH good care of us, even when we had to shuffle the schedule last minute due to an unforeseen late start, he adjusted on the fly and everything went off without a hitch! If you are looking for a perfect wedding destination made easy, then get married here! Navy Beach is and always will be one of our favorite places on earth! Honestly, it was the wedding beyond my wildest fairytale dreams and I will forever glow when I think about it!


Daniel

Married on 05/03/2014

Three months later and we still can't find the words for how wonderful our wedding was at Navy Beach. From the venue, to the food, to the superb service and staff; we can say with certainty that we had our perfect wedding.

We began our search for wedding venues in the city, where we live. We looked across Manhattan, Brooklyn, and Queens; but didn't find anything with the feel we were looking for -- a fun, casual, yet chic vibe. Luckily our friends went to a wedding at Navy Beach, loved it, and sent us to take a look.

It's stunning. The quaint restaurant is charming and has a private beach. We took the risk and planned to have the ceremony outside and were rewarded in spades -- sunny with blue skies, which appears to be common weather in that area. Another benefit was that decorations were practically not necessary as the restaurant is so well decorated as is.

Speaking of the restaurant; let's talk fried chicken. People couldn't eat fast enough. Many of our guests asked where we purchased the dessert ...which was supplied by Navy Beach.

None if this would have mattered if not for Franklin. He was friendly, professional, and very timely in responding. He offered advice when requested and left us feeling he had everything under control in the lead up to the wedding. ...and it turns out he did. His staff represented his qualities -- they were quick to help and brought an excited attitude to the day.

Honestly, the ease at which we were able to pull off our wedding (thanks to Navy Beach) still astounds us. We also appreciated the convenience of having the ceremony and reception at the same location, and our guests did too.

Our loved ones who attended had nothing but compliments for Navy Beach, and we couldn't agree more. We had our perfect wedding.

Cheers,
Penny and Daniel

It's been almost two years since our wedding at Navy Beach, and people are still telling us that it was the best wedding they've been to – and that's all thanks to the wonderful folks at Navy Beach and the amazing party they put together for us. The setting alone made the day, but it was the friendly, warm staff and the smooth way they transitioned between the elements of the day that people keep commenting on. Everybody felt like they were really well taken care of, which is what we most hoped for when we began planning our wedding.

Major highlights:
- Working with Franklin from beginning to end. He was always available to us and went out of his way to make sure all our questions were answered and that everything was exactly the way we wanted it. He had great ideas for food, layout, and schedule for the day, especially when we were stumped. We can't say enough about how easy and great it was to work with him.
- The food! This goes without saying, but if you haven't been to Navy Beach before, the food is insanely good. Folks are STILL talking about what they ate and how it was all leaps and bounds above what you typically get at a wedding. And Franklin worked with us to put together a great menu – including things that are no longer available in the regular restaurant.
- Overall, we never worried about a thing the whole afternoon. Everything went so smoothly, and nobody peppered us with a ton of questions – everything just flowed along.
- There was this moment right after our ceremony when we hadn't planned on taking a breath, but Franklin followed us out the door and had a bottle of champagne and poured us two glasses while making sure no one else followed us out. We had these two minutes together to just let it all sink in and it was so special. Neither of us had thought to plan for that, but it illustrates the way you feel taken care of at Navy Beach.

There is no better place to have your wedding. We couldn't recommend it more!!

Paula

Married on 09/17/2011

Navy Beach is an amazing, accommodating venue.

We have been going to Navy Beach for a few seasons now for meals each summer and knew it would be a perfect venue for our reception. It's both cozy and chic and the private beach on the Bay is sublime.
We were married in Montauk in September of 2011 and had our reception in the restaurant and on the beach. Our friends and family are still talking about what a great time they had, what a fantastic venue it was and how relaxed they were at NB!

The menu is incredibly fresh and tasty, a great balance of comfort food and innovative twists on local fish and classic American food. This is the beauty of having your reception at a restaurant where they have already perfected the food and dining experience. No caterer would come close to the delicious, fresh and beautiful food we had. We chose to do family style dining and Navy Beach made it so easy and fun to pass plates around and get more if we needed to.
Our guests couldn't believe how good everything was - the best wedding food they've had, they all said!

We even requested something from the previous year's menu and they were able to work with us to re-create it. Franklin and Leyla, the couple who owns and runs Navy Beach Restaurant, are an incredibly helpful, organized and down-to-earth couple who made our wedding easy to pull together without a problem. They communicated clearly and efficiently throughout the whole planning process, so nothing was a surprise and all costs were outlined and accurate. Working with them was the easiest part of the whole planning process.

The staff was so friendly, sweet and helpful and made sure we had everything we needed throughout the night. I never once had to be concerned about the setup, food, bar or anything our guests needed. Franklin was on hand the whole night to oversee that things ran smoothly and they did, flawlessly in fact.

I can't recommend them enough, whether for a wedding, reception or rehearsal dinner.

Mark

Married on 06/25/2011

we first met with navy beach shortly after their opening in 2010. from the time we met to see the venue to our actual wedding it was smooth, easy and flexible . franklin and lelya act like hosts of their home and the staff service was great. we had served family style that was a bit hit with our guests who enjoyed the format over the fixed dinner style menu. the setting is amazing really waterfront as you can get and many of our guests are still talking about it. a must for all wedding considerations in the hamptons on the waterfront. !

Sarah

Married on 10/03/2015

Franklin and his team were amazing and super helpful in creating the perfect rehearsal dinner for our wedding. The food was served family style and they were helpful in being a bit flexible with the menu. The food was delicious, everyone said the food was better here than at our actual wedding :) The staff was attentive and even helped us with taking home some leftovers for a guest who couldn't attend. Great food, service and price. And the best view of the ocean :)

we had a wonderful time having a wedding reception here!!!!