61 Reviews
Recommended by 100% of couples
Quality of service

5 out of 5 rating

Average response time

5 out of 5 rating

Professionalism

5 out of 5 rating

Value

5 out of 5 rating

Flexibility

5 out of 5 rating
95 User photos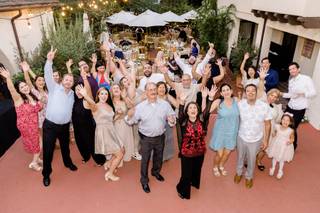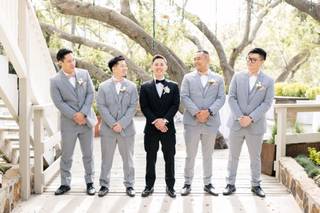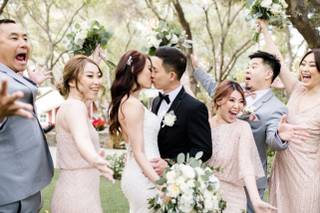 + 91

photos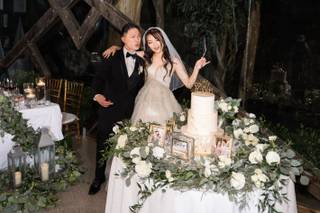 Digna

Married on 09/24/2022

Professional and compassionate

Nathan captured my parents' 50th anniversary recently. His work was recommended by my cousin who frequently contracts with Nathan to photograph her growing family. I have hired many other photographers in the past but none with as much interest as Nathan. In the months leading up to the anniversary, Nathan was emailing and texting me in preparation. He asked lots of question to assure that he'd produce what I wanted. He was also concerned with being respectful of the rules imposed by our church. On the day of the event, he carried a list of all I asked for so that he was sure to meet all my requests. Nathan arrived on time and took queues from the priest during the ceremony. Guests were impressed with how personable Nathan was. He was excellent with getting the children in our family to pose. My main concern for the event was the well-being of my elderly parents, especially my frail father. Nathan was extremely gentle, patient, and compassionate. He modified his plans depending on how my dad was doing. If dad was not able to meet a certain idea Nathan and I had developed, Nathan would think of something else or figure out another way to do things. He was very caring and careful of my parents and their needs. I was truly impressed at how well he worked with all ages and with how he managed photographing my parents around my father's needs/limitations. Sadly, soon after the anniversary, my father died unexpectedly. Luckily, I have these beautiful pictures to remind me of the wonderful celebration and, more importantly, of how happy my parents were that day. Nathan captured all the feelings. You will not regret hiring Nathan for your event. I highly recommend his work and will definitely work with him again in the future. Thank you Nathan for capturing such a special event in such a beautiful way for my family.

Caitlin B.

Married on 09/17/2022

Beautiful photography and is wonderful to work with!

We absolutely loved working with Nathan! He has exceptional attention to detail and was extremely communicative throughout the planning process and day-of. Most of all my husband and I appreciated Nathan's sense of humor and calm demeanor day of the event. He was super professional and on top of getting every shot, but also made it fun and was great with guests. We also appreciated his collaborative approach to putting the album together and thoughtfulness about every detail. Overall, fantastic experience and would strongly recommend him!!

Robert J.

Married on 07/08/2022

Extremely Pleased Clients

Nathan came highly recommended by our wedding venue, but we knew we had a winner after interviewing him and reviewing his online portfolio. Nathan has a way of naturally making us feel relaxed, getting us to laugh, and captures our intimate moments perfectly. On top of that, his base fee covered our entire wedding day timeline (no surprise fees on the day-of) and his editing is top-notch. Our "golden hour" shots on the beach were majestic (we'll never understand how he eliminated all the people walking past us on the beach that day).

We'd highly recommend Nathan to all our friends/family and would love to work with him again for our future family portraits!

Are you interested?

Send a message

Cassandra F.

Married on 06/25/2022

Knowledgeable, attentive, and great advice

We couldn't have asked for a more attentive photographer to bring out the essence of our wedding. Nathan's guidance and direction helped document the best parts of our day, and he helped my husband who is introverted in nature to smile and be present and true in every moment.
Nathan found every right place to be to photograph our families throughout the day, and he helped us to get the best pictures to memorialize our wedding. His knowledge shone through as he suggested the best times of day for us to have our ceremony then get our pictures together; were it not for him, we would've lost the light and half of the pictures that we wanted.

Debbie A.

Married on 03/19/2022

Nathan Jaffan is our go to photographer for the rest of our lives

I had a few interviews with different photographers I found on wedding wire. We found Nathan to stand out as he was charismatic, flexible, professional, and SUPER responsive. He gave us a feeling of confidence by helping us plan our wedding timeline. He was more than a wedding photographer, and had extensive knowledge in the details of planning. Day of our wedding, Nathan brought out his great sense of humor to capture the lovely smiles of my wedding party and non-english speaking family members. We also received positive feedback from our other vendors for how easy it was for them to work with Nathan. The most important thing we worried about was having only 1 photographer, however, Nathan took initiative and made sure to capture every photo we wanted. He made it happen with ease and strong leadership. He is efficient and professional with the timely delivery of photos and the customized wedding album we ordered. I plan to come to him for our anniversary photos every year and I even gifted him to my sister for her wedding that is on 2/4/22 to guarantee she has wonderful wedding photos herself. Nathan Jaffan is truly the best, you can check out his instagram and website for his work.

+ 6

photos

Carrie S.

Married on 12/04/2021

Amazing! Nathan is an artist, his eye for capturing the special moments is unmatched.

Nathan is nothing short of amazing. Not only are his photography skills unmatched, but he is so personable and fun to be around. Nathan is professional, responsive, talented, and approaches every client as though they are life long friends. He captures the most perfect moments and the end product is photos you will cherish forever. You cannot go wrong with Nathan.

Melissa C.

Married on 11/13/2021

Best Wedding Photographer ✨

The photographer is the most important vendor you will hire for your wedding. Your wedding will go by in a flash, and after the event you've spent months planning, all you will have left are the photographs. You will share them with family, friends, your future children and grandchildren. This is why we chose Nathan Jaffan Photography.

After reviewing many photographers, my spouse and I both agreed Nathan was the perfect fit for us. The lighting, angles and attention to details were on point in every image. He made us both feel at ease and captured so many beautiful, intimate moments, between us and our families. Many friends have already requested his information from us, as they too can see how talented he is.

Working with Nathan was a dream. He was responsive to all my emails and questions leading up to the event, and always made me feel like a priority. Thanks to his guidance leading up to the big day, we were able to capture every image I had visioned in my head.



Shana H.

Married on 09/26/2021

The Ultimate Professional!!

I first became acquainted with Nathan after my friend chose him to photograph her engagement and wedding. I was so impressed by his demeanor and quality of work that I knew I needed him for my own event.

I first contacted Nathan through his website and received an in-depth reply within 24 hours. He was very thorough in answering all of my questions. All future correspondence, whether it was via email, phone, or text, was always answered within 24 hours or less.

Nathan was always open to any ideas or suggestions that my husband and I had. If we were not sure on something, I knew we could always depend on him to make suitable suggestions in regards to anything from poses to locations/backdrops.

The quality of Nathan's work is flawless. He knows how to incorporate the lighting and backdrops beautifully into the shots without overshadowing the primary subjects.

Not only does he deliver amazing natural posed shots, but some of my favorite shots were of candid moments. He knows how to capture the true joy and love of the moment in a way that is natural and timeless.

Nathan is extremely personable and has the ability to put anyone at ease. Taking lots of posed pictures can be a trying experience for some (mostly men and children), but Nathan's abundance of patience and easy going demeanor make the whole process fun and the time flies by in the blink of an eye.

Nathan was very quick to send us preview shots from our event. All of our final shots followed in a very timely manner. We were provided plenty of options; picking favorites was a difficult task! Nathan also makes ordering prints a breeze.

Nathan truly cares about the happiness, satisfaction, and well being of his clients. I would not hesitate to recommend his talents to anyone planning their engagement photos, wedding, or even family photography. He will be responsible for photographing all of our future life events.

Heather M.

Married on 09/11/2021

I would recommend Nathan as a wonderful photographer!

Nathan is a wonderful photographer. We were referred to him by a work colleague. We used him as our photographer in the Fall of 2020. These are just a few of the many reasons we would recommend him.

1. The process matters, but so do the results. Nathan's pictures look great! Good lighting, interesting framing, good mix of tight shots and shots with background. Strong awareness of color, but also loved the black and whites. And he was receptive to the specific shots we wanted.
2. Nathan has a great "bedside manner." He works well with family members across generations, and makes everyone feel comfortable and at ease. Which helps makes for genuine smiles. Simple but important.
3. He is responsive. I am busy and do not like being made to wait. Nathan responds timely and substantively. And he follows up. Which is exactly what you should expect from a professional.
4. Nathan's planning was good, but he was flexible. If your mother in law is running 40 minutes late, he adjusts. Good focus on the job at hand (pun intended) but manages the stress. The photo shoot should be fun. Happy people, better pictures. Nathan did a great job with that.
We would recommend Nathan to anyone looking for a fun, but professional process; you won't regret it!



Zoya J.

Married on 06/05/2021

The most amazing photographer, nathan jaffan!

I used Nathan for my wedding photographer and saying I was amazed with my photos was an understatement. I met Nathan at a friends wedding that he was also the wedding photographer at. He was so personable and I saw how great her wedding photos turned out! Once I got engaged, I knew I had to have Nathan as my photographer and he was the first vendor we booked. He was so responsive throughout the entire process. With the stress of our wedding being delayed due to covid, he helped us stay positive and excited for the big day to come. I had so many questions while planning and he was quick to answer every time! Out of all my vendors, I spent the most time with him on the day of my wedding and he truly kept me at ease the entire day. All my friends and family have raved about Nathan. He was so friendly to all my guests and my other vendors. I had 15 bridesmaids (hard to handle) and he kept us having fun throughout the entire day! I have already recommended him to other friends and family members and will continue to do so. Many of my guests have already reached out to me asking for his information. Nathan is energetic, fun, friendly, and an incredibly talented photographer. I cannot express how much we appreciate him. He was able to capture our day so perfectly and we will cherish these photos forever. THANK YOU, for everything Nathan!!!!

Ruth N.

Married on 12/05/2020

The best photographer!

Nathan is an amazing photographer! He was so easy to work with. It felt like we had known him forever. The booking was easy and fast. He worked hard to get the images and setting that we wanted. He gave great suggestions and guidance on different places for pictures. His pictures were flawless!

Kathy D.

Married on 09/09/2020

Photographer Extraordinaire!

Our experience working with Nathan was amazing! He has such an amazing talent behind the camera. Nathan took photos of my daughter's bridal shower and wedding that will be forever in our minds as he caught the REAL couple and the authentic moments between them. You can feel the love from his photos! His approach is down to earth and friendly which helps when you are getting two families together for the first time. Nathan has the ability to get everyone on the same page and smiling, and he even got my elderly father to smile! Now that was a miracle!

While researching photographers, many I looked at were ok but Nathan was the BEST in every category. Aside from the quality of his work, he collaborated with us on all things photography by explaining the processes, planning our timelines and scouting the venues for the best photo spots. His ability to know what to do when and why was remarkable. He was in contact with us every step of the way and promptly responded to emails, texts and phone calls. He even went above and beyond by sending care packages. His approach to customer service speaks for itself - it's clear that Nathan truly cares about his clients and it shows!

Nathan has since become the person we will use to photograph all of our family events. We trust him explicitly to capture those genuine smiles. You will not regret hiring Nathan as he is all things wedding photography: experienced, smart, friendly, has vision of what YOU want and is flexible to do it your way. I can't say enough great things about Nathan. I'm just so happy he is our go-to guy from now on!

Leslie Z.

Married on 08/28/2020

Fun experience! I would do it all over again.

Nathan came in as a life saver for my Covid wedding. He were super flexible with everything, allowing me to build my expectations and revise it as necessary, which was a few times considering how quickly everything was changing this summer in terms of restrictions on weddings. The picture taking process was super time efficient without being rushed.
This was my second time working with him and I'd choose him all over again. I found him through instagram nearly a year ago and his pictures were breathtaking. Aside from this being business he also has the personality to allow you to be yourself and have a great time taking pictures. My husband and I like his accent:) . What made me choose Nathan again is the fact that he's reliable, he responds to questions in a timely manner and he's a joy to have around. I'd recommend his services to anyone who's looking for a photographer that's reliable and creative.

Kristen S.

Married on 07/11/2020

Best Photographer in SoCal!

We are so glad to have chosen to work with Nathan! My husband and I chose him back in March/April 2019 for our July 2020 wedding based on the quality & creativity of his photos and his detailed & timely responses via email. I really appreciate good communication! He sent us a congratulatory bottle of champagne and card after we put down our deposit with him which was such a wonderful surprise! Things like this really make you feel excited about getting married! He also shot our engagement photos as part of our photo package and brought us little gift bags with water, chocolate & goodies with Mr. & Mrs. on the bottles! Such a nice touch, again keeping the feeling of excitement going (especially during a 2 year engagement!). He had great insight into the photo locations in Newport Beach and I love the way the photos came out! We shot the photos in August and received them digitally and on a photo disc in the mail in September. As our wedding drew closer we planned out a timeline. We appreciated the time Nathan would take to go over things with us both via email and over the phone. The details matter so much! Once COVID hit, we weren't sure how that was going to affect our wedding so we held off on a decision until May. Things changed a lot with our wedding plans and we didn't think we would need Nathan during our reception. We realized we would need him but unfortunately he was not comfortable being indoors during COVID. My restaurant moved everything outside but unfortunately he was still not willing to shoot the reception. I ended up having to hire another photographer for the reception last minute a few weeks before the wedding. I have to be 100% honest that I was disappointed hearing that he would not commit to the full day, as that was the original commitment that was made pre-COVID. However, I understood that everyone has different comfortability & feelings when it comes to the pandemic and I rolled with the punches. He met us beforehand to check out the photo locations we had in mind for our newlywed photos which was great! He did an incredible job on our wedding day and sweat bullets all afternoon long taking photos. He also found an incredible spot for our newlywed photos which was just magical! We received our digital photos a month after our wedding and he sent a card and USB stick in the mail. He has been my most favorite vendor to work with and one of the kindest, most patient, thoughtful & hardworking people I've met. We can't put into words how much we appreciate his work on our special day and during all the time leading up to it! You cannot go wrong in choosing him as your photographer no matter the occasion!

+ 6

photos

Ally

Married on 02/29/2020

The absolute best!

Nathan was the absolute best to work with! He truly took his time to make sure he got the perfect shot and was always prepared and patient when I wanted to switch things up last minute. He had done the wedding photography for one of my friends and when I saw her pictures I knew I wanted Nathan to do my wedding. It was very important to me that I have amazing wedding pictures as they will be the best things that I will have to look back on my wedding. He was incredibly professional and kept me on track with all the information that he would need to ensure that he would be able to get the perfect pictures and be prepared for the day. He reached out multiple times and sent many reminders and personalized gifts that made me even more excited for the big day. I looked at many other photographers but nothing compared to his work it is very clear that he is passionate about what he does and wants to provide the best. He stayed in great communication with my vendors even visiting my venue prior to ensure that he can get the perfect pictures and plan out how he could do so. I LOVE the pictures that I got and he captured EXACTLY what I wanted. He did so much more than just snap a few pictures he really went above and beyond to make the day special and now my pictures are something that I look at daily.

Dina M.

Married on 01/10/2020

Exquisite photographer, no one else like him!

We found Nathan Jaffan through our band/DJ. After our initial email to him, we realized Nathan was incredibly responsive and thorough. We met in person shortly afterward, and left that meeting with a "there's no way we aren't hiring this guy!" A decision was made before we made the short walk back to our car!

In the months that followed, Nathan was meticulous in his planning. In fact, I would say that the flow of our day and most of the nitty gritty details were spearheaded by Nathan, and were expertly planned. Aside from the fact that his talent is unsurpassed, truly, he understands the demands of a wedding and planned our photos with such intricate detail. We felt totally relaxed, comfortable and thankful to have someone like Nathan in our corner. I didn't have a wedding planner, simply a day of coordinator at our venue, but Nathan's professionalism and thoughtfulness throughout our wedding day, and the planning period before made everything easy, fun and exciting! He also worked so well with our other vendors- each one of them making a point to pull Adam and I aside to tell us what a wonderful photographer he was to which we would reply, "Thanks! We 100% agree!"

For Adam and I, Nathan will become our lifelong photographer, for as long as he will have us! I would hire Nathan for any professional photographs, from a wedding, to a baby announcement, to family photos, etc. He is very quick to answer questions or address any concerns you might have, and finds solutions that you hadn't thought of on your own due to his attention to detail and high quality of customer service.

The images that Nathan took send me to happy tears each and every time I look at them, even months after our wedding. He was able to capture our love, and images of our family and friends in the absolute most perfect and realistic way. Through his pictures, we are transported back to the story of our day, and we will forever be indebted to Nathan for masterminding the entire event.

I would recommend Nathan to absolutely anyone thinking of hiring a professional photographer. There is truly no one else like him in this business.

Leslie C.

Married on 11/24/2019

Fun experience! I would do it all over again.

Nathan took our engagement photos a few weeks ago.
I chose Nathan as our photographer because i was confident based on the pictures I saw on his website, that he his way around the camera. The more pictures I saw the more I became drawn to his work. Aside from him taking beautiful pictures, we also enjoyed his charisma and his straight forward directions. He made our first time experience for both me and my fiance photo session a fun experience to remember. We would definitely do it again. We recommend Nathan's services to anyone who wants to take beautiful memorable pictures. Whether it's engagement, wedding, maternity or family pictures. He will make the best of it. Nathan has the perfect balance of being efficient, professional and funny. He has the perfect personality to be a photographer. He was able to capture all the images we wanted and the pictures came out better than i expected. Looking forward to working with him again in the future.

Caroline S.

Married on 10/26/2019

Absolutely the best photographer in the business!

I cannot say enough good things about working with Nathan! I chose to work with him based on his beautiful archive of past weddings. He is very skilled at capturing true, authentic moments between two people who love one another. I love the photos he captured for our shoot on 10/23/19.

My favorite thing about working with Nathan is his precise attention to detail and his prompt delivery of edited photos. He was seamless in his skill during the shoot and delivered the edited photos right away.

I would recommend Nathan to all my dear friends and family. I trust him and I know he would deliver the most beautiful photos. He is also extremely professional and prompt with his responses to any questions, emails, texts or phone calls.

Lastly, I think the most important think to know about working with Nathan is to have faith that you can trust him. He will see and capture the most authentic moments and they will powerfully resonate through the photo.

Dori D.

Married on 09/21/2019

Great to work with and beautiful photos!

Nathan was great from start to finish - he was very flexible and willing to work with us as we planned a wedding in CA from NYC. He truly cares about the couples & families he works with, and the quality of the photos is amazing! I love his bright, timeless editing style that will never be "out of style". My maid of honor's sister is getting married next year and will now be using him as well since she loved the pics so much!!

+ 11

photos

Anastasia D.

Married on 04/27/2019

Nathan made our wedding day even better...

Nathan's wonderful photography speaks for itself. His personality and approach made our wedding day that much better. He was respectful of our event while able to capture special moments. He was both professional and flexible to our changing needs the day of. He made everyone feel comfortable. After our wedding, guests complimented him and we planned to schedule anniversary photos with him, before we saw our wedding photos.

I initially found Nathan because he's a preferred photographer of our wedding venue, Surf & Sand Resort in Laguna Beach. I researched them all and liked what I would call his natural style. His photography is not overly produced and you can tell everyone is genuinely enjoying themselves. When I contacted him I knew we had found our wedding photographer. Communication throughout the process was impeccable. Just what a bride needs! We look forward to working with him in the future.


+ 4

photos

Heidi W.

Married on 11/10/2018

Wedding photographer

I found Nathan on the vendor list at our gorgeous venue in Laguna Beach! The second I talked to him in the phone I knew this was a great match! He was extremely responsive, prepared and thorough from the beginning all the way to the end! Our wedding photos are breathtaking and he captured every beautiful moment! My guests lived working with him as well! He kind, patient, professional and extremely talented!

Kim B.

Married on 10/20/2018

Perfectionist

Nathan is a perfectionist. Everything he does from the way he carries himself to the work he presents to the product he produces is top notch. He is very responsive, and he was well prepared for our big day. I am the kind of person who is "on top of it" and I felt like Nathan was right there with me. I would highly recommend Nathan Jaffan.

Jasmine

Married on 06/16/2018

Please take the time to read this review. If I could give Nathan 11/10 stars, I would. My wife and I found him by chance at a wedding expo in Orange County, CA. We won his services for a free engagement shoot, and he won us over. After that photography session, we immediately knew that we had to have him for our wedding. We had interviewed a few other photographers, but nobody even compared to his positive attitude, artistic ability, and a stern "take charge" attitude, which we appreciated on our busy and hectic wedding day. We loved how kind and personal he was, and how he listened to our wants and wishes. Also, when my parents passed away before the wedding, he took the time to call and send a card. We were very touched. He even sent us wine and movie tickets a week before the wedding to relax! I would absolutely recommend him to everyone and anyone.

But down to business, he was very responsive to emails and phone calls. But we loved that he was willing to come to us to meet in person. We were very busy, so it helped that he met us locally to plan out all the details. Come our wedding day, all his planning payed off. We did not have a single photography issue on our wedding day, which was amazing. He worked well with gathering our family, friends, and bridal party for all the photos we wanted. He also synced perfectly with our Videographer, DJ, etc. Most importantly, our images turned out beautifully. We couldn't be happier with how elegant, crisp, and high quality our photos turned out. In our opinion, the photographer is one of the most important elements of a wedding to forever capture those special moments, and Nathan did that for us. He went above and beyond, and we couldn't be happier. We have been married for 3 months and are already contacting him to plan our maternity photos. Please do yourself a favor and hire Nathan Jaffan to photograph your special day. You will be glad you did!


+ 4

photos

Katie K.

Married on 06/02/2018

Katie & Daniel

Nathan was wonderful to work with, he is extremely dedicated to what he does and made the planning easy up to the day! He went to the venue ahead of time to scout out the location and ideal shots for photos, which I feel went above and beyond. Nathan is very professional. The small details and presentation that he provides with his services are wonderful! He worked very well with our videographer and other vendors the day of the wedding! Our wedding timeline was very tight the day of, so the only thing I would consider would have been to use a second shooter just to alleviate some time. Nathan captured wonderful images of the day and I would recommend him to capture your day!

+ 6

photos

Alyssa

Married on 05/20/2018

Nathan is the most amazing, kind, and professional photographer! He was so easy to work with and accommodating and even took detail and family photos that we had not specifically requested and I'm so glad I have now!! In less than one week after our wedding, Nathan had our highlight photos over to us and they are so perfect, we cannot wait to see the rest! Not only is his work unbelievable, but he made our time taking photos so much fun!

I can't imagine entrusting our wedding day to anyone else and will forever be grateful to Nathan for the photos and memories we will cherish for the rest of our lives!!
Are you interested?
Send a message