41 Reviews
Recommended by 100% of couples
Quality of service

5 out of 5 rating

Average response time

5 out of 5 rating

Professionalism

5 out of 5 rating

Value

5 out of 5 rating

Flexibility

5 out of 5 rating
22 User photos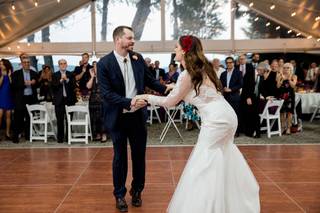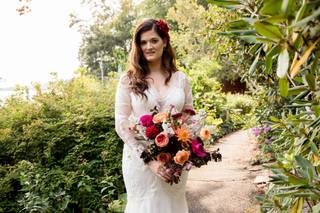 + 18

photos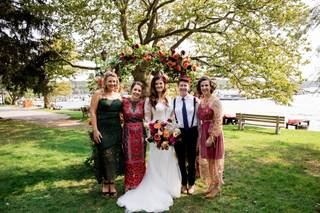 Olivia W.

Married on 09/12/2021

Nadya is the best!

I highly recommend Nadya as a wedding photographer. She was very easy to communicate with, extremely relaxed on the day of (which kept us relaxed!) and her photos are AMAZING! Nadya helped me create a timeline for the day of the wedding and was super professional. We got married on a Sunday and she had the photos to us by that Friday!

+ 4

photos

Amber

Married on 07/17/2021

Book Nadya Now!!

I cannot say enough good things about Nadya. From engagement photos with our dog, the process of postponing, and (finally!) our big day, she was friendly, approachable, and professional. We had to make changes to our photo plans a few times throughout the day and were fighting off an impending storm, and throughout all of it, she was calm and reassuring, which left me no other choice but to be too! She kept us on schedule, was able to wrangle our 16 person bridal party and capture the important big family photos at our reception, all with a smile on her face! Not to mention, the photos were UNBELIEVABLE and exactly what we wanted. If you're thinking of hiring her for your wedding, do it! You won't regret it.

+ 5

photos

Lauren

Married on 10/09/2020

A dream photographer

Look no further for a photographer. I spent weeks researching different photographers, and I can't tell you how beyond perfect Nadya and her team was. Nadya was an expert on where to shoot at our venue and her photographs exceeded all my expectations and hopes. She is truly a painter the way she uses light in our photos and made the day carefree and fun. Even all of our family members are in awe of the photos and how all the images turned out. She was organized and we got every photo grouping that we requested and more. The whole experience was a dream and I am so lucky I found Nadya Furnari Photography!

Are you interested?

Send a message

Maya

Married on 09/05/2020

We will always be grateful for her!

Hiring Nadya was the best decision we made during our entire year long engagement... and we made a lot of good decisions! From the very first messages many months ago, to the emails we exchanged after the wedding, she was a complete joy to work with! Firstly, her prices are extremely reasonable, especially considering her award-worthy talent. Next, she is highly professional: arrived day-of not only on time but early and with a smile, was respectful of weird family dynamics, followed all covid precautions without a reminder, and made sure not to be intrusive or overbearing when taking photos throughout the night. Lastly, and absolutely most importantly, she is an amazing photographer! She captured over 900 images from our small socially-distanced wedding and we loved EVERY.SINGLE.ONE. It was so hard to choose which ones to print because they were all masterpieces and we will cherish them for the rest of our lives. Do yourself a favor and hire Nadya and her assistant. You will not only not regret it but you will celebrate it when you have your special day so beautifully memorialized. THANK YOU NADYA!!!

+ 2

photos

Courtney K.

Married on 06/29/2019

Best wedding photographer ever!!!!

Nadya has been an absolute joy to work with from start to finish. She came highly recommended by a colleague, so I knew I was already in excellent hands. Once you take a look at her portfolios you know that your wedding photos will be exquisite. We spoke with Nadya via Skype and felt very comfortable. She explained that she includes your engagement shoot in your package to allow everyone time to get comfortable with her and comfortable in front of the camera. This experience was definitely helpful and I was able to relax on the day of. We also got some excellent candid photos of each other to use for our save the dates.

I did not need a day of coordinator because Nadya helped outline our day for us. It all went smoothly and we didn't miss a thing, not even a minute of our cocktail hour. Nadya shared our pictures with us less than two weeks after our big day. We have over a thousand photos, both candid and portraits, of our families, our bridal party, and us. It was hard deciding which ones to print because we loved all of them. She made designing the album very simple and we received it less than two months after our wedding day. I still get compliments on how beautiful our photos were and I would recommend Nadya to anyone planning a wedding.


Erica

Married on 02/02/2019

Beautiful Photos to Last a Lifetime!

Nadya is amazing! I liked her work so much I contacted her twice in my mad dash to find the perfect photographer. My gut was right, Nadya was a joy to work with. She's funny, professional, organized, laid back and her work is beyond beautiful. She is up for an adventure to get the best shots and to brave the cold (February wedding here). You don't even notice her while she's taking pictures. She gets great candid shots and can lead a rowdy but fun group to the perfect poses. Our photos truly capture what our wedding day was like which is something I'll be forever grateful to Nadya for!

Emily

Married on 05/19/2018

We just got our photos back from Nadya and I am thrilled. They are absolutely gorgeous and capture all of the emotions and feeling of the day so well. Nadya is so easy to work with, extremely professional but also just happy, relaxed and chill throughout the day. She makes it so easy to get all of the pictures you want without spending hours and hours taking photos. We had to deal with some unfortunate weather but she captured stunning portraits indoors and they still feel bright and sunny - even though the sun never came out. She's the best!

Margaret

Married on 10/07/2017

To put it quite simply, book Nadya for your wedding!! From the beginning Nadya was so easy to talk to and discuss options even while planning our wedding from out of state. We had seen some weddings she had done at our venue, and knew we would already love the shots she would take. However, her calm demeanor and organization on the day of our wedding, along with laughing along with our crazy bridal party and family, was what made her truly spectacular. She was so quick with pictures, less than two weeks after our wedding, and they all came out beautifully! Our wedding day was truly the best day of our lives, and Nadya was able to capture every detail of us, making us able to reminisce whenever we want!! Thank you Nadya!!

Alyssa

Married on 07/08/2017

Nadya and her assistant were the epitome of amazing professionals the day of our wedding! I knew I wanted to hire Nadya as soon as I saw her pictures, but her awesome personality was an added bonus. She kept us laughing throughout the day taking pictures, and not once did I ever really take notice of her snapping candid photos..she was sneaky in the best way possible! Her quality of pictures astounded us, and she truly captured the moments that meant the most to us throughout the day! If you are looking for a great photographer, then look no further than Nadya. She thinks outside the box when taking pictures, and does a great job of getting candids and posed photos. She is so creative and that comes through in a lot of her pictures, we were truly amazed! I highly recommend using Nadya if you want the best wedding pictures!!

Lauren

Married on 05/20/2017

Nadya Furnari is a true artist. She is patient, sweet, calm, and has great ideas to capture the moments, both spontaneous and planned, you will treasure in an album forever. We hired Nadya to photograph both our engagement and wedding pictures. From our first meeting, I told her how important it was to me to have our engagement pictures taken in my hometown of Troy, NY. My now husband and I live in New Jersey and our wedding was in New Jersey, so I wanted this little bit of home in our wedding planning. Nadya was on-board from the get-go and was excited to shoot in a new place. When a hurricane threatened the first day we picked, Nadya had no problem moving our travel date and made the 3 hour trip for us. I was so impressed to have a vendor who would make that kind of commitment for a stranger.
When it came to planning our wedding day, Nadya was so helpful working with us on planning on photo shot list, and working alongside our videographer. She had photographed at both our church and reception venue before, so she knew exactly where to get the best lighting and sight lines. And even though she has a sweet demeanor, she can wrangle any wayward family member into the shot so you can get through posed pictures on your way to mingle with your guests.
When my husband and I saw her blog post with highlights of our wedding day, we were awashed in happy tears - the images were so beautiful. We will cherish these photographs forever and so will you!

Allyson

Married on 09/10/2016

Nadya was so great to work with! She is very relaxed and knows how to make you feel comfortable. Nadya was always very responsive and flexible based on what we wanted. Our pictures came out beautifully and I would absolutely recommend her to friends!!

Alexis

Married on 08/12/2016

If you are looking for a true professional and incredibly talented photographer then Nadya is the girl for you. After interviewing several photographers my fiancé and I met with Nadya and got such an warm vibe. She comes off as laid-back but she extremely organized and really listens to exactly what you're looking to get out of your photos. Having been the last of my siblings to get married, it was in very important to me to have several candid shots that truly capture the moment instead of tons of portraits since neither of my siblings did much with those photos after their wedding. Nadya gave us just that... thousands of incredible candid moments that captured all of the emotion of the day. The shot that she was able to get from behind my shoulder of my dad's reaction to seeing me for the first time in my gown is truly priceless and something that I will cherish forever. You don't realize it but the day goes very fast and there are so many things that you don't get to see and Nadya makes sure to get photos of all of those special moments. She really got to know Jon and I to make sure that she knew exactly what we wanted out of our photos and let me tell you she delivered on everything!! We have had several people ask us who our photographer was to recommend them to friends and family because they were so impressed with our photos. Nadya is also extremely timely with getting the photos back to you which is so important because once you're depressed that your special day is over all you want to do is relive it through photos! I cannot say enough about my incredible experience working with Nadya and I am beyond grateful to have a lifetime of amazing photos!

Stephanie

Married on 07/30/2016

Nadya was absolutely amazing throughout the entire process and made choosing a wedding photographer extremely easy!! We began with an engagement shoot, where she traveled to Hoboken to shoot in the town we live in, and took some amazing shots on the waterfront. As soon as we met Nadya, we knew we loved her! She is so easy-going, super friendly, while also very professional and clearly knows what she is doing. We were so in love with our engagement shoot that we couldn't wait for the wedding photos! After receiving our photos this week, we couldn't be happier. She captured every moment (including tears, laughs, smiles, and everything in between!), and pictures that we will have forever. She had a very quick turnaround and also provided us with a sneakpeak just a few days after our big day. I would recommend Nadya extremely highly to anyone looking for a wedding photographer. She went with the flow the entire day, and allowed us to ensure we got all of the photos we wanted while still providing enough instruction with our bridal and grooms parties to get as many photos as we could! Thank you Nadya for everything!!! xoxo

Sophie

Married on 07/02/2016

Nadya was amazing - extremely professional but also super friendly and easy to talk to. She totally understood everything we wanted, for example that we did not want an intrusive photographer, but rather a "behind the scenes" approach. Even on the day, our parties were impressed with how nice and quick she was. Leading up to the wedding, she was very quick to respond to emails and very organized. We are really happy with how the photos turned out. I would definitely recommend Nadya!

Christina

Married on 07/04/2015

Nadya was amazing to work with. She got back to us very quickly about everything we needed to plan and was really flexible about speaking with us over Skype since we live in Boston. The morning of the wedding I was sort of a disaster and she basically took on a role of helping me keep it together, in addition to taking BEAUTIFUL pictures!! Her second shooter was also very professional and fun to be around. They made the sometimes lengthy but necessary process of taking family and wedding party photos easy and fun. She's great at the candid photos, which was something I was really hoping for. I can't believe how quickly we got the pictures back. It was like 2 weeks. Just seriously amazing. And the photos are PERFECT. Also she sent us a thank you card with our USB of our pictures which was lovely. THANK YOU SO MUCH NADYA!!

Alissandra

Married on 06/20/2015

Nadya shot both our engagement and wedding photos. I can't say enough kind things about her. She's an extremely down-to-earth, calm, kind and genuine person! She's easy to work with, knows when it's her place to give her opinion and goes with the flow. She made the entire wedding photo process feel fun. She let our personalities shine through instead of forcing us to do something we didn't feel comfortable with. All of our poses in our photos were natural, loving and totally us. I loved getting to know her first with the engagement shoot, because we had a great level of trust and comfort with her on our wedding day - I was actually excited to see her when she arrived! I didn't think about "oh, did she get this shot?" because I knew she would - and she even made a list of certain shots I wanted so that on that day, I didn't have to think about a thing. We couldn't have been happier with her photos, which I shared on my own blog (I'm a blogger.) You can find them in the below links that follow this review. So thank you, Nadya - and I can't wait for you to take our baby pictures!!!! Maybe in a few years, of course - hope you're still taking photos then!

http://www.inspiralized.com/2015/07/16/our-wedding-part-1-getting-ready-the-first-look/
http://inspiralized.com/2015/07/23/our-wedding-day-part-2-the-ceremony/
http://inspiralized.com/2015/07/30/our-wedding-recap-part-3-the-cocktail-hour-reception/


I highly recommend Nadya! She was very responsive and easy to communicate with, did a great job of getting all the photos needed in an efficient and friendly way, and most importantly, her photos are gorgeous! We were very very happy with how they turned out. I did quite a bit of research into central jersey wedding photographers, so I can save you the trouble of doing all that research -- you won't regret going with Nadya!

Fiana

Married on 10/04/2014

Nadya is simply the best. She not only takes a gorgeous picture, but is also wonderful to work with. Her second shooter for our wedding was amazing as well. We had such a great time working with them both! We tried catching Nadya off guard a few times while working with her by driving her out onto the beach to take engagement pictures in the freezing cold and running out of our reception to catch a couple photos in front of a twilight sky. Nadya never flinched and delivered flawless shots with the biggest smile. She is also brilliant at photographing natural light and she took the exact bright beautiful photos we imagined. And if you're looking for a photographer that captures the priceless moments as they unfold, look no further. She has an eye for the genuine moments, the ones you end your wedding day repeating in your head to commit them to memory. There's no need to worry, because Nadya's captured it beautifully. We can't say enough about how great an experience this has been and how happy we are with our wedding photos. We were also amazed at how quickly after the wedding we were able to view our pictures! She really cares about each of her couples and makes you feel like a priority. Absolutely LOVE Nadya Furnari Photography! She was one of the best wedding vendor decisions we made!

Robin

Married on 08/15/2014

We found Nadya's work on line and were immediately intrigued. Her understanding of composition, lighting and color reflect in her work. She's really an artist. We loved her after our first meeting, she's super professional but down to earth, and answered all of our questions and made us feel at ease. She was immediately responsive to all emails and follow up questions.
During our engagement shoot and the wedding day Nadya made us feel relaxed and confident in her abilities, no shots ever felt staged and they were all beautiful!
Nadya was even pregnant during our wedding and made sure she brought the man power behind her in case she got tired that day! She is a true professional and worth every penny.

My husband and I could not have been more thrilled to have Nadya capture our wedding. Looking through our photos not only allowed us to relive our wedding day but we were constantly delighted by the way she captured the special moments.

Nadya is the perfect combination of easygoing, accommodating, and fun to be around while also being very skilled, unobtrusive, and having a wonderfully artistic eye. She captured shots in ways that were creative and beautiful, occasionally using angles, compositions, or backdrops that were unexpected but absolutely lovely and tasteful. My husband is a designer, and both of us were very impressed with Nadya's sensibilities--in how she captured the shots as well as how she processed the images.

Nadya also created a well-balanced combination of candid and posed photos. She knows the angles that look good on people, and she also understood our desire to have specific shots with certain family members and friends. She invited us to give her input and created a detailed schedule and shot list that she carried with her the day of the wedding and comprehensively worked through.

Our engagement session was a lot of fun and the perfect way to get to know Nadya and her style a few months prior to the wedding.

We couldn't recommend Nadya more enthusiastically, and are so grateful we snagged her to be our photographer.

Mina

Married on 06/28/2014

Nadya did our engagement and wedding photos and it was a real pleasure to have her as our photographer. We met her at a friend couple's wedding, looked at her blog, and really liked her photography style. Nadya is easygoing, well organized, and a charm to work with. Our wedding pictures came out perfect! She captured so many spontaneous moments of the wedding on camera yet remained discreet. The joy and happiness of the occasion really shines through the pictures. Nadya was also attentive to our special requests and was very flexible in tailoring her wedding photography package to our preferences. Thank you so much Nadya!

We definitely recommend her to anyone looking for a photographer for a special occasion!

Anna

Married on 09/07/2013

Nadya was absolutely great to work with! Her professionalism and attention too detail made choosing her for our wedding a no brain-er!
Thank you so much Nadya for the beautiful photos and making our wedding day extra special!
Anna& Bryan

Sally N.

Married on 09/01/2013

It was a pleasure to have Nadya as our wedding photographer! She is professional, very organized, easy going, proactive with communications (thank you Nadya!! & sorry for all the late responses!).

She did an incredible job at capturing every moment on our wedding day and at the engagement session. We got many beautiful pictures for our wedding album as well as our walls at home. Photos were delivered in a timely fashion after the event. Couldn't be happier. :)

Thank you again and wish you all the best!

Isabel

Married on 06/29/2013

When looking for a wedding photographer we both knew we wanted someone that could not only capture the moment, but also the emotion in that moment. As soon as I came across Nadya's blog I could tell she had the skill and the personality that would be so wonderful to work with. Nadya made it so much fun and natural to be photographed at both our engagement session and our wedding. It was amazing how we didn't even notice her at the reception, yet she was able to photograph some touching (and hilarious) moments. Thank you so much Nadya for putting so effort into the work you do. We will eternally cherish the memories you captured.

Lily

Married on 05/24/2013

Nadya was fantastic. She did our engagement and our wedding photos. It was a pleasure to work with her during the shoots and the final products are incredible pictures we will treasure forever.

Nadya is friendly, easy to talk to, organized, responsive to and proactive about emails, receptive to ideas and input, and easygoing. This was perfect for us, since we were sometimes very busy and would've otherwise dropped the ball with communication (sorry!) and also because Nadya had a great, positive attitude to make our vision work. Since Luke and I are pretty laid-back, we wanted candid pictures in which our personalities could shine through. At the same time, we wanted to adequately commemorate such a momentous and meaningful occasion with photos that would be beautiful and timeless, pictures we could look at 50 years from now and be proud of. Nadya achieved that balance; she gave us both fun and candid shots to remind us of the tears, laughter, and fun of the day, and also veritable works of art that we can't wait to frame and look at for years to come. She even did all this while being pleasantly discreet during the ceremony and reception, which surely contributed to the photojournalistic touch evident in the final product. We would absolutely recommend her to anyone and everyone, especially people looking for not only gorgeous, but also genuine photos. We would also hire her again in a heartbeat, but we're not planning on remarrying anytime soon. :) Thanks, Nadya!
Are you interested?
Send a message