Reviews
5.0 out of 5 rating
Quality of service

5 out of 5 rating

Average response time

5 out of 5 rating

Professionalism

5 out of 5 rating

Value

5 out of 5 rating

Flexibility

5 out of 5 rating
100%
Recommended by couples
1 User photo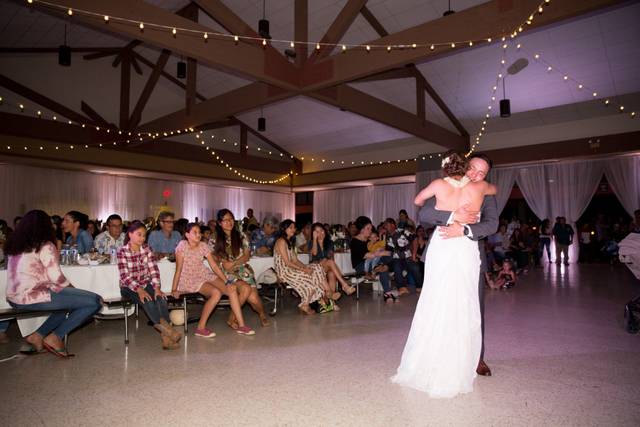 Jared C.

Married on 02/22/2020

Mayyyyyyjahhhhjjj🲪🯽

The most Professional, Epic, Easiest, Funniest, Comfortable, Experience a person can have when hiring a videographer for any event!
Sam and his crew are the best !!
Highly recommended

S. Awaya

Married on 02/22/2020

Just the best ever

Most friendly dedicated team that you could hire. So awesome, just like family. And the best quality of service as well as the pictures, videos, slide show etc. Guaranteed the best. From S. Awaya Ohana

Ariana

Married on 11/09/2019

Extremely professional and easy to work with

Excellent service, attentive photographer, GREAT photos, I 100% recommend My Moviie. We loved everything, thank you!

Are you interested?

Send a message

Roxanne

Married on 11/09/2019

Absolutely Amazing Service!

Sam and his crew were amazing to work with. We were referred to My Moviie by our wedding photographer. The moment we met Sam, we knew he was the one we wanted to work with. Our bridal party and family members felt very comfortable with Sam and his crew as they had a way of making you laugh and smile. Our day was filled with love and precious moments captured by My Moviie. By the end of the night, Sam and his crew felt like family instead of our vendor. We highly recommend My Moviie for your most unforgettable moments.

Leimakamae

Married on 09/01/2019

Grateful bride

Working with Sam has been such an amazing experience!! We first met Sam when he did my cousin's wedding. We got to talk a little after the reception but he was pretty busy so I made sure to get his business card. Prior to meeting Sam, I was stressed about planning everything and things were not going well at all. During our initial consultation at his office, he was very professional yet laid back at the same time. It was so easy to talk to him. Too easy, to the point we began to get skeptical. Being that he has been in the business for an extended amount of time and even a planner at one point, he was able to ease my mind. His knowledge, connections, and reputation he has built in this industry shows if you just make the time to speak with him! He really went above and beyond, to the point we paid in full prior to leaving our first consultation. Since then, WE have had NO REGRETS AT ALL!! He helped us out EVERY STEP OF THE WAY! We are truly blessed to have met him and that he had our date available. I cannot express just how grateful we were to have him and the MyMoviie team on our wedding day!! It was a pleasure working with all of you! If your date is available, I urge you to at least make an appointment to get a glimpse of what they can offer! Sam and his crew are absolutely amazing!! They made me believe that it was our day and demolished whatever worries we had! They were with us from 8:30 am until 10:45 pm (we agreed at the initial meeting they would be with us from 9 am until 10 pm). Just another example of the initiative they take while doing their job. I truly hope that the entire MyMoviie team enjoyed themselves as much as we did!! On top of all of this, thank God, Sam and our Emcee have worked together before because they pretty much coordinated EVERYTHING amongst themselves. I feel that if we had anyone else, things would not have went the way they did. Sam was pretty much my partial planner as well. Just to let you know; I did hire a planner but what does that say about Sam, since he was the one I would call with questions or for advice/tips/ideas. I cannot even cover everything he did for us before, during, and after our wedding and reception. I truly feel like MyMoviie became part of our family. I know that I can still call him with any questions or concerns even though our wedding came and went. :)

We cannot express how appreciative we are to have worked with Sam and the MyMoviie team! You all are amazing! Thank you so very much for everything! We love you all!!!


Christine G.

Married on 08/11/2019

Sam and his team is so amazing to work with and a blessing!

I have thoroughly enjoyed my experience working with Sam and his team from start to finish! It was truly a blessing, Sam is such an affable and personable person. He makes you feel so special on your wedding day, and captures all the right moments so that you can cherish them for the rest of your life. I can't express enough, what an amazing experience it was to work with him. The video was beautiful and affordable, in times when prices seem to be skyrocketing. I would recommend My Moviie to everyone who wants an amazing videographer who works seamlessly behind the scenes. Thank you again!!

Mahina K.

Married on 06/08/2019

Best Wedding Expense

If you're deciding on hiring a videographer I would highly urge you to consider going with MyMoviie! Your wedding goes by in the blink of an eye and to have a video to relive the day is the best decision we made. Sam is super professional and very friendly. We were referred to his company and though we weren't planning on getting a videographer (because of the expense), we were very pleased with his service. Kevin and Larry who were our onsite videographers had awesome ideas and I can't wait to see the final product.

Annie T.

Married on 05/18/2019

One of a kind amazing!

Amazing services and will always recommend to anyone

Sabrina N.

Married on 05/10/2019

One of the best most accommodating and professional video/photography team!

Sam and his team were an amazing camera crew. Sam endlessly coordinated with me and my mother for months before the wedding to make sure he had the location, timing, and all the events we would want captured on the wedding day. Sam is extremely detailed and will reassure you throughout the whole process that your wedding photos will be gorgeous. He made sure to capture every moment of the wedding day (getting ready, first look, ceremony, reception). Sam knew so much at the location of my wedding down to which areas of the resort would have the best backgrounds for pictures. He took absolutely beautiful pictures of the chapel and made sure to capture wonderful shots of the hotel where the reception was. He was so accommodating and made sure we stayed on schedule the whole day. His crew was so kind and so professional-- they made sure to remind me and my husband to smile during pictures since by the end of the day we were exhausted! They directed us for beautiful poses and were so kind to allow us to suggest a few of our own even after such a long day! I would recommend them a million times over. You will absolutely not be disappointed if you hired My Moviie for any of your special occasions. I am so glad we ended up choosing them to capture our wedding day!

Sharene B.

Married on 02/15/2019

Chance and Sharene Wedding

Sam and the MyMoviie crew made our wedding day so memorable for us. They captured every special moment and made it into a beautiful wedding video. My husband and I were having a hard time before our wedding and was dealing with a lot after finding out my mother in law was diagnosed with cancer again...But Sam was always there for us through everything. We don't see Sam as a person who owns a business but we see him as family. He's really helped us a lot to make this special day happen. If you're still looking for a videographer, I HIGHLY recommend MyMoviie! You won't regret it! They're so awesome! Sam and his crew are such great people with big hearts! You won't find a better Videographer crew than them! Thank you again Sam and the crew for everything you've done for us. Because of you guys, we will always have a beautiful wedding video that we can look back at AND because of you guys, my mother in law will always have hope and strength to fight when she watches this video everyday. Thank you again to every single one of you guys, you guys are our OHANA!

Kaui

Married on 08/18/2018

Awesome experience working with MyMoviie. Sam (which is the the owner) is just too awesome! I inquired with him in August of 2017 for a photography, videography as well as the same day edits for my wedding on 8/18/2018. He was very prompt and got back to me very quickly. We set a meeting a week later and his office, which is conveniently located in the Ala Moana Hotel. My husband and myself met with Sam, and he was so nice, we had a great feeling about him... he was very accommodating with the dates, and was nice enough to throw in the drone feature in our SDE. He also included the engagement photos into our package. To be honest, we had an amazing deal! Sam really took care of us, and we are so blessed to have Sam apart of our Ohana now. From our engagement photos, to all the emails and texts and the day of our wedding, him and his crew really took care and we are forever grateful. If you're looking for awesome photographers/videographers, MyMoviie should be your choice! Very professional people that works very hard. They were on their toes the entire wedding!

Oh! And our same day edits? IT WAS AMAZING!!! We can't stop watching it! Can't wait to see our final videos and pictures from our special day.

Thank you again Sam and the rest of the crew at MyMoviie!

Joyce

Married on 08/08/2018

Choosing My Moviie was one of the best decisions we made for our wedding. Sam and his team went above and beyond! He was quick to respond to messages and was willing to meet our needs. All of the important moments were captured and the same day edit turned out really great along with the music we selected. They coordinated well with the photographer/other vendors too, so that was one less thing to worry about. The team worked very friendly and professionally, with no hustle. Their prices were more than fair and extremely competitive.

Thank you so much for giving us more than we hoped for. We are excited to see the full length video! You guys are amazing at what you do! And for everyone who is not sure about who to choose, I would definitely recommend My Moviie and his team to anyone, you will not regret it!

Thanks kindly,
Mr&Mrs Valdes


Rowena

Married on 07/06/2018

Sam and his team did excellent, quality work, and very patient especially w/ pregnant bride.

Rosemarie

Married on 06/23/2018

It's been almost 3 weeks since our wedding day but I'm still feeling high from all these euphoric feelings of happiness and excitement. Thanks to Sam & his team for making me the happiest bride on earth! I was so thankful to my coordinator for referring me to Sam. During our initial meeting, I felt comfortable and confident with him right away. I know in my heart that he's the right person that I could trust to capture our love story. He's very down to earth, dedicated, passionate, accommodating and I love his sense of humor. I admire his sincerity, he's not out there just to make business, he takes care of the couple every step of the way and make a difference in their lives. I applauded him and his team for being efficient, skilled, has good work ethics and fun to work with. My bridal party had really a good time working with them. My Moviie team went above & beyond to make sure my wedding was beautiful & perfect in every way! Thank you for capturing some magical moments in our own beautiful backyard. It's more meaningful for us since my husband personally built the bridge over the stream and also the Gazebo. The slideshow and the same edit video were very impressive and in absolute perfection. My guests were so pleased and in tears. My husband was moved & surprised since he wasn't aware about the video. When I posted it on social media, pouring compliments were just overwhelming. The outcome of the video really exceeded my expectations. Your team really did an excellent job! Thank you so much Sam for providing us with an exceptional service. It was totally satisfying & great experience working with you. I am forever grateful to you & I will always cherish the wonderful memories you have created for us. You're truly sent from above. I highly recommend you to every couple in the planet... God Bless you and the entire My Moviie team!????

Hannah

Married on 05/25/2018

Sam and his staff were beyond exceptional. They went above and beyond to ensure my wedding was perfect and special. I am so impressed with Sam and his genuine care for people. He made a wonderful slideshow for us that had 200 photos. I gave it to him last minute during the week of the wedding and he finished it in 24 hours. During the wedding, the slideshow couldn't play because I bought the wrong HDMI cord (my fault) and I was fine with it. But Sam went out of his way to download the video to make sure it played. I cannot express how much his efforts he made really meant to me. Finally, he did the same day edit in absolute perfection. My now husband and I watched it during our entire honeymoon, and we can't help but to smile, laugh and cry. By the way, I probably changed my same day edit song four times and every single day, Sam said no problem. He was so patient. Thank you Sam for making our wedding incredibly memorable. We are forever grateful for you and hope to see you again when we visit Oahu again.

Nigel A.

Married on 04/06/2018

The services provided by Sam and his team at My Moviie were phenomenal. They are a value driven company that stands on principle to give you quality. The cohesion they have as a team is first class. They will cater to your every need and will give only their best to portray your special day to your friends and family. I recommend fitting the "Same Day Edit" Service into your package, if your budget allows you. We recommend this company for any event (birthdays, anniversaries and any special occasion).

See Link: https://vimeo.com/mymoviie/review/263986213/1812680ab3

Even before we considered My Moviie as our vendor the relationship and trust that we developed prior to the contract was the underlying reason to why we chose to work with them. The members at My Moviie are so understanding. If you are on a tight budget, then communicate with them to figure out what you want. Our advice, don't compromise the chance to remember your special day over the cost. For the service that My Moviie has provided we don't regret the amount we spent. We can now relive this event everyday just with a click of button. Sam and his team has gone above and beyond any vendor. Even after our wedding Sam remains to stay in contact. My Moviie has a proven track record to give you outstanding service. My Moviie's wish to serve others is first class. To promote Sam and his company please give him a call at (808) 388-3412 or visit their website at http://mymoviie.com/.


Mahalo "Thank You" My Moviie,
Mr. and Mrs. Nigel Guillermo

Quezon

Married on 03/01/2018

First and foremost, it is our honor to write a review for MyMoviie! They have been nothing but the best in the service. Thank you so much for making our wedding the most memorable captured digitally. Our family and friends describe the quality as "It's like we were there!"


The quality of service they deliver is unmatched! Sam and his crew had been nothing but accommodating. In this business, time is money, but flexibility is what gives their quality of service. They adjusted the times as it changed and believe me, in a wedding, a lot of changes happen in a split second. They adapted through every change that was made with the utmost professionalism and no hassle.

Videographers are expensive, like everything else in life. We had a debate of getting it, and boy, it is one of the best investment you can make. You get what you pay for, but if you plan to ever do pay for one, be sure to be MyMoviie Hawaii! Sam has packages that are probably matched or even beaten by others, but let me tell you; You get what you pay for! I certainly did with MyMoviie. Sam worked with us to make gave us the best deal of our life!


You pay for their service and they turn it in the most magical and breathless capture of moment in life. Something you cannot put a price on. I have no regrets, especially getting the drone! Not one regret on that option. Don't do one without it!

Brandon ".

Married on 02/19/2018

Sam and his team is hands down the BEST in the business! The attention to detail, creativity, and his desire to make my wedding the absolute best video production EVER, is what my wife and I LOVE! My guest are still talking about my SDE video that My Moviie created and I can't wait for the final video that he is putting together for us. In my opinion, having a quality/professional video company is even more important than having a photographer!!

Garrick

Married on 12/28/2017

Wedding planning can be a stressful thing, but having the right people for your big day can make it enjoyable. We chose Sam for our wedding photography and video and when first meeting with him I could really see how passionate he is about his work. He made sure that we were taken care of every step of the way, from beginning to end. Sam and his staff were just so amazing and fun to work with. Their service is just above and beyond what I had expected and I would highly recommend going to Sam for those who are searching for a photography or/and video for their special event. Thank you Sam and your team at My Moviie for making my wedding a day a memorable one!

Michelle

Married on 12/28/2017

Wedding planning can be a stressful thing, but having the right people for your big day can make it enjoyable. We chose Sam for our wedding photography and video and when first meeting with him I could really see how passionate he was about his work. He made sure that we were taken care of every step of the way, from beginning to end. Sam and his staff were just so amazing and fun to work with. Their service is just above and beyond what I had expected and I would highly recommend going to Sam for those who are searching for a photography or/and video for their special event. Thank you Sam and your team at My Moviie for making my wedding a day a memorable one!

Andy

Married on 11/11/2017

My moviie is for real peoples. They are very professional and most above all they are passionate about their work. They wanted nothing more than for us to have fun while they did their work from the sidelines. They had wonderful ideas about how to get the best shots from the best angles to the best lighting. They are very flexible about your own ideas too. They are very easy to get in contact with and the price was unbelievable. When it's all said and done...10/10!!!!!

Gladys

Married on 09/15/2017

From the moment I reached out to Sam (the owner) all my questions and concerns were answered. They have the greatest professional crew and easy to work with. I could not be more happier that I choose mymoviie for our videographer on our wedding day. They have exceeded all my expections. The same day edit was just wonderful. I would totally recommend them to all my friends.

Jennifer

Married on 09/02/2017

Sam and his team were phenomenal! My friends and my coordinator referred me to Sam, and boy was I thankful for them! Sam is a SOLID PERSON and has a big heart. He was very accommodating about EVERYTHING. We pretty much hired him and his crew for all the services they offered: engagement photoshoot, interview shoot, wedding photography and videography, SDE, slideshows, and even drone. Sam was very accommodating with our budget, which we are so very thankful for because for the package that we hired them for... it would've been VERY EXPENSIVE elsewhere.

Erwin, one of MyMoviie photographers, did our engagement photoshoot and we were so pleased! He was also one of the photographers the day of our wedding so we knew we were in good hands. Sam did our interview shoot and he was also there of course the day of the wedding; he man the drone and everything else. The day of the wedding, their crew arrived on time, helped us with the shoot and everything else... they are professional in every way possible. We haven't seen our slideshow and interview video until the day of the wedding and I must say, EVERYONE LOVED IT... my husband and I are sooooo happy with the turn out!!! It was different, it was new, it was cool. I can't wait to see all the photos and the video!!! I will definitely be calling them back for future events. Thank you Sam and crew!!!


Maria

Married on 08/18/2017

The My Moviie team was beyond great! They were everywhere trying to capture each moment of our wedding! Sam was so easy to negotiate with and he made my wish to have a slideshow, which was a big deal to me, come true (it turned out sooo beautiful, you can tell the team took their time with it) They were perfect in every possible way! I'm grateful that my husband and I went with them! Choose My Moviie, they will NOT disappoint!!! Thank you sooo much Sam and the rest of the My Moviie team once again!

Anthony

Married on 07/29/2017

Sam and the myMoviie team were fantastic! They were organized, punctual, accommodating, friendly, and fun to be with. They knew how to make us feel comfortable while taking pictures/videos of the wedding party, especially with me and my bride. They were very professional, and knew exactly what they wanted and needed to do in order to get the job done well. They worked closely with our wedding coordinator in order to make the wedding day go by smoothly. Lastly, Sam went the extra mile for us, and you can tell he really cares about his customers. My wife and I felt as if we were part of a family working with myMoviie. I recommend myMoviie to anyone and everyone looking for a photographer/videographer for they're own special occasion!
Are you interested?
Send a message