209 Reviews
Recommended by 98% of couples
Quality of service

4.9 out of 5 rating

Average response time

4.8 out of 5 rating

Professionalism

4.9 out of 5 rating

Value

4.9 out of 5 rating

Flexibility

4.9 out of 5 rating
31 User photos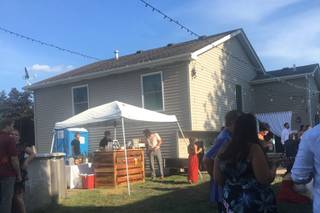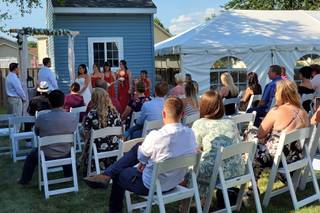 + 27

photos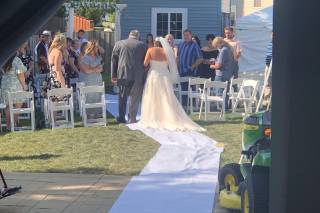 Featured

Melanie R.

Married on 08/07/2020

Everything and More

Jessica Stewart and the staff at My Chef were everything we dreamed and more. Jessica worked with us to change our entire wedding plans during the COVID pandemic from a venue with 100 to a micro wedding in our backyard with less than 40 guests. For only about a grand more than we originally were quoted, we received top shelf open bar service with our preferred bottle of beer (NOT tap 🙌🏼), tables, chairs, and a tent for 50 people. We had also ordered linen and a sweets table through them.

The food was just as great as our taste testing, and we received compliments from guests specifically about Jessica, the bartender, and the catfish wontons. We will definitely recommend and use again for future events.

Amy N.

Married on 07/10/2022

Fantastic all around

My daughter last minute switched her venue and date due to Covid and we were able to pull off a beautiful weddding in about 5 weeks. Sue from My Chef was so helpful and so responsive. We didn't even have time for a tasting so we asked for her advice and oh my goodness everything was just wonderful. My guests were all raving about the appetizers when I returned from pictures which made me so happy they were all enjoying so much! The dinner was seamless.....service was top notch, I really enjoyed the presentation as well as the entire meal. The bread and salad were both spectacular. We had the chicken and beef duo and the guests especially raved about the chicken oh and also the mashed potatoes were delicious too! It was not at all your typical wedding food - really impressed my husband as well who attends many events at top hotels and restaurants across the country. I would 100% recommend My Chef and hope to use them again.

Jenessa K.

Married on 07/02/2022

A dream come true.

My Chef was simply a dream come true. All of the food was delicious and they also did the decorating- from the table linens to the candles. The staff was very professional and attentive. I worked with Alex and every little detail I asked him about he seamlessly provided. In fact, we also used My Chef for the brunch the next morning after the wedding.

Are you interested?

Send a message

Porsha

Married on 03/26/2022

Amazing Service & Value

Chloe & the MyChef Catering team were simply amazing. They were SO responsive to all our needs and every time we changed our minds. Not only that, but the food was so delicious. Several of our guests complimented the food and it was at a good price. I would HIGHLY recommend MyChef Catering.

Erica M.

Married on 10/16/2021

True Professionals

We got married at Emerson Creek who partners with My Chef for weddings. Working with Sue and her team was a wonderful part of our wedding planning experience.
Our tasting was so fun; Sue created such a nice ambiance, the chefs presented each dish in detail and the team did a great job of listening to what we wanted and giving us the best options. Sue went over with us in detail the catering schedule for the day of, how the food was transported and stored so we knew exactly what to expect. She also gave us great advice on how we could plan the evening to avoid the food getting over-warmed.
Sue's communication was clear and timely throughout the planning process. We received a detailed write up of everything we decided both for the menu and the order of events for the evening immediately after the tasting.
We postponed our wedding for a year due to COVID-19- when our new date was approaching Sue reached out to clarify some of the decisions we'd made, guest dietary restrictions, etc. This gave me reassurance that everything would go smoothly and as we requested.
The day of, the service was remarkable. The staff was friendly and demonstrated the highest level of professionalism. The service was efficient and the food was excellent. Many of our guests made sure to tell us how much they enjoyed the appetizers and their meals. This was really important to us so we were thrilled to get that feedback.
You can tell that the people at My Chef love what they do. They do all they can to make their clients happy and they do it with a smile. It was also obvious to us that Emerson Creek and My Chef are a well oiled machine. Having to shop around for one less vendor was really helpful when it came to planning and Emerson Creek did a great job selecting a catering company to partner with. We can't thank My Chef enough for helping to make our big day so incredible.

Liz H.

Married on 09/19/2021

Customizable Catering

Our Venue had My Chef as their caterer - Susan and the My Chef team were great to work with! The tasting experience was excellent, when I said I was on the fence about one of the dishes because of my dislike of olives the chef came in and gave us a couple of options they could use instead of the olives they typically use. They also suggested a seasonal twist on one of their standard salads. I really liked that you could customize the dishes to fit your likes and dislikes. The food on our Wedding day was AMAZING - everyone was very impressed. The My Chef staff that were there for our event were very courteous and prompt with their service. I would highly recommend My Chef to other brides and for anyone looking for a caterer for a larger event.

Keleigh

Married on 07/17/2021

Exceeded Expectations

The team at My Chef Catering are true professionals. They are thoughtful, thorough and masterful at helping clients plan and execute events of any size.

With a wide variety of dishes to choose from, they make it easy to select a menu that is varied and unique. Their teams are also eager to accommodate special requests while staying fiscally mindful.

The food is outstanding and the team exceeded our expectations.

Lindsey M.

Married on 06/25/2021

Absolutely perfect!

My Chef was everything we could have hoped for and more! Coordinating with Sue before hand was so simple and personable! And when we went in for the tasting, she was the kindest woman and made our experience so special. She did absolutely everything possible to make our menu perfect and personalized to us. On our wedding day, I wasn't feeling well but she and her staff made sure I was taken care of. The food got so many compliments and the service was extraordinary! Sue single handedly made our dinner perfect! We felt so cared for and were very happy!

Christi T.

Married on 06/14/2021

Second Experience with My Chef!

When my youngest daughter wanted to host her wedding reception in my backyard, I knew I would use the same caterer that we used for my oldest daughter (see my 6/20/2017 review). When I called My Chef I was DELIGHTED to learn that Susan Jacobs was still an event executive and that I would be working with her again to make this day special. The food, fantastic! The table, buffet, and dessert settings made the tent look so pretty. The lead and the staff, phenomenal. Once again, I felt like they were doing something extra and special for us - but after reading the reviews I see this is just the level of customer service that they provide. Highly recommend!! Thanks again Susan and My Chef!

Julia H.

Married on 05/23/2021

Wonderful!

We worked with Susan from the beginning of the process, and she helped make everything work perfectly! She was so kind and helpful and was able to answer any questions we could toss her way!
The day of the event, the food was INCREDIBLE! So many of our guests made a point to tell us that this was was best food they have ever had at a wedding.
The only complaint I had was during the set up. The server moved very slow.

Kurt&Rebecca H.

Married on 05/09/2021

Personalized care and incredible food!! 100% RECOMMEND

There are not enough words to describe the ways My Chef Catering made our wedding incredible! With two different reschedules before we could have our full celebration on 05/09/2021, My Chef stuck by our side and was so flexible and accommodating through the chaos. To Jess and Dominick – we cannot say thank you enough. The care they showed for every single detail of our day and the care they showed for us personally took our breath away and removed worlds of wedding-stress from our shoulders. We could not have asked for a better team to take care of us for our wedding.

Also, our food was phenomenal. From the beginning of our planning process my husband and I knew we wanted a fun menu and that we wanted buffet-style service. We were surprised and delighted to settle on a burger bar (who even knew that was a thing?!) that blew every single one of our guests away. With COVID precautions in place, all of our guests felt safe and were able to enjoy their meal with every detail accounted for. Seriously, look no further than this incredible company for any event you have; you will not be disappointed!!

Maggie D.

Married on 05/02/2021

Breakfast Bonanza Wedding Dream

MyChef catering made all of our wedding food dreams come true! We worked with Waldo Castro who was extremely responsive and flexible in the months leading up to our wedding since the COVID numbers and protocols kept changing. We wanted a custom menu with breakfast items as a highlight and MyChef pulled off a beautiful buffet spread that wowed the guests and tasted phenomenal too. Overall Waldo and the entire company made sure to put the special touches in place to make our food and drink, our tables, and our experience one we will never forget!

Ciara P.

Married on 02/20/2021

Great food and service!

My chef was so good with working with us as we changed everything due to COVID. But they got everything right! They delivered lunch to us while we got ready, dinner, and breakfast the next morning! All delicious and on time! We are so happy with them!

Crystal A.

Married on 10/16/2020

Wow how amazing!

Susan made every moment perfect! The team was very professional and food was on point and hot! Being in the restaurant industry myself I'm always nervous at weddings, especially my own, but this was the best team for the job! Thank you all!!

Cathryn P.

Married on 10/03/2020

Excellent food and service

Sue Jacobs did an amazing job from start to finish. She was responsive to our preferences, made useful suggestions and was very flexible when changes were made. We had to switch daughter's wedding from a venue that went out of business to our backyard and the staff from My Chef handled everything beautifully. Food was excellent (especially the beef medallions and shrimp entree and the amazing selection of appetizers!). The staff were so attentive and anticipated every need in an unobtrusive way. We loved working with this caterer and would definitely recommend.

Karilyn F.

Married on 09/26/2020

Couldn't have asked for better!

My now husband and I were forced to switch our wedding venue only a few short months prior to our wedding as a result of Covid-19. Our new wedding venue was partnered with My Chef Catering. Our experience with My Chef was fantastic from the very beginning. Our tasting was with Sue. Not only was the food delicious but this was the first time in quite some time that someone had been genuinely excited for us to get married, despite all the challenges that Covid-19 brought. The staff at My Chef were all very friendly and accommodating. They even set aside a tray of appetizers for us which we really appreciated because we did not intend on missing cocktail hour. The food the day of the wedding was absolutely phenomenal and presented very well. We still to this day have family and friends telling us how good the food was and asking where it was catered from. Thank you to Sue and all the staff at My Chef for making our big day that much better! You will not regret booking this company and we look forward to using them again in the future!

Ashley K.

Married on 08/02/2020

good food and professional service

My husband and I had My Chef cater our wedding in Sycamore a few weeks ago, and the service was great! Over the last two years, we had to postpone our wedding date due to COVID and then change our guest count pretty dramatically, but My Chef was flexible throughout those changes. Our guests were especially impressed with the passed appetizers during cocktail hour. My Chef's team was thoughtful about leaving a plate of appetizers at the head table for my husband and I since we were taking tons of photos during cocktail hour and would have missed the chance to eat our appetizers. They also packaged up the leftovers from our buffet and left them with a kind note for us at the end of the night. Our bar was also managed by My Chef and was great! They even accommodated signature cocktails for us last minute.

Laura

Married on 07/26/2020

One of the Best Caterers Around Chicago!

Waldo Castro and the team at My Chef are some of the best around Chicago. Before deciding on My Chef for our wedding, we met with four caterers throughout Chicagoland. Not only were they the most affordable and best value among all four but they had the best food by far! Throughout the entire planning process, they were responsive and extremely personable. When we had to reschedule our wedding from May to July due to COVID, they never changed their demeanor. Every person we interacted with was a class act. They work well with so many Chicagoland venues and our venue specifically noted My Chef at the top of their list. Waldo handled all of the communication between us and our venue, and was extremely knowledgeable about the current COVID guidelines. When our wedding day finally came, we never got tired of the compliments from guests of the reception setup, food, and décor. We wanted to go with a more nontraditional setup and Waldo offered tons of feedback and worked with us for everything. "No" isn't in their vocabulary so if there's something you want to do, they'll make it happen or offer feedback on what else could work. We even brought in a Portillo's cake and they dressed it up for the cake cutting like one of their own. We couldn't have asked for a better catering company to work with, especially with the chaos of a 2020 wedding, and HIGHLY recommend My Chef for any wedding or event you're planning.

Alexandra R.

Married on 07/10/2020

Truly an Amazing Experience

My husband and I were married at Emerson Creek in May 2021, which partners with My Chef Catering. Sue played an integral part in making our experience better than we could have ever imagined.

The tasting was elegant, but very comforting. Sue gave us advice on not only the food, but reminded us that our wedding day was about us and to make sure we took a moment to ourselves the day of. The food was wonderful and everything you dream your tasting should be. It felt impossible to narrow the choices down since it was executed so well.

Our wedding was effected by COVID and we ended up having to push it from 2020 to 2021. Sue made sure that transition was seamless. She also made sure that every small detail was handled without my husband or I having to think twice about it.

The day of the wedding My Chef Catering did not disappoint. The food was even better than we had remembered. There was not one mistake. We still get compliments from our guests about how good our food was. During dinner my husband and I ended up taking pictures longer than we had planned, giving us little to no time to eat. Sue made sure to hold it to the side and provide us with hot, ready to eat meals when we were ready. It allowed us to take her advice and have a moment to ourselves, eating just the two of us. Sue made sure to check in on us and we really enjoyed chatting with her. You can tell she loves what she does and goes above and beyond.

Every staff member we came into contact with was so sweet and hard working. We truly can say that My Chef Catering played a huge role in the success of our wedding.

Thank you for helping to give us a day we will never forget. All your hard work did not go unnoticed.

Christine R.

Married on 07/10/2020

Chrissie & Dan's Wedding 10/19/19

Sue Jacobs and the entire My Chef team were an absolute dream to work with. They are incredibly detail-oriented, provide excellent costumer service and efficient.

From the first day of planning to our wedding day Sue was on top of every detail. There was no doubt in my mind that our night would be nothing short of amazing. Sue and the My Chef team not only catered an exceptional night but had outstanding customer service and kind staff who went above and beyond to make our day unforgettable.

Since our wedding, we have received countess compliments from our guests in regards to how delicious the food was, efficiency of the plated meals and the kind demeanor the My Chef staff displayed. I highly recommend Sue and the My Chef staff to cater your next event!!

Debra B.

Married on 05/01/2020

Deb Bostjancic

Food was excellent and we got so many compliments throughout the evening. Their staff was outstanding at set up and serving. Every thing was thought of do I could relax and enjoy the festivities. My daughter had several dietary restrictions and they were very accommodating. Highly recommend

D Maley

Married on 11/05/2019

Mick/Courtney's Wedding May 11, 2019

Sue Jacobs and the My Chef team were extremely professional and provided quality customer service. They went above and beyond and several guests that had requested specials meals mentioned they were addressed by their first name from the My Chef staff.

Sue's personality was the best to work with and never once blinked at the multiple changes made throughout the process. She consistently kept connecting the final product throughout each discussion. The attention to detail that Sue represented was outstanding…from the selection of the apps, dual entrée, to the late-night snack. Most importantly, Sue provided such personal attention to details and choices made such as the plates and silverware, the folded napkins, linens covering the tables/highboys to the desert table.

We are delighted to thank you for managing the dinner & reception so successfully. From the start to the finish it ran smooth and we found you, your staff courteous, welcoming and responsive. All of our guest without exception were full of compliments about the total food service My Chef catering provided us. Thank you for all your support and commitment to our day.


+ 2

photos

Samantha

Married on 10/31/2019

The Perfect Catering Experience

We worked extensively with My Chef throughout our wedding process. We started with a tasting where we selected foods out of several categories- I'll say now that the meal we had that day was hands down the best I've ever had. The food was made to perfected, presented to us nicely, and they were quick to offer changes or suggestions if we seemed to be stuck on something. Susan Jacobs especially is a person I cannot say enough good things about. She was helpful, mindful of the stress I was under trying to plan everything else, and just a wonderful person to talk to- I felt like she was a family member to me on my wedding day and it meant a lot that she was there.

Ultimately, the food is to die for and I would recommend them for any event being planned, not just a wedding. They are professional, kind, and genuinely want the best for you on your big day. If we have any further events, they are the first ones I will call for our catering needs.

Denise

Married on 10/18/2019

Really good food! Excellent service!

My Chef Catering was the partner of our venue. It's definitely not a bad thing that we didn't have a choice. First of all, Sue is very sweet. Meeting her during our tasting, we already knew we had the right people catering our wedding. She will make you feel special. She has a very warm, caring, and welcoming personality. She was super easy to talk to and work with from beginning to end. From the tasting, we already felt like she really cared. She listened to our needs and opinions and didn't have any issues working with us to make everything perfect for our day. She was very accommodating to our needs. During and after the wedding, everybody talked about how they loved the food. YES! THEIR FOOD IS GOOD! We had a buffet setting, and some people even went back for seconds. The service was great! Everything was great! What we appreciate the most was, she personally kept coming to our table to check on everything, and made sure we had everything we needed. We couldn't have asked for a better catering company. I highly recommend them.

Jill

Married on 10/12/2019

Amazing from start to finish

My Chef catering is amazing. Sue was so attentive and took care of all the details I would never even have thought of! Also, she was able to accommodate a variety of food allergies for our guests, one of which said that ours was the first wedding she was able to confidently eat dinner at without worrying she would have a problem. The food, appetizers, selection, and service was raved about from all of our friends and family!! Can't recommend them enough!
Are you interested?
Send a message