113 Reviews
Recommended by 99% of couples
Quality of service

4.9 out of 5 rating

Average response time

4.9 out of 5 rating

Professionalism

4.9 out of 5 rating

Value

4.9 out of 5 rating

Flexibility

4.9 out of 5 rating
20 User photos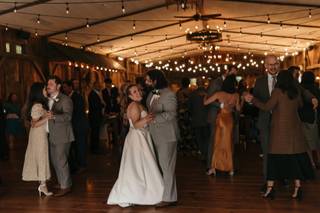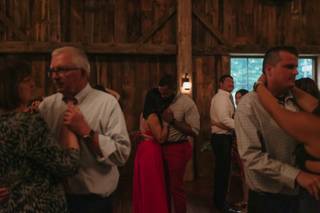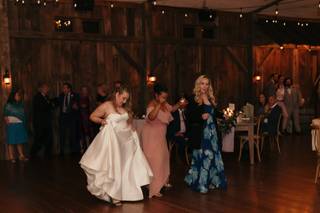 + 16

photos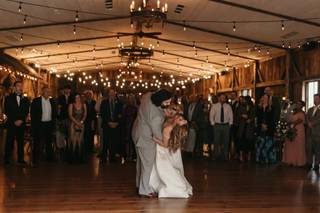 Featured

Andrew N.

Married on 10/02/2021

Absolutley Amazing

There are not enough words to describe how happy we are with Ronnie and the service he gave us. We originally met in late 2019 or early 2020 (pre-pandemic) since our original wedding date was October 2020. Ronnie was the first and only DJ we met with since we had such a good feeling about him. And were we right. His pricing was amazing and well worth every penny given the service and professionalism he provided. We saw a few DJ's prices online and they seemed like extortion. Some wanted double or triple what Ronnie charged and they had nowhere near the amount of positive reviews he did on all the wedding sites. When we met he gave us a complete packet of not just things we needed regarding music, but a wedding timeline of things to do and when all the way up to the day of. It was the perfect checklist to keep us on track and ahead of the game. Even though we postponed until October 2021 he always checked in to see if there was anything we needed and to just see how things were going. That change of date was no issue either as he easily carried over our deposits, we gave him the new date and he had the new contract within an hour. Whenever we had a question he responded within minutes. I even sent him a request for a song change 10pm the night before the wedding and he responded in 30 seconds with "no problem". I do not think he knows the words "no" or "can't". At the event he was there hours before the start time setting up to make sure everything went smooth. He was dressed to impress and was a complete and true professional. When we needed a mic for speeches he was there. When the maid of honor even needed a glass to toast with he was there. He had people dancing all night long. He read the room perfectly and every song he played was perfect. His introductions were amazing and everything segued and flowed so perfectly. There was never a dull moment and people had a blast dancing the night away.

If i ever need a DJ again or someone I know needs one I am making one call and that's it. Just look at all the 5 star reviews and they speak for themselves. Ronnie was there for us every step of the way. The service was amazing, the pricing was amazing. His responses to all our questions and changes were instant. He was nothing but an utmost professional and made our wedding perfect. We could not have chosen a better person for the job and there is only one DJ i would chose in the future. Ronnie went above and beyond expectations and did not disappoint.

Musically Yours's reply:

Thank you for the awesome review! You guys were so great to work with, your family and friends were really up for a great time which always makes things more fun!!! Thank you again for the opportunity to work with you guys! Hope to see you guys soon!

Shawna

Married on 10/08/2022

Don't Miss This Opportunity!

We hired Ronnie / Musically Yours to provide DJ / MC services for our wedding and have been recommending him to everyone for all DJ needs SINCE! It's not his first rodeo! He was very organized and offered a lot of information from the initial phone call. Ronnie asked a lot questions, made great suggestions and went above and beyond to ensure our day ran seamlessly! Ronnie was dressed to fit our Rock N Roll theme, mingled with the guests and was pleasant to have on site for our wedding. He was always one step ahead of the timeline on the day of and was able to maintain the energy level of the crowd by his tasteful song selections. Ronnie was on site in addition to the live band and despite most of the attendees leaving after the "concert" portion of our reception, Ronnie stuck around and still fulfilled our wishes for "Last Song." His price was MORE than fair for all that he had to offer and definitely worth the investment!

Musically Yours's reply:

You did such an amazing job at planning your wedding..every last detail fit the rock n roll theme you were going for. Who the heck has a DJ and also fly's in a Queen Cover Band from Canada to perform at a wedding!! You guys really went above and beyond to put on an AMAZING evening! True Rock Star fashion!! Everybody was commenting on how much variety there was from the food to the music. I meet a lot of great people, you guys are very lucky...you just nailed it, I'm glad I was able to have a tiny part in it!!

Eva M.

Married on 10/01/2022

Danced the night away

Ronnie from Musically Yours was great to work with! He was very professional throughout the planning process and provided great feedback for what would work best the day of the wedding regarding flow of events and keeping the energy up. Ronnie kept the dance floor packed all night, which as two people who like to dance (be it, not all that well), we loved having all of our guests around us all night.

Are you interested?

Send a message

Randy W.

Married on 07/30/2022

Musically Awesome

We had the most fun at our wedding and Ronnie certainly deserves a lot of the credit! He read the mood of the crowd perfectly from start to finish and had us literally dancing the night away. He played all of our requests right up to our very last song and was extremely courteous and the consummate professional at all times. Choosing Ronnie was one of the best wedding decisons we made!

Adam F.

Married on 06/27/2022

Perfect experience for our wedding DJ w/ Musically Yours!

I would rate Musically Yours 10/10 as our DJ and musical entertainment for our wedding. My Wife and I recently selected Musically Yours as our DJ for our wedding in Westchester, NY and I can't imagine a better experience.

Prior to the event, Ronnie was extremely accessible and responsive with us. We had multiple calls with him and he answered all of our questions and alleviated any concerns that we had before the day of. He also was extremely organized with the information that we needed to provide him so that he could offer us the optimal experience.

However, most importantly to us, Ronnie was incredibly flexible to our vision for the music of the night. He stressed from Day 1 that this was our day and his only objective was to make it as special as possible for us. I was extremely particular about the music and the playlist for the night and Ronnie was willing to do whatever he could to make sure we were happy. And he did just that! The wedding night went flawlessly and my wife and I didn't have to worry about the music a single time over the course of the night.

I would recommend Musically Yours to anyone considering a DJ for their wedding or large event and would most certainly use them again ourselves!

Musically Yours's reply:

Man, what a group of family and friends!! We could have easily gone another 4 hours! I should be thanking you for allowing me to be a part of such an awesome night! I love it when a plan comes together! Truth be known, you were heavily involved in the music selection so I have to give credit where credit is due. Thanks again for a great night!

Ellen R.

Married on 06/18/2022

You need to book Ronnie!

Wow! We have nothing but wonderful things to say about Ronnie. His expertise is unmatched. He provided us with so many tips, tricks and insights, and he took the time to help us plan our timeline for our day! He has so many great ideas what we have never even thought of and he has an EXCELLENT perspective on what makes for a wonderful reception! Also, his personality and demeanor are amazing! He brought such an amazing energy to our day! He was engaged and upbeat while not being overly involved or showy! So many of our friends asked us who the DJ was, they loved him so much! Also, he has a great ability to read the room and keep the party moving; as soon as a song stopped getting a less than great reaction, he would swap out the song to find what fit the group! And we danced all night long! He was fantastic. 10/10

+ 14

photos

Elizabeth E.

Married on 05/29/2022

Musically Yours- DJ Ronnie

DJ Ronnie was awesome! We had great night dancing away! He was very kind, responsible and very knowledge he helped us to follow the wedding tradition! Big thanks to Ronnie!!! 🥳🌷🌹

Priscilla M.

Married on 04/30/2022

Get the party started!!

Thank you again for all your help in putting on such a memorable event for us! DJ Pec (Courtney) was amazing! He really read the room and got the party started even before dinner came out. He gave the people what they wanted, which was what we wanted! Everyone (including the catering staff) and mostly us, were saying how much fun they had. We just want to keep reliving that day! Thank you!!

I would only docked 0.5 points because he accidentally said my dad's name instead of my husbands name but honestly it can be hard ahahaha my dad's name is Antonio.

Justin C.

Married on 06/05/2021

More than just music

The only knock we can think of was in the communication leading up to the wedding, though I think that might be because we were trying to plan things way in advance of our date. We had a great experience with Ronnie. He was very professional and flexible; he made it clear that this was our event and if we wanted something done a certain way, that's how he'd do it. He was also more than just music, he made us think about how we wanted to manage the flow of the event itself, which we never would have thought of ourselves. A few examples:

"Do you want your guests standing around the dance floor when you enter? It makes it easier for them to join in."
"Be mindful of where you put the bar, if it's far from the dance floor it will draw people away from the party."
"If their food is already plated, they're just gonna start eating and not pay attention."

I'm sure there are more examples, but those are a few that spring to mind now.

Ronnie also nailed the musical vibe we were hoping for. We sent him a few playlists leading up to the event so he could get a feel for our (generally older) musical taste and he worked with our taste, added his own flavor to it, and our party turned into a great time; the people in their 20s were dancing right alongside the people in their 80s. I have friends who are working on planning weddings now, and if they ask me for recommendations I will definitely tell them to talk to Ronnie.

Brad J.

Married on 08/07/2020

Absolutely amazing!!

Cannot speak highly enough! Absolute pleasure to work with and highly professional.

Musically Yours's reply:

Thank you Brad for the opportunity to work with you guys. It was a fun night!! I'll see you soon at your Mate's wedding!

Ashley M.

Married on 01/03/2020

Amazing!!!

We just got married this past Friday and Ronnie with Musically Yours was our DJ. From the start of wedding planning to finish, Ronnie helped us every step of the way. He was definitely also the most responsive of our vendors which as a bride I greatly appreciated!!! Our guests complimented our DJ service and said how great the music was along with the organization (a lot of future brides were at the wedding and were definitely paying close attention!) We cannot thank Ronnie enough for bringing the party to our wedding! IT was amazing! Everyone was on the dance floor!!! He knew exactly how to work our party and crowd. Love, The Mannings

Liana

Married on 11/16/2019

Best DJ ever!

Ronnie was a complete charm and wonder to work with! Our wedding day was truly perfect and he helped make it so! He was attentive, took requests and kept the party going all night. I would highly recommend him. He also stood out to my now husband who immediately said he liked Ronnie after our first call. Ronnie is forever a part of our family now! I hope he does birthdays too :).

Musically Yours's reply:

Thank you for letting me share the day with you guys! You guys were super nice to work with with. You guys looked amazing, your room was done so nice and you couldn't have picked a better night, I can't wait to see the photos with that sunset! I've already emailed Mike for some pics! Thank you again and I hope to see you guys soon!!!!

Johanna P.

Married on 10/05/2019

Definitely recommend!

Ronnie was awesome to work with! He was really organized and even talked to our tent company and the electrician at our house (where the wedding was) to make sure that the sound quality would be great and that there would be no issues during the outdoor ceremony and reception. He played great music and kept the dancefloor consistently full from 7pm to 1am! We got lots of compliments from people of all ages about the music. He helped with the flow of the night by timing the speeches, first dance, etc. perfectly. I would definitely recommend him!

Musically Yours's reply:

Thank you Johanna for letting me be apart of your special day. You guys were so much fun, we probably could have gone until 4am! I wish you guys the best!

Ilir V.

Married on 09/11/2019

Great experience

We are so glad we chose Ronnie. He did an amazing job with everything.

Musically Yours's reply:

What can I say, Albanians know how to have fun! I love that you guys had a blast, I never saw anyone work a red napkin like you!! It was fun, we made some good memories together! I'll see you soon!

Sophie

Married on 09/01/2019

Best dance party!

We decided to hire a DJ at the last minute and Ronnie was amazing! He was always super quick to respond to all of my questions. He's definitely a wedding professional and had a lot of questions/ideas for us that we hadn't even thought of, so it was invaluable to have him essentially help plan the flow of the reception.

He really listened to us when we told him about our music taste, and was open and willing to adjust his playlist throughout the night as people were in different moods to keep the dance floor going. We even wanted to play a few traditional songs from my husband's background and he went out of his way to find them to make the family happy.

Overall Ronnie is also just a genuinely nice and friendly guy. Super easy to talk to and work with. Would definitely recommend for your future event!

Musically Yours's reply:

I really enjoyed working with you guys. You're were probably the most organized bride I've worked with which made it really easy for me. Both sides of the family were really up for a great time, we certainly got some dancing in and I'm sure we could have gone way past 2am! Thank you for being awesome!

Brian C.

Married on 07/27/2019

Everything We Hoped For

We thoroughly enjoyed working with Ronnie. Not only was he very responsive to our wishes, he had some great suggestions during the planning stage (he answered questions we didn't even know to ask), and he is very good at reading the crowd. He has a great sense of how to keep the reception lively and moving along organically. We highly recommend Musically Yours. Many thanks!

Musically Yours's reply:

Thank you guys! I really enjoyed spending some time with you and getting to know some of your stories. I loved your choice of venue and spirit your friends and family brought to the evening. I'm glad I played a small part of your special day. I wish you guys the very best and hope to see you soon. - Ronnie

John

Married on 12/15/2018

Amazing Wedding DJ

Couldn't have asked for a better DJ for our wedding day. Ronnie was very responsive leading up to the day of our wedding. I knew from our first conversation that Ronnie is a professional and very knowledgeable about how to properly run a wedding. He was also flexible with any last minute changes we made. The day of the wedding, Ronnie was able to read our audience and provide the best music choices that pleased the crowd. One guest said it was the best wedding dance floor he had ever experienced. Ronnie is a versatile DJ and not only provided great music but also controlled the pace of the night as a master of ceremony. We are truly fortunate to have found him for our special day.

Musically Yours's reply:

Thank you for the kind words John...working with you guys was great. Thank you for your trust and the opportunity to work with you guys! Wishing you guys the best of luck on your cross country journey!

Risa

Married on 10/13/2018

Ronnie made the wedding! And was our favorite vendor to work with.

I don't know how to capture in words how great Ronnie was at our wedding. We had a backyard wedding, but wanted to have a dance party in the tent, and he totally got it. As everyone else said, he is super responsive. He's also incredibly easy to work with. It's clear that he comes with a lot of experience, but he also really worked to understand what *we* wanted and created a unique experience for us. We had such a variety of music interests among our friends (who all love to dance) and lots of family, and he just nailed it. Everyone was on the dance floor the entire time. He helped make things smooth without being his own presence. We got tons of comments on how great Ronnie was, and we are looking for reasons to hire him again!!

Daniel A.

Married on 09/29/2018

Anastasio Wedding - September 2018 - Norwalk, CT

Ronnie and Musically Yours was fantastic at our wedding – very friendly and professional and not once did the dance floor empty out or have a lull period. In our one on one session prior to the wedding, Ronnie was very helpful not only in picking out all the music with us, but he also had valuable input on floor plan, scheduling, and overall flow of the wedding. From day one, he was professional, responsive and really listened to all of our requests, while providing beneficial feedback along the way. All our guests couldn't say enough about the music and the DJ. Which is really all we wanted, was everyone to have a great time and not stop dancing. Not only was Ronnie always available when we had questions, but he also was very understanding and flexible when we made last minute adjustments, etc. I would highly recommend Ronnie and Musically Yours for any wedding or event.

Lorena

Married on 07/28/2018

Ronnie was BEYOND exceptional at our wedding! If I could give 100 stars I most definitely would!! He helped us choose music that soothed our wedding perfectly and proceeded to perform immaculately at our wedding! I was even surprise he was this good and was so thankful I chose him! Very fun and lively selections! It was an honor to work with him! Ronnie was definitely the most rewarding of all my vendors that night! If you can't decide which dj to choose, pick Musically Yours because you can never go wrong with a kind hearted and helpful guy like Ronnie! Thank you again Ronnie! Extremely satisfied bride. :)

Ally

Married on 06/24/2018

Great wedding DJ!!

We were very lucky to have Musically Yours by Ronnie Mazal DJ our wedding. He provided excellent service from the very first moment that my husband and I talked to him. Immediately after speaking with him on the phone the first time, my husband said, "This is the DJ we have to have." What made Ronnie stand out on our wedding day was his immense flexibility. We had originally wanted live music during our ceremony, but decided relatively last minute against it. Ronnie gladly took on that role and prepared pre-ceremony, processional, recessional music for us. Additionally, it was very important to my parents that the father-daughter dance was a Chinese song that is special to my family - Ronnie had no problems obtaining the music and playing the exact snippet we wanted. When it came time for dancing and partying, Ronnie played a great variety of songs that kept us all having fun. I will say that he was on the pricier end of DJs we looked at and interviewed, so that is something to keep in mind. However, in our opinions, Musically Yours is SUCH a worthwhile investment for any wedding day. We have no regrets and would recommend him to anyone!

Michael

Married on 06/08/2018

Ronnie was great to work with. From our first conversation to the day of our wedding we felt super comfortable and confident with Ronnie. He had tons of great ideas to make our wedding flow perfect and to get our guests dancing. We received numerous compliments on Ronnie from our guests. Thanks again!

Katelyn

Married on 06/08/2018

Our experience with Ronnie was great. He was so easy to work with and allowed us to meet via phone and FaceTime prior to the wedding
Having him at the wedding really made us feel so comfortable and confident knowing he was there. He was so organized and professional and made sure everything ran smoothly
We had multiple guests comment on how great the DJ was. He kept us dancing all night.
Would absolutely use him again!

Kimberly

Married on 05/27/2018

From the very first conversation we had with Ronnie to our wedding day, he exhibited unmatched professionalism and without a doubt, exceeded our expectations. Throughout the planning process, Ronnie provided helpful ideas to consider and was focused on delivering our vision for music, which was most important to us. The dance floor was packed all night for our wedding and we would not have changed a thing!

Michelle

Married on 05/20/2018

You were easily a 10/10 on all fronts - responsiveness, professionalism, value, quality of service, flexibility. It was really great to feel like I could hand you the reigns and you could take charge and make it a perfect day. As a hands-on bride, it was nice to not have to worry about how this part of my wedding was going to turn out. Thank you so much for making our wedding day easy and fun!! I'd recommend you to anyone in a heartbeat.

Musically Yours's reply:

You guys were awesome which made my job very easy! I'm sure we could have kept it going for a few more hours! Thank you for letting us be a part of a great night!
Are you interested?
Send a message