50 Reviews
Recommended by 99% of couples
Quality of service

5 out of 5 rating

Average response time

5 out of 5 rating

Professionalism

5 out of 5 rating

Value

4.9 out of 5 rating

Flexibility

4.9 out of 5 rating
59 User photos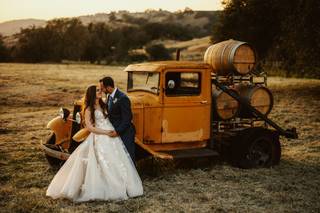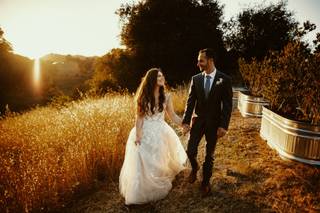 + 55

photos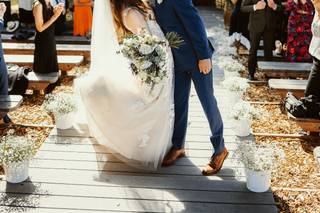 Featured

Mackenzie F.

Married on 05/21/2022

BEST venue experience

One of the first things that led us to choose this venue was the incredible property -- the views, the versatility of the space, and the overall feeling.

When we arrived at the venue, we were amazed to see that the photos on the website didn't even capture how amazing the property is.

And to top if off, Lane and John (who own the property) were the friendliest, down-to-earth people who were so helpful, informative, and kind throughout the entire process. They are ALWAYS making improvements to the property, and were quick to give us a recommendation for any type of vendor or problem solving that we were looking for.

I hope I don't have another wedding! But if I did -- I'd do it here again in a heartbeat.

+ 4

photos

Mountain House Estate's reply:

Thank you Mackenzie! We hope to see you both again, for your vow renewals! We really appreciate the kind words, John and Lane

Sarah S.

Getting married on 11/06/2024

Locked In with MHE

Our drive up was good no traffic no idiots. The road up was windy so don't pull over like we did for some Macdonalds, you'll be sorry. Anyways 5 minutes into the drive, the road starts to get narrow and you begin to wonder if your going the right way. Signs are posted well in advance so you can't miss it. We pull up and Lane is there to greet us...WOW...WOW...WOW! At this point I'm not even out of my car yet. This place is huge I'm in awe; already picturing my day and that's a good sign! Lane leads us into the ballroom where I'm blown away with how the place is designed. The wood panel and finishes are done by her husband John. I stand in the room fighting back tears cause again I start to picture my big day. Lane sat us down to get to know us better. We had a very nice chat, Lane was very informative no sugar coating she gave us the whole low down. I now know what to expect. We began touring and each location was breathtaking I mean it! My head was spinning from all the beautiful sites Lane took us too. There were so many locations to have your ceremony and reception. Finally it was time to visit the Oak Tree Terrace...this location is what made me look into the venue in the first place. We walked up to the terrace only to yet again be blown away! Seeing my fiancé standing at the bottom of the threshold brought me to tears and at that moment...I knew this is where I'm getting married at! Lane was a doll she was such a delight throughout the entire tour, let the planning begin.

Mountain House Estate's reply:

Thank you Sarah! It was such fun showing the Estate to the two of you - what a pleasure! We're looking forward to working with you as you plan your wedding, and your wedding day itself!!

Megan Y.

Getting married on 07/07/2023

Beautiful venue and wonderful owners!

Lane and John at MHE are the absolute best! The property is well thought out, maintained, and of corse... gorgeous! Lane is so great at replying quickly and provides vendor lists with quality companies. The venue choice has been the easiest choice so far in the wedding planning. We toured MHE and knew we didn't have to look any further.

Mountain House Estate's reply:

Thank you, Megan, for your kind words! We can't wait to for you to say "I do" here at Mountain House Estate and know your wedding day will be spectacular!

Are you interested?

Send a message

Myriah L.

Married on 05/26/2022

Incredible Vendor

John & Lane are absolutely wonderful. From our first tour we felt welcomed and at home @ Mountain House Estate. They quite literally think of everything and the little touches make the big day even more special! The venue is beautiful inside and out. You've got so many options to personalize your day there.

Mountain House Estate's reply:

Thank you Myriah! We love help making it the best day ever for both you and your guests. You made wonderful choices using our Vendor List of vetted professionals that give great service. Wishing you and Michael a long and wonderful life, John and Lane

Julie L.

Married on 05/07/2022

Best Day Ever

This stunning venue truly speaks for itself. The second we stepped foot on the property, we knew it was the place for our wedding. It is gorgeous and truly plays off it's natural surroundings so we didn't even feel the need to decorate much. With all the different outdoor options for ceremony and reception spaces, as well as places for both bride and groom to get ready, it was amazing. Lane and John are so sweet and did so much more than just provide the venue. They helped us select our date, provided recommendations for many vendors and were always quick to provide answers for any questions we had. They keep in touch with you every step of the way and really care about the couples. The venue, along with Lane and John (and the wonderful vendors they recommended), truly made our wedding a bespoke experience.

Mountain House Estate's reply:

Thank you Julie! We love helping couples to have just that "The Best Day Ever!"

As you found, our vendor list is carefully curated. Everyone on that list has been vetted, is a professional, and gives great service to their couples. They earned their way onto the list and we're proud of the work they do.

You have a question, we want to get you an answer quickly. That's important to us, and as you've experienced, our goal is to respond in short order. We just can't imagine leaving someone wondering for days.

Thank you again for choosing Mountain House Estate for your wedding!

John and Lane

Lucas A.

Married on 10/22/2021

Stop Search - Book Mountain House While You Can!

A long-awaited wedding has finally happened! And it was everything we could have hoped for... largely because of this beautiful venue and incredible support of both Lane and John. Both my wife and I had worked previously in the catering business and had seen dozens of venues but none really could provide the stunning ambiance, attention to detail, support and management from the owners, and flexibility like when we range into weather complications or vendor issues – not to mention the price is very competitive for this area. Check out this venue ASAP they are in high demand but best of yet, you'll probably save some time because your venue hunting will end there!

Mountain House Estate's reply:

We loved having you celebrate your wedding here! You were always such a pleasure to work with and we're so happy that your day was wonderful and memorable!

Audrey

Married on 09/18/2021

Planning a wedding

We are planning a wedding for late summer 2021. So far John and Lane have been super helpful in answering all of our questions! They take great pride in their venue, which definitely shows as you walk through, every little piece is perfectly groomed. The venue is such a beautiful place, everyone should at least go check it out for themselves!

Mountain House Estate's reply:

Hi Audrey! Thanks for sharing your thoughts. September is such a beautiful time of the year! We're looking forward to your wedding day and having you enjoy the Estate with your friends and family.

Audrey C.

Married on 09/17/2021

Gorgeous and very helpful venue!

I love how Lane and John who own MHE have a nice list of vendors that they have used in the past. It makes it so much easier to find your perfect match! Lane and John are so nice and they care so much about your special day and they always tell us it's all about the bride and groom. We can't wait to get married there next September!

Mountain House Estate's reply:

Thank you for sharing your thoughts, Audrey. We're really looking forward to your wedding in 2021. It's going to be a great year, and a wonderful beginning to your married life together. Can't wait!

Stacy

Married on 07/24/2021

Mountain house has been nothing shy of perfection! Not only is the venue beautiful. But they are the sweetest couple and go above! The best!

Absolute perfect! From the venue to the people, everyone has gone above and beyond to make everything perfect for us and we are so so thankful!

Mountain House Estate's reply:

Thank you Stacy! We appreciate you taking the time to share your thoughts about Mountain House Estate. We can't wait for your July wedding!!

Stephanie D.

Married on 06/25/2021

We love MHE!! If you're looking for beautiful, affordable and unique venue - must check it out!

This review is overdue but very important to us. My husband, Austin and I were married at the Mountain House Estate this past June. It was a magical day and we are so happy we chose to celebrate with our family and friends at MHE. From the start of our planning journey in 2019, John and Lane were incredibly supportive and communicative about everything that planning a wedding entails. They provided us with vendor lists that helped us connect with our wonderful planner, Lacey, as well as the rest of our vendors who made the day so memorable. These past 2 years have not been easy (for anyone!) and due to COVID we were not sure if we would be able to have the wedding we envisioned. John and Lane kept us up to date with everything going on in Mendocino and Sonoma county. They took the time to talk with us on the phone multiple occasions and answer all our concerns. Although it was a time of uncertainty, we felt comfortable moving forward and knew without a doubt they were doing everything they could for us and the rest of their clients.

The MHE is stunning and will forever be a special place to us. The care and love that John and Lane put into the property is clear to see! Many of our guests raved about the property and how warm and beautiful it felt. We were married under the Oak trees, which felt magical. When it came to the day of, my bridesmaids and I were able to enjoy the property for the full day (the bridal and groom suites are a real treat!). We also didn't want our dancing to be cut short and MHE allows guests the option to stay until midnight. The flow of our wedding felt easy and many guests expressed how relaxed and comfortable it was. The location is close to Healdsburg where our guests stayed, but just far enough that we felt away and in our own unique space.

If you are looking to have your wedding in the Sonoma/Mendocino area, I highly recommend contacting John and Lane and visiting the MHE. We're forever grateful we found them.


+ 3

photos

Mountain House Estate's reply:

Thank you Stephanie and Austin! Reviews mean so much to us, they are the validation that we're on the right track. Each day we think about how we can make the venue better, easier to use for our couples. And we're regularly polishing every detail to make it easy for your - and your vendors. Stacey Goods Events has been instrumental in pointing out where we can make it even better, for vendors, couples and guests. The easier the vendor has it, the better job they can do for you - that's why we'll ask them if there's anything we can do better frequently. It's all behind the scenes, but it makes your day better - and that's the most important thing to us!

Ryan D.

Married on 12/30/2020

Excellent Venue

The facility was remarkable. The location is tucked away in the countryside, and offers amazing views. The men's dressing room had shuffleboard, poker table, foosball, and a big screen tv with xbox. The women's dressing room was large and easily accommodated our group. The bar area is so beautiful as is the dining area. So many places to take pictures outside. We got married at the tree, which was breathtaking. Highly recommend getting married at Mountain House Estate!

Mountain House Estate's reply:

Thank you Ryan! Winter weddings offer so many advantages that people don't consider, and your pictures show one of them - photographers 'golden hour' lasts and lasts. Wishing you and Paige the best, John and Lane

Cheyenne

Married on 11/13/2020

Very Helpful

We were in the early stages of planning and weren't sure where to start. Lane did our tour and made us imagine our vision and it went seamlessly from there. This was the first place we looked at and didn't want to go anywhere else, we fell in love with this place. Our family has seen pictures and can't wait to see it on our wedding day. We are getting married Nov. 13, 2020. This place is perfect for our party of about 120 people and all the people Lane referred me to have been amazing to talk to and work with as well.

Mountain House Estate's reply:

We're very excited about your wedding!! It was awesome meeting you both and walking through your vision for your wedding together. Thank you for choosing MHE for your wedding!

Kelly

Married on 10/24/2020

Incredible!

I cannot say enough good things about Mountain House Estate... if you're considering having your wedding here, do it!! This venue spectacular, feels remote, and has tons of different areas for the various parts of your event. John and Lane put so much care and love into their property, and it really shows - our guests kept commenting on how much they loved it. Throughout the whole planning process, Lane was incredibly responsive and flexible, and we couldn't be happier with how our event went off.

+ 3

photos

Mountain House Estate's reply:

Thank you Kelly! We strive to give couples options, both indoor and outdoor. You don't have to use every area, but you have the options needed to craft your dream day. We really like what you did in the barn! Thank you, John and Lane

Julie H.

Married on 05/22/2020

The wedding venue of our dreams! Rustic elegance at it's finest.

My fiancé and I toured at least 15 venues before deciding on Mountain House Estate. The venue is extremely well maintained and is absolutely beautiful. It has a rustic vibe but is extremely elegant. The venue has multiple location options for your ceremony and reception, so you really have a chance to be creative and make your vision come to life. You'll be the only couple at MHE on your wedding day, so you don't have to compete for space on the property. There are really unique design elements everywhere you turn. The owners, John and Lane, put thought into every single detail. They go above and beyond to make the property one of a kind. Our experience with John and Lane has been excellent from day one. They have been very communicative, transparent, and respond to all questions quickly. Not to mention they are just really nice and genuine people. My fiancé and I are getting married next year and we can't wait to spend our special day at MHE!

Mountain House Estate's reply:

Thank you for your kind words. We're excited about your May wedding and can't wait for the new year!

Danielle

Married on 08/10/2019

A fairytale

I do not even know where to start. Mountain house estate was the most magical, beautiful, classy, fairytale-esque venue, and we feel so lucky to have gotten to share it with our family and friends. Lane and John are the owners and they are the warmest, kindest people. They help you all along the way with suggestions and support. I feel like words really fall flat in expressing how much we loved this special place. We had our ceremony by the oak tree which was really close to my heart because it reminded me of the street I grew up on. Then cocktail hour inside near the bar, dinner on the lawn in front of the pond, and dancing on the gorgeous back patio. The whole evening was perfect. 10/10 would recommend this venue.

Mountain House Estate's reply:

Thank you! We loved having you here for your special day! We're glad we could help with suggestions along the way. Enjoy your honeymoon, and may all your fairytales come true! John and Lane

Amy

Married on 07/05/2019

Heaven On Earth

Is there a heaven on earth? YES!

My husband and I had heard of MHE through a mutual friend and wow, just wow! We were so in love that we cancelled all other venue tours and booked right away after our first visit. As a couple from Northern California, we dreamed of finding a venue that honored and accentuated the beauty of California and MHE nails it. The grounds are immaculate, the gardens are exquisite, the trees (and especially the Oak Trees up the hill where we had our ceremony) are to die for. Both we and our guests could not get over how truly stunning this venue is and it is the perfect size with lots of options on how to use space. We had a wedding of 150. We had our ceremony under the Oak Tree, had cocktails in the barn, did dinner on the lawn, and dancing/photobooth/lawn games/dessert on the patio. It was the perfect use of space and made each area feel new and special. Highly recommend and felt like a really nice use of space while still feeling intimate.

Looking for a venue that replies ASAP? MHE. Looking for a place that is constantly in communication leading up to your wedding? MHE. Looking for a place that allows to go past midnight? MHE. Looking for a place that allows you to book any vendor to truly make your day your own? MHE.

Not only is this place just heaven, but John and Lane are some of the sweetest people you will ever meet. They were incredibly open with everything that the venue includes and we loved that we had the ability to hire whichever vendor we liked (most of ours were from their vendor list and man oh man do they have true gems on there and we ended up hiring local businesses too!).

To show just how amazing John and Lane are I want to tell a little story. After our wedding I realized I had lost a family heirloom that was on my bouquet. The next day I called Lane in a panic and we were ready to scour the property looking for it. After I retraced my steps, my husband and I realized I had left my bouquet in the garden. Lane being the angel she is went up and checked for us on the drive up and found it! She is a legend!!

On our wedding day, we felt truly at ease and just overjoyed to be there. Our guests could not stop talking about how gorgeous everything was and I even heard some people say it was the most effortlessly, relaxed and beautiful wedding they have ever been to. Score!

Lane and John, thank you from the bottom of our hearts for everything. We wish you the best of luck in everything and thank you for making our wedding dreams come true!

Mountain House Estate's reply:

Thank you Amy! As you've experienced, our goal is to help you have the best day ever. The vendors on our Nice list, have earned their way there by giving great service and being wonderful to work with. Those on our Naughty list .... have also earned their way there... I really appreciated that some of you guests took time out to find me, and thank me for the wonderful venue and wedding experience. What they need to know is that we only provide the backdrop, you and Jon provided the LOVE! Best always, John and Lane

Dodie M.

Married on 07/05/2019

Wow. Just wow. In a good way!

If you're looking for the perfect wine country wedding, look no further. My daughter and son-in-law were married at Mountain House last weekend and it was nothing short of spectacular. We had such a magical time and owners John and Lane were a pleasure from start to finish. We worked with them for about a year and every interaction was so professional and filled with great caring and love. Their venue is immaculate (I challenge anyone to find even one dead flower on the sprawling property!). They are experts in every detail and provide guidance and suggestions in a very unassuming and friendly way. Little touches are everywhere and the amount of flexibility in what you can do, where is endless. Our 150 guests had the time of their lives, a few even commenting, "This is the most elegant, effortless wedding I've ever attended." So if you're wondering if Mountain House is for you, wonder no more. Book it. Now!

Mountain House Estate's reply:

XOXO - it was a pleasure having Amy and Jon celebrate here! Not to mention how awesome their parents and family are. A happy life to the newlyweds!!! John and Lane

Jennifer A.

Married on 06/21/2019

Amazing possibilities here!

We chose to have our wedding at Mountain House Estate because we wanted to have a wedding that we could customize and make into our own. We saw several lovely venues during our search, but so many didn't allow us to make many decisions or tailor the day to our own interests. Enter MHE...just what we were looking for and beautiful too! We were able to choose our own vendors with some preferred vendors provided to help guide us when needed, bring our own alcohol, set our own hours, select from many spaces where we would have the ceremony versus reception, and even bring in a second late night food vendor (i.e. a taco cart set up right on the patio). Our guests continue to contact us and comment on how unique and personal our wedding turned out to be. Everyone (including the bride and the groom) had a great time, and we would choose to have our wedding here 100% if given the option to do everything again.
Oh and we can't forget the owners. They are professional all of the way. They were extremely responsive to our questions via e-mail and made the whole experience great fun. Thanks John and Lane!

Mountain House Estate's reply:

We love that you saw the potential to have your unique and custom wedding at MHE! And custom it was all the way down to fresh made churros on the patio! It was a great working with you as you planned your special day, and such a pleasure to see the results of your planning come to life. Happiness to you always! John and Lane

Anna

Married on 06/08/2019

Beautiful Venue - Great Owners!

We and our guests loved our venue! It was a beautiful day in June, in the evening (though it was hot in the day, it was perfect when the sun set). The owners are wonderful people who are very professional, super responsive, and very helpful. The property is meticulously maintained with improvements all the time - making it more and more beautiful. It's a bit of a drive, but definitely worth it! All our guests thought so!

Mountain House Estate's reply:

Thank you Anna! Helping couples with their best day - that's what it's all about. Wishing you the best always, John and Lane

Melissa

Married on 05/26/2019

Mountain House Estate

We fell in love with this venue the day we saw it and knew it was the one! Everything is so well maintained, the property is absolutely gorgeous! The bridal suite, the oak tree we got married under, outdoor patio area with bistro lights above, the gorgeous pond, bar area…. I could go on! John & Lane were friendly and easy to work with, Lane always responded to my emails so quickly! Their list of preferred vendors was super helpful. Would highly recommend this dreamy venue! I wish we could get married here all over again!

Chelsea

Married on 04/26/2019

Amazing Venue!

Mountain House Estate was the absolute perfect venue for our wedding! There are many different options as to where you can have your ceremony and reception, so you can find a flow that fits you and your needs. Also, the grounds and amenities are so naturally beautiful and can really fit any aesthetic. One of my favorite things was that the bridal suite is right upstairs which was so convenient. If I needed to quickly freshen up in the middle of everything it was nice and centrally located. Also the bar is absolutely stunning! I cannot thank Lane and John enough for all their help and allowing us to have the wedding of our dreams!

Mountain House Estate's reply:

Thank you Chelsea! We are 110% dedicated to helping couples have the best wedding day ever!

We understand that couples have a vision of what they want their wedding experience to be. Therefore we provide multiple ceremony and reception areas, so that you can have your custom design come to life. As we are not a 'one size fits all' type venue, you're free to create the guest experience that will keep them talking long after the wedding.

Thank you for your kind words, John and Lane

Hayley H.

Married on 02/17/2019

Incredible venue!

We were absolutely blown away by the beauty of Mountain House Estate as well as the hospitality of Lane and John. Their response time was almost instant anytime we had a question and they had excellent suggestions when it came to our coordinator. They suggested Lacey Davis who helped make our day so special. One thing we appreciated most about the venue is it's options. Up until a week to the wedding we had planned to have it at the tree sight, and reception outside. When the weather was not going to allow that, the venue provided multiple backup plans! We can't thank them enough for taking care of us.

Mountain House Estate's reply:

We loved having you and David here, and what a wonderful group of guests! And the pictures - oh my word! Your photographer, Kelsy Shaffor Photography, used some of our different areas and did a super job capturing your special day. Doesn't having a great Planner like Lacey Davis of Stacey Goods Events make a huge difference? Thank you so much for allowing us to share the estate with you and your guests. John

Kaitlin Z.

Married on 10/20/2018

Wouldn't have changed a thing!

My husband and I got married at MHE on October 20th, 2018. When we started looking for a venue, we had a few "musts". MHE fit all those requirements— including the flexibility to choose our vendors and the space to accommodate our guest list. In fact, MHE was the first and ONLY venue we looked at. Once we walked around the beautiful grounds, we knew we had found "the one". The only issue we ran into was wanting to utilize all the spaces, which was no fault of the venue itself.

As I mentioned, it is not a one stop shop type of place, which is one of the reasons we loved MHE so much. I will admit it added more decisions to the long list of to dos, but more importantly it gave us the ability to personalize every aspect of our day in order to reflect our love.

John and Lane were super helpful and informative in the months leading up to our wedding day. They went above and beyond to make sure all our questions were answered and to offer guidance of what's worked well in the past. They both take so much pride in their property and have worked so hard to update the estate and property while maintaining its rustic beauty.

To this day, every time we talk to one of our guests, they boast about what a beautiful day it was. We are so glad everyone was able to enjoy it as much as we did! And our photos are our lasting memory of just how perfect everything was.

Thanks again, John and Lane!

Amber

Married on 09/22/2018

We loved our wedding. It was elegant and so worth every cent we paid. The owners of Mountain House go above and beyond to accommodate all your dreams coming true. I feel like our day could not have been more special or gorgeous.

Daniel

Married on 08/18/2018

I was amazed with how great everything turned out to be. The venue is beautiful with so many charming photo spots for the couple as well as the entire entourage and guests. Inside the estate there are several rooms available to rent for the weekend, which makes setting up, getting ready, cleaning up, etc. so much more manageable and helps take the stress off from having to do everything on the day of the event. It's very spacious so the guests never feel like they are crammed into any particular area and the inside of the main house was recently redone, making it feel so much more rustic. I understand that grooms don't often review things related to weddings, but this place is so great that I decided to be an exception. Thank you to everyone at Mountain House Estates for help making our dream wedding come to life!
Are you interested?
Send a message