102 Reviews
Recommended by 96% of couples
Quality of service

4.8 out of 5 rating

Average response time

4.8 out of 5 rating

Professionalism

4.8 out of 5 rating

Value

4.8 out of 5 rating

Flexibility

4.7 out of 5 rating
43 User photos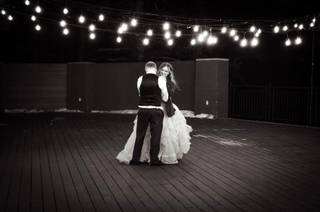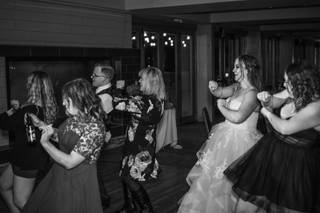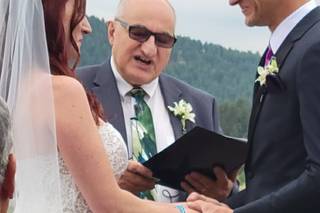 + 39

photos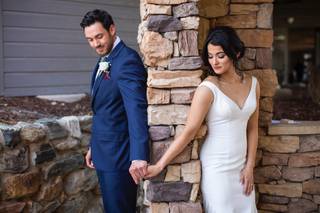 Katie U.

Married on 11/11/2022

Affordable, attentive, stress free

I had been dreaming of a wedding at Mount Vernon as long as I can remember. Nicole and the rest of the staff made that dream come true with ease! The process was smooth and stress free. The venue itself is breath taking as you picture yourself saying your vows on the side of a gorgeous mountain. The food is mouthwatering. Everyone is so kind and attentive. I would recommend this experience to any couple looking for an elegant and affordable venue. I wish I could go back and do it all over again.

Taeler R.

Married on 10/01/2022

Amazing venue! Had my dream wedding at MVCC!

We had our dream wedding at Mount Vernon Canyon Club on 10/1/22! The venue is beautiful, has stunning views, great food, amazing staff and working with Barbara was an incredible experience from start to finish. She was always available to answer any questions that we had throughout the planning process and was beyond accommodating with any changes that we requested. As for our big day, Barbara was immensely helpful in keeping us on schedule and making sure everything ran as smoothly as possible. We received so many compliments from our guests about how beautiful the venue was, how the food was the best wedding food they ever had and how overall smooth and fun the entire event was. Our wedding day truly as a dream and everything we could've asked for and more! We can't recommend Mount Vernon Canyon Club enough for a wedding venue! We can't wait to return next year for our anniversary cake :)

Serena E.

Married on 07/29/2022

Friday morning wedding July 29. Canyon Room. 50 guests all loved it!

Why Mt Vernon? Because of the view along with the package rate for a daytime/weekday wedding was exactly what we were looking for. Yes. There could be 1-2 other events but if there was another event going on I never knew it. Many of my guests were coming from Midwest central time zone. Since they are an hour ahead and older it was important to consider energy levels could be better during the day. For many this was their first "daytime wedding". Coming from the Midwest the view off the deck took their breath away and was "the entertainment". They also absolutely loved the food- we had the chicken scallpopini and braised beef lunch buffet with garlic mashed potatoes, carrots/ parsnips, and the Cobb and rotini salad. We did not do appetizers but had a brief cocktail time after the ceremony. We did have some morning coffee and cheese tray. We did a 1/2 champagne toast and had only a large sheet cake. Most commented it was one of the best weddings they had been to. One vegetarian said " it was the frickin' best risotto!".

Many were able to enjoy their evening afterwards and go to a baseball game. Don't underestimate a daytime wedding as being not as fun! It didn't take away from the fun- my older guests got into a conga line!
In fact- everyone was so awake and having fun we raised our alcohol budget during the event! Everything was so clean and staff professional and exceptional and on top of it. (I used to work in catering myself.) Nicole was excellent at answering detailed questions in the year preceding and directing the event to keep us on point.
Age range: we had a couple of 3 yr olds, 5 teenagers, a couple of 20 yr olds. Otherwise mostly 40 and older.
Other benefits of morning wedding at Mt Vernon: You will likely the Colorado showers and the grass is dry for morning pictures. It is tucked away from the highway abit and an easy drive from the Marriot Denver West. It is also near downtown so guests have choices for their vacation.
Suggestion with morning wedding: you can't decorate until 9 am. I had my dad and two friends unload and then when my two bridesmaid sisters and I arrived my sisters assisted with decorating while I got changed and primped for the "first look" at 10 am. To prepare my friend that decorated she met us for the rehearsal so I could talk her through things. I gave her pictures also. Something I hadn't thought of was utilizing her as a "greeter" but her and her boyfriend got changed and it worked out perfectly for them to greet guests as they came down the stairs and directed them to "sign our Jenga guestbook, the seating chart, advised about the bar and to sit anywhere outside". This was just a nice spur of the moment added touch that you might like to have.

Are you interested?

Send a message

Abbie D.

Married on 07/23/2022

July 23rd Wedding. Highly Recommend!

We loved our wedding at Mt. Vernon Canyon Club! We rented out both upstairs and downstairs. I loved being able to get ready in the upstairs board room. Nicole is great to work with and is there to help you with everything you need. We also used A Touch of Bliss for Day of Coordinator and having Nicole and the Day of Coordinator was amazing! The view, food, and communication with MVCC is everything you can ask for! Highly recommend!

Tempeth C.

Married on 06/25/2022

Wedding celebration

I would definitely recommend Mount Vernon Canyon club for a wedding celebration. The staff and the food were of excellent quality. The grounds are beautiful inside and outside.

Casey W.

Married on 10/22/2021

Amazing Experience!

We just got married at Mount Vernon Canyon Club on 10/22/21 and cannot say enough positive things about the whole experience from start to finish. Barbara was fantastic on everything! Her responsiveness and attention to detail were wonderful from the preplanning to the day of execution. Everyone was so nice, flexible, and accommodating. The food was delicious as well so compliments to the culinary team. All of our guests loved it as well! Thanks so much to Barbara and the entire staff at Mt. Vernon Canyon Club!
Casey & Kathleen

Christina W.

Married on 10/09/2021

Could not have imagined a better wedding venue!

We are so fortunate we were able to host our wedding at Mount Vernon in September 2021. We had originally planned for a June 2020 wedding and Nicole worked tirelessly with us to get a new date planned when the pandemic was in full-force. My husband and I do not live in Colorado and throughout the planning process, Nicole was prompt to respond to any and all questions we had. It made planning from a distance much less of a burden than I expected it to be. She also provided exceptional vendor requests for various inquiries I had regarding hair stylists in the area, shuttles, etc. We ended up having our ceremony on the Lower deck and our reception in the Canyon room. Our guests were awed by the incredible mountain views and we were so impressed with the hospitality of Nicole and the wait staff. I was really touched that the wait staff obliged with our requests to wear masks. That meant a lot for the comfort and safety of our guests. Also, when the shuttles were running behind, one of the wait staff politely came to the bridal suite to ask if I wanted to push the ceremony back a bit. I appreciated her coming to me and her comforting nature. Lastly, the wait staff were very on it with filling drinks, waters, and clearing plates. The food received rave reviews. We had oven roasted chicken, salmon, and vegetarian risotto as entree options. They took note of the guests with allergies and we heard nothing but positive affirmations of how delicious the food was.
We truly cannot recommend Mount Vernon enough for your special day. It is by far one of the more affordable venues we looked at and the views were unbeatable. We thank Nicole and Mount Vernon for giving us the wedding of our dreams!

I wanted to add that the pictures our photographer took below the deck in the grassy area were out of a magazine. You cannot beat the picture locations available at this venue!

Carmendarland

Married on 09/24/2021

My. Vernon was an outstanding venue for our daughters wedding!

My Vernon has outstanding views and architecture. They combine that with delicious food, outstanding service and responsiveness to any need. Our daughter's wedding was exactly how she wanted it, thanks to Mt Vernon Canyon Club. Much appreciation!

Deszane F.

Married on 09/18/2021

Everything was amazing!

I literally could not have asked for a better wedding. The venue was absolutely gorgeous, I fell in love the first time I saw it. The view is unmatched! The price was perfect for our budget and Nicole was AMAZING! She answered all our questions and left no stone unturned. When it came time for the rehearsal, she was present and did an amazing job with helping our coordinator. Could not have asked for a better venue... or day!

Kim M.

Married on 09/01/2021

Happy we chose Mount Vernon Canyon Club

We found Mount Vernon to be an excellent venue for a wedding and reception. The facilities and location are lovely, the food superb and the communication and coordination throughout the planning process was exceptional. Nicole is a skillful, experienced and responsive Event Director and the catering team is comprised of helpful professionals. It was a pleasure to hold a very special event there!

Sara

Married on 07/22/2021

Thank you!

I worked with Shannon and couldn't be happier with our final outcome and execution of details. Shannon was easy to work with and extremely flexible with planning all details and preferences. She is experienced and it showed! Everything went according to schedule with not one thing to complain about. We used the canyon room, it was beautiful and the perfect amount of space for our 70 person wedding. The bar was on point and everyone was blown away. Thanks for the best day ever!

+ 4

photos

Maggie R.

Married on 05/30/2021

Mount Vernon

We chose Mount Vernon as our wedding venue because of the incredible views and friendly staff. When we toured the venue and met Nicole, we knew we were in good hands! Unfortunely, on our wedding day (5/30/2021), we were welcomed with some not-so-great weather and completely took away all our views. Luckily, Nicole had a plan in place and still made the day absolutely perfect and SO MUCH FUN! Everybody raved about the service and the food, and I could not recommend Mount Vernon enough! Views or not! ;)

Hannah M.

Married on 10/17/2020

Best day of our lives!

Mount Vernon went above and beyond our expectations. We had our wedding there the food was delicious the cake was amazing our DJ had no problem setting up our photographer had great views we ended up with great pictures of our special day. They kept checking up on me and making sure that I was having a great time and that everything was going as planned they asked when I wanted special things to happen it was the best day I could have ever imagined even during these unpredictable times!

Rob K.

Married on 10/10/2020

Absolutely amazing wedding venue!

Nicole and her team at Mount Vernon Canyon Club did a fantastic job with our wedding! We really feel we got a ton of value for the price we paid. Our wedding went better than expected. We'd very highly recommend this venue!

Elaina K.

Married on 09/17/2020

100% recommend !!!!!

If you are considering this venue , don't even hesitate!! Everybody was and
Still is raving about how beautiful the venue was and how amazing the food Tasted! People said it was the absolute BEST wedding food they ever tasted and that says a lot because people work for wedding venues. Nicole was amazing throughout the whole experience & we really can't thank her enough! Living in DE and
Planning a Destination wedding in CO
During a Pandemic was crazy, but she literally made everything so easy! The views are to die for , the staff was awesome
& it honestly felt a fairytale Just was an amazing amazing night and we are so grateful and blessed! THANK U MOUNT VERNON CANYON CLUB! You are the BEST!

+ 2

photos

Lauren B.

Married on 09/12/2020

Mount Vernon Canyon Club is a HIDDEN GEM!!!

Mount Vernon Canyon Club is a HIDDEN GEM!!! Due to COVID we had to replan our wedding 3x and the third time was a charm. 5 weeks before our wedding we met with Nicole and pulled off a perfect ceremony and extended cocktail hour with music, which was perfect. My officiant even said - "only in colorado is your back up to your back up this amazing!" The backdrop is amazing, with lots of great scenery around for photos. The food was great, as was the staff. They were accommodating to whatever we wanted to do and we felt very safe from a COVID POV. They offered us a getting ready space that perfectly met our needs and all for a VERY reasonable price!

Mahboobeh R.

Married on 09/05/2020

Excellent choice

Mount vernon canyon club was great. The views are incredible. We wanted to have our wedding with the view of mountains, so we traveled all the way from Austin to golden for that. Nicole was very helpful in planning everything remote and was very responsive. On the day of our wedding, all the staff were very nice, polite, and helpful. Everything went as planned. The food was excellent. Or guests loved the place and the hospitality. Would definitely recommend this place.

+ 2

photos

Ashley M.

Married on 08/14/2020

Highly recommend!

Shannon and the venue were amazing!! About 6 weeks from our wedding date our original venue cancelled due to Covid. Shannon was so quick to respond throughout the entire booking and planning process, which was HUGE with having to basically replan a floor plan, menu, cake, decorations, etc in about a month. We had so many compliments on the food (one person even texted us during dinner, another is still raving about the cake days later). The variety and options as well as the taste were all amazing. And EVERYONE complimented on the view and told us countless times that we didn't "settle" in choosing a new venue, this would have been a great first choice! One guest even told us they want to plan their next company event there. Service was amazing, the bartender made the best drinks, and tons of photo opportunities with different views. I can't say enough great things about Shannon and this venue!

Chelsea P.

Married on 04/03/2020

I 10/10 recommend!

Overall, our wedding day was perfect. It was an amazing wedding celebration at a beautiful venue. Everyone had such a great time.

The food was absolutely delicious, especially the sauce on the pork chops! All of our guests loved the food.

My family also commented on how nice and polite all of the staff was during the wedding.

The planning process went great. Nicole was very prompt with responding to myself and my day of wedding coordinators. It was greatly appreciated!

Rosie

Married on 10/26/2019

Best Venue ever!

My husband and I knew from the first glance that this is the most beautiful venue we have ever seen. We planned our wedding from out of state but Shannon made it an amazing experience! She is so wonderful and sweet. She answered all our questions and she went out of her way to make sure we were comfortable with everything! The food is truly amazing, all our guests commented on it.
Thank you!

Phadra

Married on 09/29/2019

It was perfect for our day

Mountain backdrop and amazing food. We kept it simple and fun and Mount Vernon did just that. Shannon was there for us every step of the way and had an answer for all my questions. It was perfect for our day

Jessica B.

Married on 09/20/2019

Perfect Venue For Destination Wedding

Mount Vernon Canyon Club was the perfect venue for our wedding. The location and decor were beautiful (I loved how the café lights turned out in our photos!), the food was FANTASTIC (we went with plated options and everything was a hit), the cake was spectacular (went with a naked cake which was beautiful and tasted even better!), and the service was exceptional. We loved how easy Nicole was to work with and how she and the rest of the team made sure everything went perfectly. They even held a phone for the ceremony so my grandparents could watch from home on FaceTime. Everything was above and beyond. I highly recommend!!

Brittany M.

Married on 09/14/2019

Amazing venue!

They were lovely from start to finish! Helpful staff, GREAT food, lovely scenery. Couldn't recommend them any higher.

Mount Vernon Canyon Club's reply:

Thank you Brittany for your amazing review. Ryan and you were a delight to work with and know that your relationship will continue to endlessly climb and grow with time, much like the two of you!

Ceranne S.

Married on 09/14/2019

Last minute and picky

Mount Vernon Canyon club did an amazing job with our last minute rehearsal dinner and on schedule wedding. Nicole and Shannon were always professional, they made the day go just perfect. Even with the allergies we had in the group. The food was amazing. They all care about what they do up there. It shows in how yummy the food is and how stunning their service is. You really can't beat the view either.

Lindsey W.

Married on 08/17/2019

Great experience!

We loved having our wedding at Mount Vernon! We had a large wedding in August there. Everyone was so helpful and kind during the process. We loved our coordinator, Shannon - I think I emailed her three times a day, every day as we got closer and she was always responsive! I wished we would have had the opportunity to hire staff to help us set up since we did everything on our own but otherwise we loved it all. The food was fantastic and the views were a dream. We would not have had it any other way!
Are you interested?
Send a message