60 Reviews
Recommended by 99% of couples
Quality of service

5 out of 5 rating

Average response time

5 out of 5 rating

Professionalism

5 out of 5 rating

Value

5 out of 5 rating

Flexibility

4.9 out of 5 rating
98 User photos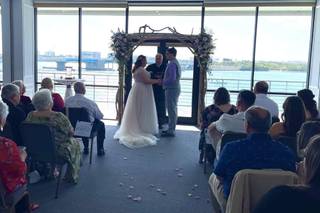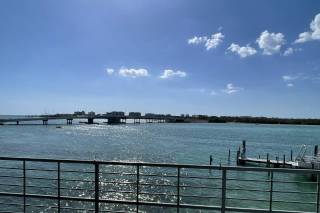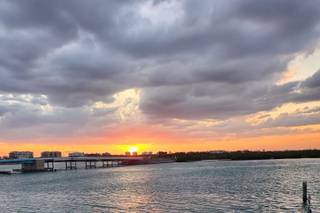 + 94

photos
Audrey M.

Married on 04/29/2023

Unique tropical venue

We were looking for a place to hold a rehearsal dinner. We realized our guest list was large and we would need a caterer and a venue because the restaurants we checked didn't have a large enough room to accommodate us. We couldn't have been happier with our Mote Marine experience. We would definitely recommend it.

Emily S.

Married on 04/23/2023

Dream Wedding

Everything at Mote was just perfect! The New Pass Room was gorgeous and the staff was wonderful to work with. It was my dream wedding and I wouldn't have wanted it any place else.

Meganwilson

Married on 12/30/2022

Unique and Stress Free Venue

Working with Mote was easy. They were always quick to communicate, and guided us multiple times through the multiple venue locations while we decided on the best one for us. I highly recommend Mote. I grew up going to the aqurium during the day, but Mote after dark was an incredible experience for us and our guests. The volunteers loved guiding everyone through the touch tanks, and were incredibly knowledgeable about the marine life. The perfect venue for anyone like us, who wanted something more interesting than a ballroom.

Are you interested?

Send a message

Laura E.

Married on 12/18/2022

Everything was perfect!!

The venue we choose was a beautiful, outdoor, intimate setting for our wedding with close family and friends, it was exactly what we wanted. Veronica, the event manager, helped insure we had everything we needed and things went smoothly. We even had some friends talk about maybe doing another event there. Thank you!!!

Tamara H.

Married on 12/03/2022

Fantastic start to a wedding weekend

Veronica was wonderful to work with- always quick to respond to any questions I had. She did a fantastic job communicating with the other vendors and was even there to help the night of the event with set up and clean up. The volunteers the night of our event were great with my guests as well. They took the time to explain and educate my guests about each of the exhibits which just added to the experience of the evening.
I used CCAV and they really helped me to explain my options for music and other av needs for evening. Quick to respond to my calls and emails leading up to the event and very easy to work during the event.
Catering was with Sarasota Catering Co. Sashi was the coordinator for my event and was so helpful in planning the menu and theme for the evening. Everything went smoothly and the food was delicious!

Joanna S.

Married on 11/19/2022

Wedding Chickee Hut Mote Marine

Veronica at Mote Marine was so helpful with helping with so many of our questions and requests. She sent us great list of vendors. The people day of wedding set details up for things to run smoothly for the wedding. Thanks so much to Mote Marine and their great staff.

Colleen M.

Married on 11/12/2022

Wedding reception

My husband and I had our wedding reception here, approx 130 people and it was AMAZING! Veronica and Sam were awesome to work with, very relaxed and professional. The balcony area was perfect for a sunset happyhour and the inside room fit everyone with plenty of space remaining. This is a great place to have a party, I couldn't recommend enough!! Would do it again 100x !!!!

Casey

Married on 11/11/2022

Such a unique and beautiful venue

This venue is probably one of the most unique places to have a wedding. My guests are still raving about how cool and unique our wedding was. We were able to use almost the entire faculty for our wedding and guests were able to mingle while gazing upon the fish. We had our reception at the courtyard and was more than enough space for our set up and had access to the touch tank, shark tanks, and sting rays during our time. I love that this venue is budget friendly and eco friendly. They have lots of ideas and recommendations to help have an eco friendly wedding! The day of staff were all super wonderful in helping guest learn about some of the species of fish and make sure everyone had a safe and fun time. We worked mainly with Veronica prior to the wedding and she is super responsive and helpful in getting all needs fulfilled. She was super helpful in providing eco friendly vendor options and tips as well.

If you are looking for a cool, unique, family and eco friendly venue, Mote Marie Aquarium is the place to have any event.

Carter

Married on 10/29/2022

Beautiful experience!

Everyone was blown away at the way everything turned out! From having a vendors list to work with already to the date itself, everything felt too easy with this vendor. Definitely recommend booking a wedding here, and if you use the courtyard, it's worth it to get the gallery add-on!

Kate P.

Married on 10/22/2022

Dream Wedding

We don't have the word to express how lovely this venue was to work with before and during the wedding. Veronica was easy to reach and extremely attentive. We used both outdoor and indoor locations and it was a total dream. Guests have been raving about this location since!

+ 3

photos

Rhonda J.

Married on 10/20/2022

Excellent location, Veronica was a pleasure to work with.

From the moment we toured until "game" day Veronica was a joy to work with and we couldn't be happier about our selection to have Mote as our rehearsal dinner venue. Everything was perfect and I highly recommend!

+ 9

photos

David C.

Married on 10/08/2022

A flawless, unforgettable event

When we looked at "traditional" venues for our wedding and saw how over-the-top expensive they were, we expanded our search and came across Mote Marine Laboratory & Aquarium, a place we knew well from previous visits. We decided we wanted our wedding to be about us and the experience of our guests instead of about how much money we spent.

After our experience, we would recommend Mote as a first-choice wedding venue for anyone and everyone. We had our ceremony on the beach at the Chickee Hut and our reception at the Aquarium Courtyard. From our very first inquiry all the way until the end of the event, the Mote staff was incredibly responsive and helpful, quickly giving us all the information we needed, answering every question in detail, coordinating with our vendors, and in general going above and beyond to make sure our experience was the best it could be.

The event itself was amazing, with a picture perfect wedding and a fun time at the aquarium where our guests were able to see sharks up close, pet stingrays, and see and touch other sea creatures. There were no mosquitos and there was a backup plan in case of rain, but the weather was perfect.

Mote's Events Manager, Veronica Perrelli, was tremendously helpful from beginning to end. We started our planning seven months before the wedding and even though many weeks might go by between inquiries, she was always instantly responsive and fully knowledgable of our plans, writing detailed replies within hours as if there were no break in our communications.

Even though Sarasota had just had a major hurricane, the Mote grounds were immaculate, and all the staff and volunteers made sure that our wedding went perfectly. They were on site to direct people where to go, answer anyone's questions, and help with the exhibits. We just couldn't be happier with our experience and are very glad we chose Mote Marine as our wedding place.


+ 5

photos

Hanna B.

Married on 10/01/2022

Easy and organized

The mote marine crew was so easy to work with. The venue was beautiful. I would highly recommend mote marine for any event.

Vickie

Married on 06/14/2022

Magical Aquarium Wedding

A unique venue that is yours to imagine with a knowledgeable team to help you along the way. We created the most magical, classy, and elegant night full of charm and fun! The Courtyard space was so fun to utilize for our guests. We had the whole area for our cocktail and reception space. It allowed our guests to walk back and forth and interact with the marine life. Our reception was perfect. We had plenty of seating for more if necessary with many fun elements that incorporated the aquarium theme. As we just got married, I can't say enough about the positive interaction I had with the events team. We even had a weather scare and they were great to work with to make sure our day was perfect (luckily, no issues!).

Steve L.

Married on 04/18/2022

Great Venue & Service

If any couples desire a venue that is out of the ordinary, with a staff that is always ready to assist, then Mote Marine Laboratory & Aquarium is for you. It is a fun place to go for a wedding and the staff is very helpful in making your wedding truly special.

Ashley S.

Married on 10/08/2021

Beautiful and unique event location!

I held a charity fundraising event at Mote marine this fall and couldn't be more pleased with how everything went. The staff was helpful, professional and all around great to work with. The venue was beautiful and we got so many wonderful compliments about what an amazing and unique space it was to hold an event. Would definitely use them for future events and recommend to family/friends!

Mote Marine Laboratory & Aquarium's reply:

Thank you for selecting Mote for your special event!! It was a pleasure hosting the Junior League of Sarasota and your guests.

Kailey Y.

Married on 10/02/2021

Our wedding reception

Planning a wedding during Covid definitely had it's challenges, but Mote did a great job with keeping communication open, working with us, and in the end still providing the best venue one could ever hope for!! I volunteered through Mote for sea turtle watch and especially now with having had our reception there, it will forever be a special place for us. Giving our guests room to roam a bit, see sharks and marine life, and have open air, was key to a beautiful, fun and Covid free wedding! The court yard fit our guests so well and looked beautiful with our colors (seriously big thanks to Nellie's Catering for coordinating that!)! Mote even provided a volunteer to answer questions and ensure safety of marine life (big must for me!!). It was superbly the best. Seriously. Big love to Mote.

Picture credit goes to the amazing Makenna Smith Photography.

+ 6

photos

Lynn E.

Married on 01/10/2021

Out of the Blue Event

Chaired Out of the Blue Fundraiser for NAMI. Mote was a great venue! Accommodating in every way. The Band had space to expand, people danced comfortably on the dance floor. The caterer, Simply Gourmet was outstanding and also had great space to set up the buffet. Guests enjoyed the sea life exhibits, which was an added plus. I highly recommend Mote Marine. Wonderful Staff to with. And while our Florida temperatures are hot, we had a great Gulf Breeze pass though in the evening which made the covered area feel air conditioned. Phone calls, emails and FB posts keep arriving to say how wonderful our event was. Beautiful venue for any type of Party or Reception! Thank you again Mote for helping us create a Spectacular Event!


+ 9

photos

Mote Marine Laboratory & Aquarium's reply:

Lynn, it was our pleasure to host such a great event for an important cause. Your team of volunteers was amazing! So thrilled you were pleased with the event.

Kayson M.

Married on 06/24/2020

It was a great and amazing experience

It was great and beautiful scenery and would recommend it to others.

Mote Marine Laboratory & Aquarium's reply:

Thank you Kayson! Wishing you both nothing but the best in 2020 and beyond! Thank you for choosing Mote for your special day!~

Meg C.

Married on 02/29/2020

Unique, gorgeous wedding venue

Mote has been a special place for us for a number of years, so we were ecstatic after seeing some of the wedding pictures posted. Mote is accommodating, extremely inexpensive, and provides a gorgeous, unique wedding experience. HIGHLY RECOMMEND.

Caroline T.

Married on 02/15/2020

Mote was a fantastic venue

Mote Marine Laboratory and Aquarium was the perfect place for our February wedding. It was just a touch different but still just as magical as you want your wedding location to be. Our guests all commented on how fun and cool it was to attend a wedding at an aquarium (A first for most). The Mote staff was attentive and helpful, making sure the day went off smoothly. We held our ceremony at the chickee hut, and while the weather was beautiful and sunny, the atmosphere provided by the lush greenery and water of Sarasota Bay made it feel like we were in a private oasis. Cocktail hour in the aquarium was so much fun. Everyone enjoyed chatting and checking out the exhibits. The layout of the space meant that there was plenty of room and lots to check out. Our reception in the courtyard was beautiful. I think the hardest part about the courtyard is imagining how that large open space could feel beautiful and intimate for just 100 people. But it was! There was plenty of room but it never felt empty. While our decorations were minimal, we just added string lights above, everything came together for a romantic beachy/ocean feeling wedding. I highly recommend having your wedding at mote. Not only a great location but a great place to support as well.

Mote Marine Laboratory & Aquarium's reply:

Caroline and Kevin, thank you for trusting Mote with such a special day. Hopefully other couples will have a better idea about what Mote has to offer by reading your experience. We wish you the absolute best!~

Jordan

Married on 02/08/2020

Wonderful Wedding-Courtyard Shark Tank

Allison, Michal and team were very nice in helping us have a memorable wedding in front of the shark tank. Our guests loved being able to touch and look at the marine life. The volunteers were kind and informative. Great experience. Also made for awesome pictures.

Mote Marine Laboratory & Aquarium's reply:

Jordan, thank you for the lovely review! I am so glad you had a positive experience, and can't wait to see your photos. Best wishes to you both!

Bob T.

Married on 11/30/2019

The Chickee Hut

The staff was awesome they responded to us and helped us through the process for our big day. The caterer was amazing.

Mote Marine Laboratory & Aquarium's reply:

Thank you Bob for the beautiful photo and kind review. We want to thank you for selecting Mote. Best wishes to you both!~

Nancy N.

Married on 09/11/2019

Nelson/Gravina Wedding

Our daughter got married in the aquarium courtyard on 11/9/19. It was nothing short of spectacular! The ambience of Mote at night is so unique and set the stage for a fantastic event. Allison and her assistant Michael ensured that the space was perfect and all our wishes came true! It was just dreamy! Thank you Allison and Michael!

Mote Marine Laboratory & Aquarium's reply:

Nancy...thank you so much for the wonderful review and the very sweet thank you note. It was a pleasure working with you and your family and we are thrilled that you were happy with everything. Please come back and visit soon!

Christine M.

Married on 08/03/2019

Unique and Fun

If you are looking for a fun and unique wedding venue,Mote, is the way to go! We had the wedding and reception in the Aquarium and Courtyard and it was simply AMAZING! The staff went out of their way to make sure we had a perfect wedding! We got married in front of the shark tank and all of our guests LOVED being able to use the touch tanks!


+ 4

photos

Mote Marine Laboratory & Aquarium's reply:

Christine, thank you so much for the lovely review and for sharing photos from your special day. Hearing you had a "perfect wedding" makes my day!
Are you interested?
Send a message