32 Reviews
Recommended by 98% of couples
Quality of service

5 out of 5 rating

Average response time

4.9 out of 5 rating

Professionalism

4.8 out of 5 rating

Value

5 out of 5 rating

Flexibility

4.9 out of 5 rating
Awards
5 User photos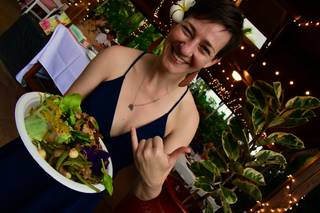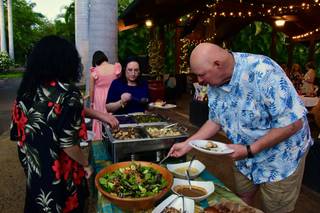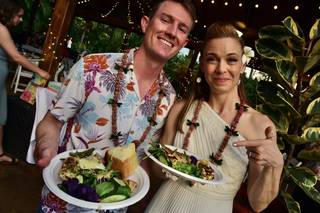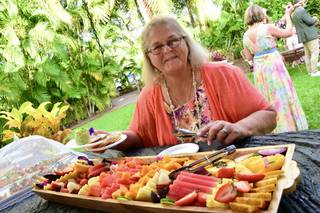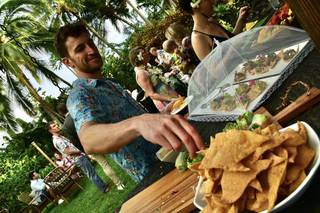 Jessica

Married on 05/15/2023

Local eats from Big Island!

Chef Mona was easy to communicate with and put us at complete ease. She touched base before the event and we didn't have to think about food for our very busy day! She and her team were just there, at the reception, doing their thing. Everyone was raving about the Hawaiian-style meal. Everything we ordered- Ono/Wahoo, pork, green beans with macadamia nuts, purple potatoes- was delicious. It was all astounding and Im so happy we found her. :)

+ 2

photos

Mon Ami Catering's reply:

Mahalo Jessica! Was our pleasure to work with you and your lovely guests! Wishing you a lifetime of bliss.

Thomas B.

Married on 10/22/2022

Strongly recommend Mon Ami Catering

Strongly recommend Mona and her team at Mon Ami catering.

Mona catered our backyard wedding of 30, and did a fantastic job. The food was exceptionally good, both tasty and gorgeously presented.

They were highly professional throughout the entire evening, and accommodated a few guests with dietary restrictions with ease.

The food really is as good as the photos look.

Sheridan J.

Married on 03/29/2022

Beyond delicious!

Mona was a joy to work with! She is kind, detail oriented, and truly passionate about food! Mona was so wonderful helping us plan out a family meal for our non-traditional rehearsal dinner (on a catamaran!) but she was also flexible and accommodating as we coordinated our wedding reception as we worked to determine what would be best for our group & our budget. The result was two incredible meals that our family raved about! We appreciated working with her each step of the way and would be sure to reach out again if we are ever lucky enough to have an occasion on the Big Island in the future - Mon Ami Catering is sure to knock it out of the park!

Mon Ami Catering's reply:

Mahalo Nui Loa Sheridan! You and your family were a joy to serve! It would be our pleasure to see you all again. A hui ho🫶🏼

Are you interested?

Send a message

Aimee D.

Married on 01/05/2020

The Best Caterer on the Island

Mona and her team were fantastic! She was flexible, accommodating, and was focused on every detail. And of course, the food was absolutely delicious! Mona even ensured my husband and I were served and able to try everything she prepared for our guests. We highly recommend Mona and would use her again for future visits to the Big Island!

Mon Ami Catering's reply:

Mahalo Aimee! It was a pleasure to meet and serve ya'll:)

All the best to you and yours!

Aloha Nui, Mona and Team Mon Ami

Ben K.

Married on 06/07/2019

Incredible Catering

We had the pleasure of having Mona cater our wedding in Kailua-Kona. Mona was amazing to work throughout the whole process from the first phone call to the day of the wedding. She thoughtfully helped us refine our menu and worked well within our budget for catering around 40 people. Folks at our wedding consisted of primarily diehard foodies, but along with a few picky and less adventurous eaters. Striking a balance between those guests were very easy with Mona's options for food and her eye for detail.

The wedding consisted of a cocktail hour followed by a buffet-style dinner. For cocktail hour, we opted for the tiger prawns with mango chili lime sauce, fresh island fruit platter, gourmet cheese and crackers platter, and assorted poke with wonton chips. The fruit and cheese platters were super colorful and the prawns and poke were freshly prepared. For dinner, we had fresh island fish with tropical island salsa, mashed purple sweet potatoes, macadamia nut ginger green beans, and island sweet bread and butter. For dessert, we had a collection of mini lilikoi-key lime pie, haupia pie, chocolate-coconut pie, and macadamia nut rum cake. Everything was ridiculously good! We've had the opportunity to eat at a lot of good local restaurants through previous visits to the island, but Mona's food was still the best we've had in all our visits. Everyone went back for seconds and third servings cause the food was so good. It's been about a month since all our family and friends have had Mona's food and they're still talking about how awesome it was! It is hilariously problematic as most of our standards for food had been significantly raised with Mona's food.

Mona's crew was great to work with. They were able to prepare most of the food fresh on-site and they left the kitchen they used in a cleaner condition than when they started. An extra crew member even stayed a bit longer to help clean up towards the end of the wedding night. Mona also took the time to personally make plates of food for us (the bride and groom) to make sure we had gotten enough food. We wished we could chat with her more, but we were super busy with all the wedding events! Mona is a very heart-warming person who expresses her creativity through her passion for food. Don't hesitate to reach out to her if you're thinking about having her cater your event! You won't regret it!


Mon Ami Catering's reply:

Mahalo Ben! It was a pleasure to serve you all!
Wishing you both a lifetime of happiness!
Mona & the Mon Ami Team

Michelle (.

Married on 09/23/2018

AMAZING food and experience!

I must start this review by saying BEST FOOD EVER!
My husband and I got married in my hometown, Kona, in September. We reached out to Mona earlier this year based on friend recommendations to see if she was available for our wedding. She responded to us quickly, and was so helpful getting us an idea of pricing. She even gave suggestions on replacements to help us reach our goal per plate cost. Additionally, my husbands mother and sister have celiac, so gluten free items were also a must.
We made a few adjustments over the next few months, and she was helpful during that entire process. Leading up to our wedding, my parents hired her to cater a couple of smaller events, and they had nothing but rave reviews, which helped me feel even more comfortable.
When it came to the wedding, we had a cocktail hour with a fruit platter, cheese and crackers, and ahi tartar on won ton crackers. Every single item on there was not only beautifully displayed, but delicious. I've lived in Hawaii my whole life and those Ahi won tons were to die for. My husband and I even had our own beautiful little platter set aside for us to enjoy during photos.
For dinner, we did buffet style and chose huihui chicken, kalua pork, and short ribs, with sweet potatoes, green beans, and salad. All of the food was amazing, but that kalua pork, like the ahi, was the best kalua pork I've ever had. I wish I had ordered even more, it was so good we could have eaten leftovers for days.
For our family with celiac, Mona actually provided an entire tray of gluten free crackers for the cheese, set aside some ahi without the wonton crackers (while using gluten-free soy sauce for the seasoning), and made sure the label all the gluten free selections. Plus, when coordinating the dinner menu with Mona, the entire menu ended up be naturally gluten free; it made everything so special for my future in-laws.
Almost two months later and my husband and I, as well as our guests, are still commenting on how amazing the food was. To top it all off, Mona is the sweetest person. I didn't get much of a chance to talk to her at the wedding, but she has a personality that's as beautiful as her creations.
This review is long, and I sadly don't have any of my professional photos, just a few informal ones from the cocktail hour, but trust me, you wont regret working with Mona and her team!

Mon Ami Catering's reply:

Dear Michelle,
Mahalo Nui Loa! This review...just like you...is beautiful! It was such an honor to serve you and your family. Wishing you a life time of bliss!
Mona and Team Mon Ami


Shalane

Married on 06/12/2018

We were completely over the moon with Mona and her team's service at our Big Island, Hawaiian wedding during June of 2018. Mona was very accommodating during the entire process allowing us to choose between plated, buffet and family style dinning for our wedding with no discernable cost difference between the services. It is clear to see that Mona exudes a passion for entertainment and she is a true master at her craft. Mona even recommended and organized a bar tender for our self provided bar. Jennifer's cocktails were delightful and her smile throughout the night was completely infectious.

The plates of food were not only delicious but also visually exciting with a storm of colors provided by the Hawaiian purple sweet potatos, sesame green beans, the freshest, flakey Island caught fish and Hawai'i's greatest Kahuala Pork (we made a point of eating lots of Kahuala Pork and Mona's was the best). Mona served beautiful roaming pupus during our cocktail hour consisting of fresh summer rolls and large island prawns/shrimp served with a beautiful, well-balanced macadamia dipping sauce. Her service was right on queue. We elected the buffet style service so our guests could be more selective with their food options and Mona graciously pre-made our plates along with our photographers to ensure that we were able to take full advantage of the golden hour lighting. We received compliments for days after the event concerning the food quality and choice of vendors. I could not recommend Mona's service enough. She easily made our event a night to remember.


Mon Ami Catering's reply:

Shalane,
Mahal Nui Loa. This review is as beautiful as you! I hope this finds you still basking in wedding bliss!
Aloha,
Mona

Giavanna

Married on 02/16/2017

We had an AMAZING experience with Mona's catering service on our wedding day. If you are looking for a cater with fresh food, great service, and incredible attention to detail, she is the one! Everyone at the reception said it was the one of the best meals they have ever had (and this was after a week of being on the Big Island, experiencing amazing food). To top it off, her staff was a delight to be around. We all know that event staff can sometimes be dry, too much to handle, or even crabby. Her staff was the complete opposite; they were so much fun and made the whole night. Everyone adored them. The staff were especially attentive to my husband and I. They even saved us some of the appetizers as we were so busy with pictures and greeting guests that we didn't get a chance to try any.

One of the best things about Mona was she went the extra yard when we needed it the most. Being from MN and having a wedding in Hawaii (at a blank slate venue) got to be a little overwhelming/difficult at times, especially trying to understand all the small details that need to be figured out. Mona walked us threw everything prior to us leaving MN and let us know if we needed once we got there to just let her know. She even advised us on the weather :). We also ran into some last minute issues with the venue not being able to have her cook onsite which completely threw us off guard. Mona flew right in to save the day and worked directly with the venue to figure it out. In the end, everything worked out, better than we ever expected.

We are BEYOND HAPPY we picked Mona to be our cater. Thank you, Mona, you were honestly the best!! You and your team deserve a 1000 stars! :)

Mon Ami Catering's reply:

Aloha Gia!
Mahalo Nui Loa for the beautiful review! You all were such a joy to serve! We wish you both a lifetime of bliss!
All the Best,
Mona

Jill

Married on 10/23/2016

I cannot say enough nice things about Mona at Mon Ami Catering. I had a DIY wedding and Mona was beyond accommodating and patient with me. The food was AMAZING and the staff was so friendly and professional. Everyone raved about the food after the wedding. Thank you so much, Mona for being so patient and sweet with me. We loved every last drop of the food!

I highly recommend Mon Ami Catering. I promise, you will not be disappointed!

Mon Ami Catering's reply:

Mahalo Jill,
It was a pleasure to serve you all! Many years of bliss to you both!
Aloha,
Mona

Danielle

Married on 09/08/2016

Mona at Mon Ami Catering was amazing to work with and I would recommend her to anyone! She catered my wedding and created a beautiful menu that was well within our budget. Her food was absolutely delicious and all of the guests raved about it. We had a cocktail hour with pupus and a buffet dinner. In addition to how delicious the food was, it was also presented beautifully. All of the food Mona can source locally, she does, which was exactly what we were looking for. She always responded quickly to my emails and was very helpful. She went above and beyond what was expected and even organised a bartender for us. I would work with her again in a heartbeat for any event!

Mon Ami Catering's reply:

Mahalo Danielle! It was our pleasure to serve you all! You were great to work with!
All the Best,
Chef Mona

David

Married on 07/21/2016

Advice to anyone looking for a caterer on the Big Island (or alternatively considering a "hotel" wedding and using their food services): look no more. Mon Ami catering is awesome. Technically NOT a wedding review (I was married 9 years ago) but my wife and I threw my 50th birthday party on the Big Island (roughly 20 people). Mon Ami was on time, more than friendly, accommodating and professional, and the food was AMAZING. To be clear, and give context, I live in Washington, DC, travel for a living (approx. 60 trips/year), and eat out for business and pleasure quite often. Mon Ami was easily one of the top 3, 2?, maybe THE BEST, catered meal I have had in a 25 year professional career. From the pupus (appetizers), to the entrees, to the rum cake dessert. AND there were leftovers (I ate well for another 2 days). All at a very reasonable price. Take my word for it -- you'd be making a mistake to go with anyone else.

Mon Ami Catering's reply:

David, Mahalo Nui for your generous review! We were honored to be a part of your celebration!
Best,
Mona and the Mon Ami Crew

Annabelle

Married on 07/09/2016

Mona at Mon Ami Catering worked with us for months to ensure that our menu reflected our style and taste and would fit with our wedding design and budget. All of this communication definitely paid off -- our food was delicious, lovely, and received more compliments than any other part of our wedding. I can't recommend Mon Ami Catering highly enough!

Working with Mona was one of the best decisions we made. Her food, effort, thoughtfulness, team and everything is amazing. Our wedding was an international-destination wedding. It is stressful enough planning a wedding and adding international time zones certainly added stress. But working with Mona, I knew showing up for our events I didn't have to worry about a thing. She had everything covered. More than that, her food was absolutely amazing. Our guests still keep telling us how wonderful the food was.

Mona worked incredibly well with our Wedding Planner, Sara at Jots of Thoughts. The two had an incredible working relationship which helped immensely in handing over the day of to them without any fear. I highly highly recommend Mona from MonAmi Catering.

Lindsey

Married on 01/26/2016

My family and I have been using Mona and her team for the last 6 years to cater a Hawaiian dinner. It is now part of our annual tradition when we visit Kona. The food couldn't taste any better and you can tell that Mona loves what she does by the passion she puts into each of her dishes. The first time we used Mona we were beyond impressed. She uses the freshest local ingredients and the presentation is just as thought out as the dishes themselves. It's also great to hear her description of each dish and how they are meaningful to Hawaii. We wouldn't think of using anyone else for a catered event in Kona and look forward to tasting her food again next year.

Leah

Married on 01/02/2016

Food was delicious!!! presentation was beautiful! I ordered the tacos and everyone loved it! so many toppings to choose from and the appetizers were delicious as well.
So happy with Mon Ami Catering!

Laura

Married on 11/23/2015

Mona and her team catered our backyard wedding in Puako, HI.

Mona was so professional, diligent, and easy to talk to. She and her team exceeded all expectations in flavor combinations, presentation, and service!

I highly recommend Mon Ami Catering!

Lorraine

Married on 09/24/2015

Mon Ami Catering provided all of the catering for my daughter's wedding in Kona, Hawaii, including the cocktail service, meal, bar tending and clean up. Mona worked with us to develop the service, meal and presentation that was exceptional - and within our budget. The execution was flawless, and we, and our guests, were delighted with Mon Ami's significant contribution to the success of the event. We highly recommend Mon Ami Catering.

Mona and her catering team were fantastic! We booked Mona for our destination wedding without being able to taste test. Mona was so easy to work with and let us customize our menu and just made the planning process so easy. The food on our wedding day was absolutely delicious and our guests kept commenting on it! The fish with tropical salsa was outstanding - highly recommend. The food presentation was lovely, everything looked like a piece of art. Mona and her catering team were also incredibly kind and professional.

Belinda

Event on: 08/03/2015

For over 10 years on the Big Island, Mona from Mon Ami Catering has continued to provide for my groups the best cooking, presentation and heart felt meals. Her loving Spirit permeates the whole meal. You would be blessed to experience it for yourself.

Bryn

Married on 05/24/2015

Mona was great to work with. We had an idea for out wedding that was not on her website. She came up with exactly what we wanted! I love someone that will be creative and try something new!! The food was delicious and service was incredible!!

Mon Ami Catering's reply:

Bryn, Mahalo Nui for your kind review! We loved cooking for you, your family and friends! Your "unique" menu offered us challenge and JOY! What more could a chef ask for! Many blessing to you and yours! Chef Mona

Michelle

Married on 05/09/2015

Mona is amazing! She and her staff were incredibly kind, thoughtful, creative, and considerate. Mona was flexible and patient with us throughout the entire process- in working out the menu, the budget, and making changes along the way. Her food was incredible, and she seems to really love her art. It was pretty clear to us that she puts all that love into each dish as well. Our guests were in awe of the beautiful plates and the overall delicious meal. It was a joy to work with her, and the more excited she got about the food, the more excited we were as well. I would recommend her again and again, and if we lived nearby I would utilize her for other events or gatherings. Thanks again, Mona. We are so grateful you were able to share your gifts with us on our special day.

Mon Ami Catering's reply:

Michelle, What a pleasure it was to serve you all! I am delighted to know you felt and more importantly tasted my love and clear passion for food! I love what I do! I must say working with clients like you make the experience so enriching!
So Grateful right back to you!
Chef Mona

Rachel

Married on 12/13/2014

We're so thrilled Mon Ami Catering was able to accommodate our wedding on 12/13/14!!! Mona was so easy to work with while planning our wedding. We didn't sample any of the food on our menu prior to the wedding but we weren't worried because we heard nothing but wonderful things from other vendors and friends. & she didn't disappoint! The presentation of the food was so beautiful but more importantly sooooo delicious!!! Family and friends are still raving about how amazing it was! Some favorites were the poke, tiger prawns and the beef tenderloin. We wanted a variety of food that our friends and family from the mainland would enjoy and still be able to try some local favorites.
Some of the larger catering companies try to dominate and dictate prices and choices. Working with Mona personally, she was so flexible, open minded and kept the costs within our budget. that's why we were lucky to find her and support local small business. Her expertise and passion for cooking shined!! Thanks so much for all your help and for serving the most amazing food we could have ever imagined!!!

Mon Ami Catering's reply:

Mahalo Rachel and Wade! Your wedding was amazing! We were honored to be apart of your beautiful day!

Mona from Mon Ami catering was so helpful from our first meeting throughout the months leading up to our daughter's wedding. Through countless emails, we came up with a very unique menu. Mona was happy to accommodate any request we had. On wedding day, she came through with everything promised and more. The pupus were incredible, dinner was amazing and our guests were raving. One guest said it was the best meal they had experienced in Hawaii and by far the best meal at a wedding EVER!
If you are looking for a caterer who will think outside the box, serve fresh, locally grown, delicious foo, look no further than Mona at Mon Ami!

User2288844

Event on: 10/25/2014

Mona has catered our 8-day retreats for six years now. We plan to ask Mona to cater our events forever! She is organized, reliable, creative, a fabulous cook, presents her food with love and an eye for beauty, and she cares deeply about the health and well-being of her clients. She is generous and kind and a pleasure to work with in every way. She respects the needs of our event in terms of timing and is always flexible. We simply recommend her in every way.

Mona was a delight to work with. She provided delicious, real food, beautifully displayed and plenty of it. Her poke was out of this world, served with fried wantons. The tiger prawns were so amazing everyone wanted to know how she made them. Friends still talk about how great the food at the wedding was a year later. I can't speak highly enough of Mona and her catering.
Are you interested?
Send a message