28 Reviews
Recommended by 98% of couples
Quality of service

4.9 out of 5 rating

Average response time

4.9 out of 5 rating

Professionalism

4.9 out of 5 rating

Value

4.8 out of 5 rating

Flexibility

4.9 out of 5 rating
Awards
18 User photos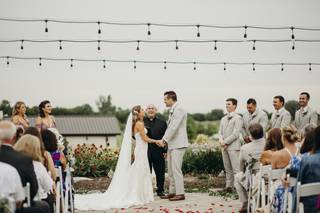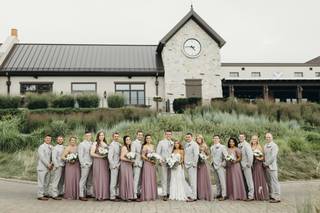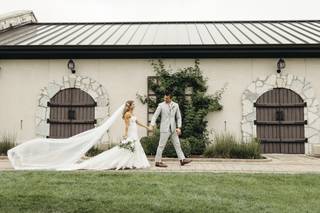 + 14

photos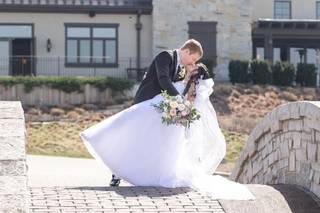 Elyse M.

Married on 09/18/2021

Perfect Wedding Venue

We are so grateful that we chose Mistwood as our wedding venue. Not only are the grounds and event spaces beautiful, the event staff went above an beyond to make sure our day was perfect. Despite working with several staff during our 2 year planning process, none of the details were ever dropped or missed. We worked with Melissa prior to the day of the wedding, who is just amazing to work with. She is prompt with replying and always has good advice for someone like me who can't always make a decision. On the day of, Taylor and Jason made everything go so smoothly and had everything set up so beautifully. We couldn't have asked for a better place for our wedding and we highly recommend Mistwood!

Jessica A.

Married on 08/25/2021

Amazing!!!!

We couldnt have asked for a more perfect wedding venue. From day one of selecting the space all the way through the end of our big night, we got nothing but amazing upbeat friendly and super responsive service! All the staff were great... Jason and the evening kitchen manager were flexible with all of our day of request and handled our rather rowdy wedding party well!

Melissa our coordinator was friendly, responsive and was ontop of everything the entire time. We hired on a day of coordinator and melissa worked very well with her as well to make sure they were always on the same page! Thank you SOOO much Melissa!

The venue itself was beautiful, clean and well maintained...you dont even feel like your in IL! I am so happy with our decision...thank you MISTWOOD!!💕



Jill W.

Married on 08/22/2021

Outstanding!

We got engaged in August of 2020 and were faced with the challenge of planning our wedding during the pandemic. Our first stop when we looked at a wedding venue was Mistwood and they were fantastic. As we looked at other venues Mistwood kept separating themselves from the others.

As we walked the venue and sat with Taylor on the initial visit we were beyond impressed. The professionalism, attention to detail and quality of the facility was top-notch. After we decided to book our wedding and reception with them Taylor and Melissa continued their excellent level of communication, service and problem solving. In addition, their list of preferred vendors further helped us with the planning and we loved working with all of the vendors they suggested to us. This also was helpful as there was a delay with the arch for our wedding ceremony and Melissa, on her off day, and Heather & Kris, our day of contacts, pulled together to work with the vendor to ensure it was there so there was no delay to the ceremony. We had no doubt that they wanted to do anything they could to make our wedding special for us. We always felt like a priority to them.

The chef was equally impressive both at the tasting through answering questions and making requested alterations to meals. On the day of the receptions the food was a BIG hit. Cocktail hour was highlighted by the mini Beef Wellingtons and Chicken Quesadilla w/ margarita shooter, easily the biggest hits with our guests. All of our guests said it was a great meal.

We would recommend to anyone looking for a wedding and reception venue to have it at Mistwood.

Are you interested?

Send a message

Olivia

Married on 04/10/2021

So very awesome!

Taryn and Jackie have been great thus far thank you for all of your help!

Janice S.

Married on 04/03/2021

Amazing venue !

We had the best experience with Mistwood Golf Club for the most special day of our lives... our wedding day. We were one of the many couples affected by Covid-19 & we didn't know what to do until we called Mistwood. They had the date we wanted open but only as day event, so we decided to go with an intimate brunch wedding! We toured the place & we honestly didn't even bother to look at other venues. It was perfect for us our guests and what we wanted. Throughout the entire process Taylor basically held our hands, she was amazing. I had so many questions & she would quickly answer them. It was always so easy to get a hold of her. We definitely had the best experience despite so much unknown. She also let us go a second time before our wedding to see how things would be set up, which helped bring the nerves down & she was also so helpful and full of advice and ideas. When the day finally came she walked me and our family through everything. She was so attentive. The day went smoothly and beautifully! We are so grateful! Definitely Mistwood is a place I will recommend and a place I look forward to celebrating other events at. We are so happy with the service, highly recommend a brunch wedding- mimosa bar was a success! & Taylor you're the best!!!! ♥️

Viviana A.

Married on 03/13/2021

Covid bride

If you want the best wedding ever, book Mistwood. The Great Hall is gorgeous, the food is amazing, and the staff are some of the kindest people you'll meet.. They also have a great bridal suite that opens into the women's restroom. The beautiful golf course as the backdrop doesn't hurt anything either. Their events manager Taylor will make sure you are taken care of the entire time, from the moment you book your first tour to when the last song plays. Our original wedding had to be canceled due to COVID but Taylor contacted us right away to help us reschedule. To say we had a lot of questions is an understatement, even before COVID, but no matter the time of day we got replies back quickly. Some other bonuses are that their is only one hall at Mistwood so you will be the only wedding and will get 100% of their attention, they also have a nice one on one food tasting so you can go over the menu personally to make sure it meets your needs and taste, there are also large balconies that look over the golf course for some beautiful views for you and your guests to enjoy. One thing they did that brought tears to my eyes was offer to bring food to my maid of honor who was told she had to quarantine the day before our wedding. I was devastated but knowing that they would deliver her food so she could eat with us and still be a part of the celebration helped tremendously. If you want an amazing wedding that people will be talking about for years to come, you have to pick Mistwood. Everywhere else we looked paled in comparison and after hearing how some other halls treated couples during COVID we know we picked the right place because they care about their couples and make sure they have the wedding of their dreams like we did.

Tom R.

Married on 10/23/2020

Unique and Wonderful Venue!

Mistwood Golf Club was an amazing venue for our wedding! Our event coordinator, Taylor Prieboy, was a huge help throughout the entire planning process. From rescheduling due to the pandemic to a last second rain delay, she was always there to answer any questions and keep things running smoothly. The Great Hall at Mistwood is a unique and beautiful venue to have the reception! The drapery uplighting added a romantic touch to our wedding. All of our guests absolutely loved the menu and the soup shooter were a big hit! The entire staff was friendly, easy to work with, and went above and beyond to make sure our wedding night went perfectly! The chef even went so far as to take our flowers off the wedding cake and make small bouquet for us! I defiantly recommend anyone looking for a unique and wonderful venue to check out Mistwood!

Jenna F.

Married on 07/17/2020

Dream Wedding

Mistwood golf club was a dream to work with! At our first look of the venue we fell in love with it. It is the perfect combination of rustic and elegant. The layout of the ceremony space out on the gorgeous patio to the terrace room with balconies for cocktail hour to the grand ballroom for the reception is perfect. It all flows together so well. The landscaping and the views of the golf course are gorgeous! It was the perfect place to do our wedding photos without having to go anywhere else. We still get compliments on what a beautiful place it is. Best of all we can visit whenever we want by eating at their delicious restaurant, mcwethys tavern. We had a steak dinner or chicken, both were equally delicious. Our guests loved the food! Hats off to the chefs! The chefs truly care about the food they are serving. They offer many delicious entrees, it is so hard to choose! We had pretzels on a pretzel wall for a late night snack and it was such a hit! The pretzels were devoured! The hor d'oeuvres were also delicious, light & refreshing! All of the event coordinators are so kind and willing to do anything you need to make your day perfect. They work closely with you on everything from the timeline to setting up all of your decorations. We did not have to do anything, but bring our decor to them. They truly take care of you and listen to exactly how you want everything set up. I primarily worked with Taryn and Melissa. These ladies are so so happy to put on an amazing wedding for you! They are responsive, listen, fun, and are so caring. They are experts on the subject and offer so much advice for things to run smoothly. Melissa helped fluff my dress before the ceremony and line us up. She kept us on schedule! She was my calm through the busy-ness of the day, I truly appreciate it. I can tell that they love what they do! They brought their services to the next level by making sure we had a plate of hor d'oeuvres with our dinner so we didn't miss them at cocktail hour. They set aside the top tier of our wedding cake for us to take home and enjoy. When I saw the great hall with my decor they far exceeded my expectations. It was everything I dreamed of. Their bar is stocked with good alcohol and they were able to make many cocktails for our guests. We even had signature drinks, so fun! Our friends and family can't stop talking about the wedding, absolutely everyone had a blast and loved this venue. Mistwood recommended tone productions for DJ, and they were amazing! Our dance floor was packed all night! All of our friends and family have said it's the best wedding they've been to. mistwood worked with my father in law to extend the reception for an hour and it was so easy to do so at the last minute. You can't go wrong with this place! They made planning my wedding easy! I wanted to have everything from the ceremony to photos to the reception in one place and mistwood is perfect for this. They offer alot with their wedding package with great pricing and are more than happy to customize anything for you. I recommend this venue to anyone, but if you are in the local area, don't pass this place up! If I could, I would plan another wedding with them in a heartbeat. I will miss this experience with them, but my husband and I are beyond grateful for this amazing place with amazing people!

Megan S.

Married on 06/12/2020

Incredible.

I would choose Mistwood 1,000 times over.

My husband and I got married at Mistwood on 8/7/20. We have been engaged for 2 years, and had to move our date once due to COVID.

About a year and a half ago we started looking at wedding venues. We probably visited 6-8 different spaces in our area, none of which made us super excited. We didn't want a traditional ballroom, we wanted an outdoor wedding ceremony on site, and wanted to use somewhere that people wouldn't expect.

We came across Mistwood, and decided to check it out. We first met with Taryn, the event coordinator. When I tell you she is the best thing that ever happened to us in the wedding planning space, it is no lie!! Taryn basically doubled as a wedding planner, walking us through every little detail, never trying to sell us something or force an upgrade, never pressuring us into anything. She is absolutely incredible.

Our wedding was originally planning for 6/12/20, so on that timeline we had done a food tasting a few months prior. I figured Taryn was probably the only A+ person there until we met the chef.. he was so creative, and was flexible with us on any changes we wanted to make to our menu selections. Incredibly talented!!

I had been talking with Taryn the weeks leading up to June, and ultimately decided we needed to change our date as the state of IL was only allowing groups of 10 at that point. It was hard on us emotionally, but Taryn was super supportive, and called us right away when they had any new openings. Lucky for us, 8/7/20 opened up and we took it right away.

Taryn was exceptionally easy to get in contact with, and always made herself available if needed. I didn't have to do a thing the day of the wedding (as it should be), but I also didn't have to designate members of my family or wedding party to take care of setting anything up. Taryn and her team did everything for us. Set up, vendor coordination, directing guests, and even making sure my dress laid perfectly right before I walked down the aisle.

I get tears in my eyes writing this because I am SO THANKFUL for Taryn and for Mistwood. I've heard horror stories of wedding vendors, especially in the pandemic, and I couldn't be happier with my experience. Even after Taryn had left for the night, the remaining staff and event coordinator knew exactly what to do and how to take care of us. Gosh I just want to relive that day over and over again thanks to the fantastic team at Mistwood.

Brian A.

Married on 01/07/2020

Perfect Wedding Venue

We got married in July of 2019 at Mistwood and we could not have been happier with our choice in venue. The courtyard where we had our ceremony was absolutely stunning with the golf course backdrop and beautiful summer flowers surrounding the alter. The Great Hall was exquisite with its rustic charm and beautiful view; also comfortably accommodating our large wedding guest list. Taylor did a wonderful making sure that our vision for the day was executed perfectly. With her attention to detail and the experienced staff, we were able to enjoy our wedding day to the fullest! (She even went above and beyond and went out to get medicine for a guest who had a slight allergic reaction--a fact that I didn't even know about until the following day.) The food at Mistwood was amazing! From the appetizers to the late night snacks, everything was delicious. Chef Ben was even extremely accommodating with the very strange dietary restrictions my guests required. From the first time we went to Mistwood and every time that followed, we felt like family at Mistwood and have yet to find a fault in this extraordinary venue. I would highly recommend having your wedding or event at Mistwood because everything was above and beyond perfect!

Hayley

Married on 09/28/2019

Beautiful & Amazing Venue / Staff!!

I could not have picked a better venue to have our wedding at. Everything was PERFECT.

Taylor was absolutely amazing. She was in constant communication - she'd even email back after a long Saturday night after she worked a wedding. She was so committed to making our day so special. And it was SO special. I had a vision of a fall wedding and gathered some decorations but she put the vision all together. I didn't have to do anything! I easily dropped off the material and she made the space look amazing. She also answered all my crazy questions whether it was in bulk or a single question email. She was so accommodating and even let us set up meetings with her just to look at the space and imagine our wedding "vision".

The venue space is beautiful. It's a rustic but sophisticated atmosphere. The accents of wood and almost medieval-like appearance made it so unique and special. It was nice and open. Our DJ was easily placed in the middle of the room. We enjoyed all the farm tables that gave us our fall look. Plenty of room for a variety of stations (desserts, photos, etc.) The view to the golf course was just breathtaking. We got to take advantage of the terrace during cocktail hour which made for great pictures for guest and ourselves. Nice for some fresh air with the amount of people we had too.

The food was incredible. We were able to meet the Chef and make a personal connection with him and our menu. We got so many compliments not only for the taste but for the serving size. They provided so much food for each guest. The appetizers were unique and tasteful. The bartenders were so polite and quick!

The course is beautiful for pictures. We were lucky that it was rainy the day before and it ended up being closed for easier movement around the course. There are so many beautiful spots to take pictures - we would've been out there for hours. I wish we did! :)

There was nothing that went wrong! I cannot express how amazing Mistwood was for a wedding. I recommend it for anyone! We live in the neighborhood and have already been back to the restaurant there to remise our special day. We also will continue to participate in the events they hold there because of how special they made us feel. I cannot express how amazing this experience was with Mistwood and the staff (especially Taylor). I wish I could repeat the night over and over. Can we just do it all over again?! Thank you Mistwood for the incredible experience. You made the start of our marriage so wonderful.

Elizabeth

Married on 10/13/2018

More beautiful than I could have imagined!!

Having my wedding at Mistwood was the best decision we could have made in our planning. The venue is GORGEOUS, and the views looking out of their banquet room are so picturesque and beautiful, it made us feel like we were getting married in a fairytale. The food at Mistwood is amazing and so delicious, and Becky (our wedding coordinator) was so helpful and nice! She thought of everything, even the tiny details that a bride could easily forget in the chaos of planning. Their prices are very very reasonable, and the whole venue was recently remodeled. They gave us the wedding of our dreams, and all our guests remarked about how much they loved the venue and how beautiful it was. I cannot recommend Mistwood enough. They even give you an anniversary dinner one year after you're married, and many times leading up to the wedding, we've gone their to eat or make a payment and they've given us a complimentary dessert or champagne toast. They take pride in the presentation of their food and the happiness of their guests, and it was truly an amazing experience to get married there!

Mistwood Golf Club's reply:

Elizabeth, thank you so much for all of the kind words! It was a pleasure working with you and Nick, you are such a wonderful couple and your love shined throughout the entire day. I wish you both all the best on this new adventure of husband and wife! We hope to see you soon :)

Chelsea

Married on 04/28/2018

Becky was wonderful! She was helpful throughout the whole planning process and extremely patient with us as we took see time to figure out all of our day-of details.

Mistwood Golf Club's reply:

Thank you for the kind words Chelsea! Best wishes to both you and Jeremy on your new adventure as husband and wife. We hope to see you soon!

Ashley

Married on 11/18/2017

Our wedding was November 18, 2017 and we used Mistwood for our reception venue. We worked with Diane Cook who was phenomenal! She was always very responsive to e-mails and phone calls! I honestly could not have asked for a better contact person to help plan our reception! Diane helped us plan our décor set up, hors-d'oeuvres, meal, and even gave us recommendations for florists and DJs. All of the staff at Mistwood we encounted, even before our reception, always had smiles on their faces and were so accommodating. The servers we had at our reception were the best servers I have ever had! Planning and having our reception at Mistwood was so much fun! The venue is one of a kind, and so are all of the staff! You will not be disappointed!

Mistwood Golf Club's reply:

Thank you Ashley!! We try to have fun at Mistwood and make things easy for our couples!!! You had a beautiful wedding and we really enjoyed working with you. Best of luck!

Caitlin

Married on 11/04/2017

We fell in love with Mistwood the moment we drove up to the building. We loved it so much we picked our wedding date to fit into Mistwood's jam-packed schedule. We worked with Becky and she was amazing. She was very attentive and understanding of our needs. The venue is beautiful and the staff is extremely courteous. The scenery made for beautiful pictures and our guests loved the ambiance and the food. Overall, it was above and beyond an excellent experience. We absolutely loved it.

A side note, which I don't think is reflective on Mistwood at all, if you are getting married during golf season, be ready for golfers to walk in the way of your pictures or yell things at you and your bridal party while you're walking by or taking pictures. A bit of an annoyance which I'm sure occurs on every golf course, but again, not reflective on Mistwood, just a general observation and word of caution to people who may not like that.

Mistwood Golf Club's reply:

Thank you for all the kind words Caitlin! You and Sean made wedding planning so much fun and I couldn't be happier for the two of you! Enjoy this new chapter together and we hope to see you back at Mistwood very soon :)

Mary F.

Married on 10/28/2017

I don't have a bad thing to say about Mistwood. My husband proposed to me at the golf course and from that point on Mistwood was nothing but accommodating. We decided to get married there and the process was so easy. Becky Edwards was our point person and she was so easy to work with. Becky was like having a personal wedding planner. Our wedding was last weekend and all of our guest raved about the food and how beautiful the v
enue was. We even had our rehearsal dinner in the performance center. Cant say enough good things about Mistwood and its staff!

Mistwood Golf Club's reply:

Thank you Mary Fran! You and John were so much fun to work with and we couldn't be happier for your family. The fact that you got engaged on the course and ending up having your wedding here makes the perfect love story! Come back and see us soon!

Deborah

Married on 09/30/2017

Absolutely a magical place. Service and staff was beyond any expectations. Guest loved the ambiance.

+ 4

photos

Mistwood Golf Club's reply:

Thank you Debbie for the kind words! Congrats again to Taylor, Tony and both of your families....we wish you all the best of luck on this new adventure!! We hope to see you around Mistwood very soon.

Gina

Married on 10/15/2016

Mistwood Golf Club was the perfect place to have my wedding reception. Diane was so helpful and accommodating throughout my entire planning process. She made it very easy and stress-free when it came to getting everything done! She was amazing. Diane & her entire staff took such good care of our guests throughout the entire day. Everyone at the reception was complimenting on how beautiful everything looked and how perfect the location, food & drinks were. For dinner, we started out with the chef's homemade pasta marinara followed by vegetable risotto or saffron chicken with polenta & asparagus. It was so delicious! Even the flower girl ate her veggies! We had a pretty decent sized guest list (195 people) and the great thing about Mistwood was that people were able to spread out and enjoy the space all night. The weather was perfect so it was very nice to have the cocktail room open to the outdoor veranda, as well as the patio area connected to the reception hall. The dance floor was always full, which was awesome. The bridesmaids and I had our own bridal suite at the venue which we took advantage of when we needed to freshen up and to store our bags. When I originally looked at this place, it was still under construction so I was hesitant to book based on drawings and my imagination. However, it turned out to be the most beautiful venue I could have imagined for my wedding day and I highly recommend this place to everyone! I'm so sad that the day is over already, but you should definitely call Diane and book at Mistwood. :)

Mistwood Golf Club's reply:

I am so glad to hear how happy you were with everything! You were a pleasure to work with and I hope that we will see you at Mistwood frequently!!

Krystyl

Married on 09/16/2016

The venue, golf course, club house and restaurant are simply breathtaking!! Throughout the planning process, my main contact, Diane Cook, was awesome. She would always respond quickly and even on the weekends. I NEVER (and I may be biased, since I was the bride) had better service than the people at Mistwood. They genuinely seemed happy to be there and happy to help with anything. They made sure everything was set up perfectly and they helped us clean up at the end of the night. They really went above and beyond when it came to service. Every single server that I saw during the night had a smile on their face! I am still amazed at how perfect everything was set up for us. You can tell that they take the time to make sure everything is impeccable. The little details that I trusted them with to make my wedding everything I dreamed it would be was achieved 10 times over. The small details that no one will remember, but the bride wants perfect; the guest book to the escort cards to our candy bar favors. Amazing! The club house and venue were perfect backdrops for pictures. Mistwood has several bridges and a gazebo that also worked perfectly for pictures as well. There won't be a lack of places to take pictures. The actual venue space is magnificent! It is a whole space in the building that is completely your own for your party and your guests. They close off part of the building that is connected to the restaurant. You have part of the terrace space that they open the doors to let fresh air in and guest can enjoy. It's a great space for cocktail hour when the weather is bad. It really allows your guests to get up and move and not have the feeling of being cramped. Inside the actual space is gorgeous. The room is so open and welcoming that your bound to have a great time in it. I am going to recommend Mistwood to everyone I know! The whole experience was unbelievable, unforgettable and beyond anything I ever dreamed it could be.

Mistwood Golf Club's reply:

Thank you! We are so pleased to hear that you were happy with everything and had a great time working with you. Thank you for allowing us to be a part of your beautiful day. We wish you the best of luck!

This was our second event at Mistwood. Had my daughters bridal shower 2 years ago and recently had her baby shower. The food, venue and staff are with out a doubt the best!

If you are looking for a special experience and a great value for the money, look no further. Food and service was great!

Teresa

Married on 01/16/2016

The Venue is beautiful! We had great service and the communication between me and the planner were awesome. They fulfilled my every need and beyond.
I would recommend the Venue to all I know.
Thank you once again for making this experience a memorable one!

We held our Annual Corporate Christmas Party at Mistwood Golf Club. The venue is absolutely exquisite and the food was fabulous! Working with the team was easy and they accommodated every request we made. I would recommend this venue to any friend in a heartbeat!

Livio

Event on: 12/09/2015

The Staff at Mistwood was excellent. They took care of our guests with professionalism and personality. We would recommend this venue for anyone who is looking for a beautiful setting and fantastic people.

Nicole B.

Married on 12/15/2018

Winter Wonderland

We had our winter wedding there recently and we were able to use their holiday decor which helped with our budget. Diane was great to work with and besides the fact our soup was served cold our overall experience there was amazing. We had some many family and friends complimenting us on the venue we chose.

Mistwood Golf Club's reply:

Nicole, thank you for the kind words....your winter wedding turned out to be beautiful! I am sorry to hear about your disappointment with the soup, as we always strive to give the best quality product and services. We will be sure to improve this moving forward, your feedback is very much appreciated! Congrats again to the newlyweds, we hope to see you back at Mistwood soon. Best wishes on your new adventure as husband and wife!
Are you interested?
Send a message