Reviews
4.7 out of 5 rating
Quality of service

4.8 out of 5 rating

Average response time

4.8 out of 5 rating

Professionalism

4.8 out of 5 rating

Value

4.6 out of 5 rating

Flexibility

4.7 out of 5 rating
95%
Recommended by couples
8 User photos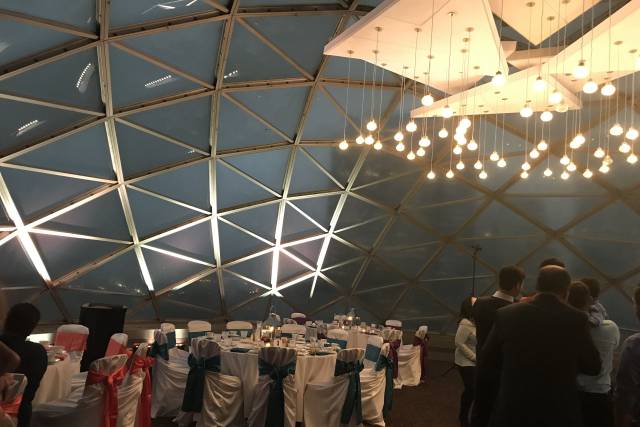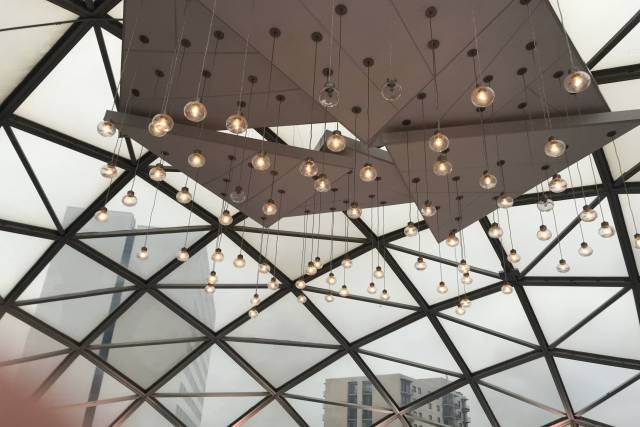 + 4

photos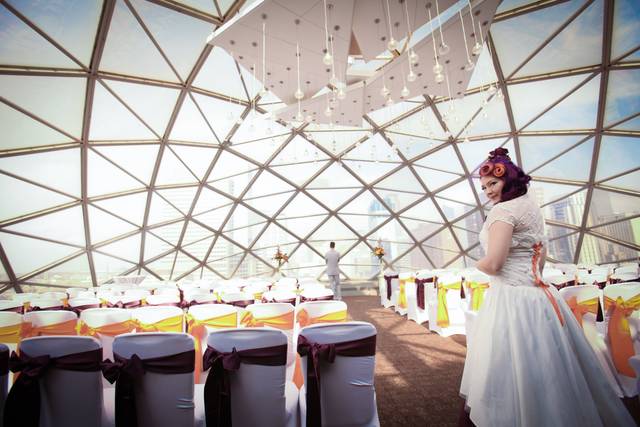 Hannah

Married on 10/19/2018

Beautiful venue with great staff

The Millennium Hotel was an incredible wedding venue! Mark and Fatima were great to work with, the food was good, and all of the staff did a great job ensuring everything went smoothly on our wedding day. Also, the views really are stunning. So many people took photos in the dome, and it was incredible to have our first dance under the open sky. I would highly recommend the Millennium Hotel, and I would recommend getting a quote, even if you think it may be too expensive. We didn't think it was going to fit in our budget, but we reached out just in case, and it actually did!

Alicia

Married on 10/05/2018

Wow! They did an amazing job and helped to coordinate everything! They were so detailed so on the day of the wedding we knew what to expect. One of the guests said if she ever gets married that's where she's having her wedding. Everyone said it was beautiful with nice views. The people who worked at the hotel were so nice too! They gave us complimentary parking during our stay at the hotel, and it's normally very expensive because its downtown. Also, after the wedding they had complimentary champagne and chocolate covered strawberries when we got back. The food was delicious too, highly recommended!

Kathleen

Married on 09/02/2018

We had our wedding ceremony and room block with Millennium and are so happy we did! Our ceremony was held in the glass dome on the 14th floor overlooking the Minneapolis skyline. The views were breathtaking, our guests were BLOWN AWAY. We had 75 guests and a custom built altar, the ceremony was intimate and exactly what we always dreamed. I started out working with Meghan, and when she left, I worked with Leslie for the block and Mark for event coordination. All were extremely responsive, helpful and accommodating. Our ceremony only cost $1500 for the space and they gave us complimentary parking and upgraded us to a large suite for our stay, only charging us the normal room rate. They also comped our wedding night! They sent us a cheese plate and bottle of wine our first night and then strawberries and a bottle of champagne the night before our wedding. Such a sweet and thoughtful surprise! We also had full use of the gorgeous Studios A/B with floor to ceiling windows as our getting ready bridal suite, which made for gorgeous pictures. I would recommend looking into hiring Dream Day Dressing Rooms to add chic furniture to make it feel extra special and cozy! The hotel is small and easy to navigate, rooms are clean but a little beat up, the hotel has obviously been around a long time. However, the glass dome and impeccable customer service made everything perfect. My husband and I felt like we got the VIP treatment from start to finish and are so thankful we chose the Millennium Hotel for this special event! Also, shout out to Dale for fixing our suite's AC and Scott/Wolfgang/Anita for being AMAZING in the lobby. You guys are great! Thank you from the bottom of our hearts!

Are you interested?

Send a message

Kevin

Married on 07/14/2018

The Millennium Hotel was a wonderful venue for our wedding. The view and convenience of downtown Minneapolis was unbeatable, the staff was friendly and helpful, and the prices were reasonable. We are very glad that we chose the Millennium for our big day!

Wendy

Married on 06/23/2018

My wedding was absolutely everything I could have hoped for and more! Meghan and Tina were the two main contacts I worked with and they were both absolutely amazing to work with. The food is beyond delicious, their attention to details and overall thoroughness is beyond compare, they operate smoothly and professionally and I'm so glad I had my wedding with them. It's also such an amazing an unique location!!

Kirsten

Married on 04/28/2018

Amazing, wonderful, beautiful! Any of those words and so many more describe our fantastic experience we had with the Millennium. The views are exceptional from the Dome and the Marquis ballroom, the food was delicious, the staff was wonderful, and Meghan was extremely helpful, knowledgeable and prompt in answering any questions that came up. I would HIGHLY recommend this venue!!

Eeva

Married on 09/01/2017

From start to finish, the hotel and its staff went above and beyond. Planning was easy and seemless, and the wedding day was coordinated and went perfectly to plan. The space couldn't be more spectacular with the backdrop of the city from every angle, and the location of the hotel is ideal for guests. Our guests raved about the meals and beverage service. As for my husband and I, dancing our first dance under the stars in the dome is a memory we will always cherish. Thank you for making our wedding dreams come true.

Bradley

Married on 06/17/2017

We loved every last thing about our wedding at Millennium Minneapolis! And so did our friends and family! The staff in all areas of the hotel was beyond incredible. The prices were very fair. The lobby, rooms, and event spaces were perfection. We had the most amazing experience with them. The staff was timely in responding, we felt like we were part of a family, everything was personalized and professional, and we had amazing interactions with all of the staff...from the planners, to the careers, to the chefs, to the bellmen, to the front desk teams...you name it...it was exactly what we needed and wanted...in fact, they exceeded our expectations!!!! Highly recommend!!! Don't leave this one off your list to check out!!!

Shannon

Married on 05/05/2017

Millennium Hotel hosted our reception after our wedding and it could not have gone better! The Dome and Marquis rooms have beautiful views of the Minneapolis skyline in both daytime and nighttime, and the room décor provided by Millennium accentuated the beauty of the rooms. Tina C., the Senior Catering Sales Manager, went above and beyond for us--she made excellent suggestions for food and ambiance and was flexible with our choices. When things became overwhelming for me, Tina jumped in with her grace and expertise to make things perfect. The appetizers and dinners we selected were exquisite, I am still hearing praises about it a week later, what an excellent catering choice! The service staff and manager (Renee) we worked with were very friendly and professional, and the people behind the scenes (Kathy and Kira) made the billing and room arrangements fair and easy to understand. All staff involved with our reception seemed very dedicated to making it a beautiful and memorable experience. I was very concerned about the music for the reception, as we did not have a band or DJ and my computer crashed while I was trying to connect it to the speaker system. Fortunately, Millennium had options available for background music that worked out great, what a relief. I truly feel that each person involved with planning and executing our reception made extra efforts to make it a very special event. I highly recommend using Millennium Hotel for a wedding/reception!

Christopher

Married on 03/11/2017

I would strongly recommend the Millennium Hotel to anyone looking for a wedding venue! Compared to other venues with amazing views of Minneapolis it was very budget friendly while still offering all the amenities you could want. Tina, the Senior Catering Sales Manager, made the entire experience from our initial consultation through execution on wedding day easy and memorable. She was very professional, knowledgeable and assisted with all the special requests we had. The Dome and Marquis Ballroom and Studios were excellent with floor-to-ceiling windows and the flow on wedding day from the Dome for the ceremony (and dancing later) to the studios for cocktail hour and the ballroom for dinner was a wonderful experience for our guests. The hotel has a lot of options for food and liquor options; we ultimately ended up creating a custom menu and getting the premium liquor bar and received a lot of compliments from our guests on the quality of the food and drinks. The hotel itself is in a prime downtown location, has been renovated top to bottom and has employees who were friendly and accommodating. We stayed in the Nicollet Suite which I would strongly recommend for anyone getting married at the hotel; it was really nice having the large penthouse space to get ready, gather with friends and family, etc.

Melissa

Married on 01/14/2017

Tina makes sure you have nothing to stress about on your wedding day. Everything was perfect!

Victoria

Married on 10/15/2016

The Millennium not only has an amazing space and beautiful views of downtown, but even better customer service with Tina Campbell as the lead. She is quick to respond, on top of her game, and has great suggestions. Tina accommodated all of our requests, even the very last minute ones, and made us feel like we were her top priority all the time! Tina made our day so special and we would absolutely recommend her to anyone!

Monica

Married on 09/24/2016

Having our wedding at The Millennium Hotel MPLS was an amazing and unforgettable experience!! Everything about it was beautiful and worked out so well for our wedding. The dome was a beautiful backdrop and made for great pictures and the views that continue and wrap around the rest of the 14th floor provided awesome views of downtown Minneapolis. For someone who wanted an outdoor wedding, but was too nervous of weather the Millennium provided the "safety" of being indoors, with the feel of being very open to the outdoors.The food the Millennium provided was absolutely amazing!! A lot of our guests commented on how good it was.

It was extremely convenient for us as well as our guests to be able to stay at the Millennium. It cut down on any chaos of having to transport people around and made things really easy.

We had a lot of help from Tina and the whole way through, from the first walk-through to the day-of, she answered all of our questions promptly, made sure everything was coordinated and figured out, and was also really friendly. You could tell she was very knowledgable and that's always great when you're working with someone to plan one of the biggest days of you life!! We loved working with Tina and having our wedding at the Millennium. It was amazing!!

Kerstin

Married on 09/16/2016

Tina was AMAZING! She was there for us every step of the way to answer any questions or concerns we had. The day of she was there all day with us making sure everything ran smoothly and went above and beyond to make sure our wedding was everything we've hoped for! I would highly recommend the millennium as a wedding venue along with Tina for making our big day all come together! Thank you!

Catherine

Married on 09/16/2016

If you want the convenience of having your complete wedding from start to finish in one place with a total floor designated for your wedding, then the dome is the place, With the additional convenience of renting the penthouse, you can have your wedding party and out of town guests feel comfortable just steps away from the ceremony/reception space. There they can prepare, eat, relax or just gather for fun. The staff was VERY accomodating and fulfilled all their promises to make the wedding the best possible even to helping me find my purse. From the start to finish, all events and services occured on time with professionalism and quality. Overall it was a great experience! There are benefits to booking on a Fridays but make sure you are aware of the time(s) you can access the spaces due to the fact that some of "your" spaces may be booked earlier that day. So in your planning process, be aware of this (ask in advance if anyone is booked the spaces prior to your arrival and when would you be able to access the space) and plan accordingly. We had some time constraints, but Tina, our contact, did everything and anything she could to work with us and everything came off without a hitch and was done expertly. Jason, the reservation manager, was also great to work with and was very accomodating and professional when we needed more or different rooms. I was very pleased with all aspects of having our wedding at the Millenium.

Ben

Married on 08/20/2016

The Millennium Hotel was an absolutely outstanding venue to host our wedding ceremony and reception. We worked with Tina for a year leading up to our wedding day and can't say enough good things about her, the staff, and the final product on the day of our wedding. We had our entire wedding from ceremony to reception on the 14th floor (dome) and our guests have been raving about the view, the food, and the service. Even when an outside vendor caused a small problem, Tina was right there to handle it and ensure the bride and groom had as much of a stress-free day as possible. We are incredibly happy with our experience at the Millennium and highly recommend it to other couples!

Alice

Married on 06/11/2016

The venue on the 14 floor was the right size for our guests, the view was beautiful in every room and the dome provided beautiful pictures before the ceremony and during the dance. After checking out other MSP. venues, it was an excellent value for all the services an space provided to us. We were able to use the entire space the day of the wedding, using one of the salons for getting hair and makeup done and the bride and groom had their first look in the dome!!!!! Beautiful!!!!
Tina Campbell, our wedding coordinator was very professional and prompt with answering all questions and concerns. She was available the day of the wedding and checked in with us frequently to make sure things were going according to plan. After the event, she continued to assist us with billing questions. She took all the worries out of our hands and created a seamless event. She's awesome!!!
Front desk personnel were very helpful and patient with nervous bride and mother of the bride. Anita was extremely helpful and courteous. She took control in finding a new honeymoon suite for the couple when the previous guests wanted a later check out, allowing them to get settled in their room prior to the event beginning. She was helpful with every detail, even parking a large, classic car!!
The food was excellent and prepared exactly as it was presented to us at the tasting. They will accommodate any special requests and dietary needs. I requested an extra serving of sauce for my steak, and they provided that to me. The servers were very polite and courteous.

Jade

Married on 11/07/2015

So happy I had my wedding here Tina and the rest of the staff were so easy to work with. I even came to her with ideas that I felt I might get push-back or the hotel would not do. Every idea and plan I came to her with it was always we can do that - give me some time to figure it out, but it will work! She promptly responded to my emails, accommodated special meals and overall made me feel like it was worth spending my money at The Millennium because weddings are expensive! I would highly recommend The Millennium and I highly recommend working with Tina! We were married on the 1st floor grand ballroom.

We had our reception here, and I couldn't be happier with our choice. They worked seamlessly with our outside vendors, many of whom they were already familiar with. I felt like they really bent over backward to make everything perfect. The food was absolutely more memorable than "typical" wedding fare (both presentation and taste), and the dome was such a unique and fun place to dance the night away. Our guests all raved about how much fun they had and how memorable the night was. It was also great to have our wedding in a central location that made it easy for our out-of-town guests to explore Minneapolis and easily access the rehearsal dinner, ceremony and brunch sites. Overall, the Millennium provided a gorgeous, unique experience that ended up costing much less than other options we considered. Highly recommend!

Ashley

Married on 01/25/2014

I absolutely loved our wedding! Jessica was amazing and helped us with everything! Anything that I was stressing about the day of our wedding she just made happen! I would recommend this venue to anyone! Amazing price for the view, food and accommodations!

Eric

Married on 01/20/2012

If you are getting married in the Minneapolis area, you have to check out the Millennium Hotel! We had so many of our guests compliment the Dome Ballroom as our choice of venue. We had a few last minute changes on our end that we had to deal with but the staff was amazing and accomodating. The Catering Sales Manager kept everything simple -- and kept constant contact with us either through email or by phone. The rates for the hotel room block and were beyond reasonable -- and the same can be said for the entire venue! You will NOT be disappointed with the Millennium Hotel of Minneapolis.

Amber

Married on 11/27/2010

The Millennium Hotel was a great venue for our wedding! We had the wedding in one banquet hall and the reception on the next floor up. They accommodated multiple meal choices (allergies) and our elderly relatives. They were easy to work with and the banquet halls had the feel we wanted without seeming like we were in a hotel. We were able to come in for multiple visits to taste the different foods as well as plan how we wanted the reception area set up. I'd highly recommend the Millennium Hotel to anyone from small to larger weddings, they accommodate it all!

Karen

Married on 05/29/2010

The most BEAUTIFUL place in Minneapolis to get married... we danced under the stars all night in the glass dome. Everyone raved how beautiful the view of the skyline was! Stunning!

Genevieve

Married on 05/15/2010

Beautiful location (minus the ugly carpet)! I am using this venue for my ceremony, reception, and wedding night hotel.

The hotel contact is wonderful to work with! She answers all of my many questions!

Genevieve

Married on 05/15/2010

Beautiful location! I am using this venue for my ceremony, reception, and wedding night hotel.

The hotel contact is wonderful to work with! She answers all of my many questions!
Are you interested?
Send a message