38 Reviews
Recommended by 100% of couples
Quality of service

5 out of 5 rating

Average response time

5 out of 5 rating

Professionalism

5 out of 5 rating

Value

5 out of 5 rating

Flexibility

5 out of 5 rating
8 User photos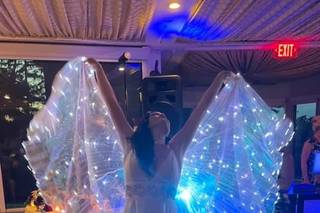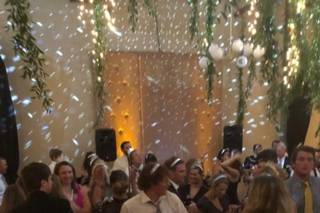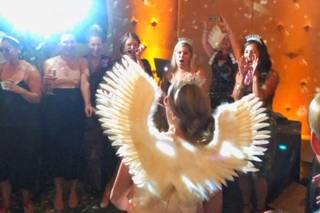 + 4

photos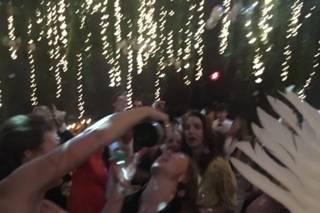 Kassandre K.

Married on 10/14/2022

The dance floor was lit!

If you want to have your guests on the dance floor all night long, DeeJay Shelly is where it's at!!!!!! Not only is she an incredible DJ, she's an awesome person, and she will wear her angel wings if you ask!!!!! She cares so much about making your experience the best possible and she absolutely delivered on our wedding day!!! We also had her violinist Lisa play acoustic violin for our ceremony, cocktail hour, and electric violin during reception. Our guests LOVED DeeJay Shelly and the the dance floor was the talk of the town for the next few days :)

Christopher

Married on 07/04/2021

Shelly is second to none

My wife clarissa and I have been to over 15 weddings and DJ Shelly has proven to be by far best in the Biz! She brought tremendous energy and good vibes that was fun for family and friends of all ages. We were so confident in her professional judgement and expertise that it made our planning far less stressful. Since the day we hired Shelly, we knew having her on the team meant that even if our wedding was a total disaster (which it wasn't) Shelly would be the saving grace knowing how great she is! She helped us make our unique wedding day plan and allowed us to present her a plethora of song choices that she used her own judgement to add to all in good taste. On wedding day, she executed flawlessly! She exhibits incredible confidence and situation awareness, that all of our guest felt the seamless transitions on and off the dance floor as the event went on. She truly made us feel like superstar celebrities on our wedding day. Thank you for everything Shelly! Wish you the best of luck!

P.S. If you weren't already planning to, get the Wings add-on package, you won't regret it!


Katie

Married on 08/24/2019

DJ Shelly made our wedding day a blast!

Dj Shelly was amazing! She provided music and equipment for our wedding ceremony and reception. We met with her prior to our wedding day and she was very receptive to all of our party ideas and different music genres. She went above and beyond to make sure our crazy ideas actually worked out, like having the NBA theme song for our reception entrance, and allowing my husband to sing a song to me during the reception. She kept the party going all night and did a great job of coordinating with our venue to make the event run smoothly. We received numerous compliments from our guests, and even the venue team, on her MC skills and her fun personality. We would highly recommend DJ Shelly!

Are you interested?

Send a message

Sarah

Married on 05/30/2019

The party!

DJ Shelly was the perfect fit for our wedding! She understood exactly how we wanted the night to flow and executed it flawlessly! She kept the party going and read the crowd perfectly! We gave her full reign on song choices and just gave her some genres we liked and she nailed it! Our guests were on the dance floor until the very last song. It was so much fun I wish we could go back and do it all over again! Thank you DJ Shelly!!!!

Anthony

Married on 10/27/2018

Thrilled with DJ Shelly

I highly recommend DJ Shelly to all who are looking for a professional DJ that can make any event a smashing success. We hired DJ Shelly for our wedding. We both have backgrounds in Human Resources and looked for a DJ vendor that was diversity & inclusion friendly.
Her experience and work ethic go beyond her years. She listens to what YOU want and then designs and executes a plan that will exceed your expectations. She always was on time for calls or in person meetings. Emails were answered promptly. She was at our venue hours before she was set to perform. She understands the importance of your event and is ready for anything with back-up equipment, a wonderful sound system and microphones.
She was always accessible, she wanted to get to know us and understand the tone we wanted for our wedding and then delivered an evening our guests, and we, will not soon forget.
Our dance floor was full with ages from 17 to 90 all having a blast at the same time. She was engaging and friendly to anyone that wanted to speak with her. She even shared her "WINGS" with our guests.
I would hire DJ Shelly again for any event I was going to have without hesitation. So, enough reading reviews - Hire her for your event before she is booked. You will be happy you did. We are.


Deanna

Married on 10/06/2018

Epic wedding

Shelly made the planning soo smooth, out feet hurt for a week after the wedding. I was afraid my husband would be dancing along because I don't have the energy or rhythm, but boy was I wrong! We were dancing alllll night. She personalized a dance for my dad and I to coreograph and played all the bizarre requests me made. HUGE edm fans which she hit the nail on the head to keep all guests dancing- and still talking about the day! She has so much energy and helped make the night unforgettable!! I loved working with dj and friends have already asked me for her info :) HIGHLY RECOMMEND

Jennifer K.

Married on 09/22/2018

Wedding DJ

DJ Shelley was amazing!! I did not leave the dance floor at all during our wedding reception. All of our guests loved her and we had so many compliments about how fun she was after the reception. Her angel wings were amazing and she let us wear some on the dance floor which was so much fun and entertaining to everyone. I sent a list of songs I liked prior to the wedding and she exceeded my expectations with her playlist!! Best dance party ever!! I am ready to plan another party and book her again! Highly recommend!!!

+ 2

photos

Martine

Married on 08/18/2018

Unbeatable Energy!

We highly recommend working with Shelly and her team. She was our DJ for our August 2018 wedding and we couldn't have been happier. Her pricing was competitive and she delivered - and then some. My now husband's only wedding responsibility was choosing the DJ and he didn't disappoint with Shelly (they previously worked together and he knew of her stellar reputation). However, where he failed was giving her the correct times for the reception. We actually realized in the middle of the reception that there was 30 minutes of time she hadn't accounted for. She handled it like a pro and adjusted the music selection with precision. She also made it stress-free for us, when it could have been very stressful. We had a fair amount of requested songs and she was able to work with that while also making recommendations for times in the night where we were unsure. She has tremendous energy that your guests can't help but respond. She creates the dance party vibe you want, gets people out of their chairs and keeps the vibe all night without missing a beat. She is a total sweetheart and made planning easy. Shelly is very talented at what she does and you would be lucky to book her!

Victoria C.

Married on 06/22/2018

Shelly is the best!!!

Michelle Dj

When I first met Shelly she was so personable, sweet, and honestly made me feel like we had been friends for years, I knew I wanted to book her for my wedding right then and there! She really made me so comfortable and that I could trust her judgement on awesome wedding music! She has great energy, very professional with that fun side! She took the time to meet with myself and Fiance to go over everything we liked in music and disliked, she asked great questions and truly listened to us!
She was truly amazing at our wedding, everyone was dancing and loved her style! So many of my guest told me it was the most fun wedding they had ever been to and loved Shelly's wings!!
I would definitely book her again for any of my events in the future and highly recommend her for anyone else for there wedding or other events!


Tricia

Married on 01/13/2018

We originally were going to use DJ Shelly for just music at our reception at the historic building in PAFA, but as we started planning our wedding, we kept bouncing ideas off of her. As things evolved, we ended up using her for music at our ceremony (separate venue), video for ceremony, audio equipment (mics) for ceremony, and pinspot lighting at the reception. Why? (1) We could tell that she was truly invested in making our wedding a success and earned our trust, and (2) We wanted to cut down on the number of vendors (we had no planner); and (3) Her prices were absolutely reasonable. DJ Shelly kept the party going strong until midnight, made sure the night went smoothly (it did), and was a positive energy in the room. 100% recommend.

Ryan

Married on 10/28/2017

DJ Shelly was AMAZING! Our wedding was on October 28th, 2017, at a vineyard in Lewes, DE. We asked for modern ambient beats during the cocktail hour and asked her to use her own judgment of the crowd the rest of the evening for dancing; she knocked it out of the park!!! Everyone loved her and complimented us on how fun the night was. She also went above and beyond by coordinating with our bagpipers for what wound up being an amazingly majestic and memorable processional. You WILL NOT be disappointed if you hire her.

Thanks DJ Shelly for a great night!! -Ryan & Jeremy

Marley

Married on 08/27/2017

DJ Shelly was all I ever asked for, and more. She was upbeat, and interacted with guests of all ages, races, and religions. We had a Jewish wedding, with a Christian Groom & his family. All was very entertaining and very non-judgmental. We would recommend DJ Shelly 1,000 percent.

Olivia

Married on 08/11/2017

Michelle was wonderful to work with. From the first consultation, I knew we made the right choice. She was so helpful, knowledgeable and responsive to our (crazy) requests. She DJ'd the best 90s dance party I could ever hope for. She was awesome!

Christie

Married on 05/20/2017

DJ Shelly was outstanding. We've had so many complements from our guests on her music selection for the reception. Our musical preferences span multiple genres and decades and she pulled together a reception that was 100% us. She kept to the "do not" playlist and played all of the songs we asked her play. We all had a blast on the dance floor.

Additionally, we asked her to play some unique music in the background for our cocktail hour (I.e., down-tempo EDM and drum and bass). She pulled together a great custom mix and the music was exactly what we asked for. She clearly will put in the extra effort for clients!

We would not hesitate to recommend DJ Shelly or reach out and work with her again for an event we plan.

Kara

Married on 12/10/2016

I can't say enough good things about DJ Shelly. I got married in a unique location where everyone sat in different rooms. I was nervous about how the night would flow, I really wanted everyone to be on the dance floor having fun. I couldn't have imagined a better wedding, everyone danced ALL night. I have never been at a wedding where everyone was on the dance floor. It was truly amazing and everyone had so much fun. She made sure everything went according to plan all evening and checked in with me periodically to see if I needed anything. I would highly recommend DJ Shelly to anyone looking to have an amazing event and not worry about a thing throughout the process.

Jenn

Married on 11/25/2016

I had the pleasure of working at a venue where Shelly regularly came in as the DJ for client functions, so I already knew I liked her style as a DJ and ability to get the crowd up and dancing with ease. What I didn't already experience was the professionalism with which Shelly approaches her role, and the immense amount of wedding planning experience she could bring to the table: in addition to getting the music right for my big day. During our first call, she pointed out how a DJ should have backup equipment, extra mics, and a host of other nuances I hadn't even considered in order to make sure the big day went smoothly. Her fill-in-the-blank forms and followup meetings ensured that every detail was attended to, and she stayed on top of me with reminder emails when I was incredibly busy and overwhelmed. She offered suggestions when I wasn't sure what I wanted, listened patiently to those details that I knew exactly how my fiancee and I wanted, and she made the process EASY. There is no chasing Shelly down. If I had a question, she responded quickly. When my other vendors weren't sure on a detail, she worked with them to figure it out. She was several hours early to my wedding and and took last minute song requests from me and quickly downloaded a track for a song I had someone sing for my ceremony when my email somehow didn't go through to her earlier in the week. Her prices are reasonable and she is a true professional: and I have been to weddings that didn't have that and am so glad I did. Thank you for absolutely everything, Shelly. We will be back to you for future engagments with no hesitation.

Kayleigh

Married on 08/13/2016

DJ Shelly was absolutely AMAZING!! She worked very hard and close with us to make sure the music was just right to keep the party going! I was living in NC and planning a wedding in DE so DJ shelly would facetime me to go over song shoice, timelines and go over likes and dislikes! Shelly goes ABOVE AND BEYOND! The wedding was amazing and the music was even better!! the dance floor was packed full of people dancing the whole night!! TOP NOTCH VENDOR AND SERVICES!!!

My husband and I are beyond grateful that we found and hired Shelly for our NYE wedding. She wears all the hats necessary for a wedding/event entertainer including impeccable planning, organizing, collaborating, and of course party starting and keeping it going through the whole night! Our guests were dancing well into midnight and beyond. Shelly was very patient with us as we gave her tons of songs requests and we had an array of opinions coming from various family members. Her energy is beautiful and vivacious. So super grateful for her services.

Lucia

Married on 10/10/2015

We used Sounds by Shelly for our wedding reception and it was perfect. She took the time to meet with us prior and in person to sit down and fully understand what we wanted. We had a large bridal party (36 people) and she was very professional and fun and took on the challenge of a large group. She was open to our unique ideas. She was able to captivate our guests and get them on the dance floor. We highly recommend her.

Zelma

Married on 09/04/2015

Shellie was the best! She took over the event and made sure everything was perfect! im so glad we found her. All our guests commented on how great the DJ was. We can't put a price on how much Michelle offers. Michelle- Jean and I has the best time of our lives and you made it happen. Thank you so much for all that you did. THANKS!!!!

Amy

Married on 11/22/2014

We used Michelle Lee Entertainment for our son's Bar Mitzvah and we couldn't have been happier. DeeJay Shelly and her assistant Holland did an exceptional job. Our guests, young and old, thoroughly enjoyed themselves. We will definitely hire DeeJay Shelly again for our next event!

Julie

Married on 10/25/2014

DJ Shelly made our wedding. I'm not exaggerating.

First and foremost, Shelly was so easy and accommodating. She visited us twice at our apartment to review our expectations and ideas and even met us atour wedding venue a few weeks prior to the wedding to test out sound since the Race Street Pier isn't a traditional location.

Once the wedding came around, Shelly and her assistant Nate basically served as wedding coordinators as they kept the event organized and moving along smoothly, pitching in with last minute snafus (the power source we tested a few weeks back didn't work!) and provided the perfect music for our ceremony.

Once the reception started, Shelly and Nate got the party started and kept it going nonstop, even using social media for interactions with the guests, a number of them went out of their way to tell us about how much they loved Shelly and the fun vibe she created!

Between her energetic and engaging personality and her skill and knowledge of music and DJ-ing, Shelly was the perfect choice for our wedding. She truly went above and beyond in every way and was a blast to work with. She listened to our needs, wants, and ideas and came through for us in every way, and then some! I'd recommend her to anyone, anytime- DJ Shelly is the absolute best.

Charley

Married on 10/18/2014

DJ Shelly is fantastic! She approaches every event with the personalization and care that puts you totally at ease. We hired her for our wedding and couldn't be happier! What a pro!

Shara

Married on 09/27/2014

Sounds By Shelly delivered exactly what they promise! Great gauge of guests to determine how to get and keep the party going. Shelly's personality is contagious and her energy is amazing! Thank you for making our daughters Sweet 16 so special.

Kristin

Married on 08/23/2014

Dancing and my wedding dress were the most important things to me at our wedding. DJ Shelly worked my sisters wedding so I already knew I was going to be happy working with her since my sister loved her but I was really impressed by the time she took to sit with us and get to know our music tastes. My husband and I are a little quirky with what we like to listen to so I knew it could be different from my sisters wedding. BUT our friends and family talk about how much fun they had and I know its because everyone danced all night. I'd pay the same price all over again for the great time that it was.
Are you interested?
Send a message