38 Reviews
Recommended by 97% of couples
Quality of service

4.9 out of 5 rating

Average response time

4.9 out of 5 rating

Professionalism

4.9 out of 5 rating

Value

4.9 out of 5 rating

Flexibility

4.9 out of 5 rating
Awards
14 User photos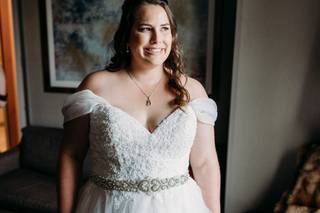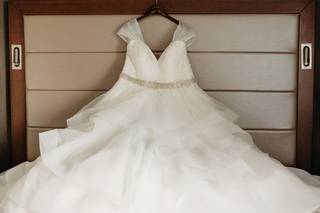 + 10

photos
Nicole B.

Married on 05/14/2022

An amazing shop and a wonderful selection!

I loved my dress shopping experience. Julie was extremely knowledgeable and helped me find the perfect dress. Her boutique has an amazing selection and I never felt overwhelmed. Thanks again Julie!!!

Cristina R.

Married on 10/22/2021

Juliet an Michele-A-Bridal Boutique is 5 stars!

If you're like me, making decisions is not my strong suit. I went to several bridal salons with a vision in mind, but never was able to commit. Michele-a-Bridal Boutique had a plethora of styles to try on, and Julie never rushed me with my appointment, or commitment to anything. She was very honest and it felt like she was a part of my family! When I tried on a dress I fell in love with, I wasn't able to commit on the spot. Julie told me to take some time and call her back if I wanted to try it on again. That really eased my mind, and when I went back to try it on again, I felt gorgeous and comfortable to commit. Julie was so friendly and caring, and made the process a positive one. She had luxurious touches like her variety of accessories and veils, and we loved having lavender champagne too! I recommend her to everyone I know!

Featured

Necole B.

Married on 08/28/2021

Amazing dress shopping experience!

I found Michele A Bridal boutique on wedding wire. I was looking for a cute shop that would give me the whole bride experience I've always dreamed of. I brought my mom, grandma, and my cousin who is my maid of honor. My whole experience from the initial scheduling of the appointment was wonderful. Julie (the owner) is so sweet & fun. Not only is the boutique itself adorable (purple walls & the cutest decor) I was also welcomed with a personalized sign and the tastiest lavender champagne for me & my guests. Finding my perfect dress was almost too easy with Julie! She made me feel so comfortable and allowed me to try on as many styles as I wanted. She is so knowledgeable, listened to all of my inspiration / ideas and made sure I covered trying on all different styles so I knew I wasn't missing out on anything. I am so in love with my dress and can't wait for it to come in! Once I said yes to the dress she picked out the perfect vail for me & headpiece that I never knew I needed. I am obsessed with the headpiece!! I really felt as if Julie knew me for years because everything she picked out for me was spot on. Pricing also seemed very reasonable & Julie was great about not pulling anything above budget. I was really impressed when Julie asked what I did for work and offered a 10% discount for being a first responder. I would recommend this boutique to all brides!!

Michele - A Bridal Boutique's reply:

Oh wow Nicole this is so beautifully written and your kind words have me a little choked up to be honest.

What makes for a great appointment is the bride and their family and the credit really belongs to you! Coming in with an open mind and open heart, trusting me with the most important garment you are ever going to wear is the biggest honor ever.

Thank you!

xoxo-Julie

Are you interested?

Send a message

Sylvia U.

Married on 08/21/2021

Amazing and very professional

I loved having the whole place to myself and my accompanying party. They listened to what I wanted and stuck to my budget and I was able to say yes to my dress and veil.

Michele - A Bridal Boutique's reply:

Hi Sylvia,

Thank you so much for taking the time to write such a great review for us! You and your mom were such a pleasure to work with!

I can't wait to see pics of you on your big day! You're going to look stunning!!!

xoxo-Julie

Alexa M.

Married on 08/13/2021

Highly recommend Michele Bridal!

I can't say enough good things about my experience finding a wedding dress at Michele Bridal. Julie is extremely attentive and helpful- she helped me find the perfect dress in less than an hour after I described what I was looking for and recommended an amazing seamstress in the area to alter the dress. She even gave my family and I champagne during our private appointment! The whole process was so much easier than I could have hoped for.

Cynthia B.

Married on 11/10/2020

Amazing & Fun Experience Start to Finish!!!

Our experience at Michele Bridal was "magical" start to finish!! Julie is attentive, smart as heck with what she does, and truly listens to her bride! My daughter cried after leaving two other salons. She felt overweight; like her "dress" wasn't out there. The actual tears of joy and happiness when Julie found her dress and made all her wedding dreams come true made this mom of the bride cry too!! My daughter looked like a princess on her wedding day and we owe it all to Julie! The gown, the veil (Swarovski crystals!!), and the earrings were absolute perfection!! Just amazing!!!

Michele - A Bridal Boutique's reply:

Hi Cyndi!

Thank you so much for the kind words! Amanda was a pleasure to fit and style! I'm so sad to hear she left her other appointment in tears but so glad she got the happily ever after she deserved!

xoxo-Julie



Amanda M.

Married on 10/24/2020

The most amazing bridal shop experience!

I can't begin to tell you how amazing my experience was with Julie and Michele A Bridal. I don't live close to Westbrook, and what originally brought me here was they had my favorite designer, Stella York. This was the first shop I went to to begin my wedding dress hunt and from the moment I (and my ridiculous number of guests-8!) walked in the door, we felt like family. Julie was so welcoming and even had lavender champagne waiting for each of us. What's really nice is they only do one appointment at a time, so it's a more personalized experience and not as overwhelming. What I also liked was there's a beautiful separate changing room with a full wall mirror that helps you see a dress from all angles before walking out to show your entourage. I tried on a bunch of dresses, some that I absolutely adored, but since it was my first shop, I wanted to shop around to make sure I wasn't missing out on anything. Luckily Julie completely understood how important that was and I knew if I didn't find a dress anywhere else, I'd return. After visiting about 5 other shops, none of them compared to my experience at Michele, and I came back to say yes to the dress this past weekend!
Every bride deserves the experience Julie offered, I literally can sit here and type forever on how much I adored her. Julie remembered everything that I shared with her, from my style to what I do for work, I felt like I've known her for years. I'm the most indecisive bride ever and I was so torn between two completely different gowns, but Julie did not give up on me and had all the patience in the world. She is so beyond knowledgeable of the bridal field and gave the best advice in the most genuine way, she's the perfect mix of professional and fun. She helped me pick the most perfect dress and in the process I gained a friendship and a fantastic bridal experience. I am so happy to be a Michele A Bridal bride and plan to recommend her to everyone I know! My sister and another friend said they can't wait to get engaged just so they can come shop with Julie! I wish I could give her 10 stars, she's truly beautiful inside & out!


Michele - A Bridal Boutique's reply:

OMGoodness Amanda,

Thank you so much for such a detailed review with such kind words :)

You were an absolute pleasure to work with and we're so grateful that you chose to be a Michele Bride!

xoxo-Julie

Deana

Married on 10/17/2020

Best Wedding Dress shopping experience!

Michele A Bridal provided the best wedding dress shopping experience a soon to be bride desires! Very welcoming, fun-filled. Julie was extremely professional and knew exactly what looked great for my body type & price point! Highly recommend Michele A Bridal - 5 stars!

Michele - A Bridal Boutique's reply:

Deana,

You are such an amazing person with a heart and soul made of pure gold. I am sooo honored to be playing a small role in your big day!

See you soon!

xoxo-Julie

Jenna D.

Married on 10/11/2020

Beautiful Dresses and Helpful Ladies!

I went to try on wedding dresses at Michele yesterday and my sister mom and I had such a great experience! I feel like they had a great selection to choose from. Literally loved all of them that I tried on which did not happen anywhere else. Plus, the ladies made me feel so happy and the boutique itself was adorable! Definitely recommend.

Michele - A Bridal Boutique's reply:

Hi Jenna,

Thank you so much for taking the time to write such a lovely review and also including your experiences with us on your blogs! You are such a dream bride!

xoxo-Julie

Mandy L.

Married on 10/10/2020

If you want perfection, this is the only place to go!

First of all. It has to be said, going alone was the best decision I've made so far. I went to 4 other salons (Kleinfeld's included..NIGHTMARE) and each time brought 2-8 people with me. I met with Julie for my appointment. Before even looking at dresses we sat on the couch, sipped lavender champagne and she listened to my whole dress hunting fiasco. I showed her pictures of gowns I've tried on, and what I liked and didn't like about them. She very obviously was paying attention because she pulled about 6 gowns. And in that selection, WAS MY DRESS!! I've been searching for months and have tried on at least 3 dozen dresses and felt like I'd never have that "this is it, this perfect" moment. I continued to try on the other gowns in the selection, but as we both knew, I ended up back in the one I loved. She called the designer to confirm they can make the gown with split sizing (I'm chesty with no hips), she measured me, put me back in my gown and took pictures and videos of me from every angle. I can't say enough about how amazing my experience was and I couldn't be happier.

Michele - A Bridal Boutique's reply:

You are such a beautiful person!!!! Inside and out and I just love you. Is that an appropriate reply lol!?!? 💜💜💜

Ellen M.

Married on 09/19/2020

Better than I could've imagined!

What a beautiful boutique with warm and welcoming consultants! As the bride I felt like a princess! The shop is clean and adorable and all the dresses are STUNNING! The bridal consultant found perfect dresses unique to my style choices. They were so helpful and not overpowering. They even let me come back as the store was closing after I couldn't find a better dress at the other appt I had that day to SAY YES TO MY DRESS. Couldn't have asked for a better experience. Would 100% recommend to every soon to be bride.

Michele - A Bridal Boutique's reply:

Ellen thank you so much for taking the time to write such kind words about your experience with us!

You were an absolute pleasure to work with! Thank you so much for choosing us!!!

xoxo-Julie

Khorey S.

Married on 09/05/2020

Very good experience

I had a very good experience, when I received my lace overcoat it did not match my dress and Julie is working with me to rectify the problem, I absolutely love my dress and had a great experience every time I went in.

Michele - A Bridal Boutique's reply:

Hi Khorey!

Thank you so much for the kind words!!! It is so sweet of you to write us such a great review while in the process of an issue, some people might lose trust in us if we hit a hiccup in the process but you are so amazing and understanding - we are so grateful for that!

I can't wait for you new jacket to come in and see how fabulous it looks with your gown!

xoxo-Julie

Chelsea S.

Married on 08/15/2020

There's just no better place than here

I visited Michele back in June to go bridal dress shopping. This was the first and only place I had made an appointment with so far and little did I know it was the last place I'd look. Julie KILLED it with my dress, first one I tried on as a matter of fact. I sat with her for about 5 minutes explaining what my taste was and what I was looking for. She knew almost instantly and pulled the perfect gown. My experience was so personal able and intimate which is extremely hard to find now a days. She is the absolute best and you will regret not coming here and having her find the dress of your dreams. Her memory is top notch as I'm sure she sees multiple brides/bridal party a day and still seems to remember me, my dress and everything about me so vividly. So stop what you're doing and make an appointment with her because you will regret it if you don't. I will continue to refer as many brides as I can so they can have the magical experience I did. I can't thank her enough!

Michele - A Bridal Boutique's reply:

you.are.a.rockstar.bride.

That's why you're so memorable! I loveddd our appointments! Thank you sooo much for the review- it means more to me than you know!

xoxo-Julie

Nicole

Married on 07/18/2020

Amazing experience

This experience was everything I have ever dreamed about and more!!! 100000% recommend! All the attention was on the bride with their private appointments. They also were not pushy at all and truly made sure you loved the dress before purchasing!!

Michele - A Bridal Boutique's reply:

Hi Nicole!

Thank you so much for taking the time to write a review!! You rock!

I can't wait to see pics of you on your big day! You're going to be one stunning bride!

xoxo-Julie

Cassidy D.

Married on 09/21/2019

I loved working with the team at Michele Bridal!

I loved working with the team at Michele Bridal! Julie was incredible, she actually spent her Friday night emailing me pictures of specific gowns so she knew which dresses to pull for me the next day. The experience was just overall incredible,I found my dress within one hour after many trips and many hours trying on other gowns in other bridal shops. They have something for every bride and their staff makes the experience that much better.

Michele - A Bridal Boutique's reply:

Cas,

You are so beautiful inside and out, it was just beyond a pleasure working with you and a complete honor to be dressing you for your wedding.

Thank you so much for the kind words! You have no idea how much they mean to me!

xoxo-Julie

Tina H.

Married on 09/11/2019

Beautiful, intimate shop!

What an amazing boutique bridal shop! I love the fact that you have the whole salon to yourself when you book an appointment. I went to this shop looking for a particular gown. I loved that the stylist showed me similar options for comparison but didn't push me away from what I was really looking for. I live out in AZ and they were so helpful in coordinating pickup/shipping. Highly recommended!

Michele - A Bridal Boutique's reply:

Awww Tina look at you- you looked absolutely stunning on your big day.

Thank you so much for taking the time to write us such a sweet review! It means everything to us!

Congratulations!
xoxo-Julie

Trisha

Married on 08/30/2019

I found the perfect wedding dress!

Michele - A Bridal Boutique is absolutely lovely. I made an appointment, and had the pleasure to work with Julie. She was so attentive and nice, not only to me, but to my Mom, Grandma, & 4 bridesmaids. We were introduced with Lavender Champagne, and immediately felt comfortable in her boutique. I loved that you can browse thru the dresses yourself and never feel rushed or pressured to buy something. Julie made sure that I felt comfortable in my own skin & assisted me to buy the perfect dress on my wedding day. Michele - A Bridal Boutique has the best wedding dress selection for any body shape. I had a wonderful experience, and recommend this Boutique to any bride looking for a place to start in dress hunting! Thank you Julie!

Kelsey

Married on 07/27/2019

Beautiful, relaxed experience!

I purchased my wedding dress from Michele - A Bridal Boutique and had the most amazing experience! From the moment we arrived, with our personalized sign and lavender champagne to the one-on-one private appointment with Julie, and of course the most beautiful selection of wedding dresses, Julie made finding my dress one of the easiest, relaxed, and fun experiences. I would highly recommend this Boutique (and Julie!) to any bride or mother of the bride in search of their dress!

J.n.

Married on 07/06/2019

If you are looking for a special experience look no further!

We were greeted with lavender champagne and Julie the manager who was supper welcoming. Before even looking at dresses we got a chance to chat about my wedding and my vision for the perfect dress. She really tried to get to know me and see what I wanted for my day compared to other shops I had experienced. The best part was we had the whole place to ourselves, Just you and the people you have come join to see the special moment! This was extremely important for me since my mom is on oxygen 24/7, I wanted a place where it was relaxed, where my mon could feel comfortable and apart of the whole experience. I did contact them before hand to let them know my situation. Julie put extra setting out for my mom to make sure she was comfortable and walked around with my her, pulling dresses that she wanted to see me try on.

Julie pulled dresses that truly fit the look I wanted and other dresses and styles I hadn't even thought of trying. I'm so happy she pulled dresses and styles I was not a fan of, it helped me narrow the look down to what I really wanted. I had so much fun trying on dresses here and In the end I did find my dream dress! They truly love what they do here and care about the bride and the people she brings with her, I am so happy I went to 'Michele a Bridal Boutique' for my dress!!

Phylicia

Married on 07/05/2019

Beautiful & extremely comfortable

An absolute beautiful experience! Julie was very knowledgeable on the gowns and designers which made it very easy to find my dream wedding dress and veil! She picked dresses for me to try on that overlooked my idea as well as putting her talent in and throwing in a "wild card dress." The wild card dress that she choose is now my wedding dress! Great bridal salon experience!

Marissa A.

Married on 06/22/2019

Stop looking - you have to go here!

I thought shopping with 9 of my family members was a crazy idea, but they not only had no problem with that, they made it so special! Most places said they couldn't accommodate a group of that size, but here they greeted everyone with champagne, told us to take our time, and we had the whole salon to ourselves. It was exactly how I imagined dress shopping after years of watching it on tv. I went to another place in new haven, and they basically just left us on our own and had multiple brides in a tiny space. Here, I was their only focus and everything was about me and my family and my dress hunt. I bought the first dress I tried on!!

Samantha H.

Married on 04/06/2019

Amazing experience and dresses

Michele- A Bridal Boutique is amazing. Julie is so helpful, knowledgeable and fun. She treats all her customers like family--my aunt also got her dress from her. Each appointment is private, with lots of space for your family and bridal party. I would definitely recommend visiting this boutique!

Julie

Married on 12/28/2018

Just love julie!

We have the same name and same favorite color... it was meant to be! I absolutely love Julie at Michele - A Bridal Boutique! From the first time I called to make an appointment and described what I was looking for she said "I have your gown!". Now some people say this because they think they know what you want but Julie really LISTENS to what you want and does not force anything on you. I left her store torn between 2 gowns and she was so sweet in reassuring me to sleep on it and whatever gown I couldn't stop thinking about would be the one! Again, she never pushed me into anything like forcing a decision or even pressuring me to come back to her. I think that's part of what made me so comfortable with working with Julie - knowing she wasn't just looking to have you buy with her but really caring about my decision and supporting that. She is also funny, easy to talk to, and so real which makes the process super comfortable with her. She also does alot of giveaways and I won a free pair of Haute earrings which was AMAZING! Julie clearly LOVES the wedding industry and is simply a natural at finding the perfect bridal gown for you!

Nancy

Married on 11/03/2017

I can't say enough about Julie, our Bridal Consultant, and our experience at Michelle's Bridal! Julie was "the best"!!! My niece (the bride) is extremely body conscious, and was not looking forward to shopping for her dress. The appointment was just us, which was very comforting. Julie couldn't have been sweeter, and knew exactly what my niece would look beautiful in. It was such a fun and easy experience - AND my niece did say YES to a dress!!!!
Thank You Julie ❤️

Megan

Married on 05/20/2017

Michele's was my very first salon to visit & it was so perfect! On the way there we had a little issue with finding the place & they were very understanding and helpful with giving me directions over the phone. Pam, the women working with me was so wonderful and really listened to everything I wanted in a dress. My guests and I were there for 2 hours! And we never once felt rushed. They took their time & made me feel so comfortable. And I can happily say that I found the perfect dress & will definitely be going back for all my bridal accessories & alterations. Highly recommend!
Are you interested?
Send a message