28 Reviews
Recommended by 100% of couples
Quality of service

5 out of 5 rating

Average response time

5 out of 5 rating

Professionalism

5 out of 5 rating

Value

5 out of 5 rating

Flexibility

5 out of 5 rating
Awards
1 User photo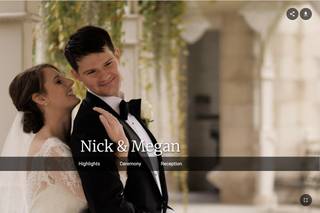 Megan A.

Married on 10/30/2021

Extremely Talented Team

I would strongly recommend Michael's Video to any bride looking for a high quality videographer. My husband and I debated hiring a videographer for most of our engagement and we are very thankful that we hired Jacob. Due to COVID some family members were not able to attend our wedding. Jacob had our ceremony edited and uploaded 2 hours after our reception ended. It was an incredible surprise to wake up the morning after the wedding and already have the ceremony to send to our family. Jacob and his team were so fun to work with. One of my worries for hiring a videographer was that they would be distracting the day of. Jacob and his team blended in well and added so much to the day.

Our highlights real in unreal. I have lost count of how many times I have watched it. It captured our day perfectly and has been so fun to relieve the day. If you are hesitating hiring a videographer just do it, you will not regret it.

Courtney

Married on 05/24/2020

World-Class Video -- In Roanoke

If you want a world-class video from your wedding, look no further than Michael's Video.

Jacob Dellinger, the owner, was our lead videographer who shot with his brother Hogan. We found their company after watching video after video of other companies across Virginia and loved their work. It was only after we dug in further that we learned that they also had incredible rates, especially for their caliber of work. We could have easily paid almost double if we had gone with an equivalently skilled team out of DC or Richmond.

Ahead of the wedding, Jacob was professional and extremely flexible. We were unfortunately a COVID wedding where we postponed our May wedding until September and even September was a rocky road. Jacob was reassuring the entire time and I am so that that we were working with such a grounded, small business team during such a difficult wedding planning time.

During the day, Jacob and Hogan blended in. We almost didn't even notice they were there for parts of the night, but looking back on the video, they caught it all! We hired them to compile a 5 minute highlights film which our loved ones LOVED. Especially as many loved ones could not attend during COVID, I cannot be more thankful that we decided to hire a videographer. This is work that I will cherish for the rest of my life.

As an added bonus, my then-fiancé and I were highly interested in getting to keep the raw footage of our day. We knew it would be fun to look back on all the shots, not just those which made it into the highlights reel. Jacob was one of the only videographers we spoke with who was willing to provide us this footage on the hard drives we provided. Other videographers wanted to charge a very steep price to release it or would not do so at all.

To let their work attest itself, you can watch our wedding video via the link below:
https://mediazilla.com/ibbVnIqmWE?fbclid=IwAR1fGOChQmKOFMLmy3h4UsBccEfyuXokm3Haal7VLOIF6dIHyp8IGVf6ybM

Candice M.

Married on 10/26/2019

Amazing and Talented Videographers!

Jacob (Michael's Video) was such a dream to work with! He made the entire process so easy and efficient! He and his team have such a talent for being ready and available to capture anything and everything, yet out of the way somehow! Our photographer, who had never worked with them before, said how amazing it was to work with such a talented team! We are so thankful to have had Michael's Video capture our day!

Are you interested?

Send a message

Katie D.

Married on 05/18/2019

Must have video team!

I highly recommend Michael's Video and Wedding Cinema! I believe it was Jacob and Hogan at my wedding this year and they were very professional and wonderful to work with! The video arrived in a timely manor. But the most amazing part is the high quality video that I now have to always cherish and relive my wedding day! They were able to take all of my requests and create the most perfect video! I am so thankful that I chose to hire this amazing team! Again, I highly recommend!

Mindy

Married on 11/11/2017

Wow is all I can say! Jacob did and amazing job of capturing our wedding day! Incredibly talented and an absolute pleasure to work with.

Amanda

Married on 08/13/2016

Jacob and Shane were amazing to work with. They captured every moment of my wedding and were wonderful. You could not pick any better videographer than Michael's! Great staff, easy to communicate with, fun professional and caring personalities! They care and will communicate every detail with you from your first conversation and after your video arrives! You will not be disappointed with this great team of professionals for your video needs!

Christelle

Married on 06/25/2016

Jacob and David were so great to work with. They were professional, knowledgeable, considerate and paid attention to every detail. The day went by so fast and as mother of the bride I was busy talking with all the guests at the reception so felt certain I missed some of the fun moments during the evening. I was pleasantly surprised to see the video and realize they captured everything! It is truly a work of art, the colors, the crispness, the music, just beautiful. Thank you so much for giving us the ability to relive the day over and over!

I have used Michael's Video 2 times. The first was for our daughter's wedding in July 2012 and the most recent was in February 2015 for a college senior music recital for our second daughter. They have always been very responsive, on time, flexible with wedding and recital rehearsals, professional, and asked just the right questions to ensure that they understood what I wanted, and took care to capture all the shots that I asked for. Their prices are very reasonable and the product is stunning. For both the outdoor wedding (in a very strong wind) and the vocal recital, the audio quality of the DVD was excellent in addition to great videography. I would definitely recommend them to anyone without hesitation!

I'm frequently referred to as a perfectionist and Michael's Videography and Wedding Cinema exceeded my expectations! They video was so wonderful! I'm still excited about it two months after my wedding! As bride and groom, you're not able to see everything that takes place in the wedding because you're always on stage or being pulled in so many different directions. We couldn't wait to see the special moments on video and how they all played out. Hogan and David were so flexible and easy to work with!! This is so important and greatly appreciated on your big day! All the planning and anxiety the day of is enough to deal with. Hogan and David captured the all the best highlights! They were also able to block out some that I was worried about. I got knocked in the head during the aggressive garter catch lol. They captured the wedding party getting ready, my dad seeing me for the first time, our ride in on the carriage, my sisters beautiful voice, special dances, speeches, and so many other details that I wanted! They covered it all! :-) To top it off, they included a video guestbook at the end where the wedding party and some guests spoke individually to send us our best wishes. The blue rays and DVDs came so quick and the covers were lovely.
Hogan, David, and team, we can't thank you enough for the wonderful job you did for us!!! Your professionalism and passion for videography is evident in your work! We will be reaching out to you in the future. Next time, it might just be a baby shower or our babies first birthday ;-) For the brides and grooms out there in search for a videographer... you can't go wrong with this family owned and operated business! Call them and hope they have availability! Happy wedding planning! :-)


Jessica

Married on 05/21/2016

My husband and I just finished watching our wedding video with my parents. It was incredibly special to relive the sights and sounds of our wedding day and to see our wedding photos come to life. Michael's Video did an amazing job capturing the major moments and small details of our day and transforming it into an enjoyable video that we will cherish for the rest of our lives. We were very impressed with the transitioning within the video, the music choices, and attention to detail. It was a pleasure working with Michael's Video leading up to the wedding and on our wedding day. They always responded to our emails within twenty-four hours and on the wedding day they were very organized and worked seamlessly with our photographer. They were also very quick to send us our wedding highlights video, which we received while we were on our honeymoon. It is priceless to be able to listen to my husband and I say our vows to each other, hear the toasts from our wedding party, see reactions and emotions, and witness dancing, hugs and laughter. We are so thankful that we worked with Michael's Video to document one of the most important and special days of our lives.

Carmella

Married on 05/07/2016

What an incredible company! We had five star service from the very beginning, with the owners meeting with us for over two hours to discuss our vision for the day. They made us feel comfortable with their work, the videographers themselves, and showed an unprecedented level of professionalism. They were with us every step of the way. The two artists who filmed our wedding were hilarious and so personable - all of our guests loved them! To top it all off, they delivered a gorgeous wedding video that we will watch over and over again and went out of their way to deliver it to us on their day off just so we could take it on vacation to show our family. Thank you so much, Michael's!

Erin

Married on 04/02/2016

We worked with Jacob and Hogan on our wedding day, and they were absolutely amazing! Prior to the wedding, we met with Jacob and discussed our vision for what we were hoping to gain out of having a videographer at the wedding. Jacob was so personable and very pleasant to work with! On the wedding day, I barely even knew they were there, so didn't feel nervous at all about being videoed the entire time. They were very discreet but still managed to capture some phenomenal footage! We just received our "Wedding Highlights" video the other day and could not be more pleased! I am so happy that we will be able to go back and relive the most amazing day of our lives again and again! Their work is impeccable. One of the best wedding decisions we made for sure!! Thank you so so much Michael's Video!!

Lauren

Married on 10/17/2015

So glad we choose Michael's Video! We worked with Jacob and he was excellent, professional, and most impressive at his job. We could not have been happier with the result! The wedding day went by so fast, and it was awesome to be able to go back and watch the day unfold on our video. We also plan to watch our full length video each year to celebrate our anniversary. Thank you, Jacob and the rest of Michael's Videography team!

Sarah

Married on 09/05/2015

Michaels' Video and their employees are the absolute best! You will not find a better videographer in Virginia. Michael worked with all 3 of my sisters for their weddings and I recently worked with Jacob and Molly for my wedding. They are professional and quick to respond to questions. On the wedding day they were prompt, dressed professionally and blended into the day well. They were able to capture the most memorable moments of our wedding and we will be able to cherish them for a lifetime. Jacob was even willing to complete the video a few weeks earlier than agreed so we could share it with Michael's grandfather while he was in town for Christmas. I can't thank them enough for their hard work!

Mary

Married on 05/24/2015

Jacob and the rest of the Michaels Video team were a complete pleasure to work with, and I am so glad I decided to have them as my videographer! They were friendly, professional, and the finished products were amazing! They came to our rehearsal to make sure they knew exactly how things were going to go, and everything was great the day of the wedding. Most importantly, the finished product was perfect. These guys paid attention to every detail from the custom cases for the blu rays/dvds with one of our wedding images on it to the popcorn they included so that we could have a fun movie night watching the video. Jacob was very responsive to all the requests I had for the video and really wanted to make sure that we were happy with the final product. They captured all of the best moments of our day, and I know we will cherish those videos forever. I can't recommend Michaels Video enough!

Alex

Married on 10/04/2014

Worked with Jacob and Molly on our wedding day. They were professional and incredibly attentive to our needs. They helped us throughout the wedding day; above and beyond what would be expected from videographers. Very excited to see the final video!

Sam

Married on 07/06/2014

Mike was so easy to deal with even when we changed our wedding date. His team was extremely professional and captured the essence of our special day beautifully. Five Stars!!

Josh A.

Married on 07/05/2014

Our recent experience in working with Michael's Video was nothing other than excellent. This was in all aspects of the experience as well. In a stressful time of planning a wedding and even the day of craziness, Michael and his staff were so great. He was prompt in returning emails or calls when I had last minute questions and he was so calming, reassuring and accommodating on the day of. I can't say enough wonderful things about our experience and I plan to use them in the future if events arise that we need their type of services.

Daniel

Married on 07/20/2013

Our wedding video is- to this date- one of the greatest pieces of our relationship history! IT was phenomenally captured. The resolution and frames used are incredible. My wife and I get butterflies all over again whenever we pop in the DVD for a quick trip down memory lane.

Lauren

Married on 06/15/2013

Michael's Video made the difference between a good wedding and a wonderfully memorable one! Their video captured all of the perfect moments, and the little candid ones that otherwise I (the bride) may have never noticed or seen. Their videos were full of surprises for my groom and I, and I have watched them over and over and over again. They even surprised us with a "highlights" video just a few days after the wedding that we enjoyed watching on our honeymoon about 10 times! As any woman would know, the wedding day just flies by so quickly after so many months of planning. Michael's video made it possible for me to re-live that day, and remember it moment for moment. For that I can never thank them enough, or recommend them any more fully!

Marlane

Married on 06/15/2013

MIchael's Videography not only did a fabulous job filming my daughters wedding last year at the Homestead, but they did an outstanding job filming a music video for me for my latest music project. Jacob Dellinger is amazingly creative and was willing to do almost anything to create the message of my song. Both Mike and Jacob are wonderful to work with. I highly recommend them to anyone in need to videography!

Connie

Married on 06/08/2013

Superb videography! Michael and his team of Jacob and Shane did a fantastic job at King Family Vineyards in Crozet. You won't be disappointed!

Roy

Married on 05/19/2012

These guys were nothing short of amazing. Everything from the quality of their videos, to their attention to detail and the final product is something we'll be able to cherish and relive for the rest of our lives. They were so easy and friendly to work with as well. On our one year anniversary, we popped in the DVD and relived the excitement all over again. Video catches some aspects that photos can't and once these guys are done editing everything, it tells a wonderful story of the day with details we didn't even remember or wouldn't have seen if they didn't catch it all on video. If you want that extra something to remember your big day by, or anything that would require excellent cinematography, I would highly recommend Michael's Video to anyone!

Kendall

Married on 08/22/2010

Enlisting the services of Michael's Video was the best decision we made for our wedding! These guys are exceptionally talented. With a professional demeanor, warm disposition, and an eye for detail, they anticipated everything we could want to see again and beautifully documented every moment we could have wished to remember through the years. With a blend of raw talent and innate intuition, they were able to perceive the unique characteristics of our relationship and communicate that artistically through video. From the sweet and tender moments of the highlight reel, to the procedures of the ceremony, humorous interviews with our guests, and even the small details of the decor, they captured it all. Even the music they chose suited our tastes! When we received the DVD, we watched it several times with our family and friends, enjoying it immensely each time. To this day, we watch it about once a year, laughing, crying, and relishing in the memories of our special day once more. Because they captured everything in such vivid detail, we always feel as if we are reliving those treasured moments. It reminds us of all the hope, love, and promise of that day and renews our enthusiasm for the covenant we made. We will also appreciate having captured this moment, in time when some of our loved ones are no longer with us, or when many of our guests grow old and gray. It will be a blessing to remember everyone just as they were on that beautiful sunny day at the bed and breakfast when we said our vows. Bottom line, it was a great decision to hire Michael's Video! We would recommend them to any engaged couple searching for videographers. These guys are fantastic!

My husband and I opted for a very small, private (immediate family only), covenant wedding ceremony. So, it was important to us that our day was well documented and beautifully preserved. We turned to Michael's Video for videography services, and they gave us something invaluable: a stunning documentary of the most important day of our lives. When it comes to choosing a videographer for your wedding, you only get one shot. So, don't risk it with Uncle Bob's free/budget camcorder option (no offense, Uncle Bob!). I highly recommend the investment in a reputable videographer with a proven track record of quality and professionalism. It will pay for itself in spades. And that's what you will get with Michael's Video.
Are you interested?
Send a message