28 Reviews
Recommended by 100% of couples
Quality of service

5 out of 5 rating

Average response time

5 out of 5 rating

Professionalism

5 out of 5 rating

Value

5 out of 5 rating

Flexibility

5 out of 5 rating
Awards
1 User photo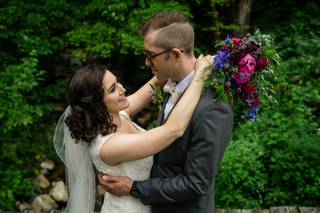 Becca H.

Married on 07/22/2022

Beautiful Pictures, Great Person

Michael takes beautiful pictures. When we were comparing photographers, his pictures stood out for their artistry and his ability to capture couples. Those elements are so apparent in our pictures! We love them.

Working with Michael was great. He is calm, thoughtful, and professional. We had many changes due to covid and he was flexible, fair, and understanding through those changes. In the lead up to the wedding, he helped us plan the day of and pictures, giving us his honest opinion. We wanted outside pictures in February and he was game. He organized a quick "field trip" after the family portraits to take advantage of a weather window in some amazing scenery. The pictures are unbelievable!

We are working with him on our album and are so excited to see how it turns out. Thank you, Michael!

Marielle R.

Married on 09/22/2018

Greater photos than we could have even hoped for!

Hiring Michael as our wedding photographer was truly one of the best choices we made in planning our wedding. We cannot praise his beautiful photography enough. Michael doesn't just take pictures; he captures moments. His photos perfectly embody the atmosphere of our wedding, and are just as full of magic and life as the day itself. Michael is a pleasure to work with. From the beginning, he was communicative, helpful, and full of ideas. He took care to acquaint himself with us as a couple, and to know what was important to us. The day of our wedding, he was such a wonderful, grounding presence. He's calm, friendly, and focused, with a great game plan to make sure we got all the shots we wanted, and a wonderful eye for impromptu moments. If you're getting married, you absolutely should go with Michael.

Molly

Married on 08/18/2018

Thoughtful, passionate, and skilled photographer

Michael was an incredible and thoughtful asset during every step of our wedding. My spouse and I are both a little camera-shy, so having a photographer who could help us feel at ease was paramount. From our initial skype consult with Michael, he had an calm and focused energy that made it clear that he has so much experience and passion for his job. We had a blast during our engagement photo shoot, during which Michael followed us out into the woods in the middle of a snowstorm, and he quickly delivered to us pictures that captured our personality in a way we'd never imagined possible.

I was not the most organized bride, and as our wedding day approached, Michael was incredibly accommodating. He helped us nail down parts of the schedule, worked with our venue, and made sure that he knew what we wanted--even when we weren't sure what that was.

On the big day, Michael was a calming presence in a whirlwind. He encouraged us to spend quiet time appreciating moments together, and captured those moment forever. We had thought that being photographed would be one of the more difficult parts of the wedding day, but the few minutes we spent savoring each other's company with Michael's help are some of my favorite memories of the day. Not to mention--he came around when an amatuer photographer was holding me hostage during the cocktail hour and snapped a picture so I could keep mingling! All day, he was nearby, but not intrusive. Especially during the ceremony, Michael is conscientious of what we wanted to have photographed, our experience of the moment, and our guests. He manages to capture the magic of the moment without taking anything away from it. If anything, he adds to it.

I could not give a more wholehearted recommendation for Michael Tallman. The photographs he took are alive with the energy and spirit or our colorful and unique wedding. I feel incredibly lucky to have had Michael be a part of our wedding, and will cherish the images he created for the rest of my life.

Are you interested?

Send a message

Katie

Married on 06/02/2018

If you are lucky enough to have a wedding on a date that Michael is available, hire him. In seeking out our wedding photographer, we looked at many galleries. Michael was in a class of his own. We were in love with his amazing work from the first time we saw it. There was a bit of hesitation on our part as he was quite a bit more money than what we had budgeted. He was firm on his pricing. I couldn't get his work out of my head so we decided we had to have him as our photographer. He's not just a photographer after all, he's an artist.

Our wedding was just a few days ago and though we've only seen a few photo's so far, we knew at the wedding that he was 110% worth his price. Michael works hard. There were many times I didn't notice him at all, but when I did see him, you could tell he was concentrating and thinking about his shots and the lighting and the scene he was about to capture.

We had a beautiful, clear night for our wedding. The stars were out. I said to my husband at one point, late, 'wow... it's so amazing out. I wonder if we could ask Michael to get a photo of us under the stars'. I didn't want to ask at that point as he had put in a long day already and really should have been heading out. Next thing I knew, he came up to me and said "I was just checking it out and I think it would be a great night to try and get a starlight photo if you two are up for it." Our party was wrapping up and the final guests were heading out and there we were down in the field taking more amazing shots with Michael. Talk about giving it your all!
He is worth every penny and more. Don't think twice about hiring him for your special event.

Kelsa S.

Married on 05/26/2018

Wonderful Photographer!

Michael Tallman did a fantastic job photographing our wedding. He was a pleasure to work with throughout the entire process. On the day of the wedding he put us at ease, helped us have fun, and created photos which we loved and were really proud of.

I'm inspired to write a review now because we just received our handmade wedding album in the mail from Michael. It is so beautiful. My husband and I poured over it and the wonderful memories just came flooding back. Michael's amazing photographs were showcased so beautifully in the album which is exceptionally well made. We'll treasure it forever!

I highly recommend Michael!

April

Married on 10/22/2016

Michael's photography was worth every penny and more. He was a friendly, peaceful presence on the wedding day. His images bring out natural beauty, real personalities and authentic moments. No cheesy poses or cookie-cutter trends! We had a relatively small wedding. Michael focused on what was most important to us -- our loved ones. He also found some great locations that made a rainy, cold wedding day look incredible. Thank you, Michael! You're the best of the best.

Samantha

Married on 10/14/2016

Michael is extraordinarily easy to work with. On a day that is the beginning of life with your spouse, you're going to want Michael as your photographer! Michael takes the time to meet you before your big day and when I say meet you I don't just mean learn your name; he truly gets to know you. Weddings can be stressful and yet Michael was a relaxing presence. He allowed my wife and I to be goofy and in love. He never once felt like an interruption to our big day. He fits right in, capturing your big moments while allowing intimate moments among the couple, friends and family. His shots capture light, love, and happiness. Michael forever captured one of the happiest moments and days of my life so you can take it from me when I say I would without a doubt recommend Michael as a photographer for your big day. Don't miss out on this guy! He's a class act and an incredible artist.

Hilary

Married on 08/27/2016

We loved working with Michael! We had so much fun! He is passionate about what he does and it comes through in his work. He works diligently to capture powerful moments. His work is stunning.

In looking at any of Michael's photos you see that he captures moments that jump out at you and grab you by the heartstrings. When we first viewed Michael's portfolio I couldn't shake the feelings of "Wow, I feel like I was there in those moments!" even though I didn't have any particular connection to the people in his photographs. He creates the connection.

He captures moments that elicit emotion.

Michael recently sent us our wedding day photos and we are in love! I've never cried so many tears of joy looking at photos while recollecting such a special day. Thank you Michael Tallman for sharing your gift with us. We are honored.

With love and gratitude,

Matt & Hilary


Mary A.

Married on 07/23/2016

Finding the perfect photographer for our wedding was at the top of our planning list. We are incredibly thankful to have Michael work with us and capture the very essence of our wedding day. His laid back demeanor and talented eye were the perfect combination when finding the right moments to photograph. Michael not only captured the big moments, but found the little 'in between' moments which make up the entire day.

Michael enjoys the unexpected, and our wedding day did not disappoint! A microburst blew through Quechee, VT, knocking out power to many area businesses, including part of our reception venue. Michael took full advantage of the impending storm during our bride and groom portraits, and we couldn't be happier with the final results! Thank you so much, Michael!

Michael was one of the best decisions we made when planning our wedding! He is professional, very laid back and takes the most amazing pictures. I have only seen a glimpse of our photos and the way he captured our day was outstanding. He was helpful with keeping the day flowing but still capturing those romantic and special moments among guests and the bridal party. I don't know how I'll choose which prints to frame for our house- they are all so wonderful! Thank you Michael!

Rachel

Married on 11/01/2014

I work in the film industry, so finding a very specific, concise, tasteful photographer was incredibly important to me. I found Michael through a friend, who had Michael work at their wedding, and thought he did great work there.

We couldn't have been happier with Michael's work at our wedding and in the lead up process. He was very professional. Did his diligence in getting to know us and what we were looking for and was very concise through out. Did the proper prep work, checking out the venue and asking great questions prior to the wedding. Some of the moments he captured at our wedding and some of his finest pictures will be absolutely priceless for us as we spend the rest of our lives together. Michael is a wonderful technician of his camera as well. He did incredible things with the lighting in the venue, time lapse of dinner, and his work of capturing moments on the the dance party was exceptional. Hopefully we never get married again ;), but if we do, Michael will be there.

Nicole

Married on 09/28/2013

Michael has been simply amazing to work with. The care he took with our engagement photos and wedding photos was so amazing. Michael is the first person we booked for our wedding because we knew we couldn't get married without him. His attention to detail is impeccable . I cannot say enough praise for Michael and his work! We absolutely love him!

Emily

Married on 08/31/2013

Did such an amazing job! Put a lot of thought into the wedding and the photography!

Christina

Married on 07/06/2013

Michael Tallman (or Michael Tallman Photography) was the only OUTSTANDING experience of my entire wedding. Every other person I worked with paled in comparison. He was easy to work with, smart, creative, relaxed, and most important - is what I'm about to say --

Michael Tallman is a true artist. An artist who happens to make his living documenting other people's life events. This is not true of all wedding photographers. I actually have yet to see another wedding photographer's portfolio that is as skillfully done as Michael Tallman. Now, as he is an artist, I had the privilege of having him work with me. Every bride who works with him does. And as talented as he is, I wouldn't be surprised if he moves on to another field in his artist's journey. If you book him - you are lucky. He combines classic technique, with modern and documentary style, which at the end gives you a tasteful combination of both color, and black and white photos, that are timeless, real, and not overly blurred from the photoshop.

If you want to look like a posing Cosmo model, go with a different photographer. If you want to have lifelong memories of your day, your event, the reality of the emotion and depth of feeling - I recommend Michael Tallman.

Laura

Married on 06/15/2013

Like most brides, I did a lot of reading and research when planning my wedding. I read stories from joyous brides recounting their special day, with all the intricacies they had spent months planning going off without a hitch. When time fades and new memories vie for prominence, how are those details of your special day captured? It was with this thought in mind that I contracted with Michael Tallman to capture the memories of my day.

When my husband and I sat down to plan our wedding, we knew we wanted the feeling of our day to be this—a dinner party with our dearest family and friends. In our initial meeting with Michael, I had no idea of how to convey what I wanted our photography to look like. I didn't have to. Michael drank coffee with us as we talked about our wedding, our hobbies, who we were as a couple. He got to know us. He knew what was important to us and the final product was beyond description. Michael captured the essence of our wedding, a priceless memory that will retell the story of our day forever.

Not only did Michael provide an exceptional product, but the experience of working with him could not have been more ideal. Always the utmost professional, he was prompt with communication, and we met in person a total of three times prior to the wedding. I was delighted when he wanted to attend our rehearsal to make sure he knew the venue and the wedding party members. That was a step above and unexpected. When you hire a larger chain photographer, oftentimes you don't even know who your specific photographer is until they show up the day of. We felt like we knew Michael, and felt like he knew what we wanted, and that proved to be true. The best decision we made in preserving the memories of our wedding day was choosing Michael Tallman as our photographer.

Claire

Married on 06/15/2013

As the Mother of the Bride, I am delighted with the service of Michael Tallman. He was well-prepared as to his knowledge of family members and relationships and wedding details. He was in the background at all times as he took the pictures, not interfering with the flowing of the event. The pictures are extraordinary--beautiful color, creative settings, and traditional family member groupings that will be treasured. The picture of the wedding party with all of those attending the wedding is one of my favorites.

Lauren

Married on 05/26/2013

Michael is professional, creative and fun to work with!

Mike is the best! Very easy to work with. The photos are AMAZING and will be wonderful to remember our celebration. He has great attention to details, and has a wonderful ability to capture key candid moments.

Emily

Married on 01/19/2013

Michael made our wedding. What would have been an awesome event, made hazy by time, has been stamped in vivid, lustrous detail. Before we married we had been to two friend's weddings that Michael shot. The first wedding made me realize I wanted him to be our photographer (my now husband and I hadn't even gotten engaged yet). The second wedding we attended simply sealed the deal. Michael is the epitome of professionalism, but with a friendly, easy charm. He can handle the toughest of family members without breaking a sweat. He took in all our creative input, and knew when to offer alternatives to make for even a better shot when the original idea wouldn't work. The most cherished skill I adore about Michael is his ability to catch the tiny intimate moments happening amongst the hubbub - those rare moments that could go unseen if not for this man's keen eye and skill with a lens. Hire Michael. You will not regret it, and you will not be able to stop pouring over the incredible images from your big day. "Thank you, Michael", we can't say it enough!

Tim

Married on 01/19/2013

Fantastic photography, very personalized experience.

We are so happy that we had Michael as our photographer on our wedding day. He captured all the special moments and we ended up with so many "wow" photos. He was a pleasure to work with both before, during and after the wedding. Every single one of our friends and family who have seen the photos have been very impressed.

Kate

Married on 06/20/2012

We had a fairly low budget DIY wedding- the one thing we did invest in was our photographer- we wanted the best. Everything else about the day aside from marrying the person you love is fleeting- but the photographs are forever. Mike was extremely easy to work with, very professional and flexible. He's such a professional he even gave us tips of how to decorate so the photographs would be more interesting. Which was great because he's been to a billion weddings and we've only planned one. He worked with our budget so we got the most "bang for our buck" and we came away from our wedding with BEAUTIFUL photographs, breathtaking really. Mike's style is such that each photo tells a story- and not one of them looks forced. The whole process was very natural. We did have the posed groups of people- which he did in fun and creative ways- but the rest just happened. After we discussed what we wanted photos of we left the rest to him and were so SO pleased with the result. I would highly recommend Michael Tallman Photography for any wedding as it may be the one thing you don't have to worry about once he's there- the photos will be amazing forever.

James

Married on 06/09/2012

My wife and I used Mike for our wedding photos and could not be happier. He was flexible, easy to work with, took the pictures we asked him to, dependable, very professional, had very creative and good ideas for pictures and had a relaxed (yet business like) attitude at our wedding. The quality of our pictures could not have been better and captured our special night for all time. Do yourself a favor, take some stress out of the wedding process and get a photographer you can trust. I would recommend Mike to any friend of mine with no hesitation and with my utmost confidence.

Susan

Married on 10/22/2011

The hardest working photographer you'll ever meet. From the beginning, Michael was very responsive, in fact, that's how he got our business. It was between him and another photographer, and he found the time to meet with us immediately.
He has a unique eye that makes every one of his shots amazing. I have, and will continue to, recommend Michael to anyone who needs a photographer for anything.

Molly

Married on 08/13/2011

Michael was a pleasure to work with and we could not have been happier with our photos. We enjoyed getting to know Michael before the wedding and were continually impressed by his professionalism and talents. He perfectly captured our wedding day from the beginning to the shirtless groomsman ending. And all without added interruptions or hours spent posing for pictures.
Are you interested?
Send a message