89 Reviews
Recommended by 100% of couples
Quality of service

5 out of 5 rating

Average response time

5 out of 5 rating

Professionalism

5 out of 5 rating

Value

5 out of 5 rating

Flexibility

5 out of 5 rating
29 User photos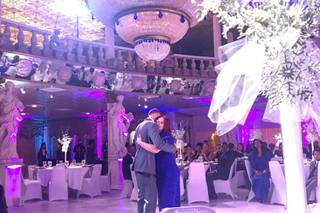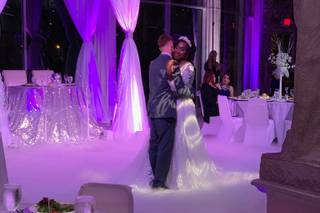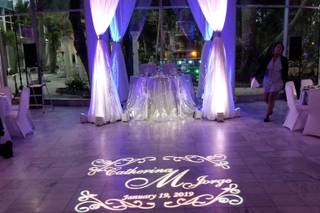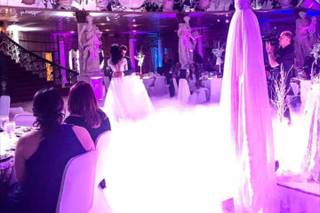 + 25

photos
Laura G.

Married on 10/19/2019

Mike is awesome

Mike's professionalism is above and beyond and the lighting was breathtaking. He helped make Davis Islands Garden Club into a wedding wonderland. I highly recommend his company.

Lindsay S.

Married on 10/19/2019

Exceptional service!

Mike is the best! He went the extra mile to make sure our day was perfect!

Donna

Married on 04/05/2019

DJ Mike is fantastic!! High recommend

DJ Mike did a fabulous job from beginning to end for our wedding. We met with him about 8 months before the wedding day to give him our visions, He was very informative about the process, demoed the DJ program that allowed us to pick our songs for the entire event, at our leisure. We asked him to mix our breakout dance song. He was very responsive and did a great job. He met with us again about two weeks before the wedding day to finalize details. The big day went without issues thanks to DJ Mike keeping the flow. His attention to detail is impeccable, he made sure all the songs we picked were played at just the right time. That's another thing that's great about DJ Mike, you get to control as much or as little of the music selection as you like. He'll make it work either way. He kept the dance floor full all night! We would definitely recommend DJ Mike to others for their DJ and lighting needs.

Are you interested?

Send a message

Catherina

Married on 01/19/2019

Absolutely Amazing!!!

I recently got married on 1/19/19 at the Kapok in Clearwater. I can't begin to express my gratitude to Michael Anthony productions for helping me accomplish my dream winter wonderland wedding. I left him in total control of the lighting to give that winter feel and was just in awe when I walked in and saw it all. Michael, Frank, and his entire team that were there were all so wonderful, so professional, and so much fun!!!! the music was absolutely everything and the main thing I was looking forward to so I could let lose, lol. Frank with the videography is so experienced, gave amazing ideas that i wouldn't have thought of. He's so humble and truly wanting to capturing the entire day which i love. I keep reliving my wedding day over and over and could not have imagined it without them all making it so spectacular!!!!!

Michael Anthony Productions's reply:

Thank you so much Catherina Morales for the wonderful review !! I am so happy you enjoyed everything!! It sure was such a pleasure being part of your magical wedding day!! You have so many wonderful friends and family and I am so glad I was able to make your wedding dream of a winter wonderland come true!! Thank you again from all of us at Michael Anthony Productions!!

Kyle J.

Married on 01/05/2019

Highly Recommend DJ Mike!!

DJ Mike was an an absolutely incredible DJ and entertainment professional. The uplighting he did at our venue truly transformed the reception into an elegant and luxurious space for our celebration. Mike is a personable, experienced, and engaging professional who made our wedding and reception into an event that exceeded our wildest dreams. Our guests continue to talk about how well the entertainment and lighting brought together our celebration. Thanks DJ Mike!

Amanda

Married on 12/29/2018

Amazing Vendor!

Michael is amazing! He was very easy to work with and accommodated to our needs! Our wedding was an absolute dream thanks to Michael. Everyone had a blast and could not stop talking about how fun our wedding was! Thanks Michael!

Jessica

Married on 11/16/2018

Dreamlike DJ and Lighting Experience!

Working with Mike was a dream from the start. My husband and I met Mike at one of the many Wedding Expos in the Tampa Bay area, and we were immediately drawn in. I remember seeing his setup and thinking how professional and elegant everything looked. He had great pamphlets that we were able to bring home, and we instantly got along with him. You could tell within seconds that this company means everything to Mike. His passion just swims in his eyes!

When we made the decision to book Mike, he was so easy to work with. He met us at our venue so that he could evaluate the space to determine what kind of lighting/setup would be needed, talk to us through some ideas he had, and to get an overall idea of the timeline so he knew when and where he would be needed. I would also love to GUSH about his online web service where we were able to put in all of the details about our wedding in one convenient space, and began to build song lists. You can even put comments on the songs so for example, I had him play my brother and sister-in-law's wedding song (who had just been married the previous year) and dedicated it to them. It went off without a hitch! I loved his tool and it let us tag songs we must have him play, songs we would hope he could play if he had time, and songs that we definitely did not want played.

I think the most amazing part about working with Mike is his flexibility, honesty, and passion. My husband is super passionate about music and wanted to build the cocktail hour playlist on Spotify. He and I spent countless hours listening to music, putting songs in order, etc., only to then be concerned that Mike wouldn't be able to get the playlist to work! He registered for a trial account with Spotify so that he was able to play our music during Cocktail hour which made my husband incredibly happy. He also put some uplights into the cocktail hour space which he didn't have to do!

At our venue, we had three different spaces that would need to be wired (the ceremony space, cocktail hour, and reception). He wired everything flawlessly. I can't even remember seeing where he was for our ceremony, but the music was played beautifully and echoed throughout our ceremony space. The microphone setup worked so well and there were no audio concerns. What was SUPER cool was that my husband found a song for us to play when we were leaving the front to walk out, but he wanted it to be started exactly at a specific time (when the music explodes), let the song end, then loop it. When we turned to walk and we were announced, it started right on point and it made us cry a bit while we were walking away from the front because he FREAKING NAILED IT. I'm getting chills typing this now.

For the reception, Mike completely transformed our space. We had determined that doing piping and draping would be absolutely out of the question (SO EXPENSIVE), and Mike promised us that when he was done, we wouldn't even realize we didn't have draping. He was so spot on. Our venue space was STUNNING. We had discussed the colors (purple during intro/special dances/speeches/dinner and blue during dancing) which were done flawlessly, he had brought so many uplights to ensure the space was filled (last minute, our venue decided we could have an additional part of the reception hall and Mike made sure to accommodate this request when he could've asked to add more money to the contract - it was so surprising to me that he was ok with it and didn't ask for any more money on top of our package). We wanted some starry effects, so he made sure a blank wall in the venue was splashed with starry texture which looked SO AWESOME! I was bummed that my venue opened up part of the wall to let people get to the bar in the other room because I know Mike worked so hard on getting everything perfect! Another thing that was brilliant was our decor was based on lighting - we had tall vases with puzzle lamps on top. I had been so stressed about how to light the lamps, but Mike assured me he could get pin lights from the ceiling and light each one individually on every table. It looked so beautiful! He made sure everything was lit and it really made our table decorations come to life.
He also had some fun lights that he used during dancing, and just really made everything feel very personalized. We don't have the most outgoing family, so not a ton of dancers, but he kept the music going and switched it up where needed.
I would 100,000% recommend Mike to work with you for your wedding. His dedication, expertise, and kindness will truly win you over. If you are a fretful, anxious bride (like ME!), please believe me when I say he mad freaking MAGIC happen for our wedding. He was unbelievable to work with, has lots of ways to customize your package and experience, and truly has your best interests at heart. We thank Mike from the bottom of our hearts!!!

Thanks,
Jessica and Chris

(Note: Our wedding was 11/16/18 at the Four Points Sheraton in Tampa, FL on Cypress!)

+ 3

photos

Laila Z.

Married on 11/03/2018

Wonderful!

DJ Mike was very easy to work with during this process and he was always available when I needed him! Him and his live musicians made my wedding truly spectacular!!!!!!!!!

Julien M.

Married on 10/06/2018

An absolute pleasure!

DJ Mike was an absolute pleasure to work with. We were very appreciative of the quick responses leading up to the wedding. We met him a few months before the wedding and really trusted him. The day of, I didn't really see him until the time of the ceremony, but I had full confidence that everything was set up and ready to go.

During the reception, Mike added a few fun games to entertain folks. This really set the tone for the kind of fun that would follow. His music choice was perfect and followed our requirements. He also knew how to read the room and make adjustments.

Overall, I am so happy we chose Mike! I wish him all of the best!

Michael Anthony Productions's reply:

Julien & Erin,
Thank you so much for the wonderful review!! I am so glad you an your family enjoyed the music and lighting !! You wedding day was perfect and I was so glad to be part of it!! Thank you again for choosing Michael Anthony Productions!!!

Thank you,
DJ Mike

Bonnie

Married on 09/05/2018

Highly Recommend DJ Mike

DJ Mike made my daughter's wedding spectacular. He worked with us to make sure everything was special and everyone attending loved him. I highly recommend him to make your day special, too.

+ 5

photos

Amanda

Married on 05/19/2018

Dj/lighting

Michael Anthony productions did an amazing job with my lighting and my monogram for the dance floor! He was so kind and super professional. He even let me keep the monogram to use in the future for anniversaries! Michael Anthony productions Dj skills are top notch and I would recommend him to anyone!

Nicholas G.

Married on 05/19/2018

Amazing lighting and monogram!

Mike was simply amazing. I read the reviews and recommendations of his work and he lived up to it! He was extremely responsive and made my life easy by listening to anything my wife requested. :) His work with the lighting was second to none and all the guest were impressed.

Nicholas J.

Married on 05/17/2018

Amazing night

Had a great time with Micheal Anthony. He played all our request and made our wedding night very special

Lindsey

Married on 05/12/2018

Michael did such an awesome job being the DJ at our wedding, and also with the uplighting. We got so many compliments at the music choices he played for the reception that kept everyone out on the dance floor dancing! He also was very accommodating to our wedding day schedule and made sure I had no stress during the wedding day. We also had live music for our ceremony on our wedding day which was recommended by DJ Mike and they were absolutely amazing as well. DJ Mike will not disappoint you! Every single one of our guests had an amazing time dancing the night away!!

Michael Anthony Productions's reply:

Lindsey & Steven,
Thank you for the wonderful review! I am so glad you and your family enjoyed the music and lighting!! You family and friends are great and danced the night away at your wedding!! What a great time everyone had! I am so happy you went with our live musicians for your ceremony on the beach. It added the perfect touch to your perfect wedding day!! Thank you again for choosing Michael Anthony Productions for your wedding!!

Thank you,
Dj Mike

Ashley

Married on 05/11/2018

Michael was so wonderful, I knew from the very beginning of my wedding planning that I wanted sparktacluar fountain lighting effects for my ceremony. I looked all over the state of Florida but no one offered them until I came across Michael Anthony Productions. I was so happy that he was able to help me complete my wedding look that night and we also decided to do the dancing on a cloud which was very romantic and looks great for the pictures! I would highly recommend Michael and his team for any event.

Michael Anthony Productions's reply:

Thank you so much Ashley for the wonderful review!!! I am so glad you liked the sparktacular lights!!! It sure looked amazing at your wedding!! Your wedding all around was just fantastic!! I was so happy to be part of your special day!! Thanks again, Dj Mike

Ashley

Married on 04/29/2018

From the moment my husband and i met Michael at a wedding expo in Tampa it was love at first sight! Between his energy and professionalism i knew i had to have him for our special day. Hes awesome and very well organized he made my experience with choosing lighting and my music so easy!! Definitely recommend! and dont let me forget our first dance, our monogram which was included with our package was beautiful we also used his Dancing on a Cloud and Sparktacular indoor cool fountain lights. The minute the lights and cloud went off all my guests were in awe!!!! They had said it was the most spectacular first dance they had ever seen.

Michael Anthony Productions's reply:

Ashley and James thank you so much for the wonderful review !! I am so glad you enjoyed the music, lighting and the special effects!! Your first dance was magical with the dancing on a cloud and Sparktacular fountain lights!! I am so glad you found me at the bridal show. You have an amazing family and wonderful friends!! We had so much fun celebrating your wedding day with you!! Thanks again for everything !! , DJ Mike

Daniella

Married on 04/28/2018

I definitely recommend Michael Anthony Productions. Michael is very professional and communication is great. I also highly recommend his videographers (Frank and Cindy). They are all GREAT!! Trust me when I say Michael Anthony Productions will be the greatest addition to your wedding.

Lauren A.

Married on 01/14/2018

10 Out of 10 Would Recommend to All!

Michael Anthony Productions DJ Entertainer and Up Lighting definitely made my wedding amazing. When people walk away from a wedding, the thing they remember the most is the experience. Michael Anthony Productions was beyond all of my expectations of what I needed in my DJ and lighting. He was so thoughtful, kind, and professional not only in our meetings before the big day, but also during my wedding. His website is very cohesive and easy to use and prices are more than fair. He helped me make my wedding what I had always imagined it to be. If you want a fantastic wedding that people will remember, you NEED to hire Michael Anthony Productions.

Michael Anthony Productions's reply:

Hi Lauren,
Thank you so much for the nice review!! I really appreciate it!! Your wedding was so much fun and the color lights you picked made the room look amazing! So glad everyone enjoyed the music and lighting.

See you soon at your friends wedding!!

Thank you,
Dj Mike

Natalie

Married on 12/02/2017

Amazing DJ!!!

Other than my surprise seaplane landing, DJ Michael Anthony was all the talk of our wedding. What I appreciated most about him, is that he diverted from my script when the crowd started to thin from the dance floor. He was supposed to play the slows at the end of the evening, but who would have thought a slow song was what people needed to get them on the dance floor early on. This is why he does what he does and I'm not a DJ ;) He kept people on the dance floor all night, and even joined me in rapping Ice Ice Baby to the crowd. No other DJ will keep the party rocking all night like Michael Anthony can. Thank you Michael for the beautiful wedding gift of being simply awesome!

Michelle

Married on 11/19/2017

My husband and I found DJ Mike at the local bridal show and as soon as we met him, we knew he was the one! The up lighting alone made the room look a million times different and set the mood for the rest of the evening. He even brought a generator so we could have music at our ceremony on the beach! He kept everyone, including us, on schedule -which we switched up on him a few times and kept the dance floor packed. We got so many compliments on him because he knew just the right things to play to keep everyone dancing. Highly recommend this DJ!! His up lighting and service is impeccable and worth every penny.

Andrea

Married on 11/04/2017

Mike is the absolute BEST! His energetic and positive energy is amazing! We couldn't have asked for a better DJ. He truly made our night perfect and full of laughter and fun!!! In addition, his ability to use lighting to create a space you could only dream of well he did it!!! The moment I walked into our venue and saw the lighting and monogram, it surpassed my expectations! Mike thank you again from the bottom of our hearts for making our night perfect!! You are amazing!!

Meagan

Married on 10/06/2017

My husband and I got married about a month ago at the Dali museum and DJ Mike provided the DJ services both for or ceremony and reception. I felt like Mike really understood with only one simple phone call exactly what I envisioned for my wedding! He played nice and classy jazz type music during the dinner portion of the reception and chose exactly the style I described and then transitioned seamlessly to more party/dance music for the later portion. It was the perfect blend. We had our ceremony on the staircase which is part of a very large three story room and the ceremony music was perfect! I was nervous about this part as it seemed difficult to make the songs sound good in this type of room but everything sounded wonderful! Highly recommend Mike for your events!

Elbaliz

Married on 09/24/2017

Mike was amazing and delivered on everything we asked. From using cello covers for our cocktail hour, to keeping our dance floor packed with people dancing, to using our monogram we designed! He is definitely everything you would want from a dj and more! He even met with us for a walk through at our venue, when he had two other events that day. Thanks DJ Mike!

Pooja

Married on 05/27/2017

Mike was amazing! His lighting production for our wedding was phenomenal. He was able to provide excellent lighting for two events at our wedding and was even able to accommodate last minute requests. Mike enjoys his profession and shows a passion and commitment like no other. My wife and I had absolutely no issues with working with Mike and would definitely recommend him. Phenomenal value for money, and extremely nice guy. Five Stars across the board!

Michael Anthony Productions's reply:

Thank you so much Pooja and Nik for the amazing review!! I am so glad you enjoyed the lighting for all of your wedding events!! It sure was a pleasure spending the holiday weekend with your family and friends in Marco Island!! You wedding was truly amazing and I was so proud to be part of it. Thank you again, Mike

Talya

Married on 05/05/2017

Michael Anthony Productions not only met , but far exceeded our expectations. Mike is extremely knowledgeable and professional with many years of experience- and this is clear from the very first interaction. He was very easy to talk to and coordinate with. He understood our needs for the wedding and provided just the right atmosphere with lighting and music. We felt like he did everything we wanted and worked with our budget to make it happen. We are so grateful to have him at our wedding- he was perfect and moved through the timeline flawlessly. We truly could have not hoped for anything better and would highly recommend his talent and services to anyone!
Are you interested?
Send a message