Reviews
4.9 out of 5 rating
Quality of service

4.9 out of 5 rating

Average response time

4.9 out of 5 rating

Professionalism

4.9 out of 5 rating

Value

4.9 out of 5 rating

Flexibility

4.8 out of 5 rating
97%
Recommended by couples
146 User photos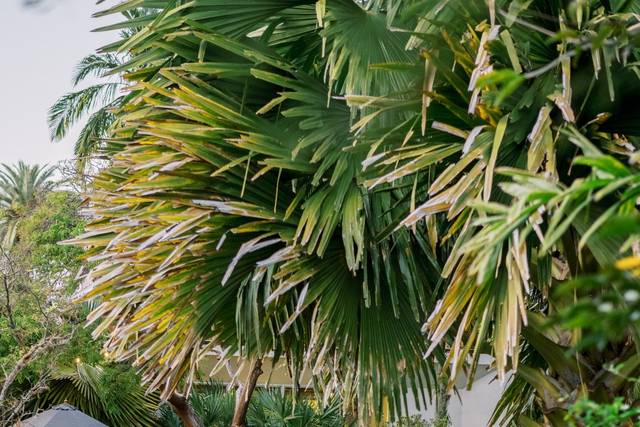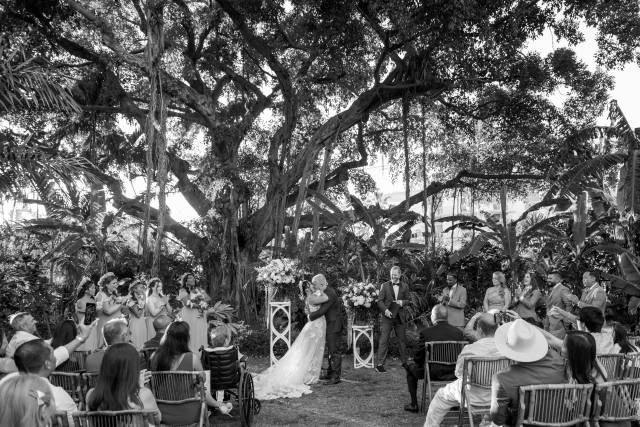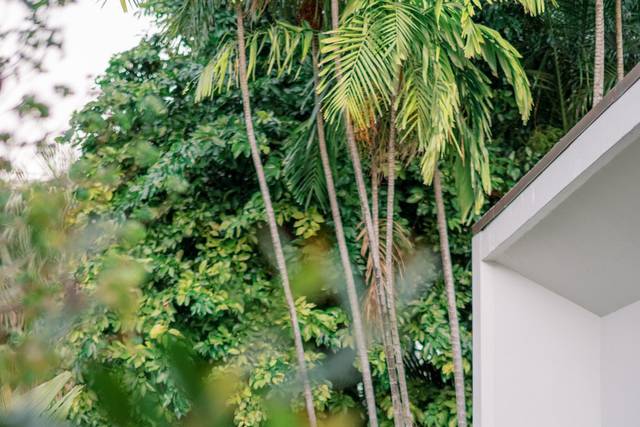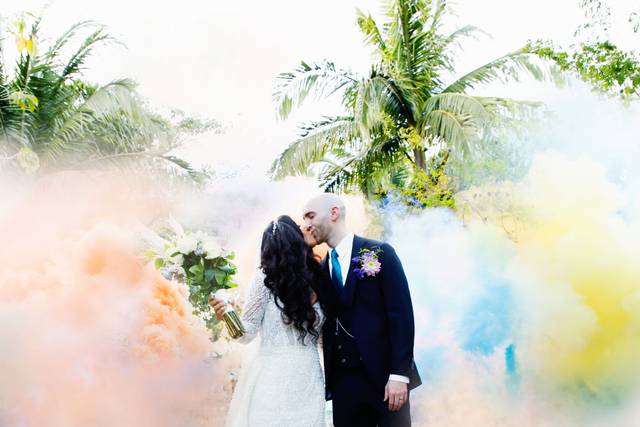 + 142

photos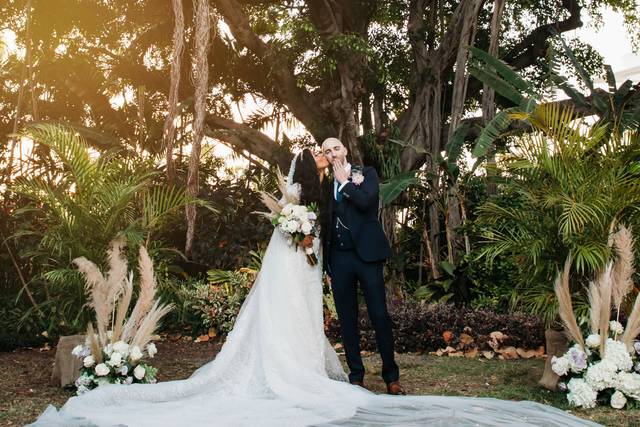 Featured

Kenya D.

Married on 03/18/2023

The wedding venue that made my friends jealous

The beauty of the Gardens exceeded our expectations and was by far the most magical experience for our special day. We held our ceremony in front of the banyan tree during sunset and I can't express how unreal the Gardens looked. There were butterflies fluttering all around, rays of sunlight passing through the palms, tiny bunches of orchids blooming, and brilliant varieties of green everywhere. Seriously ridiculous, the type of stuff Disney movies are inspired by. Our guests were in disbelief that such a magical place existed in the middle of Miami beach. The day wouldn't have come together without the guidance, hands on help and fresh spontaneous ideas of the garden Events & Programming Manager Maurice Jackson. This man is the absolute best!!!!! He doesn't miss a beat, and when you need that boost of confidence for a "crazy idea", he helps you make it real within reason. The Gardens were very clean and a perfect size for our 100 guests to roam around freely and safely while still being able to hear the music playing on the dance floor while also having multiple bars within reach scattered about the grounds. It's also beautifully lit at night so minimal lights are needed, leaving room for fun lighting decor. Lastly, we chose the premium liquor package and received zero complaints from guests. We would 10/10 recommend the Gardens for your event or wedding! Communication is stellar and they make your day all about you. We will cherish the Gardens through our pictures forever.

One last bit of advice, if you're having a late night wedding, add the 40/100 clear tent in the great lawn to bring it all together. Guests were able to still enjoy the Gardens while eating dinner with no threats of rain to worry about.

Love,
The Gillettes

Dinah L.

Getting married on 11/22/2025

Most Phenomenal Venue All Around!

The Botanical Gardens served as such a gorgeous and classy backdrop for our event. A Special Thanks to the expertise and hard work of Maurice Jackson. He was the winning piece that truly elevated the event to an unforgettable experience. From the bar service, to the catering and to the final setup it was all so professionally done it exceeded my whole family's expectations. Five Stars! Would definitely recommend!

Vy Nguyen

Married on 03/25/2023

No Place I'd Rather Be

What's more romantic than a garden wedding in the spring? The Miami Beach Botanical Garden was the perfect venue for us (my *husband* and I--can't stop saying it!). We don't live in Miami anymore and booked this venue from only seeing photos and somewhat successful FaceTime call with Maurice--the Events Director Extraordinaire. He was so confident that our day would be so beautiful that we believed every word. We got married during Ultra Music Festival weekend and spring break but the location of the garden was almost secluded, and we were in our own fantasy world living out the fairytale dream. It was honestly the perfect day not only because of the setting but everything leading up captured everything we could've hoped for.

Are you interested?

Send a message

Jo Ann

Married on 12/04/2021

A beautiful venue to hold an outdoor ceremony and/or reception. The Banyan room is a perfect backup plan for rain or to be used as a lounge area if the reception is outside. One of the most affordable venues in the Miami area. The reception area is very private. Perfect for smaller weddings!

Lucia S.

Married on 11/13/2021

The Most Beautiful Venue

We were so happy to have our wedding at Miami Beach Botanical Garden! From the start, Maurice was so responsive and helpful in every aspect of our wedding day. With his vendor recommendations, we were able to build an incredible team to help make our vision of our wedding day truly become a reality. The day honestly turned out better than we could have even imagined. So many people came up to us and comment on how beautiful the venue was!

Maurice answered so many emails so promptly and was so flexible when we changed the date due to a covid delay. We are so happy we chose such a beautiful venue enhanced by an amazing coordinator!

Stunning Venue

Perhaps the most stunning venue for a perfect wedding. The garden is magnificent as is the entire Garden staff. Sandy is a pleasure to work with, warm, welcoming and professional in every way. Maurice coordinated such a fabulous event, from early on, recommending the best vendors and just having such a great handle on every aspect of the event. With rain threatening, he had plans A, B and C ready to go at a minute's notice, and that he and his staff did so perfectly and so calmly. The wedding went off without a hitch, having their ceremony under the beautiful Banyan tree (in spite of the impending storms). They all helped to make the wedding a dream come true for our son and his new bride.


Surya K.

Married on 09/18/2021

A magical setting and great team

My husband and I were so glad that we went with the Miami Beach Botanical Garden. It is an exquisite little oasis in the midst of the spectacle of Miami Beach. The team is exceptionally helpful. Here are a few things that we really loved about it:

1) Beautiful setting: The garden itself is so lovely that we built a lot of our design ideas around just complementing the natural beauty of the surroundings. Being quite small, it feels very intimate.

2) Great location: Because it is located right near the main strip of South Beach, it was very convenient for guests to book nearby hotels – many of them could and did walk to the venue – while still being able to do other fun things and make a weekend of it. This is a major advantage over other lovely venues like the Fairchild botanical gardens.

3) Extraordinary team: Maurice Jackson leads the events team at MBBG, and he goes above and beyond to make your wedding the event of your dreams. He was extremely communicative and would always work enthusiastically with us on how best to realize our desires. I cannot recommend the entire team highly enough as partners in making your wedding amazing.

(p.S.: credit for the attached photo goes to Masson Liang – hire him for your wedding!)

Mike

Married on 06/04/2021

Miami Beach Botanical Gardens is PERFECT for your small wedding

We decided to get married and wanted to have a very small wedding with under 10 people. We planned our wedding in a matter of days. We knew we wanted an outdoor venue with a tropical vibe - looked at many places, but the Miami Beach Botanical Gardens was perfect for our size and budget. We were able to book it for the day we wanted and the time we wanted only days ahead of the event. We held our ceremony in the Japanese Gardens - the pictures are fabulous, the scenery was intimate and relaxing. The best part of the experience was Maurice - he made it so easy for us, no pressure, no hassles, super helpful. If we could give him 10 stars it still wouldn't be enough. On the day of the wedding he was present and provided the little bits of help you need when you're pulling something together at the last minute. We highly recommend you consider the MBBG if you are considering a wedding in the Miami Beach area.

Jovaun B.

Married on 03/02/2021

A beautiful venue and Maurice was a pleasure to work with

It was a pleasure working with Maurice and the Miami Beach Botanical Garden. The venue is beautiful, rich with flowers and greenery, and provided a picturesque backdrop for our wedding. From our first meeting, Maurice was committed to doing everything in his power to make sure that we could have the wedding we envisioned. When it started raining the day of our outdoor wedding, Maurice was instrumental in making adjustments, like moving the ceremony under the covered patio, helping to ensure the event was still a success. Maurice was responsive, flexible and made himself and the resources of the venue available in a way we truly appreciated. I give Maurice and the Miami Beach Botanical Garden my highest recommendation. 

Dalia S.

Married on 12/20/2020

The best and most genuine team to work with

I had to reroute my wedding party to Miami within two week due to covid. And let me tell you, I'm glad covid canceled my original plans because my wedding at the botanical gardens was everything I had dreamed and more! I also can't thank their team enough, especially Maurice Jackson, for being so patient and wonderful during a stressful time, they take the stress of the bride and I've never in my life met anyone that's dedicated to their job and cares for their clients like they do.
I will forever be grateful for the botanical gardens team, Maurice, and the vendors.
I want to mention the beauty of the venue itself, it doesn't get better than the beauty of nature, and in case of rain...they provide a beautiful indoor venue that overlooks the garden.

Miami Beach Botanical Garden's reply:

Dear Dalia,

Thank you so much for your sincere accolades! The Garden is a wonderful place to celebrateand of course, Maurice adds to the magic. We hope to see you again in our slice of paradise. Congratulations to you both!

Gabriella S.

Married on 10/17/2020

Stunning venue, professional, kind

My husband and I fell in love with this beautiful space immediately in our venue search. The initial booking process was seamless. We then had to push our initial wedding date due to COVID, and the team at MBBG was so accommodating. On the day of our wedding, there was a downpour and we had to pivot our original plans again for rain. The Garden has so many amazing spaces, so we were able to easily change our ceremony space for this. Maurice and the team were ready with suggestions for this change immediately without delay and were able to implement this effortlessly. We could not have dreamed for a more beautiful day which came to be due to MBBG team and beautiful space that they pour themselves into curating and maintaining all year long.

Marthe D.

Married on 04/06/2020

Breath taking experience and an unforgettable moment.

Mr. Jackson is one of the kindest souls we have ever met. He made our wedding experience one to never forget. This is such a beautiful venue!

Christina

Married on 02/22/2020

Absolutely beautiful wedding experience!

I absolutely love Miami Botanical Garden! Pictures don't even do it justice, you have to visit to truly understand it's beauty and peaceful atmosphere. We recently rented the garden for our wedding and couldn't be happier with our venue choice. Maurice was super helpful throughout the entire process from our first visit to our wedding day. Miami Beach Botanical Garden will forever hold a special place in our hearts XO.

+ 2

photos

Lisa D.

Married on 02/08/2020

The most beautiful garden wedding venue

The Miami Beach Botanical Gardens is the most magical wedding venue I could ever imagine. We planned a destination wedding in Miami from Seattle and the second I stepped foot at MBBG I knew it was the perfect wedding spot. The gardens are gorgeous and there are so many different areas that you could choose to host the ceremony, reception, and any other creative areas during an event. With the bistro lights and the trees in the background, the garden was beautiful enough as is - you barely need any decorations to transform the space into a midsummer night's dream. 

Maurice made the wedding venue decision even that much easier. As the event coordinator, I could not have asked for a more amazing person to work with! He was integral in our early meetings and conversations in helping us envision the space and utilize the gardens in the best possible way. He is so sweet, sincere, and helpful. I enjoyed every moment I spent working with him throughout the planning process. He always made us feel taken care of and we knew we could trust that the space would look gorgeous with Maurice on watch!

It was also so calming to have Maurice there on site all day leading up to the wedding. I will never forget the moment that I was waiting to walk down the aisle and Maurice was by my side (making sure my dress stayed perfect, of course) and stopped me to show me a beautiful flower. He told me to stop and smell the flowers and remember this moment for the rest of my life. It was so sweet and perfectly sums up what it was like to work with Maurice throughout the entire process.

The Miami Beach Botanical Gardens is a gorgeous space and was the perfect backdrop for our dream wedding. If you want a beautiful, elegant outdoor wedding and an event coordinator who will make the wedding planning process as smooth as possible, this is the place for you!

+ 5

photos

Alexis

Married on 02/07/2020

SO HAPPY with this venue!

This venue is nothing short of breathtaking, a hidden gem in the heart of South Beach. We had a lot of guests coming from out of town so wanted a venue that felt magical and had a lot of natural beauty but also would be in an area accessible for guests to have fun during their weekend stay in Miami and this is the place!!! Maurice is a wedding angel and makes you feel like family from the first time you meet him. He is very knowledgeable and able to be such a great resource in navigating the craziness that is wedding planning. The venue has a great mix of indoor and outdoor space yet feels cozy and close knit. Loved having our wedding here and so grateful we met Maurice. Having good people that have big hearts on you wedding day is so important! It makes things so much easier and happier on a day that inevitably has some stress. Would highly recommend!!!

+ 17

photos

Jennifer

Married on 01/25/2020

Maurice and the garden are absolutely incredible

Booking with Miami Beach Botanical Garden and Maurice was hands down THE best decision we ever could have made for our wedding day.

We were a destination couple, and it took us nearly 6 months to find our venue. It felt like we researched every single wedding venue in Miami, Fort Lauderdale and Palm Beach before we found "the one." But I knew within moments of calling the garden and talking to Maurice that we'd found our place. Some venues were unwilling to give us a FaceTime tour from afar, but within an hour of talking to Maurice, he'd gone around the garden to record a video tour to text us. In the video, I could literally see dozens of butterflies flying around the garden. It was like something out of a dream!

We loved that the garden was like a blank canvas—lots of natural beauty from the plants and flowers, but the freedom to book the vendors we wanted, bring in whatever chair rentals and decorations defined our style, etc. Maurice gave us lots of recommendations for vendors, which we mixed with a few of our own picks.

We booked the whole garden for our wedding, which gave us plenty of distinct, separate spaces to hold our ceremony, dinner, dance floor and our New Orleans-style second line parade. Plus there were a million different gorgeous backdrops for photos!

A few months before our wedding, we found out that there was going to be a huge event across the street from the garden. It meant parking was going to be a nightmare and a lot of logistical challenges. This might have been reason to panic, but Maurice calmly offered support and advice, including adjusting our wedding timeline to give people extra time to find parking. On the day of our wedding, he personally fielded phone calls to help some of our most important guests, such as my grandmother (who was in a wheelchair and couldn't walk far) get inside the venue in time for photos. He also went above and beyond offering advice and assistance with our decor choices. He worked hand in hand with our day-of coordinator to touch base with our vendors prior to our wedding.

We felt the luckiest to have found the garden, and we couldn't have imagined any place place more perfect for our wedding day. We also don't think anyone else could have guided us through our wedding day like Maurice did. Our wedding was truly the best day of our lives, and so much of that is because of the garden and Maurice. We will never forget all he did for us, and the garden will be always be a sacred, special place for us, as long as we live.

+ 8

photos

Miami Beach Botanical Garden's reply:

Thank you so much for your kind words..
You both made the day so beautiful and brought so much love to the garden.
I wish we could do it all over again...
Maybe an anniversary weekend?


Elizabeth

Married on 01/18/2020

AMAZING!! Maurice is the BEST!

Lets face it.. finding the perfect location in a reasonable price is HARD in Miami... When my husband and I walked into the garden our jaws dropped. This place is a hidden gem! We couldn't believe the space, the packages they offered, and MAURICE! Maurice, the onsite event planner made the entire process easy and fun! I think he has events multiple times a week but he always made it seem like mine was a high priority and that made us feel so so special. My guests were blown away at how beautiful and charming the garden is! We loved everything about the garden and we cant thank Maurice enough for all the love he poured into our special day!

Fiorella L.

Married on 12/14/2019

A perfect place for a magical ceremony


What an experience it was to have our ceremony at the Botanical Garden.
Doing our ceremony at the Botanical Garden was a great choice, the intimacy that the japanese garden offers is just what we were looking for our 20 guests ceremony.
Maurice was extremely helpful from the moment we stepped into the gardens and facilitated our decision to pick the gardens as the perfect place for our wedding ceremony. He gave us many ideas of how we can make our very simple ceremony much more lavish, with just very few touch ups here and there. He made our experience a much more memorable one, without his help it would have been a lot harder to get our ceremony to start on time. The Miami Beach Botanical Garden is a gem that i wish i would have discovered sooner. Perfect for a small ceremony, as well as a big sitting wedding. The gardens offer such a magical experience, with butterflies flying around and beautiful unique flowers throughout the garden. This was just a lovely place.

+ 2

photos

Bianca A.

Married on 11/23/2019

Maurice made our day

Not only is the garden one of the best hidden gems of Miami, but Maurice - the Event Coordinator there - was the best vendor we had. He was a deciding factor in picking the garden. He's flexible, always makes time for you and comes with lots of ideas and suggestions we didn't get elsewhere. The garden is absolutely stunning and was the perfect backdrop for our November wedding - we got really luck with weather. The convenient location was great for our guests coming from out of town and the locals loved discovering it. It's also one of the few venues that's open past 11pm! We've been back a few times since and love that it's now a part of our story.

Makda M.

Married on 11/10/2019

Wedding Venue

Our experience with Miami Beach Botanical Garden was absolutely magical! Our wedding was more than we imagined and our guests raved about the venue. Maurice worked with us from day one to answer any questions we had and referred us to amazing vendors including Elizabeth from Island Life Events and Brian with Dade County Food Group. Maurice displayed the utmost professionalism and kindness from day one. I would not have changed one thing from our wedding day, it was absolutely perfect in every way. We highly recommend Miami Beach Botanical Garden to any couple wanting a magical venue filled with natures beauty, even butterflies :).

Itsjermaine

Married on 09/11/2019

Absolutely incredible

Maurice was absolutely incredible. STRONGLY RECOMMEND! He strongly suggested we rent a tent, and thankfully we did because it rained. No worries though, because Maurice very calmly rallied 200 guests from the front lawn into the ballroom and arranged them in a beautiful circle. It actually created a very intimate setting for the ceremony, and we think it turned out better than what it would have been in the lawn. All 200 guests fit comfortably under the tent. He will not disappoint, he is there to make your day the most special of them all.

Simi

Married on 04/27/2019

Incredible!!!

Getting married at the Miami Beach Botanical Garden was the best choice we could have made. Maurice was extremely helpful during the entire planning process and especially the day of. He even gave us design ideas and took the time to help us walk the space and plan it all out. The garden was stunning the day we got married (4/27/19) and was even more magical at night. We would get married here over and over again. I can't say thank you enough the Garden and Maurice for making out special day incredible.

Alain

Married on 04/15/2019

Wedding brunch December 19, 2020

The entire team at the Miami Beach Botanical Gardens was super friendly and helpful. They did an amazing job at making sure that our time there was smooth and fun. Definitely will recommend them.

Robin

Married on 04/06/2019

Fall In Love

From the moment we met Maurice, we knew that we found the perfect venue for Shelby's wedding. Not only is the venue magnificent and immaculate, but Maurice puts his heart and soul into every inch of this magical place as if it belongs to him. Miami Botanic Garden is a tropical paradise in the midst of a busy Miami Beach. Your guests will not stop talking about the birds and the butterflies that live together in this wonderland. Maurice would respond to us immediately when we had a question and always made us feel welcome.

Robin

Linsey

Married on 02/16/2019

A Magical Day!

Thank you, Maurice and team, for a magical day! It was better than we anticipated. The garden was breathtaking. Maurice made everyone feel right at home and even walked my mom out to her car, he is a delight!
Are you interested?
Send a message