61 Reviews
Recommended by 100% of couples
Quality of service

5 out of 5 rating

Average response time

5 out of 5 rating

Professionalism

5 out of 5 rating

Value

5 out of 5 rating

Flexibility

5 out of 5 rating
25 User photos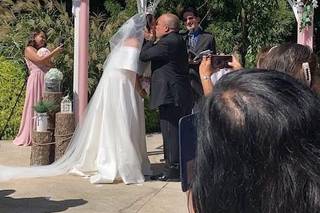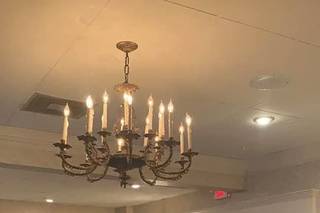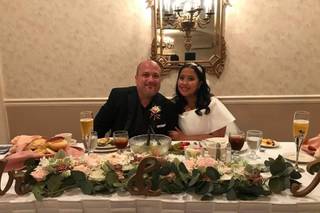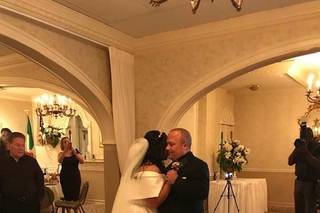 + 21

photos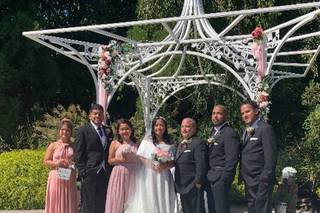 Laurie

Married on 06/04/2022

Wonderful Experience

As the mother of the groom, I can say that this venue was the perfect place for a wedding! The food was exceptional, as was the staff! I wasn't involved in all of the details of planning, but I felt that everything went smoothly through the evening. We had a very memorable experience and I would love to visit here again. Thanks to everyone at Merighi's Savoy Inn!

Merighi's Savoy Inn's reply:

Thank you Laurie! You make all the hard work and stress worthwhile by writing the kind words you wrote above. I truly appreciate it and hope to have you back again very soon at the Savoy Inn. Best of luck to the new bride and groom! Sincerely, Tom Merighi, Jr.

Joshua S.

Married on 05/21/2022

Great food and Great service

The whole team at the Savoy was great!! Tommy was awesome throughout the almost 1 and a half year process. It was almost 100 degrees and about 200-225 guest that day and the service from the staff was amazing!! They provided an abundance of great food in a timely fashion and did a great job of cleaning up. Couldn't have asked for a better experience. Thanks again you guys were great!!

Merighi's Savoy Inn's reply:

Josh- thank you so much for taking the time to write this review of our catering services. Josh's wedding was outside at his family's house and what a day it was! The tent looked wonderful! The bridal party was fun and sharp! And although it was hotter than......it still was a fun, exciting and memorable day for all. Thanks again-we don't get many grooms who write the review so that makes it even more special to us. All the best and see you soon, Tom Merighi, Jr.

Melea B.

Married on 09/26/2021

Outstanding Venue, Staff & Food!!

We got married last 09.26.21 and had our ceremony & reception in Merighi's. THEY. ARE. THE. BEST. The Gazebo/garden area is just lovely. To be honest, no need for decorations at all. But we still had some decors and Tom & Leann pulled it off. FOOD is phenomenal. The servings are big. All guests were raving how awesome the food were. The best!! The staff (special mention to Leann) are amazing. They were friendly. As a bride, they made my life easier. I can say, it was a stress-free day both for me and my now-husband. Tom was hands-on. He, together with his staff, pulled it off. They exceeded our expectations!! So if you're looking for TOTAL PACKAGE, you'll never go wrong to have your events at Merighi's Savoy Inn. They are exceptional and good value of money. Quality is outstanding.

+ 8

photos

Are you interested?

Send a message

Rich I.

Married on 09/26/2021

The best venue for a wedding ceremony and or reception...

We highly recommend Merighi's Savoy Inn. Their professionalism, attention to detail and GENUINE care made our day so, SOOOO perfect! Their food is just phenomenal as well. You will NOT regret hiring them for your special day.

Shelby W.

Married on 09/25/2021

Perfect Fall Wedding!

I just had my dream wedding last Saturday, the 25th. I cannot possibly say enough good things about Tommy and the Savoy Inn! From start to finish, Tommy kept my now husband and myself completely stress free. He took our vision of a Fall wedding and brought it to life! Him and his team were on the BALL! From cocktail hour through dessert, our friends, family members and loved ones were taken care of and didn't have to ask for a single thing! I was told by many, many guests how prompt and considerate the staff was. We are frequent customers at the Savoy/Lunas outdoor grill and I have to say we've NEVER been disappointed with the food. No matter what we asked for, Tommy made it happen!!! From appetizers, salad, carving stations, 2 full buffets and 2 premium open bars - you cannot beat the price. The cost was beyond reasonable.
We honestly would of paid 10 times the amount for the service and food provided because it was worth it. Always a job well done! Bride, groom and guests were very happy and we had a beautiful event!

Michelle W.

Married on 09/17/2021

Outstanding

Let me just start by saying I am 56 yrs old and had never been married, so I had envisioned this day for a longtime and can honestly say that it was everything I had envisioned and more. I didn't want a traditional wedding I wanted something magical and that is just what I got from lighted lanterns hanging from the ceiling to the beautifully decorated tables with linens that I chose from a plentiful catalog of swatches that were absolutely elegant. I did have a private decorator that Tommy had recommended who was fabulous and worked together with the Savoy Inn to make my vision come true. The Savoy made everything untraditional I wanted come true from transforming there Savoy Gardens where most people get married at into a beautiful magical outdoor event. Tommy went above and beyond to make this transformation possible. He rented tents, tables , chairs and even an outdoor bar for my event. He had the gardens sprayed so my guests did not get all bit up and even got me a golf cart with a driver so my guests didn't have to walk back and forth to use the restroom which made for some awesome pictures and loads of fun. The food was absolutely wonderful and one of my guests stated that they didn't even need dinner because the butlered appetizers never seemed to stop coming. The staff was very professional and dressed very impressively. I must say I am not a wine drinker at all but at one point of the evening I was craving some cold to drink and the bartender handed me a glass of White Sangria that had come from a large fruit filled urn that was placed at the bar for my guests that was absolutely delicious. The filets were cooked to perfection and the crab cakes that were loaded with crabmeat were to die for. More than a few of my guests have commented that it was one of the best weddings they had been to in a long time, that it was very elegant and intimate and the food was outstanding. So let me close by saying if your wanting something different or traditional Merighi's Savoy Inn should definitely be on your list of venues to check out, you won't be disappointed. Thank You Tommy Merighi and the staff of Merighi's Savoy Inn for making a magical event come true.
Mike and Michelle Pierce

Debbie G.

Married on 02/09/2020

Five star wedding venue

Lauren and Kyle
September 14, 2019
Our daughter's wedding reception was held at Merighi's Savoy Inn. Pictures after the church were also at the Savoy outside at their garden area. All I can say it was a fairy tail experience. Tom Merighi is the most amazing person you will ever have the pleasure of meeting and working with. His professionalism and pride he has for his business is truly awesome. The Savoy ballroom is a beautiful perfect place for a wedding. First the cocktail hour with delicious hors d'oeuvres, then dinner. we chose the food stations which could be whatever you want. Then the most amazing desert display I've ever seen. Everything and anything you want Tom Merighi makes it happen. We didn't have to worry about one thing from the day we booked the date to the amazing wedding day. We felt more like family then a customer. People attending the wedding were saying it was the most beautiful, eloquent wedding they've ever been to, with the best food and drink.
Thank you Tom and staff for making our daughter's wedding a true fairy tale from start to finish. We love Merighi's Savoy Inn. Don't hesitate to book your wedding or any affair with Tom Merighi.
FIVE STAR *****


Phyllis B.

Married on 10/27/2018

Outstanding!!!!

My daughters' wedding reception was held at Merighi's Savoy Inn in Vineland, on October 27, 2018. What an experience!!! This venue surpassed all of our expectations, starting with the planning dinner, to the rehearsal dinner and the grand finale, the reception. Tommy was nothing but respectful and accommodating thru-out the whole planning process. Tommy made my daughter feel relaxed and allowed us to enjoy what can be a very stressful time, planning a wedding. The night of the reception surpassed all of my daughter's expectations and then some (She screamed right out loud when she saw how magnificent the ballroom looked). The staff was professional and friendly, and Tommy was hands on at all times, nothing was too big or too small if requested. The most stressful situations for the bride and family were never experienced due to Tommy managing all details with professionalism, which allowed us to enjoy our guests and the experience. Through-out the night our guests were complimenting the venue itself, the atmosphere, the high quality of staff performance and the outstanding quality of food. The whole affair was amazing, my husband and I look forward to enjoying the high quality of food and service in the restaurant, the Bistro.
Again Thank You Tommy and The Savoy.


Tim

Married on 11/11/2017

My wife and I had our reception in the Rose Room at the Savoy. We had around 90 people and the size of the room was perfect. The room looked fantastic once dressed up, food and staff were amazing, and the whole event was well coordinated. Tom makes sure everything goes off without a hitch, and the price is unbeatable. I would recommend this venue to anyone getting married in South Jersey.

Jes

Married on 09/09/2017

Tommy did more for us than develop the dining aspect of our reception. Although our wedding was off-site, he still made the same effort as if the event was being held at his own venue. He did many site visits, spending time discussing even the day-of sched & logistics.
Mostly, the caterer is only concerned with food, but Tommy is very detail oriented and he brings the perspective as if he is one of the guests--this helped w/ lots of decision making!
He's also very communicative and is keen to discuss ideas!
If you're looking for someone who's passionate about making your wedding feel authentic to you, you should book Merighi's, because it was a decision I do not regret at all. The charcuterie, dessert, and buffet table were all perfect -he doesn't just put the food on the table, but lays it out in an aesthetically pleasing way--these are details I appreciate. And of course, cannot forget to describe the food. We had his chefs do some grilling on site, and the guests loved the food, it all tasted fresh & delicious--especially the grilled salmon!

Overall, Tommy worked closely w/my husband & I and our vendors--and was a positive person. I am glad we hired Merighi's Savoy Inn for our reception! * highly recommend* (see full review on their FB page ) Jesmin & Brian


+ 5

photos

Joann

Married on 11/18/2016

My husband and I would like to take this opportunity to thank Tommy Merighi and his entire staff for all their hard work in making our daughters wedding a night to remember! The food and service was on point! Some of our guests from the wedding have contacted us saying everything was amazing! So thank you from the bottom of our hearts for making our daughters wedding one for the record books! If you're looking for a place to have a event Merighi's Savoy Inn is your place to go. The personal touch the they give can not be beat! Our affair was definitely five star!!!! Thank you again Joann & Jim Pruitt!!!

Heather

Married on 11/18/2016

They staff at the Savoy were amazing for every aspect of our wedding,from the meetings before the wedding to the rehearsal to the Big Day. I said back in January we were getting married and we did and it was amazing. I recommend the savoy for any type of family event especially a wedding. Love The Manera's

Laura

Married on 11/12/2016

Indescribably amazing. When the owner walked up to me and wiped the cake smashed on my face... that shows true service and care. Being out of state during the entire process I had NO WORRIES about anything with Tommy running the show. Special Thanks to Joyce and the staff who took such amazing care of me and my husband!

Frank

Married on 11/12/2016

From beginning to end, Tom made our family and especially our daughter feel special and provided excellent service; from food to guidance and this was the best experience we could have asked for.

Kelly

Married on 10/01/2016

Amazing Experience!

We would recommend Merighi's Savoy to anyone looking for a venue for their special occasion… especially a wedding. My husband and I had our reception in the Rose Room and it was more than we could have ever asked for. From the beginning everyone was so helpful and hands on, especially Tom. At one point I was having one of my several wedding meltdowns and he told us to come right into the restaurant and talk, even though there was a bad storm going on. The restaurant lost power 5 minutes into our meeting and he just lit extra candles and kept going until everything was sorted out. Tom was always so helpful every time I had concerns or anxiety about anything… he diffused a lot of my freak outs, which my husband certainly appreciated.
The reception space also looked AMAZING on our wedding day… We just dropped off totes of stuff and gave Tom a general idea of what we wanted and boy did he deliver! Better than we imagined… He really does know how to set a room :) . The night went by flawlessly because Tom had everything planned out. There were servers waiting with drinks and apps when we arrived from pictures, and he just directed us where to go for the rest of the night and we were free to enjoy it all without worry. And the food!... People are still talking about our wedding and how amazing the food was… One of our entrees was the bacon wrapped filet of sirloin, but it was such a nice cut that everyone thought it was filet Mignon! We could not be happier with our experience with the Savoy and plan to have all our future special occasions there… we even try to return weekly for dinner. Our day was literally perfect, thanks to Tom and everyone at the Savoy!

I absolutely love that I had my wedding reception here. Even though it was 45 minutes from our church, I would still pick it again. Tom was amazing and so was his staff. Unlike other places, we dealt with Tom, and ONLY Tom. Food was delicious, guest even commented how good the food was. Tom made sure everything ran perfectly. After my husband and I cut our cake, Tom came with a warm towel and helped clean me up. Totally recommend this place!!!

Merighi's Savoy Inn's reply:

Thank you so very much for taking the time to review our venue and wedding services. I'm not even really sure who this is, but would like to know. Nonetheless, best wishes from your friends at the Savoy Inn and the Merighi family. Make sure you come in and see us soon. Tom Merighi, Jr.

Caroline

Married on 11/14/2015

My husband and I just recently returned from our honeymoon and wanted to take this time to express our thanks and appreciation to Tommy Merighi (owner and wedding coordinator of the Savory Inn) for making our wedding reception absolutely perfect! Everything from the wonderful cocktail hour and amazing hors d'oeuvres , to the delicious sit down dinner and dessert buffet was fantastic. Mr. Merighi was very gracious and professional from our first meeting and became more like a friend by the day of our wedding. He listened to every single detail and idea we had and followed through on each one. My husband and I, and my family, are so glad we chose the Savoy Inn for our very special day. We are still getting calls from family and friends about what a beautiful and intimate reception we had. We only wish it did not go by so quickly!

Thank you Mr. Merighi and your wonderful staff for making our wedding so unforgettable.
Sincerely,
Mr. and Mrs. Robert Blough

Merighi's Savoy Inn's reply:

I wanted to thank Caroline and Robert for letting us be a part of their very special day. It was a pleasure working with you both, and also Caroline's mother on the details of the wedding. It was a GREAT time, the room looked beautiful, and everyone really seemed like they were enjoying themselves and one another. I wish you both all the happiness and success that life can bring. Hope to see you again very soon! TM

Sarah

Married on 10/17/2015

My husband and I had our reception at the Savoy on 10/17/15. When we were first engaged we did some looking around however, no one compared to the Savoy. My sister had her reception there 6 years prior so I knew first hand what an extradonary job Tom and his staff do. From the time you book your date you won't have to worry about the thing, Tom truly has everything under control. He already knows all of the questions you have and even the ones you don't know to ask. Since we have returned from our honeymoon several of our guests have reached out to us to rave about the food, service and appearance of the banquet hall. The entire staff goes above and beyond to make your special day even more than you could hope for. This is a family owned buisness and it shows. They take pride in their reputation and I highly recommend Tom and his staff for any special occasion no matter how big or small!

Merighi's Savoy Inn's reply:

Sarah- thank you so very much for taking the time to write a review of our services. More importantly, thank you and Cheyne for entrusting the most important day of your lives- to us! Years ago, many sisters and brothers of our brides and grooms would come back to host their own receptions at the Savoy- meaning we did multiple receptions in the same family. Today's bride and groom seems to always be searching for something different from what their siblings did! The fact that you chose use- really makes me happy because we have a very special bond with your family that will never go away! Your mom, Roxanne, your sister and brother in law, even your step dad will always be so much more than just customers! I look forward to the next special event in your life- and you know I'll always be there if you need me- for anything! See you soon in the Bistro! Luv you guys!

Stephanie

Married on 10/10/2015

We were so glad that we chose the Savoy for our wedding reception. Tom and his entire staff were absolutely amazing!! Tom made our reception absolutely perfect, most brides are stressed to the max when their wedding is getting closer but not me. My wedding planning and reception went so smooth and I was not stressed one bit. We were able to enjoy our special day without any worries what so ever. Every question I had was answered promptly and professionally. Tom had great ideas but also listened to our ideas. Everyone of our guests said that our reception was the best that they have ever been to. I definitely give Tom and his entire staff at the Savoy 5 stars. You definitely won't be disappointed!!!

Genevieve

Married on 09/26/2015

Tom gave us undivided attention to all of our questions,gave us recommendations on ideas, timing, where to go for cake, music, and when to send invitations. Everything was handled like we were the most important event that he had ever planned. We felt like family. He stays through the whole event to make sure every detail is handled correctly and on time. The food was excellent. The whole affair was beautiful. Thank you Tom for making our special day FANTASTIC!!!!!


Merighi's Savoy Inn's reply:

Genevieve- it was truly my pleasure to work with you on Michael and Lydia's wedding reception. What a fun, fun wedding reception! Thank you for entrusting a very important day in your lives to us! My staff and I look forward to many more happy occasions in the future! Thanks again, Tom Merighi, Jr.

Bunny

Married on 05/30/2015

Very professional and patient....Experienced and a delight to work with.

Carol

Married on 05/09/2015

Dear Tom,
Just wanted to thank you for a wonderful day. Everything was perfect. The room looked beautiful. The food was outstanding. Our guests enjoyed the most scrumptious display of food at the cocktail hour right through their delicious entrees and dessert. Your attention paid to our event was priceless. Your staff of chefs, servers, bartenders were all very friendly, attentive and efficient.
Thank you again. Merighi's Savoy Inn knows how to do it right!
Sincerely,
Greg and Carol Kuhlen

Teri

Married on 11/08/2014

PERFECT in every possible way! Tom was fundamental in ensuring a perfect start to our happily ever after. From beginning to end, Tom and his enthusiastic and helpful staff took care of every detail of our wedding reception. I would give more stars if I could as they exceeded my expectations and created a picture perfect memory. Tom's suggestions were magnificent, from food to band...our family and friends will still be raving about our wedding for a long time!!

Merighi's Savoy Inn's reply:

What a wonderful reception Teri. Best of luck in your new life together as a family. So very pleased and honored to be a part of this important chapter in your lives. Hope to see you again very soon. TM

Allysa

Married on 10/11/2014

This Savoy Inn was defintely the perfect choice for our wedding. Tom Merighi Jr was beyond helpful and understanding to our needs. He truly made sure our day was perfect and I couldn't have done it without him. Perfection is his main concern and that is awesome in my book. Everything flowed together so well. He keeps in contact with you and is there to answer any and all questions. You will not be sorry with your choice to have any event here. Go Tom!!!!!

Merighi's Savoy Inn's reply:

Allysa- aren't you on your honeymoon in Italy as you type this review?? Thank you so much for taking the time to review our catering services. It was truly an honor working with you and your husband on your wedding reception. Allysa and her guests came to us from Philadelphia and she told me she looked North, West, South and East of the city. She finally decided the Savoy was her spot. We hope to see the new Mr. and Mrs. Cain back at the Savoy Inn very soon. Best of luck with your new life together. Sincerely,
Tom Merighi, Jr.

Cheryl

Married on 09/27/2014

I'd like to thank Tom and the rest of the staff who worked so hard to make our day special. Tom (the owner) was professional, informative and detail-oriented throughout the planning process. The prices were very affordable and I heard from many guests that the food was great! *Note to brides: The more organized you are, the easier it will be. Tom was very involved in all aspects of the day, which allowed me to focus on other things because he knew what was happening. I would definitely recommend The Savoy as a wedding venue.

Merighi's Savoy Inn's reply:

Cheryl- thanks so much for taking the time to write a review for us- and so quickly after you were married. What? No mention of the Tuna Cake? LOL

It was my distinct pleasure working with you, Dave and all parents on your very special day. I hope to see you again soon out here at the Savoy Inn. Best wishes to both of you in your new life together. Tom Jr.
Are you interested?
Send a message