24 Reviews
Recommended by 100% of couples
Quality of service

5 out of 5 rating

Average response time

5 out of 5 rating

Professionalism

5 out of 5 rating

Value

5 out of 5 rating

Flexibility

5 out of 5 rating
Awards
13 User photos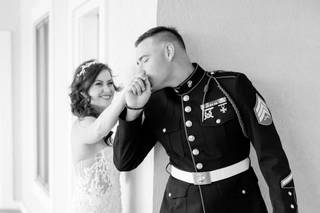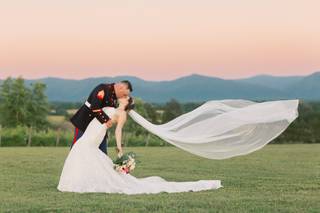 + 9

photos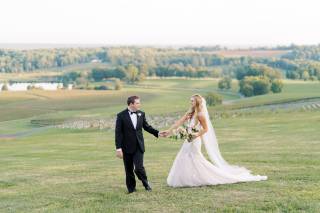 Samantha P.

Married on 06/18/2022

Picture Perfect Day

Meredith and her team are the perfect blend of professional and personal. From the very beginning of the booking process Meredith answered any questions I had and calmed every wedding planning nerve. She provided quick responses and was supportive and encouraging throughout. She even sent a gift after booking with her which included a book of tips and tricks to make photos go smoothly. Her team made us feel very relaxed during the photography process which allowed for genuine moments which were captured flawlessly. I couldn't be happier with booking Meredith and her team, and highly recommend them to anyone who wants to fall in love with their wedding photos again and again!

Emily M.

Married on 10/02/2021

The best!!

Meredith is simply the best!! We are so thankful that she captured our wedding day!! She is the sweetest person and an insanely talented photographer! All of our wedding photos are beautiful and we really feel like they capture the emotion and essence of the day. She went above and beyond throughout the entire process and we can't thank her enough!!

Caroline H.

Married on 06/26/2021

Perfect decision!

Photography was one of our most important vendors, and I can't imagine not going with Meredith. From our initial phone call I could tell she had a really happy, positive attitude and I felt she would make us very comfortable on our wedding day. We took engagement photos right after our engagement so we didn't do an engagement shoot beforehand. We met Meredith for the first time on our wedding day and she made everyone involved in the wedding feel so comfortable. Meredith was so flexible and positive during the day and made us both feel so relaxed during all of the photos.

Obviously, the main reason to hire a photographer is for their photos, and Meredith's photos were above and beyond our wildest expectations. We've only gotten our sneak peek back and cannot believe how well Meredith captured our emotions and feel of our day. We can't even pick our favorites just from the sneak peek, and we are so excited to get all the photos back!

We recommend Meredith without hesitation for anyone looking for a photographer. Her photos were absolutely amazing and our family and friends were absolutely blown away. Hawaii is so lucky to have her talents and wish she was staying local so we could do anniversary shoots with her!


Are you interested?

Send a message

Liz C.

Married on 11/02/2019

Best vendor choice I made

Meredith was the best vendor choice I made during the wedding planning process. The photos she produced from the day were EPIC and she did an outstanding job of capturing every detail of a very fast paced day. At one point we were way behind schedule due to my hair and makeup and she was the one to calm me down and assure me that things were totally fine. And you know what? They were fine thanks to her ability to be flexible and make it happen no matter what. I'm known to have a critical eye and usually find something I would change, but not with these pictures. She killed it and I highly recommend her to any bride out there! If you're reading this, she's your girl, no doubts about it.

Meredith Sledge Photography's reply:

LIZ, I love you!!!!! You're so sweet!!

Emmy B.

Married on 09/28/2019

Amazing and Genuine

The best word to describe working with Meredith is amazing. If you want someone who will make you feel like a model and 100% comfortable in front of a camera, then Meredith is your girl. Not only does she make you feel comfortable, she gives the highest quality of photos you could ask for, while going above and beyond what I ever thought a photographer would do. She will help with timelines, keep a nervous bride calm, and lets her genuine bubbly personality shine through. There are too many positive things to name about Meredith in a simple review, so I'll just leave my recommendation to have her be a part of your wedding team!

Meredith Sledge Photography's reply:

Emmy, you're the SWEETEST!! This just made my day!!! I have so many sweet emotions when I think of your beautiful wedding day and man, I am so glad I got to be a part of it!

Grace

Married on 11/27/2018

Senior portrait

Meredith's work is incomparable. The way she enhances natural beauty by capturing people from their best angles and works with lighting leads to an incredibly pretty and polished result. She also is a very upbeat and warm person so working with her is never dull or uncomfortable.

Mia

Married on 09/08/2018

Where to even begin...? Meredith clearly has such talent and such passion and it shines through in all she does. We knew we had picked the right person as soon as we met her. My new husband is not someone who enjoys getting pictures done, but Meredith's warm, kind and open personality helped with any weird feelings from being in front of the camera. We got so many compliments on our photos from our engagement session and so far we have one sneak preview from our wedding and it is EPIC. Meredith's eye for excellent framing is just outstanding.

She is worth every penny, and we will continue to book her for anything we need and will sing her praises to all our friends because if you want the best, you need Meredith.

Annie

Event on: 10/19/2017

Meredith took my senior pictures near the end of October, and I loved everything about my experience. Meredith is so sweet and genuine and she made posing in front of the camera so easy and fun. She is incredibly talented and she creates such beautiful content. I am so so happy with how my photos turned out and I would highly recommend Meredith to everyone.

Devon

Married on 10/14/2017

Meredith is truly amazing! I couldn't have asked for a better photographer for our wedding day! She captured every spectacular moment with the most breathtaking photographs. In addition, she has a wonderful personality and helps to make your day as stress-free as possible! She is SUPER fun to work with and helps you relax for the camera. You can see the personality of our loved ones in each picture, and you can tell that she takes pride in what she does. Thank you Meredith for capturing the best day ever!

Jessica

Married on 09/30/2017

Meredith is absolutely amazing! Her work speaks for itself but she's also super sweet, responds faster than I can type, and is super organized. We loved receiving her welcome book. It was so helpful in starting to put together a timeline and understand what a wedding day looks like for the bride. We both had never had professional photos taken before so we didn't know quite what to expect for the engagement photos but we had so much fun. Seriously my husband commented afterwards how much fun it was! We love Meredith's style of shooting which is action based, meaning your moving around walking, dancing, or twirling instead of trying to hold a stiff awkward pose. All of our photos turned out beautiful and really reflect who we are as a couple. I'm struggling to pick my favorites from our wedding day because they are all so good! She was also able to capture some amazing candid shots from the reception and didn't miss anything that happened throughout the day. We're so so happy we booked Meredith!
Our wedding was 9/30/2017 at the Birkby House in Leesburg.

Julia

Married on 09/23/2017

If you're on this page right now, you've officially found the best photographer ever. I mean it when I say Meredith Sledge Photography is phenomenal!! Her vision is so amazing, no matter your venue she truly finds the best spots and is the perfect person to trust with your big day! I chose Meredith for so many reasons but one important reason was her ability to make my fiance and I laugh. Part of the battle of finding a photographer is will my finace be comfortable with them and I can truly say ABSOLUTELY with Meredith. She immediately makes you feel at ease and can get the best laugh out of anyone!! She is also on her A++++ game when it comes to creating and maintaining a timeline. She always offers great advice on ways to adjust timing so that you can get the most out of your photos and really enjoy your wedding day.
Most importantly she takes the most beautiful photos! Her work will hang in our home for decades to come and I'm so thrilled with all of the amazing photos. From the beautiful details to portraits of us alongside our getaway car, Meredith is the best in the business and she's going to give you photos that you can cherish for life. BOOK HER!!!!!!

Jessi

Married on 09/02/2017

From start to finish, Meredith was right there to capture our joy. She traveled to Maryland to shoot our engagement photos in 100+ degree heat and somehow managed to maintain her infectiously positive energy and make they pictures turn out effortless and magical. Our wedding day was cold and rainy due to Harvey but Meredith brought the same huge smile and happy attitude. She made us feel like old friends so we felt comfortable despite the gloomy weather and other wedding day stresses. Somehow she managed to capture every single important moment. Her editing style is dreamy and ethereal and the misty day really added to the effects. She kept her calm while wrangling our difficult family and guests. Meredith's detail shots were so well composed and creative. I could go on forever but I will end by saying that hiring Meredith was one of the best investments we made. Book Meredith Sledge, you will not regret it!

Jamie

Married on 08/09/2017

Meredith captured my son perfectly for his senior pictures. We could not be happier.

Lisa

Married on 10/22/2016

Do yourself a favor and hire Meredith Sledge! She is an amazing photographer and I am so happy we hired her for our wedding!! Meredith put us right at ease from the very beginning during our engagement shoot, making us laugh and feel comfortable in some of what felt like the most awkward positions. But the pictures came out amazing!! From then on I knew to just trust her when she told us what to do because she would make it look great. Her personality is like sunshine and her photography is really fantastic - I've already received my wedding photos (only took a month!) and we receive countless comments about how great they look. Thank you Meredith for capturing all of the special moments of our big day (and those leading up to it)!

Maddie C.

Married on 06/25/2016

Amazing, warm, talented photographer

Meredith exceeded our expectations for a wedding photographer. It was wonderful getting to meet her ahead of time for engagement shots, so by the time the wedding came it was more like a friend shooting our day than just a photographer. Her enthusiasm for us on our special day made us feel comfortable and added to our own excitement. The photos she delivered are unbelievably amazing and the impression she left even better. I hope to have her shoot for us someday in the future ;)

Meredith Sledge Photography's reply:

Awww Maddie, I miss you guys!!! Thank you for your sweet words!!! Your wedding day was a blast and I am so thankful for you two!

Emily

Married on 01/02/2016

Meredith never took more than 24 hours to get back to me, was incredibly flexibile, and went above and beyond during our shoot AND after. Hiring Meredith for our anniversary pictures was one of the best decisions EVER! Only wish I found her before my wedding!! Our pictures are absolutely amazing, and you will not be disappointed. Thanks Meredith! :)

Rebecca

Married on 10/11/2015

I was referred to Meredith by our caterer and am so happy I was. Meredith was a dream to work with and made the entire experience amazing. In addition to shooting our wedding Meredith did our engagement session. She is a light-hearted and wonderful person and made every session great.

Anna

Event on: 08/05/2015

Meredith is amazing. She tells you exactly how to pose, and make you feel beautiful.

Heather

Married on 07/11/2015

Meredith was the absolute best to work with. She took our engagement photos as well as our wedding pictures and we could not have been happier with the outcome. I really can't overstate how easy it was to work with Meredith and how comfortable she made us feel from the start. She was always easy to get in contact with and super happy to answer any question (no matter how small) that I had. She captured our wedding day so perfectly and I felt like I was re-living the wedding as I was looking through them. I honestly couldn't decide which ones to print for our house! I would absolutely recommend Meredith to anyone looking for a wedding photographer!

Mikayla

Married on 05/23/2015

I cannot speak highly enough of Meredith and her wonderful photography!!! The photos she took during our wedding are better than any photo I've ever seen in a magazine... the quality of her work and her keen eye for lighting and the composition of a photo is truly AMAZING! I am seriously the happiest bride ever! I've looked though our wedding photos so many times with my new husband and family and without fail someone starts crying because she captured our special moments so perfectly it brings us back to the emotion of the wedding day! From the first email I received from Meredith I could tell she was going to be very organized and make things go smoothly! I did not hire a wedding planner, and I feel like Meredith sort of filled that role for me with the awesome timelines she made. I followed all her suggestions regarding timing of things for the ceremony/reception and they turned out to be great ones! She has a very sweet personality and it makes it so easy to feel comfortable posing for photos. She did such a good job of directing our body positions for the shots that we felt so relaxed and natural. I could seriously go on and on about how thrilled we are with our photos, but instead I'll say this: do yourself a favor and hire Meredith as your wedding photographer and I promise you will not regret it! Worth every penny and then some!

Rachel

Married on 01/01/2015

The Real Deal

I have had the privilege of shooting alongside of Meredith as well as being photographed by her. She is professional, kind, and confident. She is incredibly talented at not only the technical side of photography, but also in styling and assisting others in feeling comfortable and confident in front of the camera. She is a rare gem in the photography industry and I am so grateful to have been photographed by her!

Mary

Married on 11/08/2014

My husband and I were SO SO SO happy and thankful that we chose Meredith as our wedding photographer! First, the pictures were spectacular! She took photos across so many settings and scenes, we have an amazing variety of pictures! Second, Meredith is extremely easy to work with. She is very kind, friendly, and professional. While she exudes confidence, we felt the entire time that she understood what we wanted and listened to us. She also encouraged us to do different things during our wedding day that we had not thought about. Looking back on the photos and during the wedding day, we are SO glad we listened to Meredith. She was absolutely outstanding! Meredith is also very reasonable. She works very quickly and gets you the photographs quickly! They are stunning images! Meredith is such a talent and we are SO thankful to have found her! Again, she is a lovely person and I would recommend her to every bride getting married!!! THANK YOU Meredith for documenting our wedding day so well - we will treasure the pictures forever!

Sarah

Married on 10/25/2014

Meredith did our engagement and wedding photos and we could not be more pleased with the outcome! Not only are her photos great, but working with her was always a pleasure. She does a great job of making you feel comfortable in-front of the camera and makes the whole experience really fun. We suggest Meredith to everyone we know- she is great and extremely talented!

Tiffany

Married on 06/15/2014

I cannot say enough positive things about Meredith Sledge! She and her assistant made our day so special. She is also a tremendously gifted and talented photographer whose passion for her work and love for with natural light shine through in every picture she takes. She has a special way of capturing emotions and natural beauty; looking at her pictures transports me to the moments of our big day, and I am so happy I had the opportunity to work with her. Meredith is so positive, affirming, and sincere - she put me at ease and made me feel like a movie star! From our first planning meeting, my husband and I knew that we had found the perfect photographer for our wedding. We were so happy to work with her for our engagement session at the University of Virginia; she made us feel comfortable and captured special moments between us. On our wedding day, she was professional and also fun. We love the work she did for us, and we could not imagine working with anyone else!
Are you interested?
Send a message