140 Reviews
Recommended by 100% of couples
Quality of service

5 out of 5 rating

Average response time

5 out of 5 rating

Professionalism

5 out of 5 rating

Value

5 out of 5 rating

Flexibility

5 out of 5 rating
35 User photos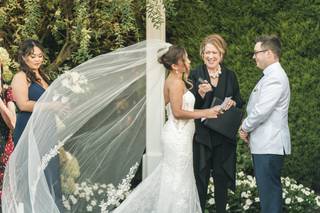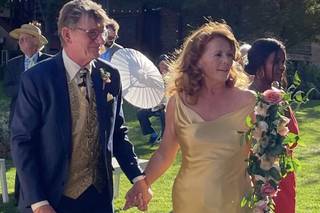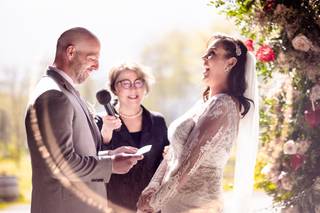 + 31

photos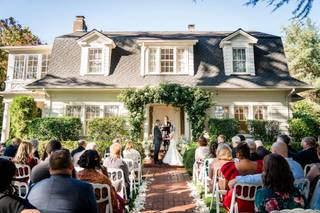 Featured

Ellie L.

Married on 08/20/2022

You will NEVER regret working with Melissa!!

We found Melissa online while looking for a officiant to marry us mid summer of 2022. We reached out to several, and Melissa was one of the first to respond. She caught our attention quickly with her alternative way of working. She is methodical, approachable and really goes into depth with her processes. After meeting for a zoom call, we knew she was the best choice. Melissa takes the time to careful craft every email to you, makes herself available via call or in person meeting and was kind enough to offer to open her home to us to meet. We spent the next 6 months crafting our ceremony from square 1. Melissa provides wonderful recommendations of readings, rituals, poems and blessings that you can choose to add to your customized ceremony. We chose two readings that she added to our ceremony. She then sent over some homework for us to talk about our love story. She took both sides, and melted them into a perfect fairytale love story to share to our loved ones on our special day. We were able to read it ahead of time, make any changes we wanted and she was happy to adapt in any way. The first time I read our ceremony, I burst to tears. I was so excited to show our friends and family our love story, and how we got to our big special day.
On the day of our ceremony, Melissa showed up on time and ready to go. She printed out schedule hand outs for all of our vendors, introduced herself and was very professional. The ceremony was my absolute FAVORITE thing about our wedding. And every friend and family member I spoke with that night RAVED over it. It was a hit for everyone in attendance, sharing they had never been to a wedding with a ceremony like that. Melissa's personal recommendation for us to do integrated vows were something no one had ever seen, and it made our wedding even that much more special.
All in all, I cannot recommend Melissa enough! If you are on the fence and looking to save money and considering going elsewhere, this is your sign to move funds around to make Melissa work. She was an integral part of our day, and I will never forget the wonderful work, effort and thought she put into my Husband and I. She made the day not only meaningful, but easy with the filing side of things. She filed our paperwork immediately and ordered copies on my behalf. I had them in the mail within a week thanks to her urgency! Melissa is worth every penny, AND MORE! Seriously, this is your officiant!

Melissa Coe Ceremonies's reply:

Ahhhhhhh, Ellie! I loved working with you both and actually, it wasn't work at all but pure joy!!! The two of you, your love story, and desire for everyone there was incredibly moving and meaningful. THANK you for the delight of being your Officiant - I loved every second!!!

Parker G.

Married on 11/05/2022

Melissa Coe is the Best Decision You'll Make

Having Melissa be the officiant for our wedding was hands down one of the best choices we made. From the introductory zoom call, to each correspondence she had with us getting to know us & the detailed time, effort, energy and love she poured into our ceremony, Melissa took any and all of our stress about the ceremony away. She truly cares about you and wants to know your love story - that was clear to us and all our guests. Melissa expertly customized a ceremony to us and made sure every detail was unique and perfect!
We had SEVERAL come up to us after the ceremony and comment on Melissa's ceremony and how she was the best Officiant they've ever heard. We simply cannot imagine our day without her!

Luke W.

Married on 09/23/2022

Great Experience

It was an honor to have Melissa as our officiant. She is very responsible and very helpful. She is a life saver on the day of our wedding! We highly recommend her for any type of wedding! She is great at everything!

Melissa Coe Ceremonies's reply:

Oh, Luke! You and Princess are perfect together and so much fun to work with! I LOVED creating your ceremony and have never laughed so hard as I did when your "Flower Guy" worked the aisle! Thank you both for a memorable and very fun wedding day, and thank you for choosing me to be your marrying lady!!!

Are you interested?

Send a message

Annie H.

Married on 09/17/2022

Melissa made our wedding AMAZING!

We knew we wanted to hire Melissa from the first 5 minutes of our first zoom call. Her presence was warm, welcoming, and inviting and we knew she would be a great public speaker. We were not disappointed. Melissa exceeded our expectations. She made the whole process collaborative, fun, and easy. We ended up with a totally custom ceremony that fit us perfectly. We would 100% recommend her.

Melissa Coe Ceremonies's reply:

Annie and Gabriela - your wedding was one that gave me an overflowing heart and smile - it was so full of love, intention, sincerity, and pure joy to participate in and witness. Your families and guests were warm, accommodating, and palpably excited to see you marry the love of your life! Joy, joy, and joy to you both with my thanks for the honor!

April S.

Married on 09/07/2022

What we wanted - and didn't want!

We were not youngsters, having both been married before, we knew what we wanted - and what we didn't want. This was compounded by my being an event planner. I have opinions, as does my groom. And yet divine Melissa was able to gently, firmly, kindly and creatively direct us to where we wanted to go and to what we most wanted to do, experience, and share. What an incredible gift! Our ceremony was absolutely perfect.

Melissa Coe Ceremonies's reply:

It is the highest of compliments when one professional asks another to represent them and their story on their wedding day - one of the most important days ever hoped for or experienced. I knew, respected, and valued April & Rob's creativity, intentions, and objectives and I was thrilled to accommodate! As a couple, they were resplendent, exuberant, and totally heads-over-heels in love at finding their forever love. Exactly and precisely what every couple hopes to have, OMG - such joy to be their Celebrant and Officiant - thank you forever!!!

Mary W.

Married on 06/29/2022

Melissa is a gem!

Melissa helped us to make our wedding day so very special: the ceremony and vows suited us perfectly. Melissa was very flexible and responsive, and--as we had absolutely no idea what we wanted our ceremony to look like--she was essential in helping us create a memorable, fun, and very personalized ceremony. It was an above-and-beyond experience, all with a lot of warmth and a great sense of humor.



Melissa Coe Ceremonies's reply:

So many thanks to you and Jonathan for your lovely review - your wedding was intimate, joyous, tearful, giggly, and everything in-between. In other words, perfectly you. Thank you for the delight and honor of being the one chosen to marry you both - I loved every minute!

Cathy L.

Married on 06/18/2022

Great officiant, made the wedding perfect

Melissa did a great job with our wedding. We had a small casual wedding but wanted to make sure it was clear how important the day was and how important our friends and family were to us. Melissa helped us craft a ceremony that fit all of our needs. We have a religious family but aren't' ourselves religious, and she also helped us navigate that. Ultimately, Melissa was one of the aspects of the wedding we received the most compliments about - she did a great job and really made our day special.

Melissa Coe Ceremonies's reply:

So many thanks, Cathy for your kind words! I loved marrying you and Tyler, loved our mutual Kentucky connection, your father and friends, but mostly loved your sweet, sweet love story and the sheer delight you both had to marry your best friend. A sincere thank you for choosing me to be your Celebrant - it was a GREAT DAY!

Laura B.

Married on 05/07/2022

The ceremony no one will forget

If I had one word to describe Melissa, it would be joy...luckily, both she and I have an affinity for words, so I'm going to give you a lot more than that. ;)

We are Christians with strong faith, but a more progressive point of view than traditional. It was important to find someone who could honor our faith and weave it into the foundation of our ceremony, while also being an officiant who welcomes and values all people, is LGBTQ-friendly, and thinks of ways to create new, modern traditions. Melissa did all of this and more, and really captured who we are as both individuals and a couple. I know without a shadow of a doubt that she will meet absolutely any belief and way of life with the utmost respect and love for you.

Melissa is able to meet any couple where they're at, and will craft a ceremony that tells your story with so much life. Our ceremony was exactly what I had hoped for- it was all the feels! We had sentimentality, we had lots of laughter, we had respect, we had happy tears, and more than anything, we had love. So many people have commented on Melissa being the best wedding officiant they've ever seen, and I couldn't agree more. Melissa will bring your day to life, and the entire process of working with her up to that point is, again, an absolute joy.

Melissa Coe Ceremonies's reply:

OMGosh! I LOVED marrying the two of you, you were both so much fun and hands-on with your ceremony (which I also loved!), knowing exactly what you wanted, and what you didn't. Please keep in touch, come back to Oregon anytime and I'll meet you in Oregon Wine country. Thank you so much for choosing me to be your Celebrant - it was my joy, delight and honor!!!

Kellie L.

Married on 10/09/2021

Melissa is amazing!

Melissa was one of the best decisions we made for our wedding. Since our first conversation, it felt like she understood our vision for our ceremony & understood us as a couple. She was open to our thoughts and feedback throughout the entire process and was just lovely to work with. Family & friends have told us on multiple occasions that it was one of the best ceremonies they had experienced. Melissa's professionalism & personality gave us complete confidence that she would make our ceremony beyond perfect. Thank you, Melissa!

Melissa Coe Ceremonies's reply:

Ahhhhh, thank you Kellie! I LOVED working with you and Marc, loved integrating your different traditions into a ceremony that equally represented you both, honored your families and faith, and still allowed for spontaneous moments (like sneaking in an extra kiss or two or three)! Thank you so much for the joy of marrying you!

Andy

Married on 10/02/2021

October Wedding

The work Melissa put in was far above what I would ever expect! Thank you Melissa for helping make our wedding so special!!!!

Elisabeth A.

Married on 10/02/2021

Personalized and Perfect Ceremony

Melissa was so wonderful to work with! She created the perfect ceremony for us which told the story of our relationship so beautifully and helped us to craft the ceremony around our personalized vows without the other seeing them before the big day! The ceremony was so magical; everyone loved it and loved Melissa! I couldn't have imagined a better wedding.

Nicole L.

Married on 09/25/2021

Officiant Extraordinaire

Melissa was such a rock star! She helped us every step of the way, from writing our vows to helping us navigate a toddler meltdown during the ceremony. She understood our vision from day 1 and ensured that our ceremony lived up to that. I wouldn't have wanted anyone else standing with us on our special day.

Paul V.

Married on 09/18/2021

Very skilled, very accommodating. A real professional!

It's said a lot in Melissa's reviews, but it's true: she's amazing! Melissa sat with us and we talked about what kind of ceremony we wanted. We wanted to write parts of the vows and she helped us find the right format and was always available to answer questions. Once she had the final ceremony written, she let us read and edit and read edit some more until we were completely satisfied. On the day of, we were impressed and delighted by Melissa's organization, her professionalism, her skill and her charisma. In the end, we were completely delighted with our ceremony and we couldn't have asked for a better celebrant. Its almost a shame we won't need to get married again, so we can't hire Melissa again!

Emily S.

Married on 09/11/2021

Melissa is Amazing!!

Melissa is extremely organized, timely, and very responsive. We were able to read and practice our ceremony before the wedding. All our guests commented on how wonderful she was. Our day of coordinator said she was the most organized officiant she has ever worked with. She prepared a beautiful ceremony and I couldn't be happier with our choice to go with Melissa.

Christi H.

Married on 09/05/2021

Best celebrant ever!

Melissa was so organized and helped us every step of the way. Took off a lot of stress for the ceremony. Got so many compliments about our ceremony and how Melissa did such an amazing job. I guess it's pretty rare to find a great celebrant like we did! It was so personal and everyone felt that Melissa did an amazing job capturing our journey as a couple. We will never forget our wedding day and Melissa was apart of making it that much more special to us! I will absolutely recommend Melissa to anyone in the future. She definitely did NOT disappoint. Five starts out of five for sure!

Olivia R.

Married on 09/04/2021

Melissa is truly the best!

We hired Melissa kind of last minute in our wedding planning, and we literally could not have asked for a better officiant. She took lots of time and put lots of care into crafting a beautiful ceremony for us, and was even able to help us secure a wedding license when the state of Oregon at the last minute changed the rules on how to obtain one! Our ceremony was beautiful, and we had so many people say it was the best ceremony they had ever seen. If I could give Melissa more than 5 stars I would. highly, highly, highly recommend!!!!

Natalia O.

Married on 08/08/2021

An Amazing Human

Look no further! Melissa is a wonderful, warm person with a welcoming energy. She supported us through our pandemic postponement, and other major life events while planning our ceremony and did so with confidence and clear communication.
She is incredibly organized and thorough! She offered so many ideas to us and in the end, did all of the work in giving us an amazing ceremony. All of our friends and family commented on how lovely she was during our day.
Melissa, thank you so much for being apart of our wedding day. We are so thankful.
Warm wishes always,
Natalia and Joe

Stelina S.

Married on 08/06/2021

Truly Unique

Melissa took a serious amount of time and dedication into getting to know me and my now husband to help us create a truly special and unique ceremony and our vows. I would highly recommend her.

Melissa Coe Ceremonies's reply:

Oh, Stelina! You and Deric were so much fun and I loved finally getting you both married on the beach, with the wind blowing like crazy! It was perfect weather for a perfect couple, congratulations again with my thanks for the honor of being your Celebrant!

Alexandra

Married on 08/01/2021

Wonderful!!

We loved the ceremony Melissa performed for us! It was personalized, thoughtful and a tear jerker! She was a joy to work with - we felt taken care of by her and knew our ceremony was in good hands with her!

Amanda T.

Married on 07/09/2021

Expectations beyond met with Melissa

Melissa Coe is THE best officiant there is. She really set the tone for the whole wedding. Such a wonderful ceremony. Everyone there commented on how it was the best ceremony they had every heard.

Melissa Coe Ceremonies's reply:

Amanda and David - the two of you were the MOST entertaining, engaging, and delightful couple and I'm so happy that I got to tell everyone your love story! The Best Ever!!! Thank you so much for choosing me, it was so much fun!!!

Christine L.

Married on 06/12/2021

Beautiful ceremony

We loved working with Melissa! She was responsive and had a consultation with us prior to working together. She got to know us and wrote a ceremony unique to us and our love story.
We wanted to write our own vows and Melissa and very helpful. Everyone loved our ceremony and we couldn't have done it without Melissa!

Melissa Coe Ceremonies's reply:

This was such a fun ceremony to do with super fun people - Christine and Dillon! They knew exactly what they wanted and were a total delight to work with. Wishing them much joy in the days and years to come!

Calvin B.

Married on 05/29/2021

Melissa was great to work with!

Melissa conducted the ceremony for me and my wife's wedding at The Foundry at Lake Oswego Pointe. She was very nice throughout the preparation leading up to the wedding and provided several options for a customized experience. We really appreciated her help with this process. The ceremony was beautiful and she used her experience to add in flourishes with the readings. We would recommend Melissa for any couple planning their wedding.

Melissa Coe Ceremonies's reply:

Calvin - you and Nybelle were amazing to work with, and very fun as well! Thank you for asking me to officiate your ceremony - it was my honor and joy to do so!

Sia K.

Married on 01/05/2021

Absolutely wonderful!

My fiance and I had planned to have a family member officiate our wedding, and when the family member had to step out at the last minute due to medical reasons, were were left trying to find an officiant at the last minute. We selected Melissa, based on reviews we found on wedding wire, and she turned out to be the perfect choice. She was absolutely wonderful! From our very first meeting, via zoom, she was professional and organized. She asked all the right questions to learn all about or story and presented it in a beautiful way that all of our guests loved. We had so many people comment on what a wonderful job she did. She was worth every penny and helped us to create a personal, memorable, and meaningful wedding ceremony that we will never forget.

Melissa Coe Ceremonies's reply:

Ahhhhh Sia and Brian,
I thought it was MY perfect day when we found each other! I loved that you wanted your ceremony to reflect both of you and your faiths, your families and gathering into your ceremony and in short, you made it your own. PERFECT. Please stay in touch, I really want to know the next chapters in your story!

Jen D.

Married on 10/10/2020

Love Won!!

My wife and I were so happy and lucky to have Melissa as our celebrant. She met and exceeded every expectation for our ceremony. The readings and vow structure fit us perfectly and allowed our true selves to shine through. She embraced our individuality and did not attempt to restructure things in a "traditional" manner; which we appreciated more than I can state. If you are looking for a special ceremony that celebrates you as individuals and the unique way you love each other, Melissa is your gal! Also, her style is perfect for absolutely ANY service, black and pearls always wins out!

Melissa Coe Ceremonies's reply:

Oh my gosh, Jen and Sobe! When we first met, I fell in love with your story immediately and couldn't wait for your wedding day! From your families and friends, to the unique way you dreamt of your wedding ceremony and vows, it was my total delight to marry you to each other. Love won that day and will forever.


Rob

Married on 08/08/2020

Awesome with a Personal Touch

Melissa was fantastic to work with. She has an approach that is personal and makes her services unique and thoughtful to our family, personalities and special day. We received so much wonderful feedback about how our vows, readings and the ceremony were so well done and personal. Melissa made our day extra special.

Melissa Coe Ceremonies's reply:

Oh, Rob, I LOVED marrying you and Peter!!!
I believe that you married, in spite of the pandemic and as proof that LOVE won! You were surrounded by the joyful witness of your friends and family who were in total agreement that on August 9, 202, you married the love of your life. A sincere thank you for allowing me into your life, trusting me with your story, introducing me to your circle and above all else, the honor of pronouncing you, "Married for Life!" I loved every second.
Are you interested?
Send a message