Reviews
5.0 out of 5 rating
Quality of service

5 out of 5 rating

Average response time

5 out of 5 rating

Professionalism

5 out of 5 rating

Value

5 out of 5 rating

Flexibility

5 out of 5 rating
100%
Recommended by couples
3 User photos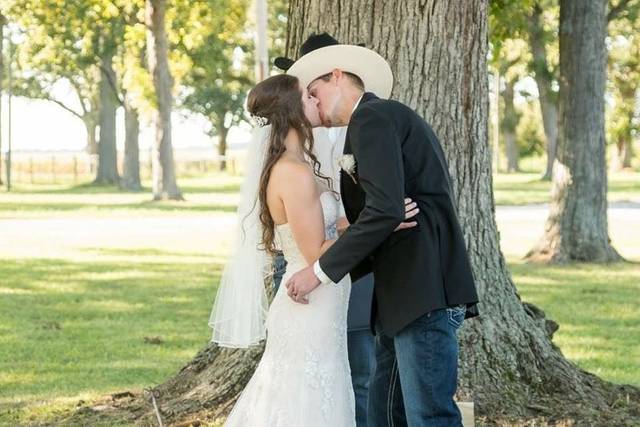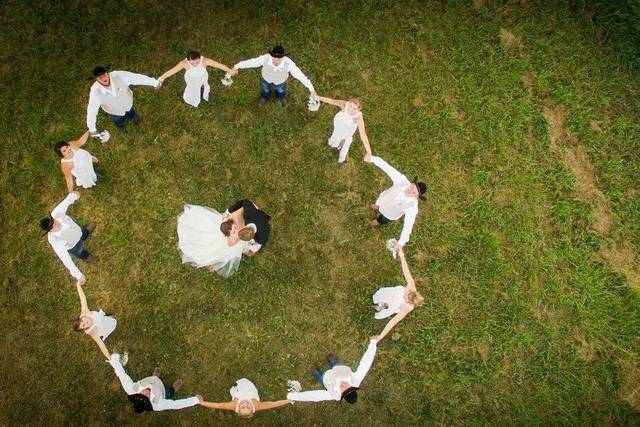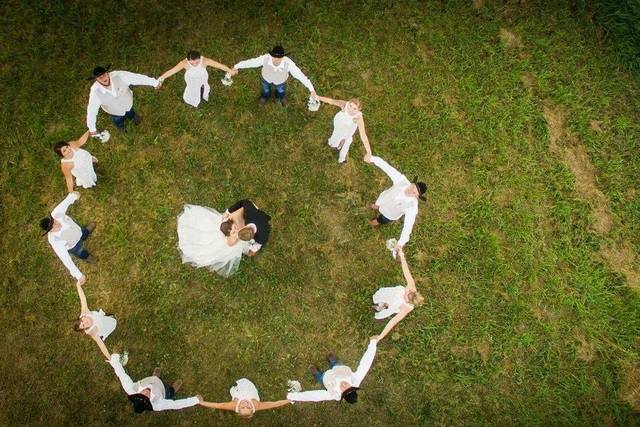 Brad R.

Married on 03/24/2023

A video that captured our best weekend of our lives

Erin did a simply awesome job of capturing our wedding... the very best moments. And love how she created a 15 min highlight video and then gave us the entire cut to watch as well. She was excellent to work with. Highly recommend her.

Ellis P.

Married on 04/23/2022

We loved working with Erin / Meant to Be!

We could not be happier with our amazing video from Erin with Meant to Be Productions!! She captured all of the sweet and emotional moments as well as the high-energy party/fun at the end of the night!! She was so great to work with as she was professional and "on it" the whole time, paying attention to all of the details and never missing a moment... yet even so she somehow gave off a totally relaxed vibe with a positive attitude the entire time! We knew we were in great hands and enjoyed having her as part of our day. HIGHLY recommend!!!

Karen V.

Married on 10/01/2021

Erin was amazing!

Erin was absolutely wonderful to work with! She stuck with us through uncertainty and rescheduling, and was always quick to reply to any message. She explained the whole process so it was easy to understand. On our wedding day, Erin made us feel so comfortable. She had us laughing and smiling the whole time. Our video turned out even more perfect than I could have imagined! Every time I watch it I am transported back to our wedding day. I have gotten so many compliments from friends and family that it is the best wedding video they've ever seen. I highly recommend Erin to anyone considering videography for their wedding. She is the best!

Are you interested?

Send a message

Emily G.

Married on 07/25/2020

Beyond amazing

I don't even know where to begin to explain how thrilled I am with Erin from Meant2be productions and the video she made for my wedding. She is such a sweet and amazing person and made me feel so comfortable right off the bat.

One thing that really impressed me is that she just doesn't miss the small, sweet moments; she caught every little (or big) smile, every giggle, every forehead kiss, every hug in a way that just felt so delicate and special. Most of the time you don't even realize these moments are happening because you're so wrapped up with everything else, but Erin brought them to life for me. She also gave me the opportunity to see things I wouldn't have been able to see otherwise, like my very serious father trying to play it cool but breaking into a smile as he walked me down the aisle, the groom walking in to talk his place right before the ceremony, and the wedding party entrances into the reception. Watching the video I was just completely floored. Erin is just so incredibly talented. Not only was she able to capture these moments but then she put them together in such a meaningful way. If you want a wedding video that will give you chills whether it's the first time you've watched it or the 50th time (I've probably watched mine that many times so I can confirm) then Erin is the right videographer for you. I would recommend her over and over again. One million stars.

Lauren

Married on 07/18/2020

Simply incredible!

We absolutely loved working with Erin! Leading up to our wedding, she was so kind and supportive as we re-worked our wedding plans bc of COVID, and even helped connect us with other amazing vendors in the area (photographer, makeup, etc.) On the day of the wedding, it was so fun to have her around… she is upbeat and positive and added a great energy to the day! The video is truly incredible and so well done. Erin captured the joy we felt on our wedding day and re-watching the video brings us right back to those moments. Because we downsized our wedding, we are more grateful than ever that we had a videographer to capture the day. We shared the video with family and friends who weren't able to attend the wedding. We will treasure the video and footage for the rest of our lives… thank you Erin!!!

Mariah S.

Married on 07/17/2020

Amazing work and truly a pleasure to work with!

My husband and I had the absolute pleasure of having Meant to Be Productions handle our wedding videography, and the experience was AMAZING!! Erin is very quick to respond and I had a wonderful time working with her! She does gorgeous work, and really captured the beauty and feel of our special day! The video packages are very fairly priced, and I LOVE our expertly edited video as well as all of the raw footage! Erin went above and beyond and was very helpful with working with me through all the stress that came with having a crazy COVID wedding! My husband and I cannot recommend Erin and Meant to Be Productions enough, and we are very appreciative of how she was able to beautifully preserve the happiest day of our lives!

Rebecca M.

Married on 06/06/2020

Wonderful to work with, Amazing Video

We absolutely loved working with Meant To Be Productions (M2B). Our wedding video exceeded our expectations! M2B took the time to understand what moments were important to us and ensured that those moments were included in our video. The video is absolutely beautiful, they even captured so many important and fun moments and expressions that we didn't realize occurred until we watched the video. We both still tear up every time we watch it! They also provided us with all of the 11 hours of raw footage of our wedding day/reception in an organized fashion and and it has been fun watching all of the details of our ceremony, dance and other moments that were summarized in the video. They were very professional and extremely responsive. We got married in June, in the middle of the pandemic, and their flexibility and responsiveness were very much appreciated as we were dealing with various possible scenarios. They were very easy and enjoyable to work with throughout the wedding day. They worked well with all of our other vendors and our entire family enjoyed working with them. We hope to have the opportunity to work with them in the future! We cannot say enough good things about M2B!

Kristen M.

Married on 04/12/2020

Beyond Incredible

Meant to Be Productions was absolutely incredible. Everything you could ask for in a wedding videographer and more. Erin was friendly, engaging, and professional. She paid attention to details without you even realizing it, as evidenced by our incredible wedding trailer that she created. On the wedding day, Erin was present but not in your face, as she sought to capture natural moments, not forcing anything. I am not one that likes attention or lots of eyes on me, but Erin made it all feel natural. She was an absolute joy to work with! After the wedding she was communicative, prompt, and kept us updated on our video and our trailer. Meant to Be Productions also created videos for my sister's wedding and did an outstanding job for them as well! I hope everyone gives Erin a chance - they won't regret it!

Meant to Be Productions's reply:

Thank you so much for your sweet words Kristen!!! This absolutely made my day! You and your family were such a dream to work with - it was really my pleasure!

Taryn B.

Married on 04/01/2020

Amazing!

Let me just start by saying Erin is the sweetest person and will definitely make your day even more special. Her work is soo amazing and perfectly captured every moment of that day. The 10 minute video she made for us was more than I could've asked for and she gave us every clip she took from the whole day. Don't even look at anyone else because she is who you want!!!

Shelby Y.

Married on 03/14/2020

Book her now!

Erin is so awesome! When I first met her at a bridal show I chatted with multiple different videographers but she stood out to me. I told my fiance (at that time) that I like her the best. She was so friendly and I just felt the most comfortable with her. I think that is very important to find in a vendor. Other than her friendliness, another huge selling point is the fact that she gives you all the raw footage. We just finished watching all of the raw footage last night and it was so fun to see things that we didn't know happened or forgot about. It truly allows you to relive your wedding and who doesn't want to do that?!? Erin makes an amazing 10 minute video for you and then also make a ceremony video for you. All our families and friends loved working with Erin, she made it easy. She also worked very well with my photographers (who she had never met) and made sure to coordinate with them to never get in their way. 10/10 would book her again! We love Erin!

Pam M.

Married on 03/07/2020

Best money ever spent

Erin made our special day so memorable. It was the best money we have ever spent. She far exceeded my wildest expectations. She was so detailed and organized. She also was sensitive to what we wanted and made our video one that we will cherish for a lifetime. I highly recommend her for any project she offers!!!!

Lauren H.

Married on 01/02/2020

10/10 Highly Recommended!

Erin was so sweet and kind during the whole process. When it came to emails, phone calls, changing the timeline she was so understanding and helpful. She went with the flow and brought her creativity into our special which turned out PERFECT. Danny and I really couldn't be any happier to have had her capture our wedding day. She captured every last detail. We absolutely loved the little teasers. She posts little sneak peaks of your day which keep you on your toes until the final product is delivered. So if you are getting married, you need to hire Erin! You can't go wrong with her!

THANK YOU ERIN!!!

Paige

Married on 09/28/2019

Highly recommend!!!

Erin is an absolute ROCKSTAR and she truly knocked it out of the park. She was extremely easy to work with and was in constant communication answering ever question I had. She even went out of her way to get a song that I wanted as the background music even though it wasn't previously available. She sent us clips as she was editing and made amazing highlight videos as well. The finished video was absolutely amazing and truly captured our big day in a way that photos just can't do. The video captured things that I wasn't able to see and being able to watch it all back is truly priceless. If I could give future brides one piece of advice, it would be to hire Erin and get a video because you will cherish it forever!

Jane K.

Married on 05/10/2019

Highly recommend!

Erin was wonderful to work with! She answered all of our questions in a timely manner and went out to our wedding venue prior to our special day to make sure everything ran smoothly. We could not be more happy with our wedding trailer and the videography of our wedding day. We will forever be thankful for Erin and her husband for capturing our special day. We can't wait to re-live our wedding day over and over while watching our wedding video as we grow old together. HIGHLY RECOMMEND!

Lucia

Married on 12/28/2018

Grateful!!

Erin helped us with two weddings! Her products are professional and worth viewing for a lifetime. She is extremely accommodating, easy to work with and professional. It can be difficult to find a talented, creative, reliable videographer. Erin was recommended to us and we are ever grateful and recommend her to others without reservation.

Madison

Married on 11/10/2018

Best wedding decision

One thing I was very big on in the beginning of the wedding planning process was that I had to have someone capture a video of our special day. To me, videos allow you to see every moment over again. All the emotions, all the craziness, all the love. I looked at every videographer in my area, narrowing them down one by one to be sure I found someone who would be able to create this time capsule for me. I am so glad I chose Erin.

Every time I watch my video it is like I am reliving the day over and over again. The first time I watched my video I notice everything that I missed at my wedding because of all the other crazy things going on. I could see everyone's emotions as I walked down the isle or as we said our vows. Everything was captured perfectly. I absolutely love it!

My wedding video is priceless thanks to Erin. I could not have made a better choice than choosing her to video my wedding.




Dana G.

Married on 01/05/2018

Erin was beyond flexible with very last minute changes to the venues! She even arrived extra early to check out lighting and positioning. Throughout the day, before, during, and reception Erin was everywhere and anywhere. I had no idea she had so much footage and many different angles. I barely noticed she was there, and it felt so natural. The result was, a beautiful, emotional, and heartfelt video of our wedding! Full of all our family members, friends, close ups, and scenery! I could not recommend her more! We cry every time we watch it! If you are on thwant fence about a videographer, like we were, I cannot stress enough how important it is and how meaningful!

Grace

Married on 12/16/2017

Erin was absouletely amazing!!

Julia

Married on 10/14/2017

We couldn't have asked for anyone better than Erin to capture our special day! She was such a joy to work with and is the type of person that makes you feel like you have known her for years! We are so glad we chose Meant to Be Productions for our wedding day!

Elizabeth

Married on 10/07/2017

Erin is amazing. She was very professional and my video was amazing. Overall, she did a wonderful job!

Kayla

Married on 09/09/2017

Erin was wonderful to work with! Our video was amazing. She was so helpful throughout the planning phase and really took my ideas and special requests and ran with them. I cannot say enough good things. She coordinated great with other vendors and worked so smoothly with the wedding party to effortlessly capture all the memories. Your wedding day is by far the fastest day of your life. Being able to look back at a perfectly crafted documentary of that day has been amazing.

Steve

Married on 07/21/2017

Absolutely awesome! Everything that was done from the initial planning, to the quality of shots, to the equipment used, all TOP notch! We had a blast working with the company and communication was A+

Ali

Married on 06/07/2017

Amazing work!

Erin did such an amazing job and I am SO glad we used her! I watched a lot of videos from other companies and chose to go with Meant to Be Productions because the quality was so impressive, and she did not disappoint. The whole process was so easy working with Erin, and I'd highly recommend her.

Jack

Married on 06/03/2017

I am writing this review not as a bride or groom but as the father of the groom and best man in the wedding. All I can think of when when I saw the video that Erin created was WOW!!! Being the father of the groom and a member of the wedding party I am a little biased but I have never been touched by any video as I was by this one. I was just expecting to just watch another wedding video and did not anticipate the overwhelming emotional joy I experienced watching this production (not enough tissue). I was excited to share it with my friends and family and everyone, and I mean everyone called me have had the same reaction (they could not believe they were crying watching a wedding video). My wife and I have watched it many times and have the same experience every time. What Erin put together was not just a video. She told the story of the magical day (a long time coming and greatly anticipated,) of the union of two people being shared by family and friends. She didn't just capture images she captured emotions from start to finish. As I told her and others, her slogan needs to be "Pictures are worth a 1000 words but a video can tells the story". The pictures taken were great as well but can't compare to this video. Working with Erin was such a pleasure. She was so kind and professional in every way. Watching the video she seemed to be everywhere but she was hardly every noticed. I could go on and on as it was a great experience but I will end my review with this. There are not enough stars to rate the value of her work. For all the money spent on the wedding, this was the best money spent. What she created not only can be used to show and remember an amazing day in the lives of two people, it can be used by those two people going forward when times get tough to remember why they God brought them together and the commitment they made to each other forever. If you are fortunate enough to get booked and on her schedule you will be blessed!!

Elizabeth

Married on 05/27/2017

Erin was a pleasure to have around on our wedding day! She was extremely sweet and her positive attitude helped keep me calm and collected throughout the day. Our wedding highlight video captures the day perfectly. I watch the video all the time to relive one of the best days! I can't imagine not having a video of the day, especially a video like Erin's! I would 100% recommend Erin to anyone looking for a videographer. I would also 100% recommend making cuts elsewhere if it came down to a video of the day and something else. I will forever treasure the footage from our special day.
Are you interested?
Send a message