Reviews
4.6 out of 5 rating
Quality of service

4.6 out of 5 rating

Average response time

4.6 out of 5 rating

Professionalism

4.6 out of 5 rating

Value

4.7 out of 5 rating

Flexibility

4.4 out of 5 rating
91%
Recommended by couples
17 User photos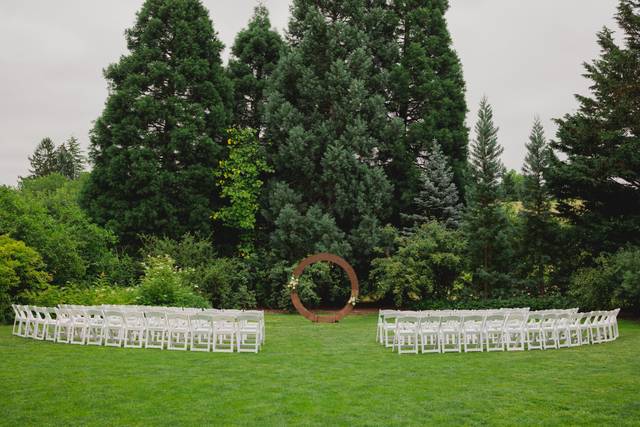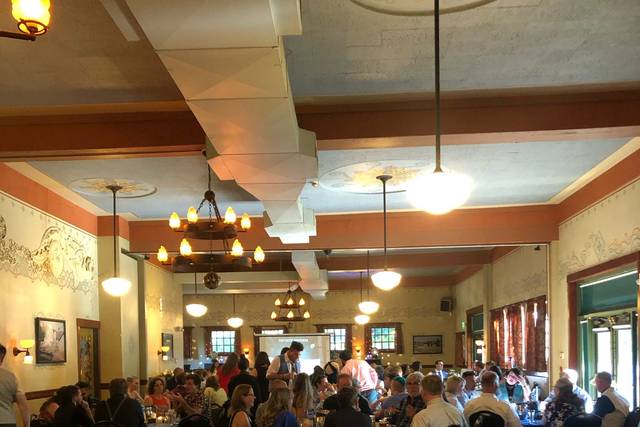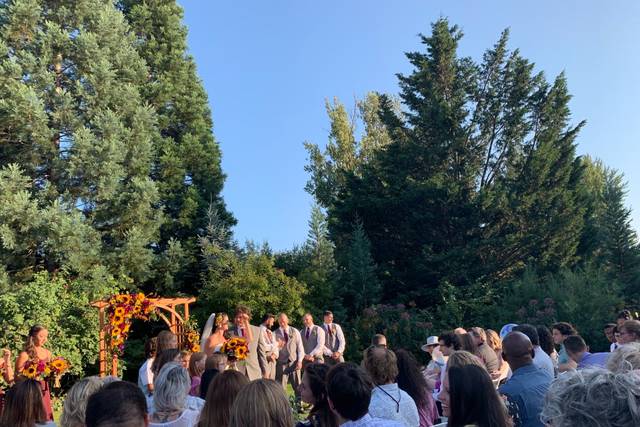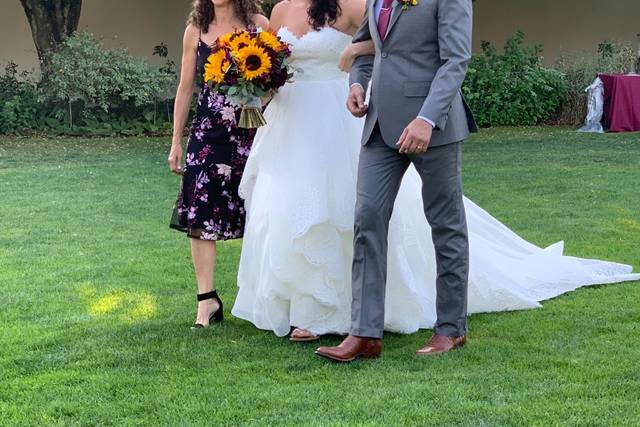 + 13

photos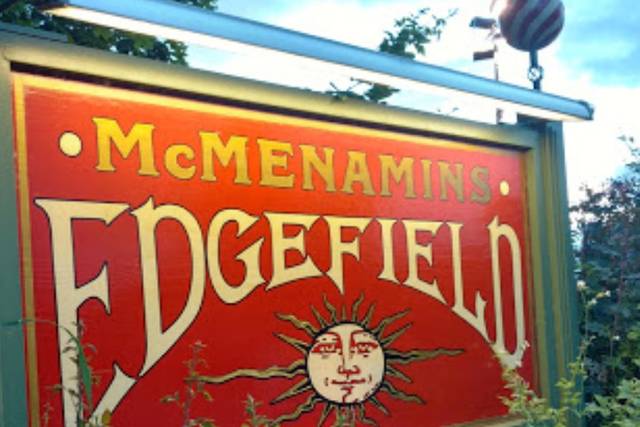 Tabitha

Sent on 08/06/2023

As close to all inclusive vendor as you can find!

My family and friends stayed the whole weekend on the property and enjoyed the concert, swimming, the restaurants, the bars, there is so much to enjoy on this property. This alleviated stress of feeling like you had to entertain everyone all the time. I worked with Rich, the event coordinator and they had my space setup beautifully. Food/Bar/Cake/Set up/Tear down/Linens/Tables/Tents.....all included! The serving staff was amazing, lots of compliments on the food and cake, most of all the hosted bar with our signature drinks. Best decision was choosing this as our wedding location.

Justin E.

Sent on 08/06/2023

McMenamins Edgefield

We were very happy to share our special day on the robust and quirky grounds of McMenamins Edgefield. This place is a unique enclave of PDX culture. We got married in Blackberry Meadow and reception in Blackberry Hall. The Meadow was a great location for the ceremony. The one caveat is plan on direct sunlight! It was around 90 degrees that day, and the best seating arrangement keeps everyone in the sun.

We enjoyed how non-cumbersome the Hall was. It was big and open and fit all of our guests easily.

A swath of our guests stayed on the property, and other than the lack of in-room AC, people really enjoyed the stay. Word of warning during the summer, if there is a concert on the day of your wedding, plan on your guests ubering or arriving very early.

We would recommend McMenamins Edgefield for any couple that wants an authentic experience.

We were happy with the food and beverage selections, particularly the Terminator Stout.

We worked with Rich on the planning and the process was smooth and simple.

The best part was how much we could have done in house. It is really a life saver when you are coming in from out of town.

Jennie D.

Sent on 07/24/2023

Excellent Wedding Venue!

I sincerely applaud the Sales and Events Coordinator with McMenamins Edgefield for her excellent communication in answering our questions leading up to our wedding. We felt well cared for and were blown away by the service provided by the bartenders, catering staff, wait staff, and cleaning staff. That you for making our wedding celebration so meaning. What a stellar occasion of love, laughter, and fun!

Are you interested?

Send a message

Kayte G.

Sent on 03/15/2022

Very quality customer service.

Very quality customer service. We enjoyed our reception.

Jacqueline

Sent on 02/01/2019

Friendly and knowledgeable

My first meeting with an event coordinator, we covered lots of topics like, ceremony & reception locations, Edgefield has 4! Catering menus and the options to customize, rainy day back-up, parking, bathrooms, music, lights, table placements, perfered venders, however their not required. My favorite perk is the free bartender with every event space.
So the pricing is different than most wedding venues. The venue and ceremony space is free. Which includes tons of extras like, tables, linens, chairs, staff and bartender. What is paid for is the food. Edgefield Mcmenamins requires that you exclusively eat their food and drinks on their property. To reserve an event space, you must pay for and meet a minimum food and drink catering order. In addition to the beautiful property and multiple options Edgefield Mcmenamins brews their own beer, distills their own liquor and makes their own wine, with actual vineyards on property.


+ 2

photos

We loved our wedding at the Blackberry Hall and Meadow! Everything about working with Edgefield was easy and fun. I definitely recommend the space for a wedding!

The grounds were beautiful. The staff friendly. All of my guests said they had an amazing time!

Planning our wedding went smoothly! Our guests loved visiting all the pubs and restaurants between the ceremony and reception. Blackberry Hall was the perfect size for our event. Food and drinks were delicious, staff was amazing!

Tammara

Sent on 10/17/2017

The entire staff at Edgefield was great to work with! The venue is absolutely gorgeous and there's so much to do and see while you are there. Great value for your money!

I am so happy to have found the Edgefield for our wedding venue. We got married in the meadow and had the reception in the Blackberry Hall. Our sales coordinator, Cynthia, made the planning process easy with her quick responses and a few questionnaires to get everything in line for our day. The venue was perfect as we were able to stay the night before and the night of the wedding. We were also able to get our hair and make up done at this location. Everything was perfect- the service, the grounds, the food, etc.- I am very happy with they way our wedding turned out!

We really loved getting married at the Edgefield. The space was beautiful, the food was delicious, and the staff was so helpful. Catherine, our site coordinator, answered all of my questions in a timely manner and was very professional and organized.

Larissa was great helping us with the planning and accommodating with our last minute changes and our event was flawless. The gardens were a spectacular backdrop for our photos. The food was terrific and the bar service was great. Overall, we could not be more pleased.

Theresa

Sent on 08/19/2017

We couldn't have picked a better venue for an all-inclusive wedding in the Ballroom. Our 50 guests had the best service, food, and surroundings to celebrate our wedding!

We absolutely love McMenamins Edgefield, so we knew we had to get married there. They have several beautiful places on the property to choose from to accommodate different budgets and number of guests. We worked with one of their coordinators, Cynthia Major, and she was so incredible. She helped us with everything, timelines, vendors, set up plans, catering, cake tasting, rentals, etc. She was so timely in her correspondence and was always willing to meet up with us to show us the space or just answer questions. She even saved us money a couple times!

The space we chose was the Administrator's House and Yard and it was beautiful! It is an outdoor space so we had to do a last minute order of rain canopies, but Cynthia did all the work for that. We had 72 guests and they all fit perfectly in the space.

McMenamin's catering was terrific! The food was way above what we expected. We did the BBQ buffet and guests raved about it. They even sent us home with the leftovers!! The staff was super friendly as well.

The cake was stunning and tasted even better than what we originally sampled! They baker even used the flowers and succulents that our florist provided. They boxed up the leftovers and we cannot wait till our anniversary so we can eat it again!

After the event ended, we were handed a our final "bill" and we were refunded the amount that didn't get used for the open bar! Have you ever heard of getting money back?! We were thrilled.

Overall, McMenamins Edgefield over exceeded our expectations. It was the perfect night! We will definitely be using them for any special events in the future.

Felicia

Sent on 03/24/2017

Great experience! They went above and beyond and made my wedding day a breeze! The event coordinator answered all of my silly questions in a timely manner. The food was excellent. The service was excellent. I am so happy I chose this place. You don't have to worry about bartenders or catering or anything because they have all of that there:)

User2785588

Sent on 09/26/2016

Catherine has been a wonderful sales coordinator from start to finish! I can't wait for our wedding in the Attic!

User2581455

Sent on 04/19/2016

This venue has been nothing but amazing so far! They have all been so nice and accommodating. We are very excited to be getting married here in October. (This is also where the proposal happened!) It is beautiful and so US!!

Kirsten

Sent on 10/23/2016

I cannot stress enough how much of a PERFECT venue Edgefield is! We hosted a wedding of 80 people in the Attic (all of us coming from Canada and staying in the hotel) and it couldn't have gone any better. Everyone loved spending time exploring Edgefield before and after our wedding and many want us to throw an anniversary part there! Jaclyn (the event coordinator at Edgefield), as well as other staff members were so easy and wonderful to deal with. Planning from Canada was a little more challenging but they made it so easy with their organization and willingness to answer my million questions. The event space was perfect and every detail for food and bar service was clearly thought out. We thought the price was really reasonable, especially for what we got. The food was fantastic and everyone commented on our delicious salmon and steak buffet. We went with sheet cakes from their bakery and they were so yummy! Lots of cake for your money! I ordered way too much. Edgefield is the best place ever for photos and we were able to go everywhere on site and get some seriously amazing photos with our photographer. We loved that we could choose the wine and beer to have available for our wedding and that they still did the fresh squeezed juice for the cocktails at our wedding. The hotel staff even handed out welcome bags to all my guests when they checked in. There isn't one thing I would change about my wedding. It seriously was the perfect place for us to get married and I loved every detail of the whole weekend!

We loved holding our rehersal dinner and our wedding at Edgefield. Larissa was an amazing help. Edgefield was great with our guests. Our wedding went off without a hitch and all our guests were happy. Using Ruby's Spa for bridal party hair and make-up was an added bonus.

User2715783

Sent on 08/07/2016

We had a perfect wedding last weekend at Edgefield. I can't think of a single thing I would change. The room looked beautiful. The table settings looked nice. The food was really,,really good and the staff wrapped up the leftovers from the buffet for some of our guests to take home. We are foodies and were truly surprised about the quality of the buffet. Larissa worked with me in the planning and did a great job! Even though it was Jerry Garcia's birthday and there were bands on the property throughout the day, this did not interfere in any way with our event and several if our guests were excited to be able to experience the music and the revelry. Everyone commented on what a wonderful wedding it was.

The advice, help, and service we received from our coordinator and other staff was top notch! We chose Edgefield for our wedding venue because of location, amenities included, and the fact that we could get rooms for the night. It turned out that our wedding was the same night as one of the summer concerts, but you would have never known that. The concert, and even the concert traffic, did not disrupt our event. We, and our guests, were given great advice on how to prepare for the large number of people that would be on site. If anything, it added to the ambiance. We're very pleased with how our event turned out.

Jessicas

Sent on 08/07/2017

We got married in the Administrator's House Yard at McMenamins Edgefield. Our wedding day was absolutely perfect! We attribute the success of our celebration to our wonderful vendors. When you book with McMenamins, you book a venue, a planning coordinator, and a caterer all in one. Our coordinator was very responsive and helpful in the planning process. Our catering captain was communicative on the day of the wedding and our food and beverage service was incredible. Our guests loved the venue and enjoyed getting to experience a place that my husband and I very much love. We even arranged to have drink tickets given to our guests so they could walk around the property during our cocktail hour and enjoy a beverage elsewhere. I can't recommend this venue and their team enough!

This was a great, all inclusive venue situation. We needed no non-sense, efficient, and lovely. We received that and our guests we very pleased. Our wedding planner/coordinator at Edgefield kept us organized and relaxed. What a fantastic experience.

Jeanette

Sent on 09/24/2016

Our wedding was on May 13, 2016. Larisa was amazing at getting everything together for us. We stayed for two nights and the staff was wonderful. We had a perfect stay and a perfect wedding. We would highly recommend having your wedding at Edgefield!!!

User2573295

Sent on 04/11/2016

We had a small ceremony with immediate family and were having a hard time finding a space/vendor that would accommodate a party of only 12 people; however, nothing seems to be to small or too large for Edgefield. The staff handled everything with promptness and with wonderful customer services. They addressed all of my questions with ease and the coordinators I worked with were really friendly gals. We had our ceremony in the Red Fox Room and dined at the Black Rabbit restaurant. Their property is so well maintained and gorgeous; such a lovely spot for photographs. Highly recommended!
Are you interested?
Send a message