Reviews
5.0 out of 5 rating
Quality of service

5 out of 5 rating

Average response time

4.9 out of 5 rating

Professionalism

4.9 out of 5 rating

Value

4.9 out of 5 rating

Flexibility

5 out of 5 rating
99%
Recommended by couples
Awards
15 User photos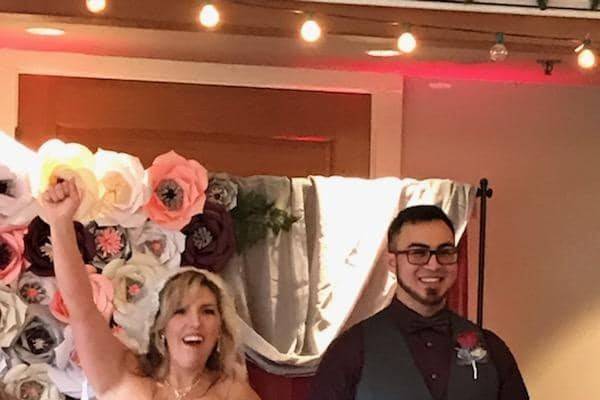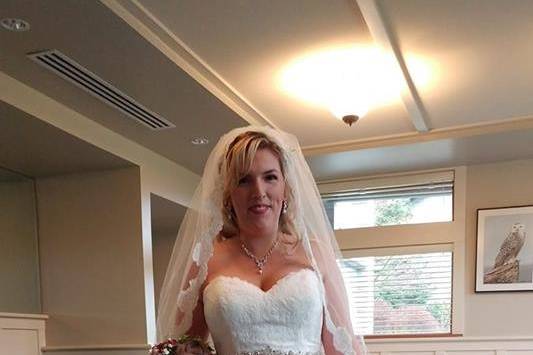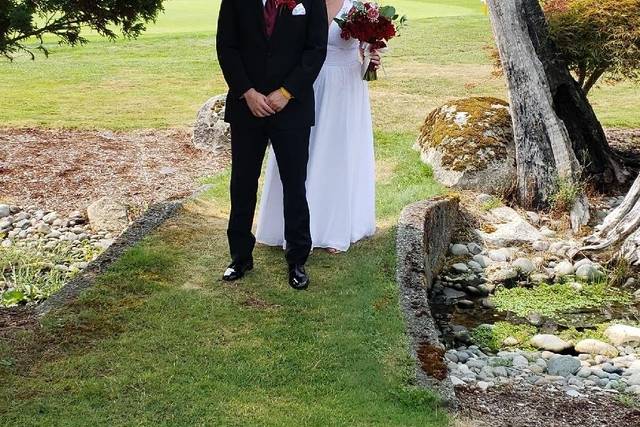 + 11

photos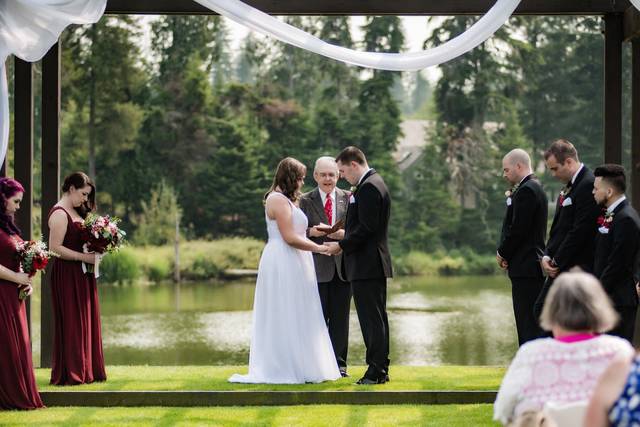 Teresa G.

Married on 06/16/2019

Lovely wedding day makes a happy bride!

Our wedding was great! We were allowed to set up the decorations the night before, and after that I didn't have to worry about a thing! I heard the food was really good (I didn't have a chance to eat much of it myself), the set up was just as planned, they worked with the DJ and everything was ready when I rolled in right before the ceremony. The venue is really beautiful and the staff handled everything. I have no complaints. I heard only good things from my guests.

Cassandra C.

Married on 01/08/2019

We want to put on another party at McCormack Woods just to go through it again!

We have attended many weddings at McCormack Woods Club House and knew that we were in great hands. All the employees were invisible to our quests, but when ever ANYONE wanted or needed something they were right there to attend to us and our guests. From the first call to the end of the wedding was so easy and magical!
Our guests just loved everything about the venue and service! But the FOOD and CAKE put everything over the top! The food was fantastic! The mashed potatoes topped with chicken marsala was to dye for. The fish was so tasty that it just flaked apart and melted in your mouth and then there was the beautiful cake! Best tasting 3 layer cake ever! Our guest said it was the best wedding they have been to in many years!
From the first day working with Stephanie to the end of the wedding was so easy. My husband and I thought everything went better than we could have imagined. So thank you all for everything!
Robin and John Cummins
Parents of the Bride

Sabine

Married on 11/10/2018

Best venue in Kitsap county

We will be using McCormick Woods for all future special events.

Are you interested?

Send a message

Brandi R.

Married on 09/29/2018

McCormick is the place to get married!

The venue was perfect, the guys got to golf before the festivities while the girls were getting ready, they have large rooms for each bridal party to get ready in. Back up plans / areas for the always potential of rain in WA, haha Stephanie was an absolute pleasure to work with! She went above and beyond to meet with us, make sure everything exactly how we wanted it and our special day went off without a hitch! I would highly recommend McCormick not only for the venue itself, but to work with their staff who helped make our big day stress free!

Kelli

Married on 08/19/2018

Amazing, flexible and responsive!

I chose to have my wedding at Mccormick woods because of the amazing service, responsiveness from the venue coordinator and because of the amazing price. My husband and I didnt want to go into debt planning a huge wedding. What we thought we wanted at first was a small wedding with about 25 people. That turned into 100-150 very quickly. My point of contact with the venue was the coordinator, Stephanie. From the beginning she helped me plan an all-a-cart wedding. Meaning, I didnt want one big bill for all these things a didnt want, I wanted to choose the things I wanted. She helped me pick and choose things like food, the number of chairs, linens, and the choice of an outside or inside ceremony with a reception as well. She was beyond amazing!! I told her what I kind of wanted (which was to spend less than $5,000 for 100-150 people and she made it happen. She answered all my emails, all my phone calls, and all my questions right away. She was so helpful. The venue is AMAZING for the price. My husband and I got exactly what we wanted. The grounds outdoors are beautiful (we had an outside ceremony.) And the reception we had inside and outside on the patio was beautiful as well, with all the twinkling hanging lights. The food was very well priced. They usually charge an outside fee for bringing your own deserts but they waved this for me seeing how I wanted something different, I wanted to make my own doughnut cake. Haha. They are very flexible in what they can be in. I was also able to have sparklers (outside for our exit) and lit candles. Candles just had to be in a contained space (we put them in lanterns) and I had to have a water bucket (which they offered to supply) outside to put them in after we were done burning them. The grounds have so many beautiful places to take pictures. Also, its convenient that they have 2 rooms downstairs you can rent for a very small fee (one for the bride and brides maids and one for the groom and groomsmen.) I would recommend this place a thousand times to anyone and everyone. I had an amazing wedding and they have amazing staff.

+ 6

photos

Vanessa

Married on 07/22/2016

I initially booked by wedding at The Edgewater House. The bill ended up being double then what was originally quoted. I had already sent Save the Dates and was worried I would not find a venue. Kim Yarger at McCormick was soooo helpful. She was very accommodating and willing to work with our budget (since we lost a $2500 deposit at Edgewater). The bartender was able to serve signature cocktails for us. The food was amazing! The staff had everything set up beautifully. I do wish there was more instruction for the rehearsal and the day of event however I do think they offer that service at a fee.

McCormick Woods Golf Club's reply:

Vanessa,
Thank you so much for your review and I am happy we found your flip flops! You are such a sweet soul and I was honored to step in and keep that wedding on task. Stop out and see me when you have time. I will have our bartender whip us up one of those signature drinks! Kim

Rose

Married on 05/04/2016

I have attended so many weddings and each one had their own theme and each and everyone of them were so beautiful! The staff was so helpful and very attentive! I will always recommend McCormick Woods to everyone who does not know about them! I love this place! Just beautiful!!!!

McCormick Woods Golf Club's reply:

Thank you Rose! We pride ourselves in providing a beautiful venue with splendid service and I love hearing that we didn't disappoint! Thank you! Kim Yarger Banquet and Event Manager

Annaliza

Married on 05/04/2016

Beautiful venue and amazing staff! We've attended many events here and would recommend this amazing location over and over again. Many wonderful memories were made here!

McCormick Woods Golf Club's reply:

Hi Annaliza! Thank you very much for the wonderful review. We sure hope we can host another event for you in the future! We love our McCormick Woods customers and you are one of our best!

Rosa

Married on 02/14/2016

We love McCormick Woods! For our 15 year wedding anniversary, my husband and I decided to surprise our family and friends by renewing our vows. We never had the big wedding...so this was our chance. With the wedding being in the middle of winter, the weather was our biggest obstacle! The staff at The Clubhouse helped us make sure everything ran flawlessly. The venue provided the most intimate and romantic setting for this special night. The food and drinks were wonderful! We never felt any stress leading up to or during the event. We will always recommend this place if you are looking for the perfect venue!

McCormick Woods Golf Club's reply:

Thank you Rosa! We strive to become better with every event hosted at McCormick Woods. We truly appreciate you and your wonderful review of our venue and staff! Kim Yarger Banquet and Event Manager

We came here for a company Christmas Party and the location was decorated beautifully. Kim was very detailed when planning the event, bringing up lovely ideas that we would have never considered. She also had the room we were in spaced out nicely so that everyone could interact with one another, which made the event very intimate. It was decorated with lights and a Christmas tree- a very special occasion for a hardworking staff. We felt spoiled and are very appreciative of all that Kim did to be sure we had a memorable evening. Because of her attentiveness, we will definitely be back for Christmas parties.. one of our co-workers even ended up scheduling her wedding here! Five out of five!

McCormick Woods Golf Club's reply:

Thank you so much for giving McCormick Woods such a wonderful review! One of your co-workers did schedule her wedding here and we are having such a great time coordinating her BIG day! It is going to be special and perfect! You have my word! Kim Yarger, Banquet and Event Manager

Tonia

Married on 08/30/2014

My wife and I chose McCormick Woods as our wedding venue. I considered myself to be a demanding bride and from start to finish my expectations were exceeded. Their entire staff was respectful, hard working and fun.
Just before our outdoor ceremony was to begin it started to rain. We decided that it would be best to move the chairs under the outdoor pavilion. The chairs were moved from the gazebo area to the pavilion. Minutes before the ceremony the rain stopped and we were asked if we'd prefer to be in our original spot. It felt like the entire McCormick Woods staff came out to help move the chairs back for the third time...and they were happy to do it. The ceremony was beautiful.
Our reception, dinner and dance was inside. The food was delicious (apps and dinner)! One of our guests had an food allergy and the chef came out to speak to her directly about it. We felt catered to the entire time.
Many of our guests said that our wedding was the best they had ever been to!
If you're looking for a beautiful venue in the Kitsap County area, McCormick Woods is it! Tiffany and her staff make you feel like family! There isn't a venue that can compete with all it has to offer.
Cristy and Toni Braun-Yessa

McCormick Woods Golf Club's reply:

We are so happy we were able to be part of your special day! You both were just beautiful inside and out, and most definitely not difficult! Thank you again! Kim Yarger Banquet and Events Manager

Cathy

Married on 08/17/2013

McCormick Woods provided the outdoor venue for my daughter's wedding ceremony and the reception was held in their banquet room. The site is beautiful. Lanie, Event Coordinator, is wonderful to work with. She was prompt in her emails and was always open to meetings, She worked with us from January 17 (day we booked) until the day prior to the wedding. She provided answers to all our questions and was always gracious and pleasant, The site itself is beautifully maintained and the staff is professional and great to work with. I would highly recommend this venue and would love to have another wedding there if the need arose.

McCormick Woods Golf Club's reply:

Thank you Cathy for your kind review of McCormick Woods! It was a pleasure serving as your venue for your ceremony and reception. We truly appreciate you and your family! Kim Yarger, Banquet/Events Manager

Meghann

Married on 08/03/2013

As a wedding photographer, I have the privilege of working with many venues, but McCormick Woods will definitely stay on my list of favorites. I photographed a wedding here in November for Garrett and Megan's wedding. I appreciated that Stephanie checked in with me on the morning of the wedding and gave me details on how they were planning to transition from ceremony to reception since both were held indoors.
The grounds are GORGEOUS, and the indoor area for the ceremony and reception had beautiful lighting strung across the ceiling. I can't wait to come back for a summer wedding and take advantage of the beautiful outdoor areas!


Heather

Married on 07/20/2010

We have been to several events here...Oktoberfest, dueling pianos, comedy night and local fundraising events. I have made several recommendations to friends getting married to check it out. It's beautiful and the staff is wonderful! 5 stars for us!!!

McCormick Woods Golf Club's reply:

Hi Heather! Thank you very much for the review. We are most definitely a multi-purpose venue. We look forward to hosting any/all of your future events! Kim Yarger Banquet and Event Manager

Madison

Married on 08/17/2018

Upset that the putting green was not actually closed like we were told that it would be. Not that staff didn't try. But we felt it should have been more explicit to the golfers. Not that they shouldn't still get to practice but maybe better communication from the Restaurant/Club staff to the Golfing staff?